I don't venture out to the west side often. But during my college years and earlier in my career, I lived and worked in Santa Monica and Marina Del Rey for a few years as did Allen. We were both excited when we got the invitation to Via Veneto. It was almost like revisiting our hometown for the two of us. We also just vacationed in Italy a few months ago and had a wonderful time, not to mention the great wines and food we tried. What better way to satiate our craving at an authentic Italian restaurant?
Having worked in the finest Italian restaurants in both California and Italy, owners, Fabrizio Bianconi and Marco Cialini, who are natives of Rome, were determined to create a unique dining experience that highlighted the beauty and passion of Italian cuisine without the austere service and atmosphere.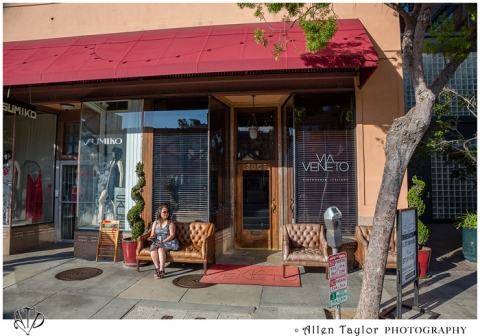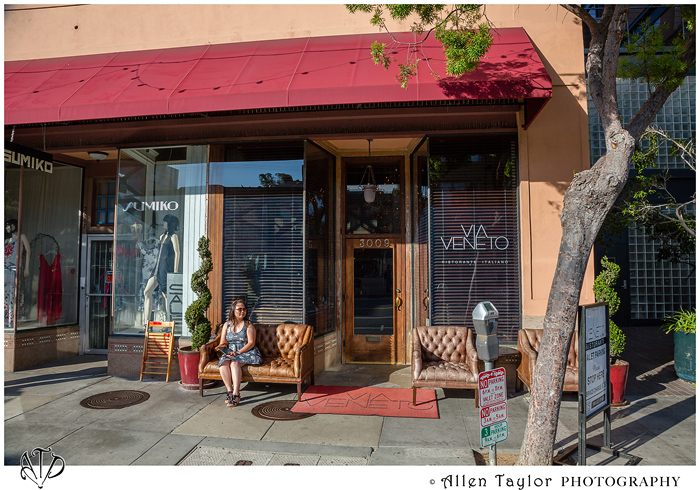 When we pulled up to the curbside, I already knew I liked Via Veneto. How awesome are the tuft sofa and chairs for the waiting area? Parking can be tricky in Santa Monica. But no worries, Via Veneto offers valet parking for your convenience. We arrived earlier before it was open and didn't see anyone attend the valet. We drove around the corner and found parking on the residential street. As we later found out, you need parking permit or you would get a hefty-fine ticket like we did. 🙁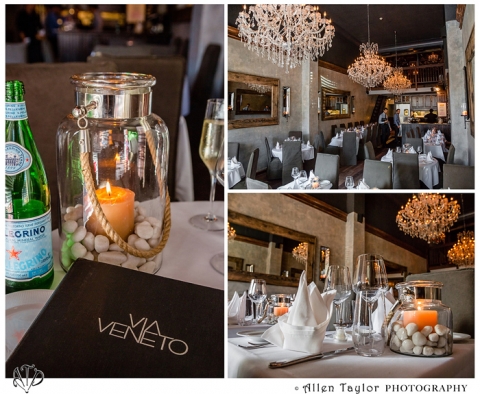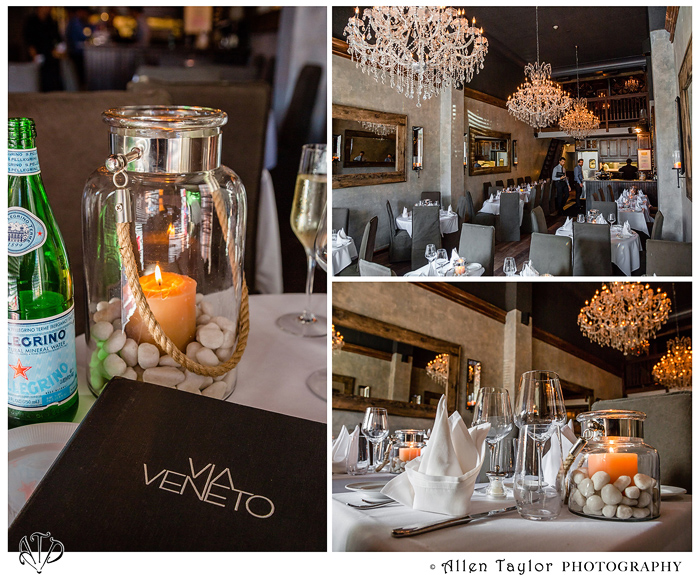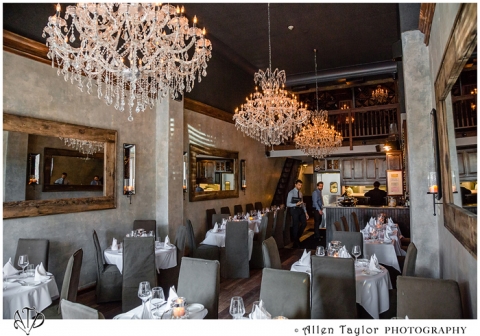 Once stepped inside, I was totally captivated by how elegant and romantic the interior was! How gorgeous the chandeliers and how appropriate the nautical themed table setting for the beach side location?
We were greeted and welcomed by our host and sommelier, Erik. After some introduction of the menu, we decided to let Erik take charge of the menu. What we got was a once in a life time exquisite tasting that we've ever had!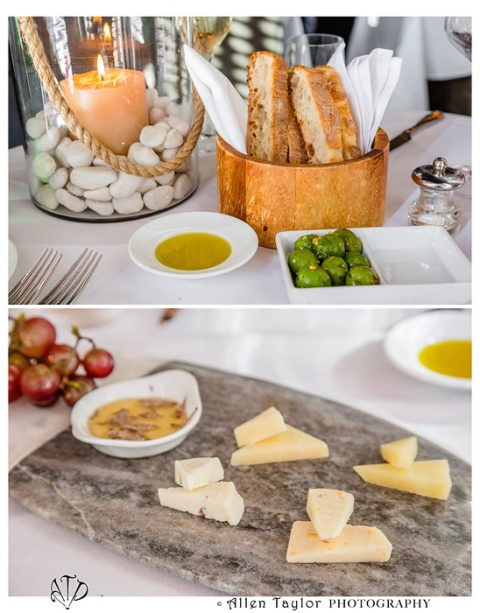 We started with Bread Basket with Olive Oil and Citrus Marinated Olives and Cheese Plate  with Grapes and Truffle Olive Oil. Did you know Via Veneto uses white truffles from the region of Alba that is overnighted to them each week to ensure superior quality & freshness?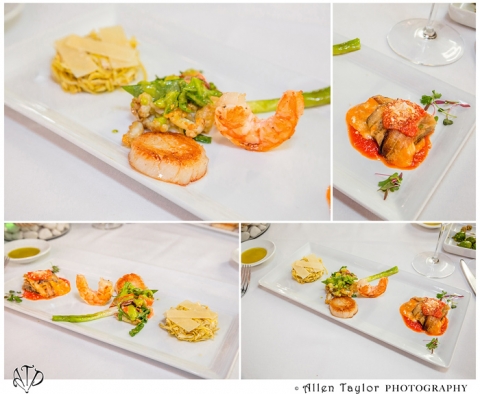 Second course was a Salad Sampler – Artichoke Salad with Shaved Parmesan, Seafood Salad with Seared Scallop, Shrimp and Baby Octopus and Eggplant Parmigiana. Don't they just look beautiful? They taste even better; light, fresh and flavorful. Such a tease to your palate!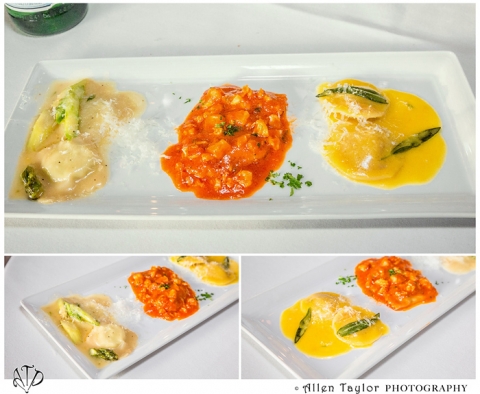 Followed by the Trio Of Homemade Ravioli – Shaved Asparagus with Creamy Ricotta, Tangy Tomato Lobster and Pumpkin with fried sage. I don't normally like ravioli but I absolutely loved these, especially the Pumpkin ones which has a very subtle sweetness to it!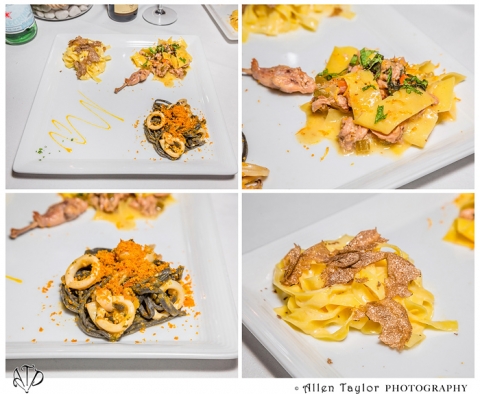 Fourth course was Combo Pasta – Pappardelle Pasta with Quail, Black Squid Tagliolini with baby Calamari and Fettuccine Tartufo. This by far is the best pasta I've had! Al Dante homemade pasta with the right amount of sauce and seasonings! Every bite was balanced and flavorful. I was pleasantly surprised that none of the dishes we tried was ever too salty or heavy like most other restaurants. Erik always reminded us which ones to eat first (going from lighter to heavier) when every dish was present.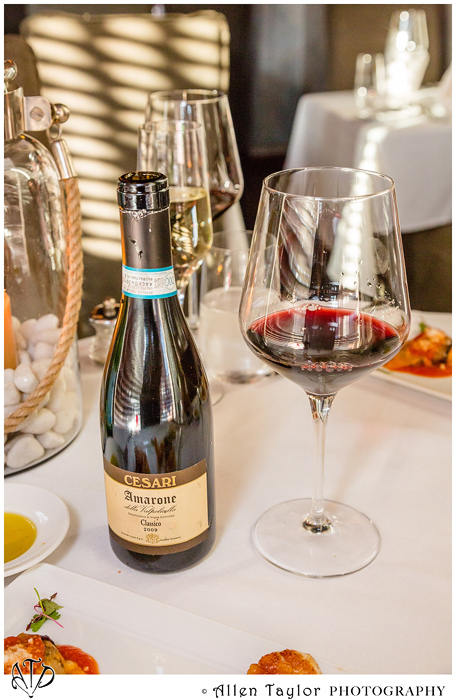 We had Pinot Grogio for the lighter dishes and Erik switched us to Cesari Amarone (based on my preference for a fruitier and sweetier wine) for the meat dish to come.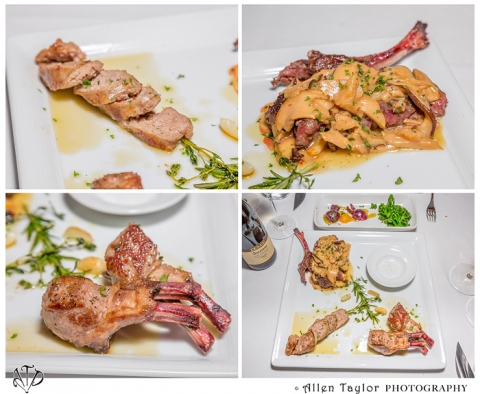 There was more, you thought? Yes, next was this glorious Grilled Combo Meat – Pata Negra Sausage, Venison with Porcini Mushroom Sauce and Grilled Lamb Chop with a side of Baby Broccoli and Cherry Tomato. I am not kidding when I said I was in meat heaven! These meats tasted so organically clean, tender and juicy. Perfectly grilled, 'AMAZING' doesn't even describe them! I am very particular when it comes to meat. I can't handle even a slight hint of gaminess. I don't know how the chef did it but these were truly some of the best meats Allen and I have had.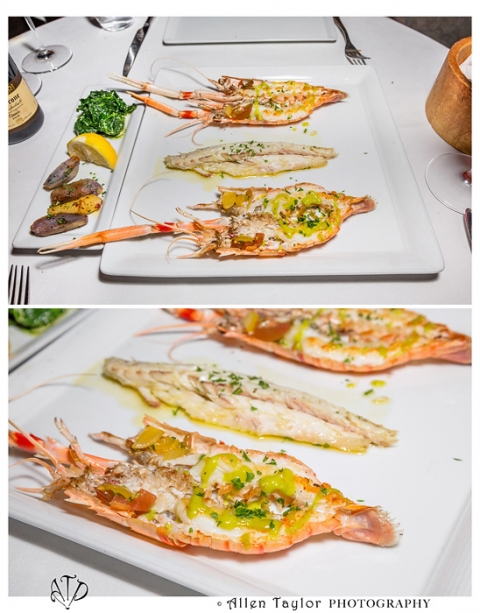 Last main entree was Duo Seafood – Langostino in Citrus Vinaigrette and Branzino in Garlic Butter with a side of Saute Spinach and Fingering Potato. Mediterranean cooking can be very simply with olive oil (or butter), lemon and garlic to enhance the flavor of the seafood. Branzino is regarded as European Sea Bass. This low fat fish is packed with Omega-3 oil. Great for your diet.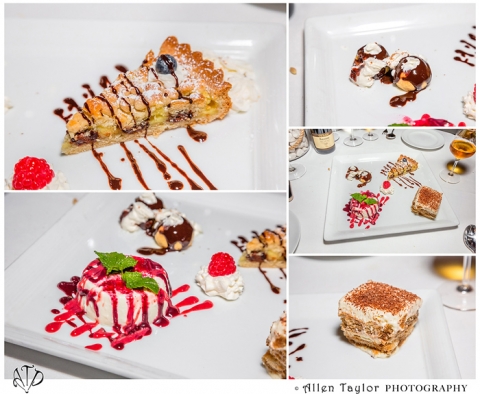 We finished our meal with a Dessert Sampler – Sbrisolona Ricotta e Cioccolato, Profitterol al Cioccolato, Panna Cotta with Fresh Berry and Tiramisu. OMG, kill me with sweetness! Whatever you do, don't skip dessert here no matter how full you are! These are insanely delicious!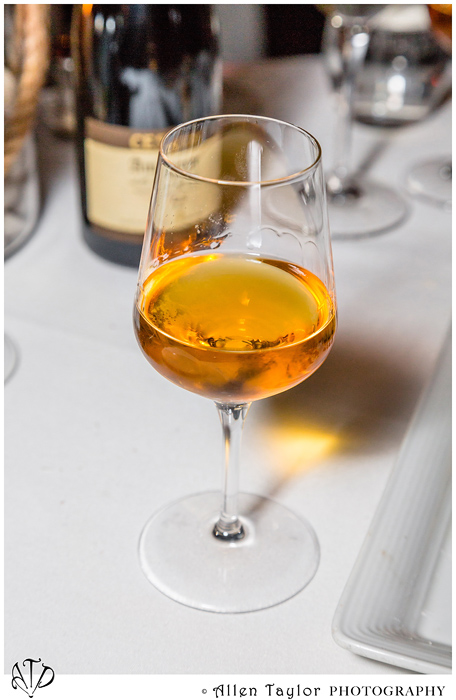 Cheers to an amazing meal! Everything we've experience is nothing short of spectacular; from the food , the wine to the service. Via Veneto truly is Santa Monica's hidden gem!
Via Veneto also uses organic, locally grown and sourced ingredients with the delicious, traditional flavors of Italy. The menu embodies the true flavors of Italy. In fact, I honestly thought it tasted better than any of the meals we had in Italy!
Via Veneto is the perfect place for a date night, anniversary or even just friends and family gathering. Amazing food, delicious wine and impeccable service. It just doesn't get better than that! I know where I'd be going for my next special occasion, do you?
Via Veneto
3009 Main St.
Santa Monica, CA 90405
(310) 399-1843
Visit and like my FB page for more current event updates. Follow me on Twitter and Instagram.
Please share and like us: