(Post by Allen Taylor)
Bianconi, by international master restaurateur, Fabrizio Bianconi, has opened! Bianconi is Fabrizio's second restaurant in the Los Angeles area, joining Santa Monica's Via Veneto in LA, in addition to several international locations.
When we first stepped inside, we were in awe at the rich elegance of the dinning room. As we walked past the bar and main dinning room, we came to another dining area with a glass ceiling. As the night falls, the string lights illuminate the room, it feels like you're dining under the stars. Simply beautiful!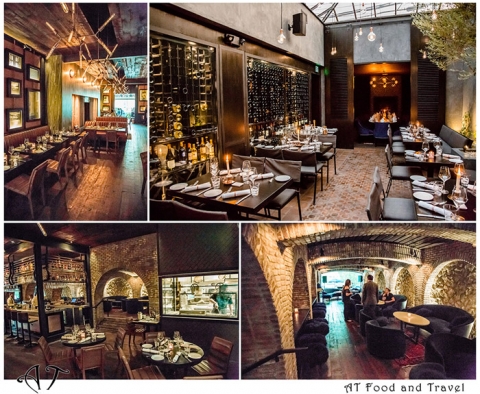 Originally from Rome, Fabrizio Bianconi brings the essence of Italian cuisine to all of his restaurants. Bianconi is influenced by the unique flavors and seasonal ingredients of Mediterranean dining.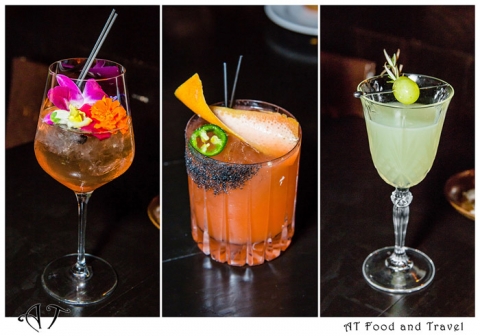 It is always pleasing to start a tasting with a great drink, be it wine or cocktail, Bianconi has many to choose from. There is an extensive list of wines but on this night, we decided to go with cocktails above – from left to right: SWEET VALENTINE (Prosecco | raspberry liqueur| lemonade | flowers | chase of elderflower), the HOT ITALIAN LOVER (Patron Silver tequila | Aperol | grapefruit| lime | mandarin | Napoleon | jalapeño); and the VIA VENETO (Don Julio Blanco tequila | white grapes | rosemary | lemon juice | chase of elderflower).
Fabrizio, our host, was very welcoming and asked us what we liked and what might we wish to try. Feeling a bit adventurous and knowing from our past experience with his other restaurant ( Via Veneto ) no mater what he brought us, it would be fantastic. We put ourselves in his good hands to choose for us. He immediately asked, "Do you like raw food?" We said yes with the caveat that it not be beef. Wow look at this huge dish we got to start with.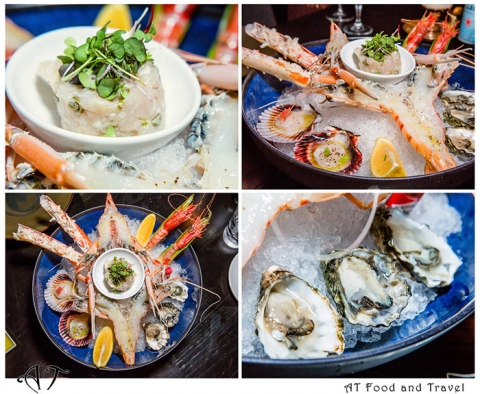 The Gran Crudo di Pesce with Oysters, langoustines, Bay scallops , Mazara shrimp, fish tartare (Mediterranean Sea Bass), and King crab legs. Wow! Was I overwhelmed, and a bit hesitant about the raw shrimp, but we dived in and loved all of it. The shrimp was sweet and everything was tasty and fresh.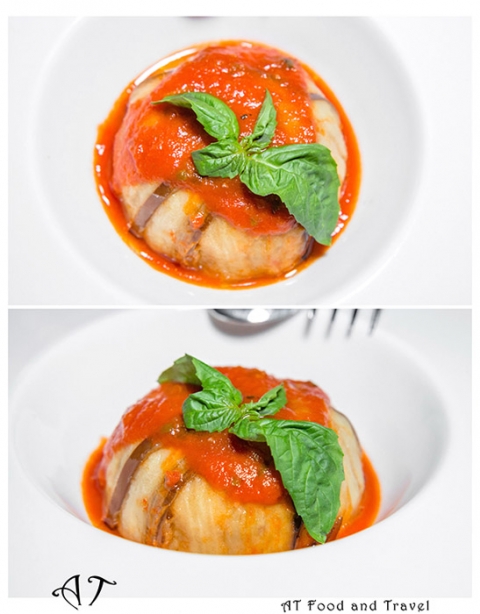 Thankfully we got a small breather with the next dish, PARMIGIANA (farm baby eggplant,  tomato sauce and mozzarella). Unlike the Americanized version of fried eggplant, this dish was baked, simple and yet so delicious! No wonder is one of customers' favorites!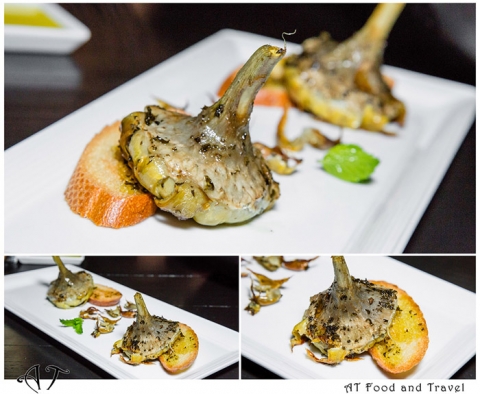 Next came the CARCIOFI ALLA ROMANA (Roman style artichokes). This was the first time we've ever had artichokes cooked with the skin on (thus Roman style). It was so good that I accidentally ate some of the skin! Yep, it was that tasty! LOL!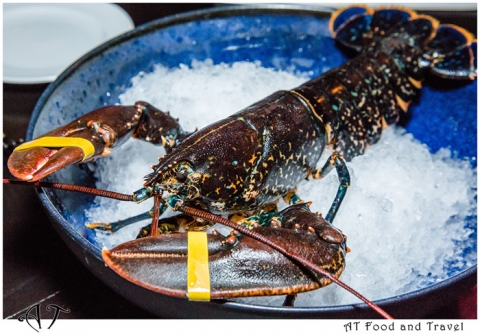 (BEFORE AND AFTER)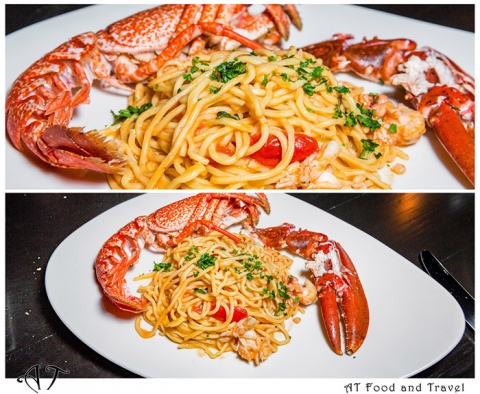 Next came the most beautiful and colorful plate of  TONNARELLI ALL'ASTICE BLU (Housemade tonnarelli | Mediterranean blue lobster | cherry tomato sauce).  I am drooling all over again just looking at the pictures! The pasta was al dente with so much freshness and flavor!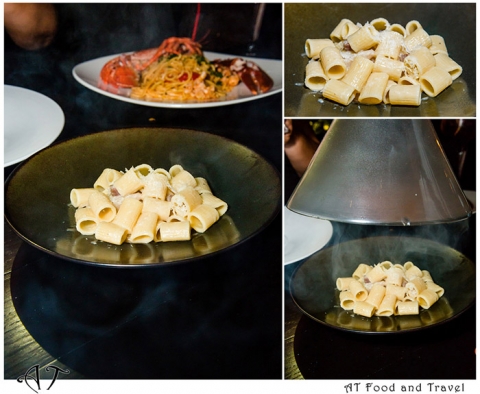 Its a bit of a foodie joke that every restaurant just adds bacon to their dishes. However, you know from the great flavor from  MEZZEMANICHE ALLA GRICIA that this was born out of tradition and not a trend. Smoked under a cone cover, prepared with Guanciale (an Italian cured meat product prepared from pork jowl or cheeks), onions and black pepper. Yep I ate it all.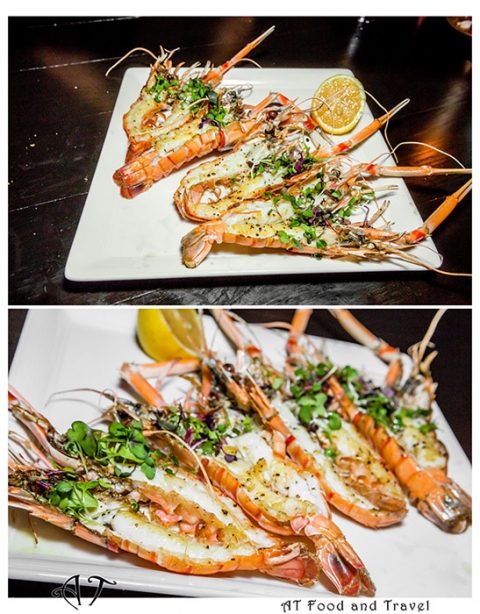 The LANGOSTINI ALLA GRIGLIA (Grilled langoustines) may not seem like a plate to show off technique, but it does show off  what matters – great cooking with the perfect taste of the main item.
Are you full yet just looking at all this great food. Well, look what came out of the kitchen next….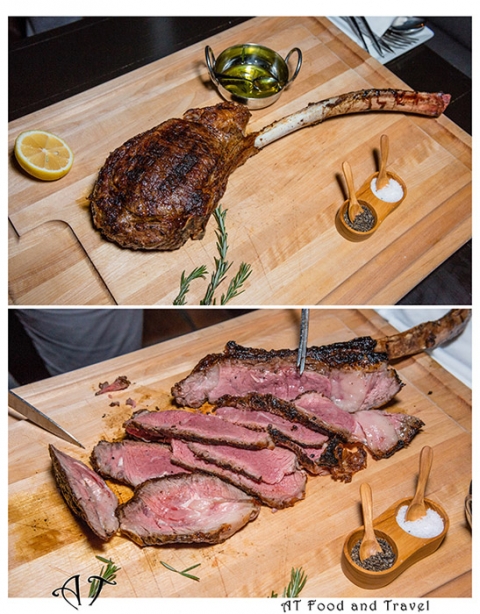 Our jaws almost dropped to the floor! A huge TOMAHAWK of Wood grilled 34 oz. prime bone in rib eye Tuscan style. Perfectly cooked and so tender. No, we didn't finish it, but we really wanted to.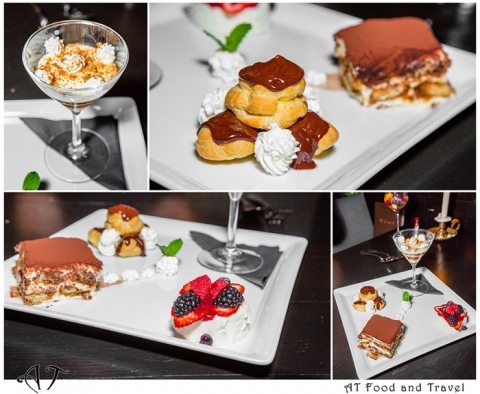 Lastly, the desserts. That's right! A gorgeous sampler plate of sweet treats that consisted of Tiramisu, Cream Puff, Panna Cotta with Fresh Berries,  and a Budino with Grand Marnier Crisp. Couldn't have asked for a better ending to an amazing dinner!
As I eluded to before, at Bianconi their  passion for cooking encompasses more than just  technique. They start with fresh, organic ingredients that you can taste. They also source produce straight from the local Santa Monica farmer's market and their beef, lamb and veal is sourced from regional ranching partners which have been sustainably raised on family ranches. The meat is never administered antibiotics or growth hormones and is fed a 100% vegetarian diet.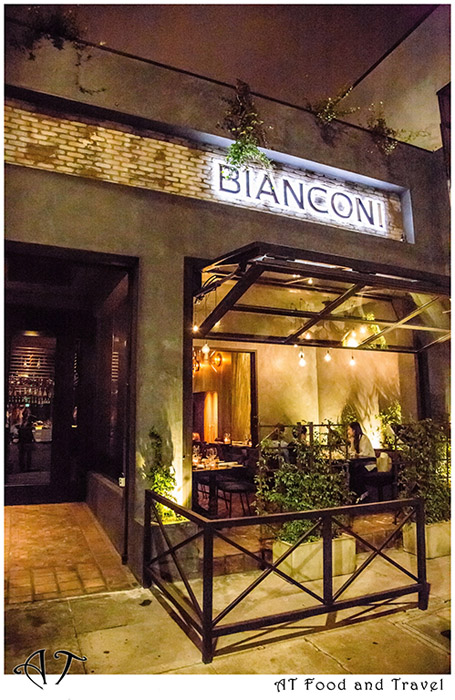 Bianconi features a premium mixology program and an extensive Italian wine list. Their traditional Italian menu features a wood burning hearth grill, hand made pastas, crudo's along with Mediterranean influences under beautifully lit skylights and rustic copper dining room.
Whether you want a romantic dinner, gathering with friends and family or host a special event, Bianconi will please you and your guests with amazing food and service. Valet parking is available right in the front of the restaurant. So take a trip there soon.
Bianconi Restaurant
8338 W. 3rd St.
Los Angeles 90048
(323) 879 – 9777