I don't trek down to Data Point as often as I like. When I do, it is for something special, in this case, to check out the new summer menu specials at Salt Creek Grille and meet the new Corporate Executive Chef, David Fuñe. Chef David has lead many of SoCal's exceptional restaurants, including Splashes, Temecula Creek Inn and The Balboa Bay Club, just to name a few.
Salt Creek Grille first opened its door at the Dana Point location in July 1996 aiming to serve its beloved community with freshest meats, poultry, fish and produce sourced responsibly. The fine-casual restaurant with a warm and welcoming culture keeps the patrons coming back because it's where friends and family can come together to relax and enjoy a unique dining experience.
(Photos by AT Food and Travel)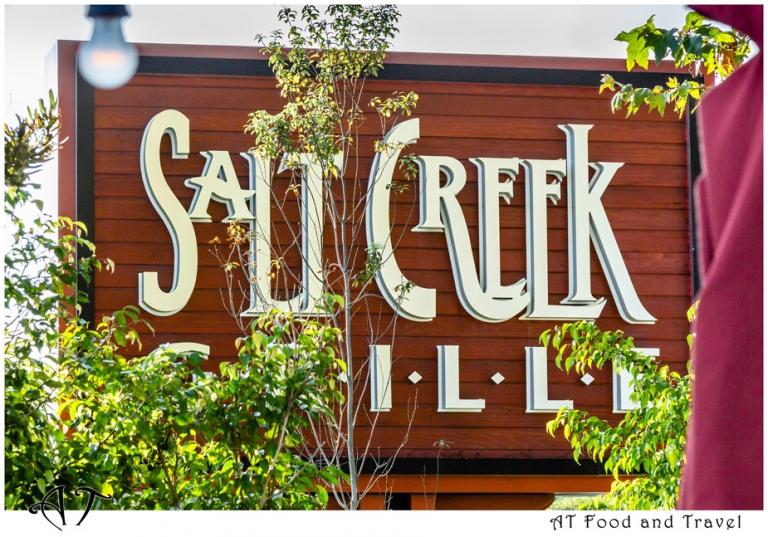 To date, there are 5 locations in Dana Point (CA), El Segundo (CA), Valencia (CA), Princeton (NJ) and Rumson (NJ). This fall a new concept restaurant will be opening led by Corporate Executive Chef David Fuñe. So stay tuned.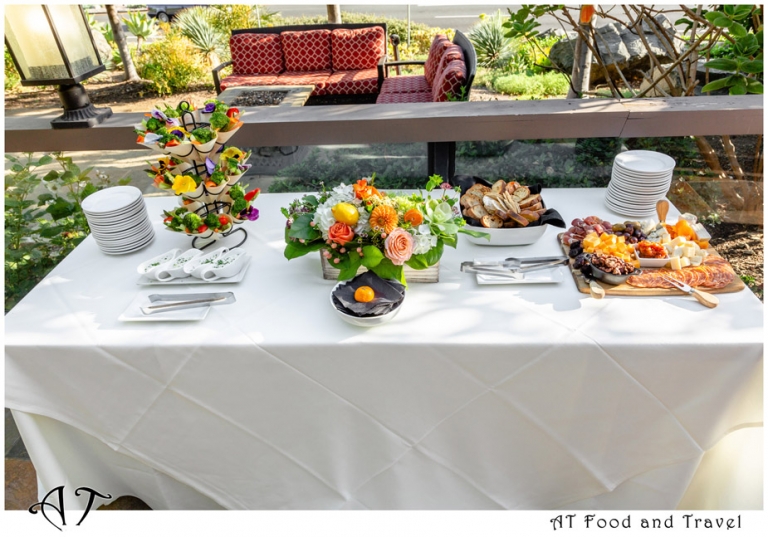 The media tasting was set up at the beautiful outdoor patio surrounded by lush greens and cool ocean breeze. We were greeted with a beautiful Veggies Cheese Charcuterie station. The weather couldn't have been more perfect!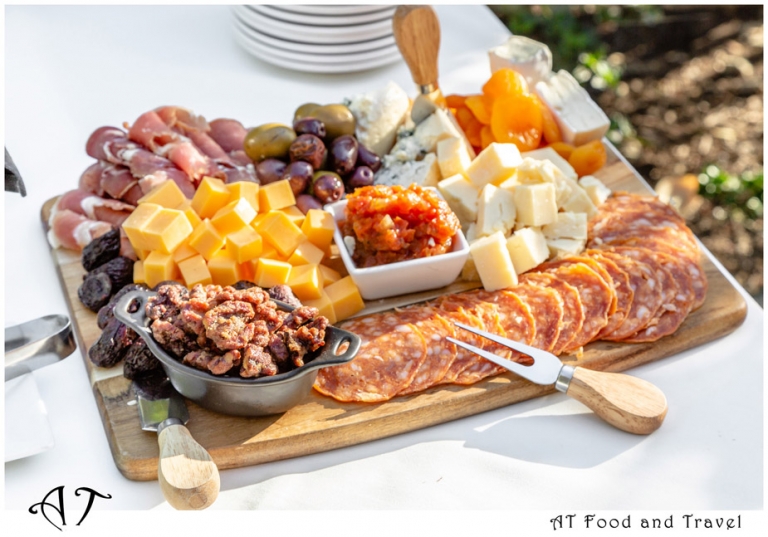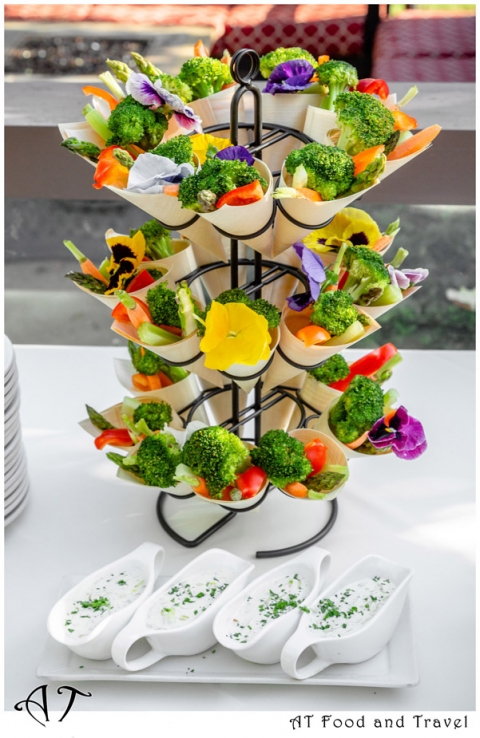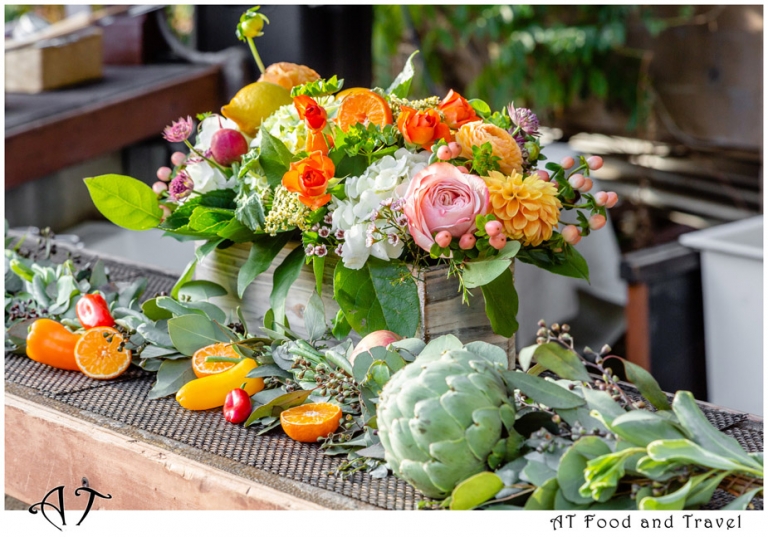 Salt Greek Grille houses an impressive list of wine, spirits and cocktails. We got to try a few cocktails that are perfect for summer, cool and refreshing!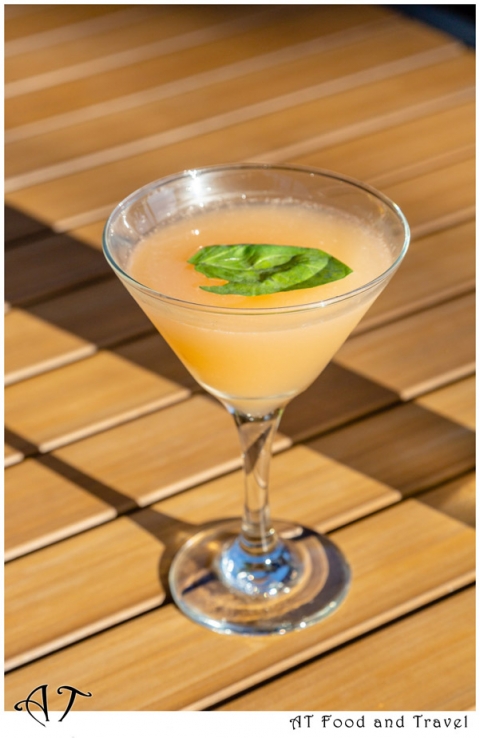 Basil Greyhound – Stoli Vodka, Fresh Grapefruit Juice, Fresh Basil.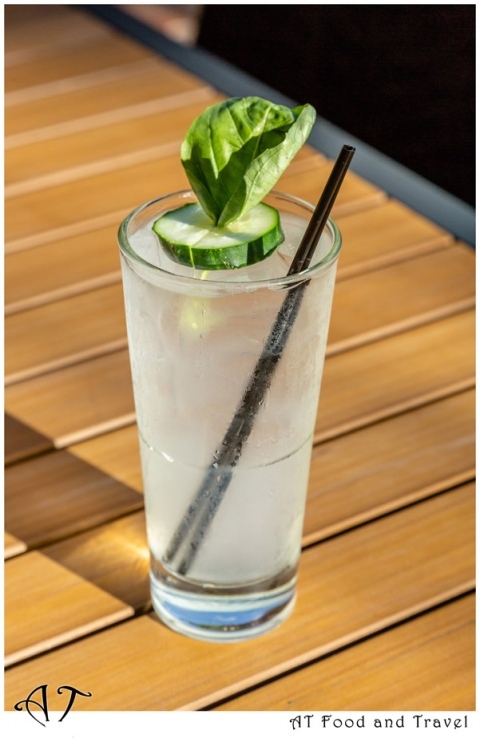 Cucumber Basil Cooler – Burnett's Gin, St-Germain, Lemonade, Club Soda, Cucumber, Basil.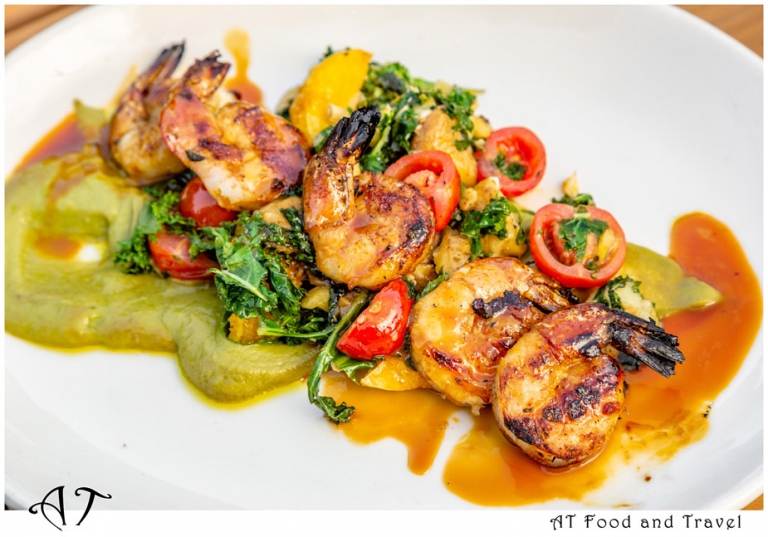 Are you a shrimp lover? Then don't miss this Citrus-Glazed Jumbo Shrimp (Wood-Fired Shrimp, Baby Tomatoes, Citrus Segments, Kale, Garlic, Avocado Mousse, Roasted Fingerling Potatoes). It's a little citrusy, a little creamy with a whole lot of freshness and deliciousness!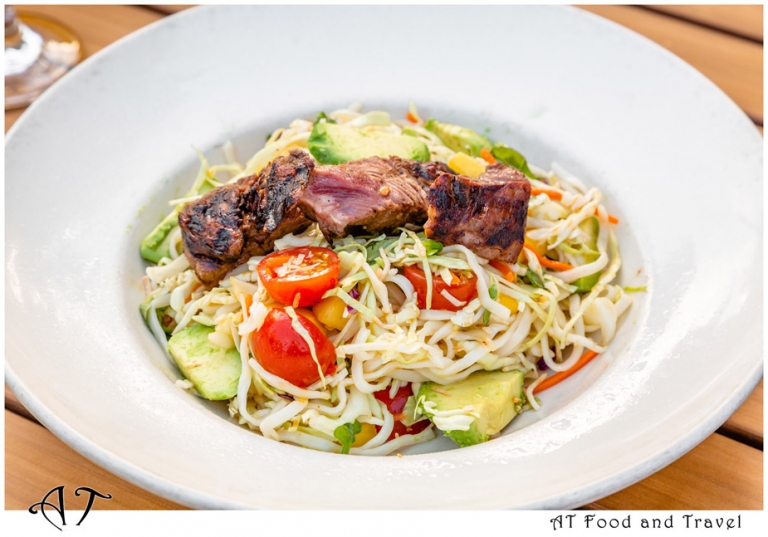 Garlic-Soy Steak & Mango Salad (Mesquite-Grilled Flat Iron Steak, Rice Noodles, Avocado, Cabbage, Cherry Tomatoes, Citrus-Ponzu Dressing). If you ask me, this is a complete meal in one plate. You have your protein, veggies, fruits and carb in a perfectly balanced savory and sweet sauce.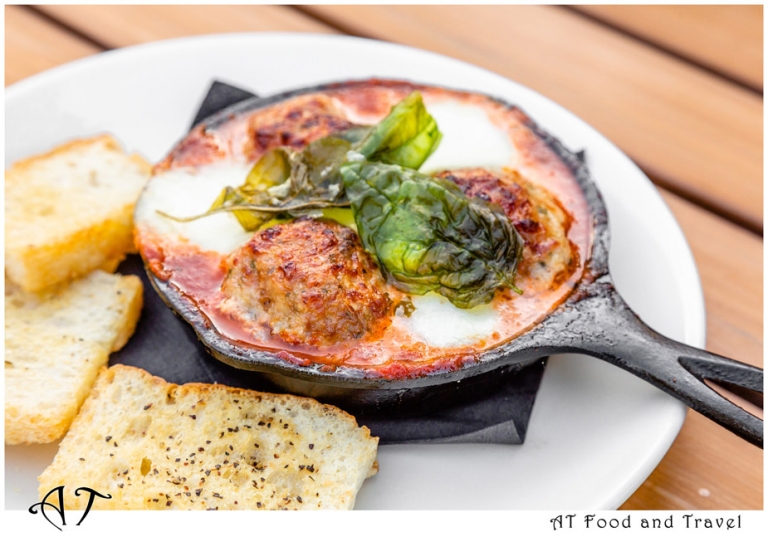 On the Happy Hour Menu is the Butcher's Block Meatballs ( Mix of hand-cut prime beef, Heritage pork, Applewood smoked bacon rolled into meatballs, simmered with fresh mozzarella in a spicy San Marzano Tomato Sauce, served with grilled focaccia toast). I could definitely taste the different cut of meat instead of a mushy meatball like most others. I would come during Happy Hour just to make sure I could order this!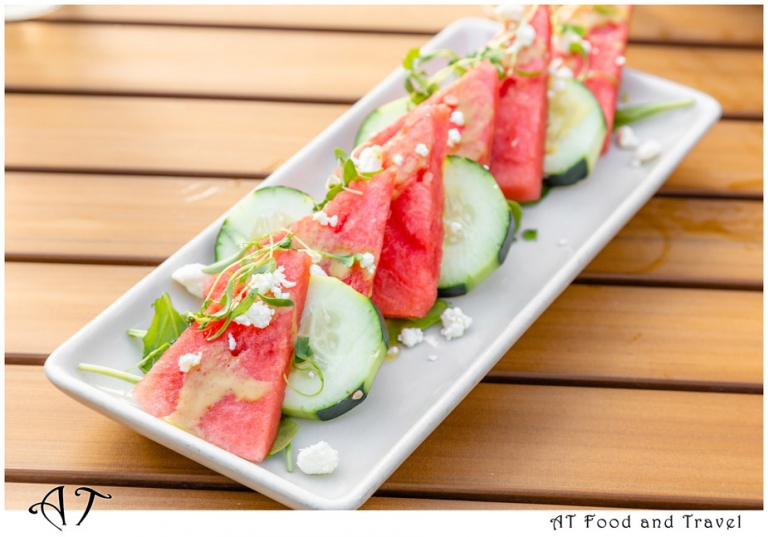 Watermelon is my FAVORTE summer fruit. And cucumber is my year-round favorite vegetable. Put them together with Arugula, Feta and drizzle with Lime Vinaigrette. My oh my, hello Watermelon Salad! I love you!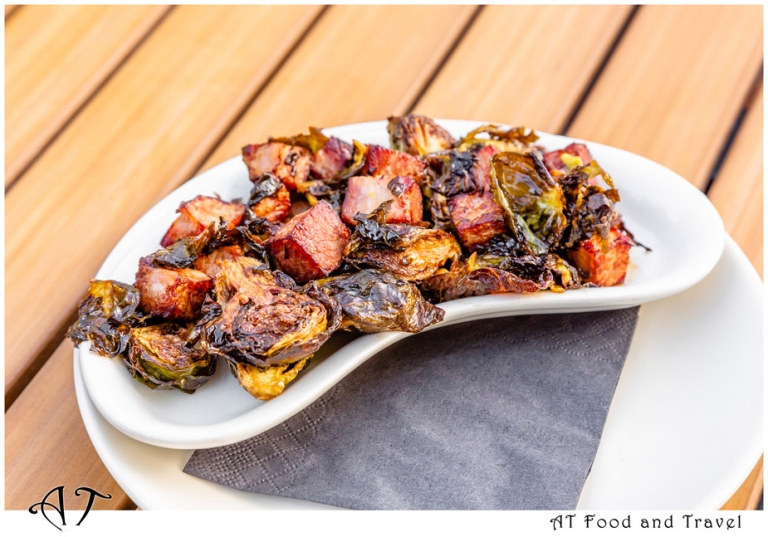 I've had a lot of Brussels Sprouts but no one cooked them as crispy and light as Salt Creek Grille. That's why it's called Crispy Brussels (Bourbon Caramel Glaze, Grain Mustard, Tavern Ham, Sunflower Seeds). The Tavern Ham, instead of bacon, gives it a different level of savory compliment.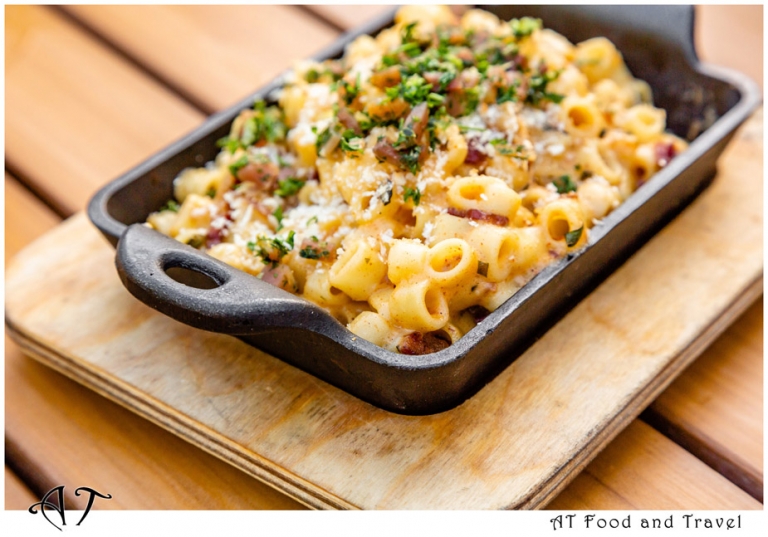 Ahhh, Mac & Cheese; everyone's comfort food. What makes the  Prosciutto Mac & Cheese (Ditalini Pasta, Caramelized Shallots, Applewood-Smoked Bacon, Four Cheese Mornay, Fresh Herbs, Prosciutto Gremolata) different is the pasta and prosciutto in addition to the four cheese, giving so much flavor!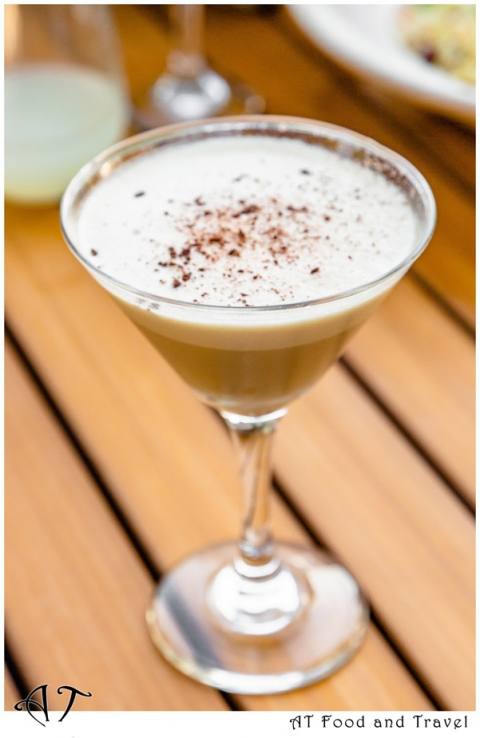 Stumptini – Stumptown Cold Brew Coffee RumChata Liquerur, Kahlua Liqueur. This is a perfect dessert drink for the summer and to end our evening!
Whether it's a date for two, a family gathering or a private/corporate event, Salt Creek Grille offers a selection of rooms and personalized event menus. Because when you're here, they take care of you like family!
Salt Creek Grille
32802 Pacific Coast Highway
Dana Point, CA 92629
(949)661-7799
Visit and like my FB page for more current event updates. Follow me on Twitter and Instagram.
Disclosure: No monetary compensation was received for this post. I was an invited guest to the restaurant to help facilitate this review. All opinions are my own.