It's been years since I visited Palm Springs. After seeing so many Groupon and Livingsocial deals, I told Allen we should definitely visit soon. Lucky for us, an invitation for a media stay couldn't have come at a better time. We were hosted by Hyatt Palm Springs for a media stay recently.
Conveniently located in the heart of downtown Palm Springs, Hyatt strives to bring fun, entertainment and fine culinary experience to patrons of all ages. Whether you are a family with young children, a couple seeing a romantic getaway or having party trip with a group of friends, Hyatt Palm Springs provides a desert playground for everyone to enjoy.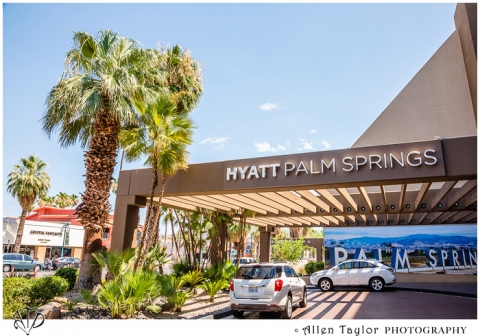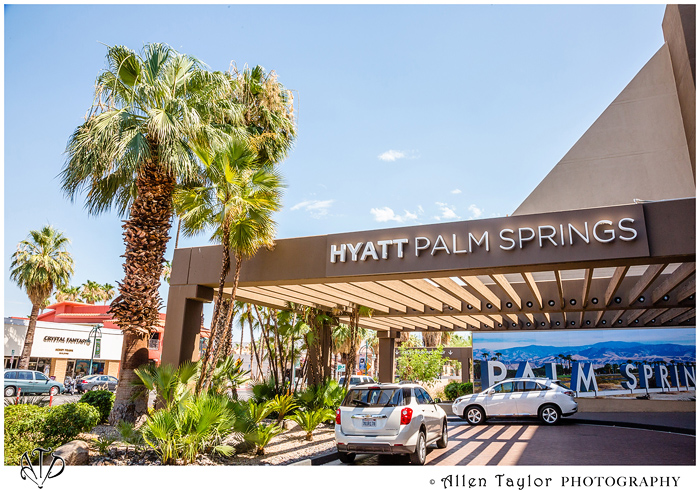 The lobby area is modern, open and welcoming. Along a wall, there are beautiful portraits of winners and presenters from this year's Palm Springs International Film Festival captured by photographer Tali Song Roth.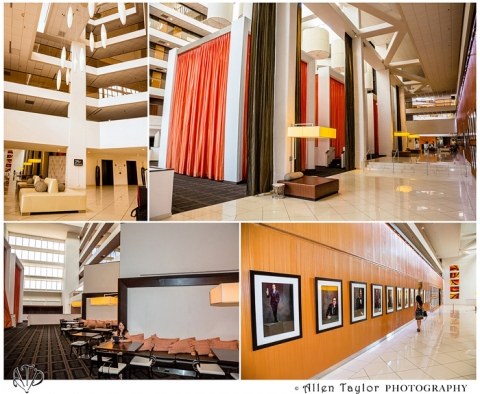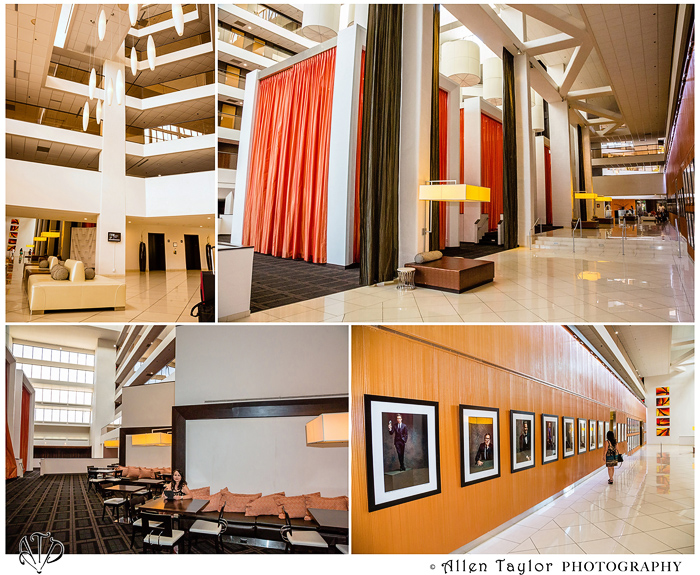 One of the unique features of Hyatt Palm Springs is that EVERY room is a suite!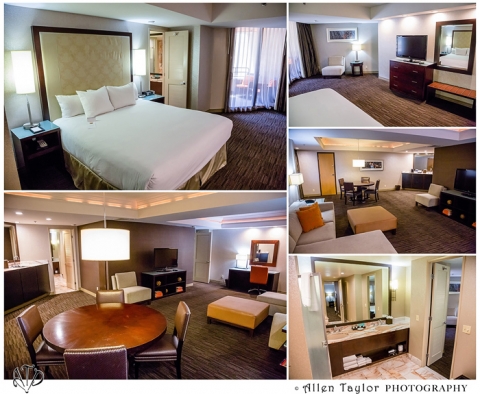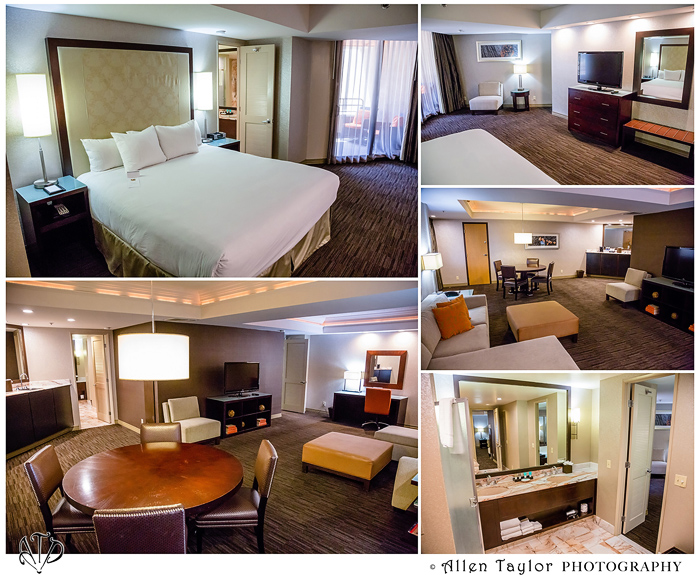 We stayed at a beautiful 1,040 square foot one bedroom executive suite with breathtaking views of the San Jacinto Mountains.  Soft, desert colors highlight well-appointed interiors, including a bedroom with one King Grand Bed™, a lavish marble bathroom with whirlpool tub and plush robes, and a separate living area with sofa sleeper, dining table for four and wet bar.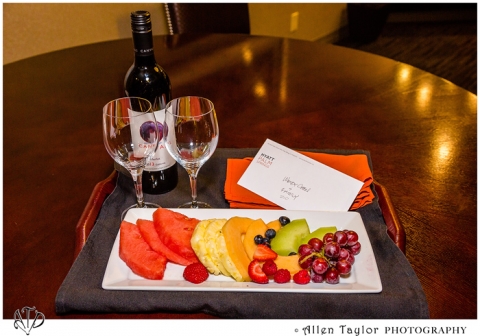 General Manager, Dene Nui sent over a welcoming package that really made us feel like home away from home. In fact, during our entire stay, everyone we've encountered was attentive, friendly and hospitable. Ms. Nui personally visited/talked to guests as she strolled through the hotel to make sure everyone is well-taken cared of.
Once we settled into our room. We headed to Share Restaurant for dinner.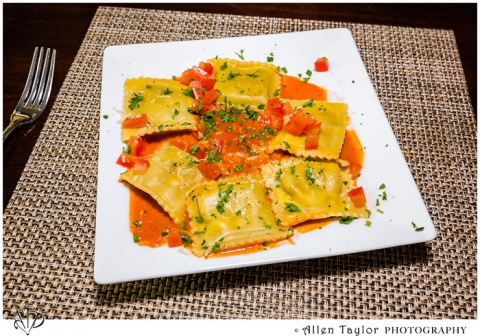 Portobello Mushroom Ravioli (Chardonnay Butter, Smoked Tomatoes) is a not-to-be-missed starter!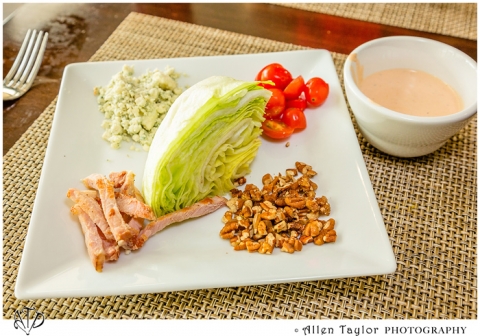 The Wedge Salad (Crisp Iceberg Lettuce, House Cured Loin Bacon, Spiced Pecans, Baby Roma Tomatoes, Crumbled Bleu Cheese, Smoked tomato Dressing) is a nice compliment to any meal.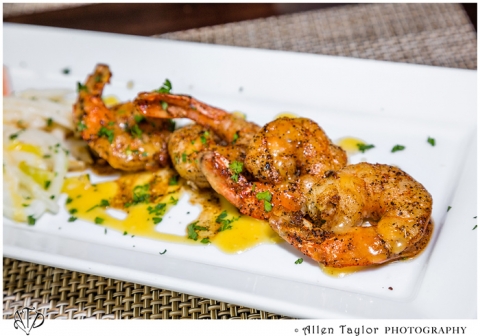 Another from the Starter menu, Sauteed Shrimp (Jicama Slaw, Mango Vinaigrette). Tender, juicy shrimps that dance in your mouth! You've got to order them!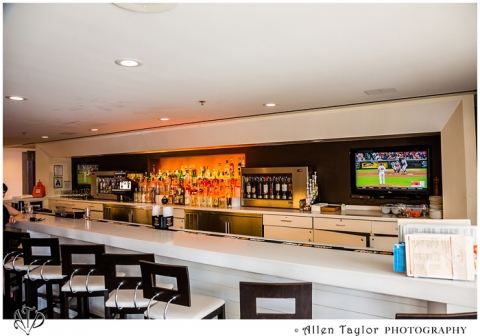 The bar serves more than 40 wines, specialty cocktails and craft beers.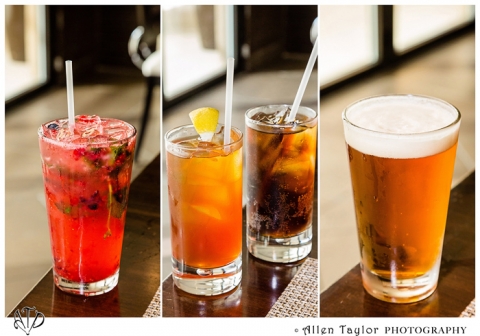 Head Bartender, Briana, mixed her signature drink, Bri, for me and Allen got a nice cold beer. We also got a glass of iced tea and diet coke.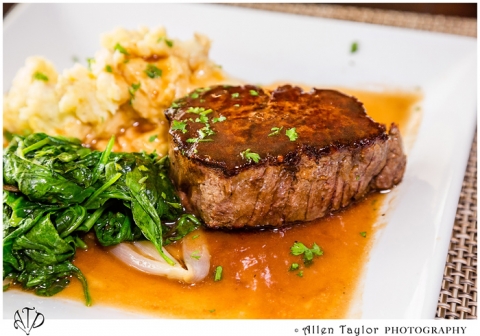 For the entree, Allen got Grilled Center Cut Angus Filet Mignon (Gorgonzola Spinach, Pinot Noir Esses). Holly cow! And I mean 'Holly Cow'! It was so tender and melt in your mouth like butter! If you like a piece of fine steak, you must order this!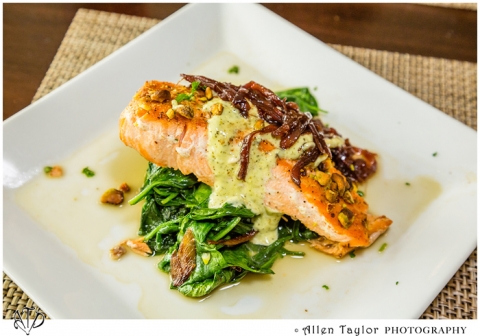 I also enjoyed my Pistachio Crusted Pacific Salmon (Toasted Pistachios, Warm Spinach Salad, Red Onion 'Jam', Herb Aioli).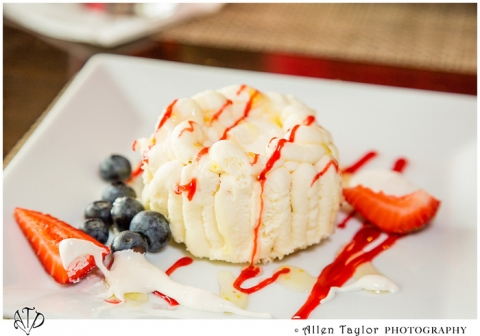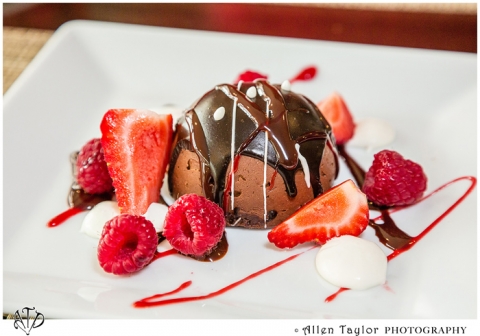 We also had beautiful desserts (Tres Leches Cake and Chocolate Ganache Cake) to end the meal. Stuffed and satisfied was an understatement.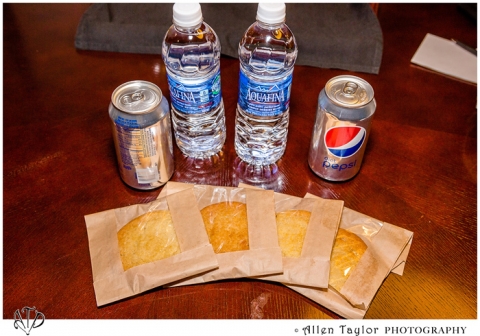 While we were relaxing in our room, we heard a knock. To our surprise, the hotel had a snack cart that went around each room to deliver free cookies and beverages! How cool was that?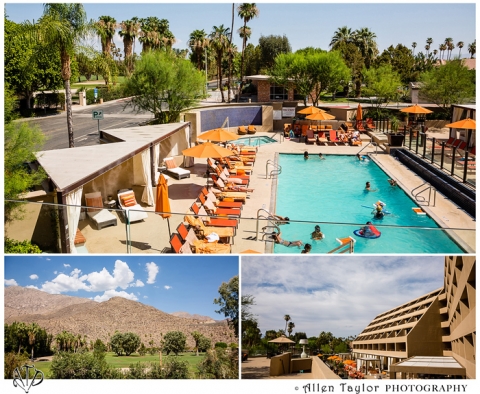 The next morning we woke up to a beautiful view. Many people were already enjoying the pool. The outdoor pool is heated during the colder months. There are many cabanas you can rent with VIP bottle Services. Love golfing? There are more than 80 golf courses nearby for your playing pleasure.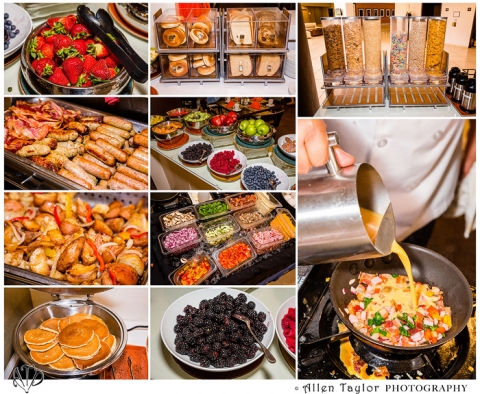 While SHARE Restaurant serves A La Carte breakfasts, we decide to try the weekend brunch buffet. There were so many options including a full omelet station. Loved it!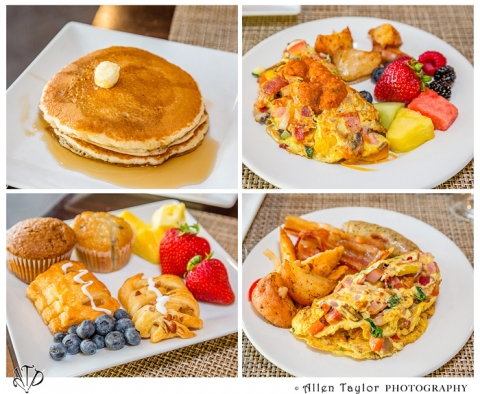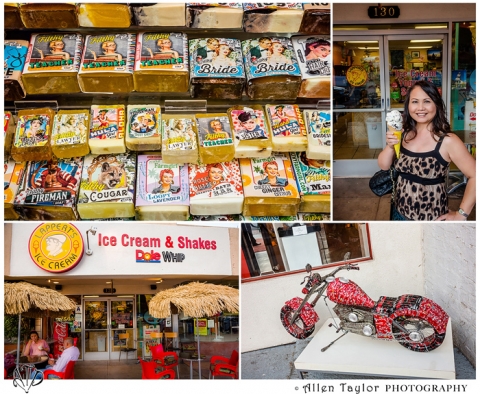 We took a stroll during the day to check out all the shops nearby. One of the art galleries had several art sculptures, including this unique motorcycle made with coke cans. And we had to give the famous Lappert's Ice Cream shop a try, too.
There are so many activities you and your friends and family can enjoy.  Hike sun-drenched canyons in the morning and polish your short game at a nearby putting green in the afternoon. Visit The Living Dessert Zoo & Gardens, Wet 'n Wild Palm Springs or ride the Palm Springs Aerial tramway up to the famous San Jacinto State Park.
Love to shop? There are plenty of shops all within walking distance. You can even rent a bike from the hotel for 2 hours to explore more of the surroundings.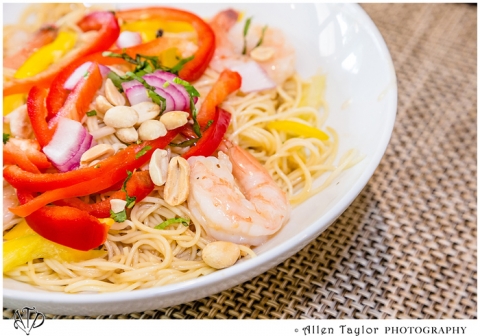 Before you knew it, it was time for dinner again. We were back to SHARE Restaurant for more deliciousness. The Gulf Prawn and Noodle Salad (Poached Gulf Prawns, Mung Bean Sprouts, Thin Peppers, Mint, Basil, Cilantro, Scallions, Ezsty Asian Dressing) was perfect to start. Actually I liked it so much, I practically ate it as my entree.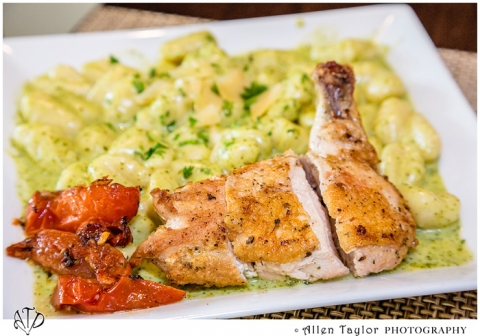 When I got my entree of Free Range Chicken Breast (Potato Gnocchi, Pesto Cream, Roasted Tomatoes), I was already pretty full. Although I loved the Gnocchi (and there was so much of it), I was sad not able to eat much of it.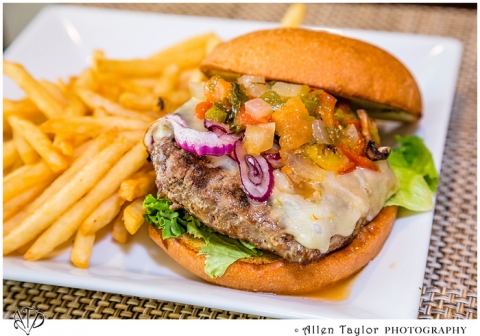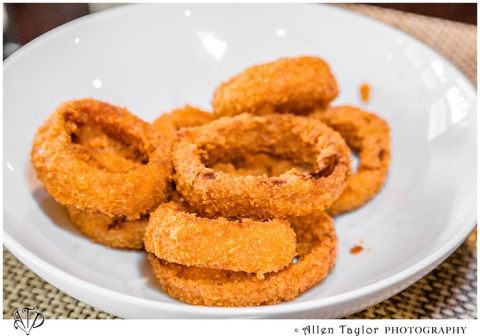 Allen decided to have a Burger with an extra side of Onion Rings (from the lunch menu). He loves a good burger.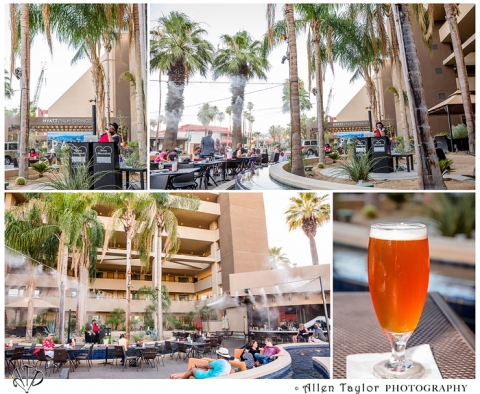 Live music plays 6:30 pm – 9:30pm Thursday – Saturday at the HooDoo Cocktail Garden. We were lucky that Barry Minniefield (Season 8 The Voice contestant) was performing during our stay. This unique outdoor drinking and eating experience is all about people enjoying fresh quality food and drinks while listening to the next generation of Grammy contenders.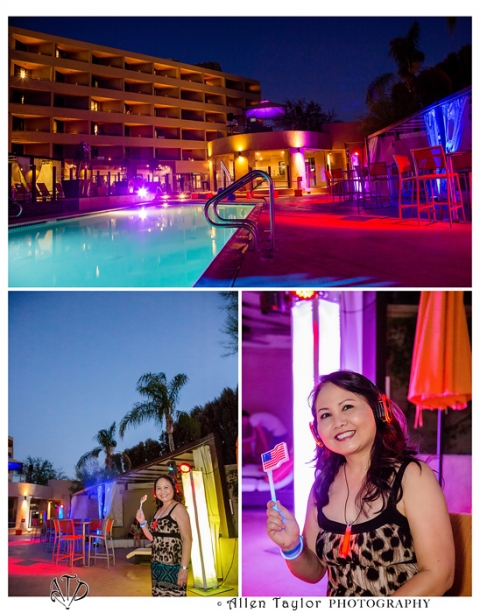 In addition to the weekly Saturday Aqua Libre Pool Party 1:00 pm – 5:00 pm with live DJ, Hyatt Palm Springs also hosts Silent DJ Pool Party once a month from 8:00pm – 11:00 pm. Silent DJs or Silent Discos are a unique way of experiencing live music, where guests wear wireless headphones and a silent atmosphere instantly transforms in to a high-energy musical performance. I thought it was such a brilliant idea! We had a blast! The next two will be on August 8 and September 5th, 2015. Come check it out yourself.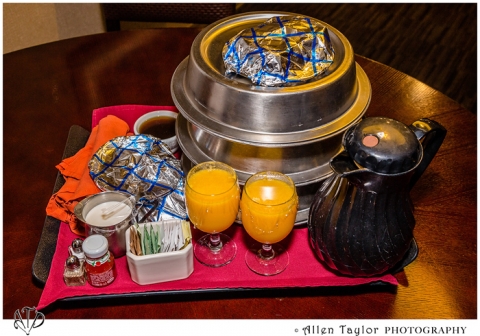 The weekend ended all too soon. We ordered room service on our last morning before checking out.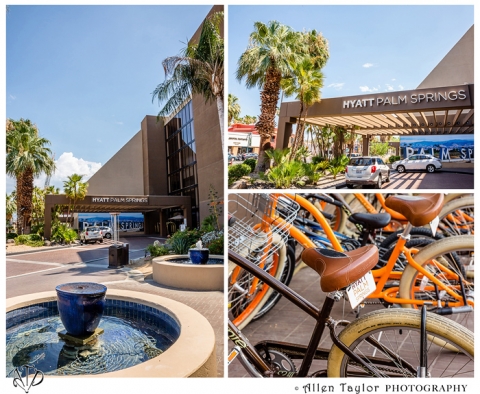 With only a short drive, Hyatt Palm Springs is a perfect place for a vacation that combines casual relaxation and outdoor adventure. We can't wait to come back again!
Hyatt Palm Springs
285 North Palm Canyon Drive
Palm Springs, CA 92262
(760) 322-9000