Do you ever find yourself working long hours and at the end of the day too tired to cook?  This seems to be how I have been feeling a lot lately trying to meet deadlines.  And you know what's worse when you are starving?  Gorging on junk food, aka, Burgers with Fries, Tacos with Chips, Fried Chicken with Buttery Biscuits, the list of unhealthy eats just goes on and on.  Luckily we now have better alternatives, thanks to Luna Grill!
Co-founded by Sean Pourteymour and Maria Trakas Pourteymour, the husband and wife team sets out to provide fresh and delicious Mediterranean cuisine that is good and good for you!  A few facts to know about the food at Luna Grill (cited from the menu):
We support locally harvested produce, sustainable farming, and local businesses whenever possible.
Livestock is raised in a humane way and never fed animal byproducts.
We use oils that are free of trans or hydrogenated fats.
No added growth hormones, preservative free, all natural poultry, beef & lamb.
(Photo by Allen Taylor Photography)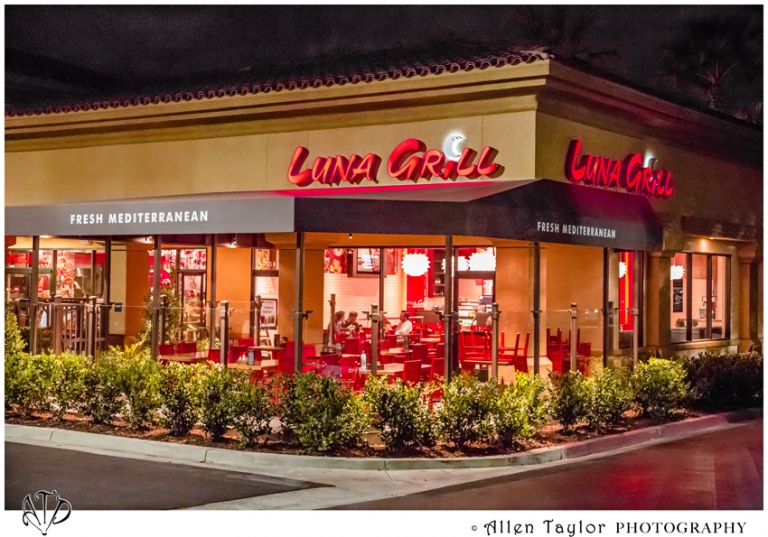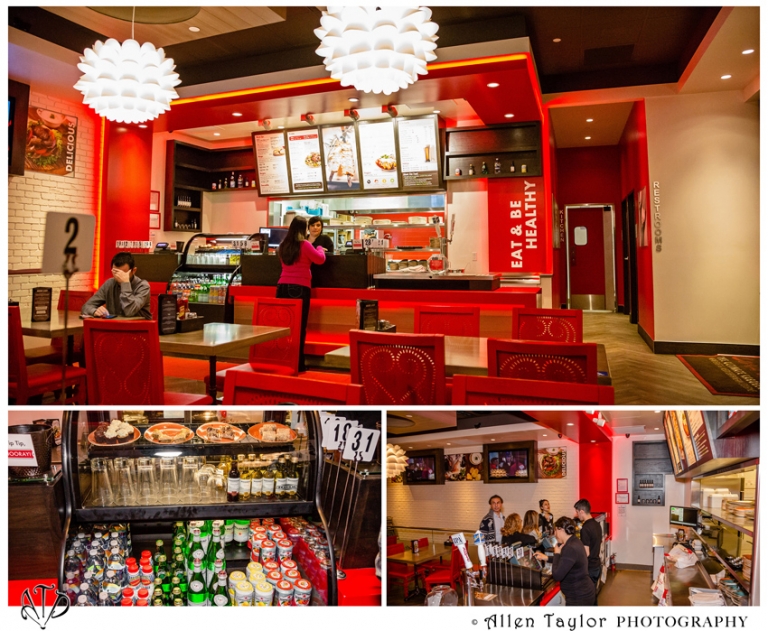 The decor is the happy red.  If you didn't know, the color red is said to stimulate appetites.   I love the heart design on the back of the chair.  The atmosphere is very inviting and casual.  The staff is extremely friendly and helpful.  I met up with Stephanie, the manager on duty, when Allen and I arrived. After a brief introduction, she left us to browse the menu and decide what we would like to try.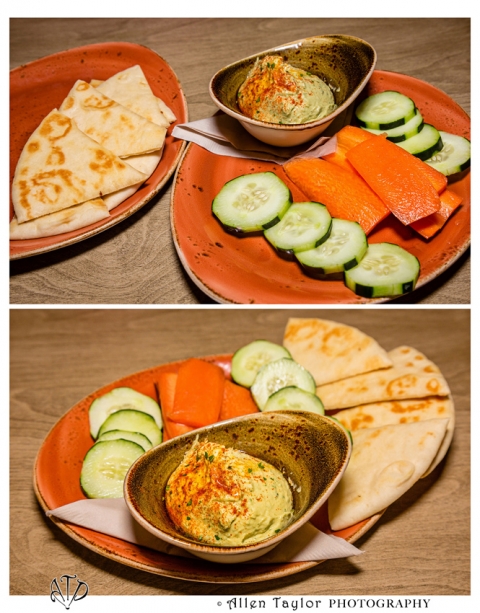 Of course we had to try the Hummus.  You have a choice of Regular or Spicy Cilantro with Pita Bread or Sliced Veggies.  We chose Spicy Cilantro and got both the Pita Bread and Sliced Veggies.  This was a perfect appetizer to start with.  We loved how smooth and creamy the hummus was with just a hint of heat.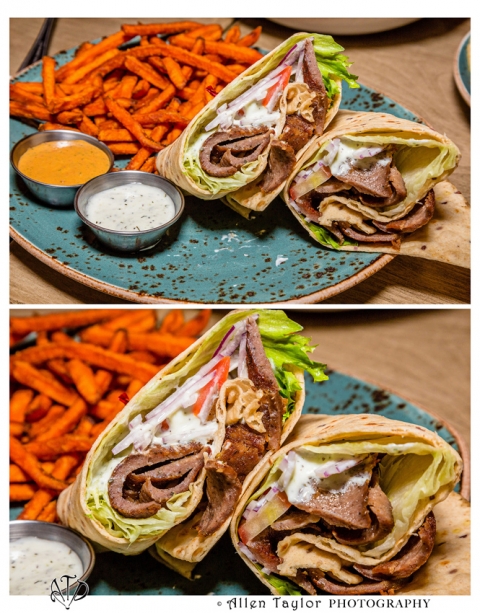 Our first entree was the Gyros Wrap (prepared with fresh greens, tomato, onion and signature sauce) which came with Sweet Potato Fries (upgrade).  I also chose to have the multigrain flatbread instead of the pita bread.  This is perfect for on-the-go.  The Gyros was very tender and flavorful.  I love the flatbread which was lightly grilled.  The Sweet Potato Fries were excellent.  They were light and crispy but not at all greasy.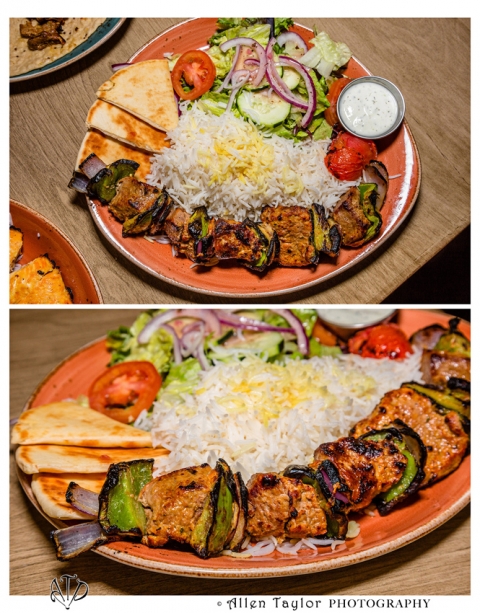 Second entree was Bistro Filet Beef Kabob (Marinated pieces of tender beef skewered with onion and bell pepper).  It came with a side salad, saffron rice, and pita bread.  The big chucks of beef were cooked perfect medium and were so tender.  If you are a beef lover, you won't want to miss this.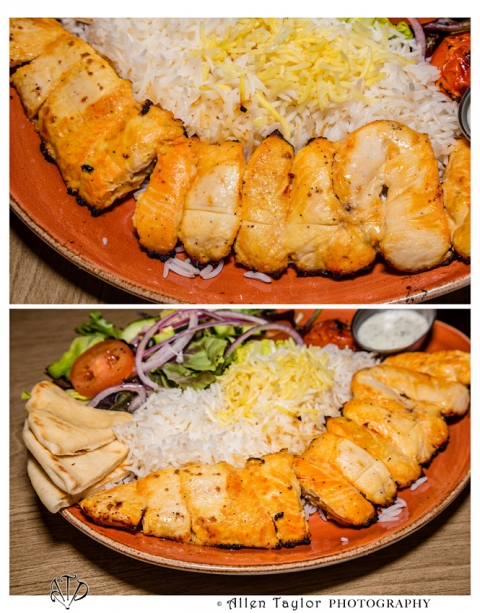 Manager Stephanie highly recommended the Flat Cut Chicken Kabob (Thinly cut pieces of savory chicken).  "Because the chicken was cut thinner, it takes in more of the marinate." she explained.  She was right.  The flavor was excellent.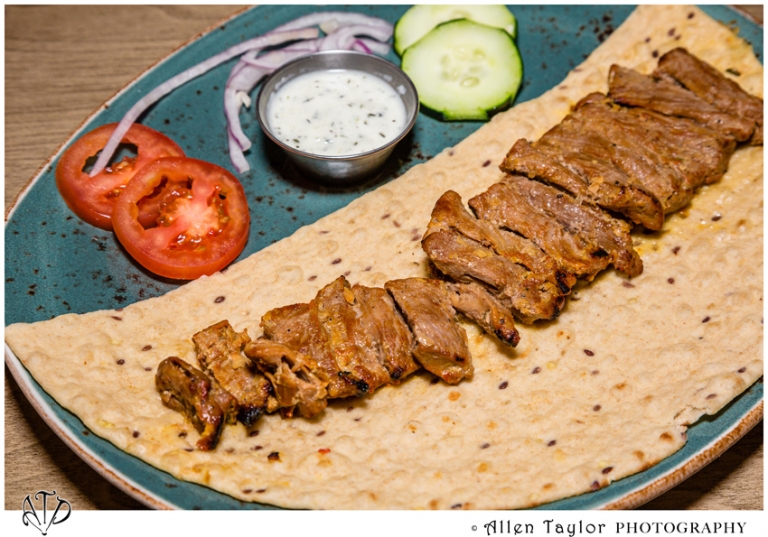 Because we already had 2 full entree plates, we decided to order an Add-On of Lamb Tenderloin Kabob (Tender pieces of marinated grass-fed lamb.).  This lamb blew me away in both texture and taste.  I don't eat lamb often and I had reservation about how it would taste in a casual dining restaurant but it was so tender and flavorful and was my favorite  meat of the night.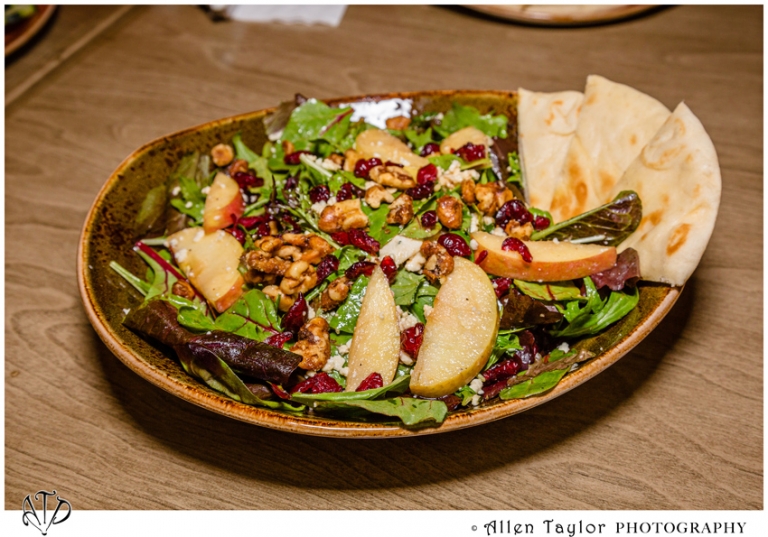 I am a huge fan of salad.  In fact, I often eat it as a meal.  I could not pass on the Apple Walnut Salad (Organic spring mix, fresh seasonal apple, crumbled Gorgonzola, candied walnuts, dried cranberries, tangy pomegranate vinaigrette).  You have the option of adding a protein but I didn't because we already had all the previous entrees with meats.  I love everything about this salad and I would eat it everyday if I could!  I absolutely loved it!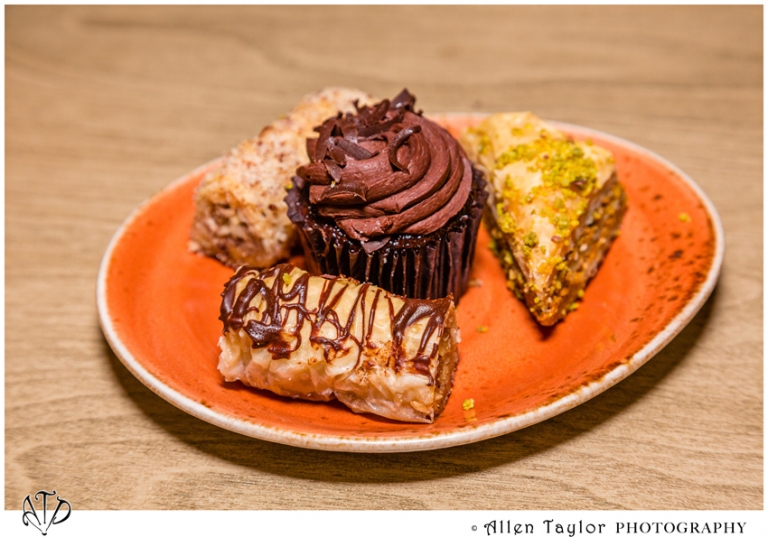 And we had to indulge a little with the mini indulgence.  They were perfect little bites to end our meal!  Luna Grill has locations in San Diego and Orange County, CA, and one in Dallas, TX.  It's looking to go national.  So what did Allen and I think about Luna Grill?  Well, we have one BIG question – When are you coming to Anaheim Hills?
Thank you so much to Christina, Stephanie, and the entire staff at Luna Grill Westpark Plaza, Irvine, for your hospitality!  We loved Luna Grill!