If you have been following me on social media, you probably have seen me check in at shabu shabu restaurants quite often.  It it by far one of my favorite meals that I can eat any time any day.  I grew up eating (Chinese) Hot Pot, but strangely enough, it took a few tries before I fell in love with Japanese Shabu Shabu.  And now I can't get enough of it!
What is Shabu Shabu?  It is a dish which you cook meat and vegetables in a pot of broth, served with steamed rice and 2 sauces; ponzu (citrus infused soy sauce) for dipping the meat/seafood, and gorma (sesame/peanut sauce) for dipping vegetables.  At the end of the meal, left over soup is used to cook udon (Japanese noodle) and/or rice noodle to be eaten as soup.
Miyabi Shabu Shabu and Grill grand-opened in October of 2013 in Irvine Villiage Center.  In addition to Shabu Shabu, the restaurant also serves Yakitori (Japanese style BBQ skewer), Teppanyaki and Sushi/Sashimi.  "Our mission is to serve high quality meat and freshest vegetables and seafood.  For example, we use Jidori Chicken, Kuraburta Pork, Angus Beef, and Wagyu Beef."  It's no wonder that, in the short few months, Miyabi has been gaining popularity and loyal customers through word of mouths.
(Photo by Allen Taylor Photography)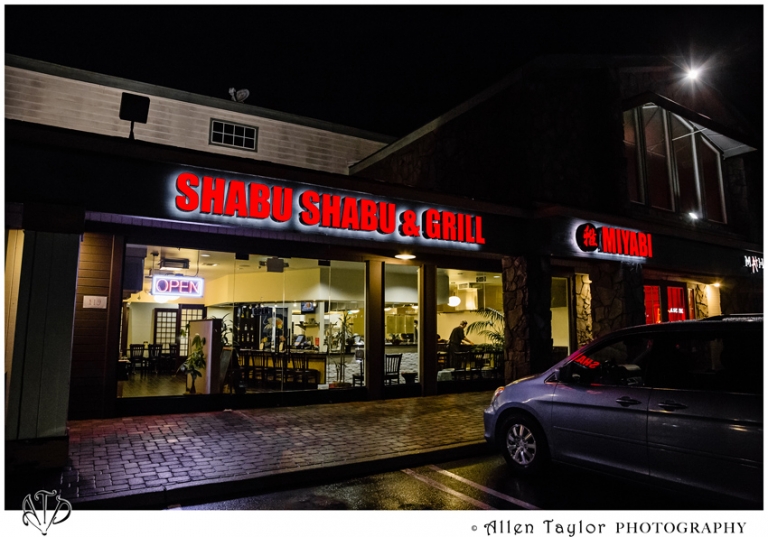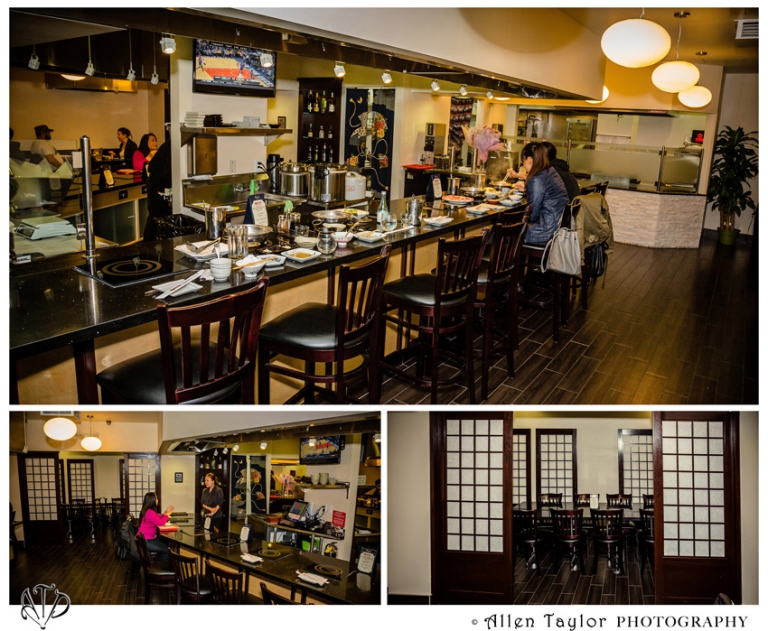 The interior is modern and elegant.  There is a familiar shabu shabu bar in the center of the dinning room.  There are also many smaller tables for 4 along the 2 sides of the dinning room as well as a private party room in the back.  Allen and I were greeted by the lovely owner/host, Ms. An, who chatted with us all evening.  She talked about the restaurant with so much love and passion as if it was her child.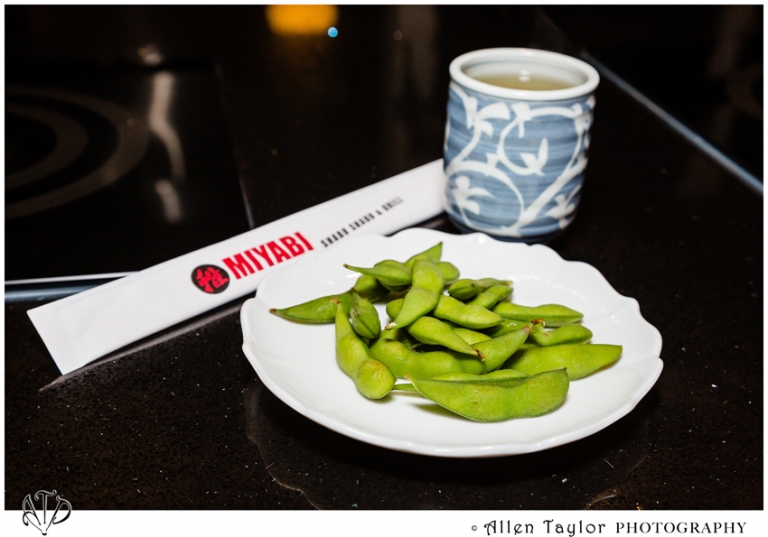 We left it to Ms. An for the 'blind'  tasting.  For the beverage, Allen got a soda and I asked for Green Tea.  Soon 2 small plates of Edamame (steamed soy beans sprinkled with sea salt) arrived.  These are great little snacks to munch on while you wait for the rest of the food to arrive.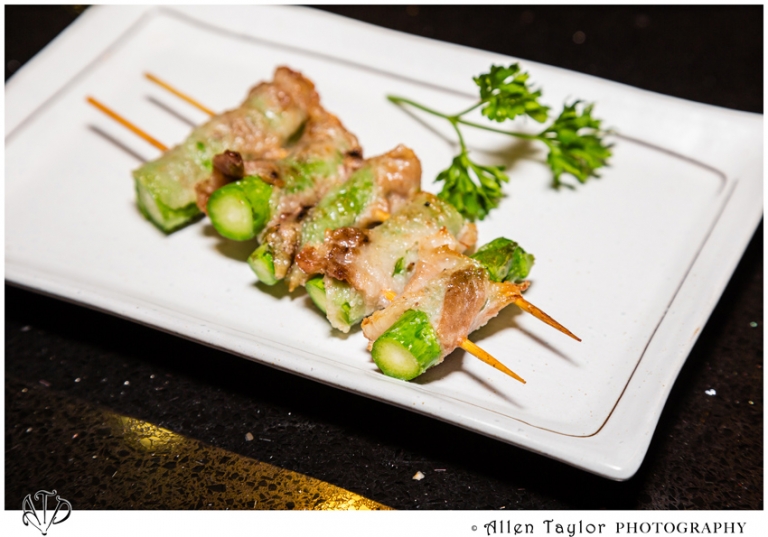 Followed by Bacon-Wrapped Asparagus.  You know what they say – bacon makes everything better!  The asparagus were really tender as well.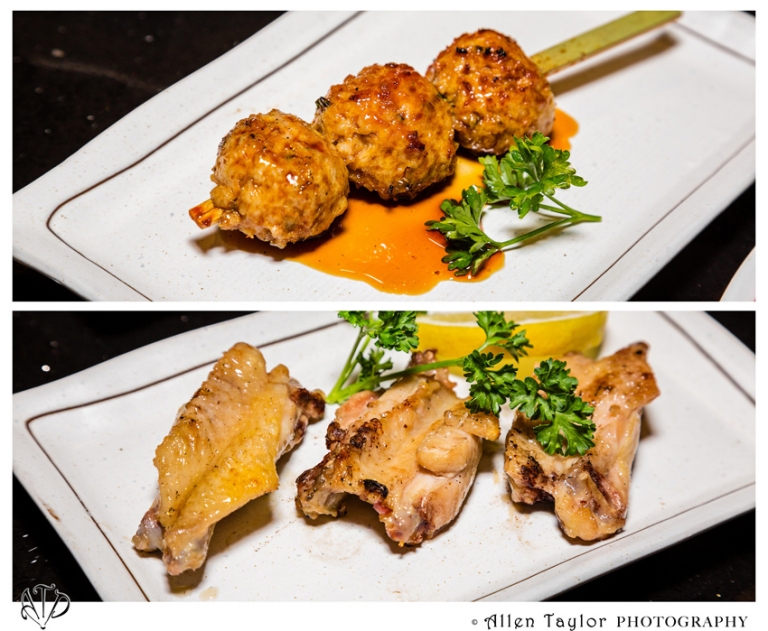 The Chicken Meatball and Shioyaki (salt-grilled) wings were delicious!  The quality of Jidori chicken is definitely evident in the taste.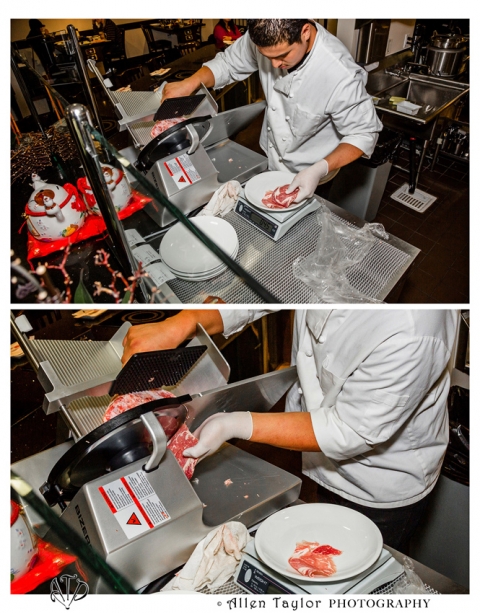 Ms. An offered me the Angus Rib-Tye Prime (large) Shabu Shabu.  Whatever meat you order, it's sliced in front of the bar.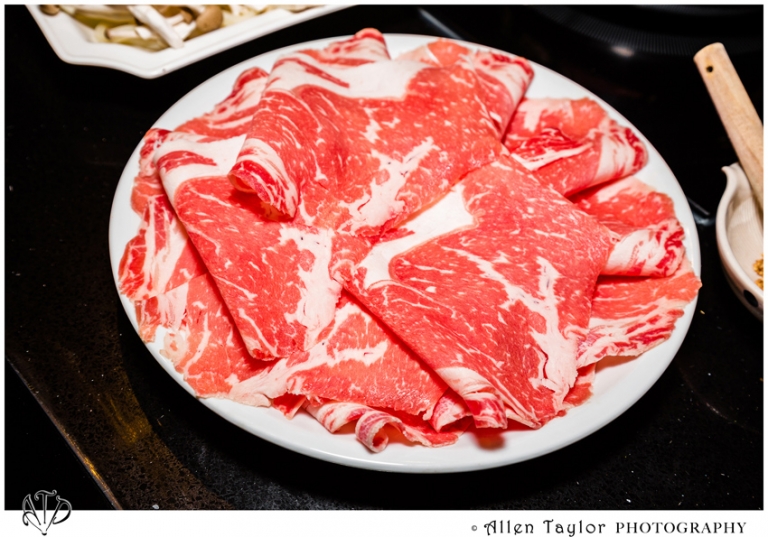 These slices of beef were so fresh and tender that they almost didn't require chewing!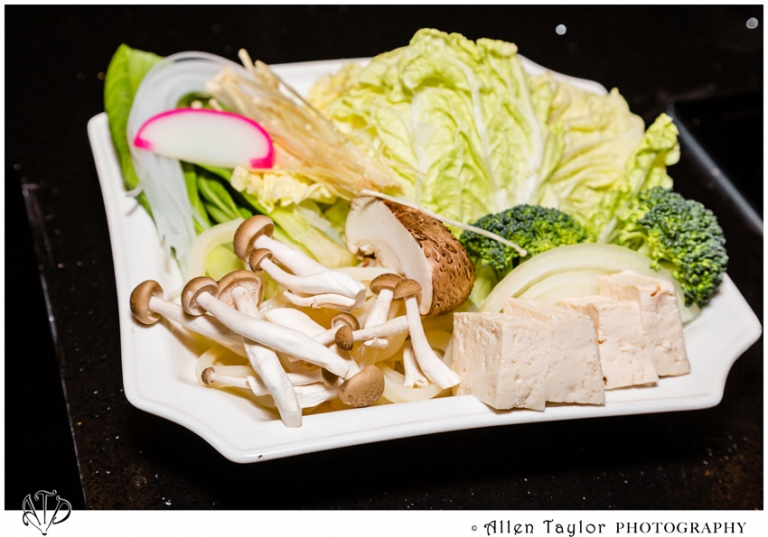 A plate of fresh vegetables with mushroom, tofu, broccoli, fish cake, bok choy, udon, and rice noodle is part of the ensemble.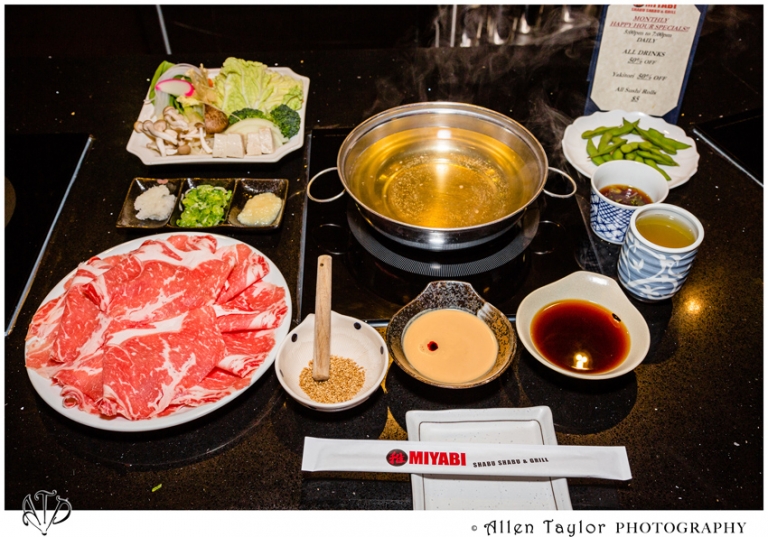 Here is a picture of the complete meal along with the sauces and garnishments; grated daikon, garlic, and green onion.  Miyabi has the best gorma sauce in all of the shabu shabu restaurants I've dined at.  The bowl of sesame seeds that you get to hand crush added extra punch to the gorma sauce.  Oh, if you like it spicy, don't forget to ask for hot drops.  But go easy on the drop as it is VERY spicy.  Start with 1 drop first and see how well you can handle it.
You might also notice that the color of the broth is different.  That is because, the broth is simmered with seaweed and several types of mushroom.  Not just plain water with a couple pieces of seaweed like most other Shabu Shabu restaurant.  This makes a huge difference in the flavor as you cook the veggies and meat.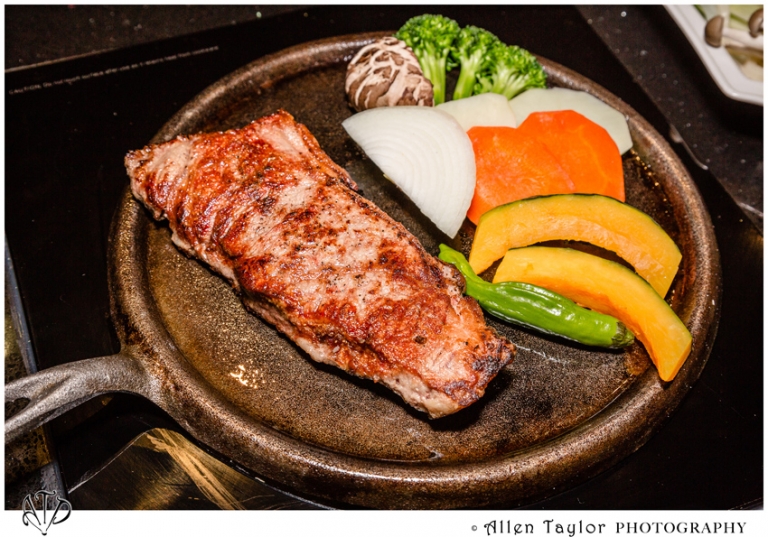 I've never seen an individual Teppanyaki until now.  This was Allen's dinner – Wafu Steak.  When it was first brought out, it was sizzling but barely cooked.  It continues to cook at your table until the desired level, then the server shuts off the heat.  If you want the steak more on the rare side, you can just remove it onto the plate and continue to cook the vegetables – mushroom, pumpkin, broccoli, onion, carrots, and chili pepper.  Allen likes his steak medium.  It was juicy and tender.  The ginger garlic sauce took the flavor up another notch!  It was delicious!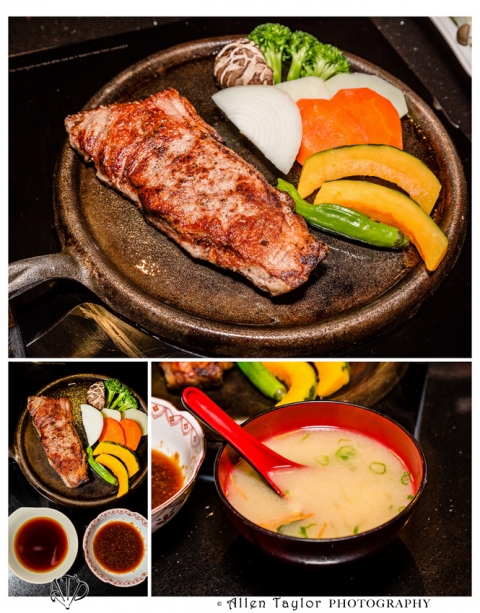 The entree is also served with miso soup.  This is a great alternative if someone in your party doesn't want shabu shabu.  He/she wouldn't miss out the party because there are plenty of other entrees to order.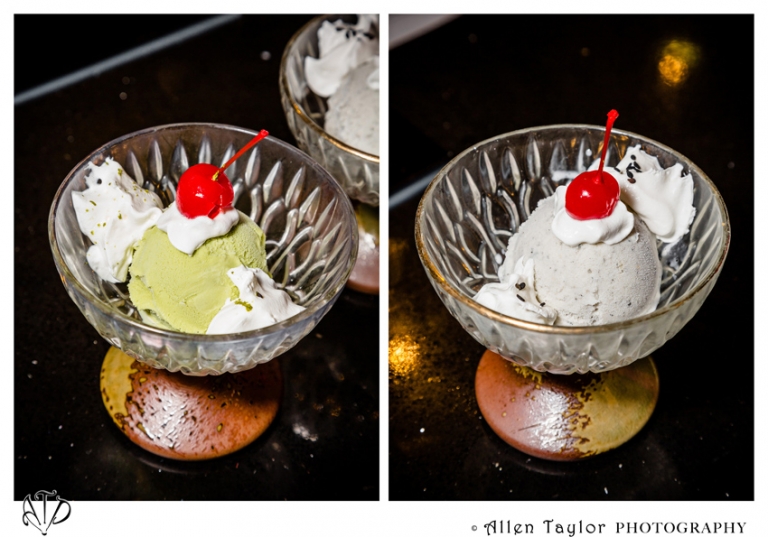 We finished our amazing dinner with tasty Green Tea and Black Sesame Ice Cream.  Yum yum!
Miyabi serves lunch daily from 11:30 am – 2:00 pm (2:30 pm Friday – Sunday).  Lunch Bento is only $10 with Miso Soup, Salad, Sashimi, California Roll, Shrimp & Veg. Tempura and Choice of Salmon or Chicken Teriyaki.  Dinner is served daily from 5:00 pm – 9:30 pm (10:00 pm Friday/Saturday).  Daily Happy Hours are from 5:00 pm – 7:00 pm when all drinks, Yakitori, and Sushi Rolls are 50% off.  Check out their special discounts/coupons on their FB Page often for extra savings!
Special thanks to Brad, Andrew (our awesome server), Ms An and Miyabi's entire staff for an unforgettable amazing tasting!
Are you drooling over these photos?  Stop suffering and get in the car and head on over to Miyabi Shabu Shabu & Grill.  I will see you there!