(By Allen Taylor)
It was a busy weekday evening that I made my way to downtown L.A. Luckily I was already working nearby.  It didn't take too long for me to get to L.A. Live for Tom's Urban Sneak Peek before their grand opening.
(Photos by Allen Taylor Photography)
Tom's Urban is a modern and casual dining restaurant that features multi-ethnic cuisine, big fun drinks, and a variety of small plates. The evening started with a festive introduction to some of Tom's unique liquid libations. You know this is the IT place to hang out with four full service bars located both up and downstairs , 80 taps, and handcrafted cocktails designed by award winning mixologists.
I started with the L.A. Charade (pictured above right) made with Bacardi rum, fresh lime juice, Luxardo Maraschino cherry liqueur, simple syrup served with Filthy Food black cherries. Others around me tried a Bloody Mary and,  in a tin cup.  an Urban Mule made of Hanger 1 Vodka, fresh lime juice, pressed ginger + simple syrup topped with club soda.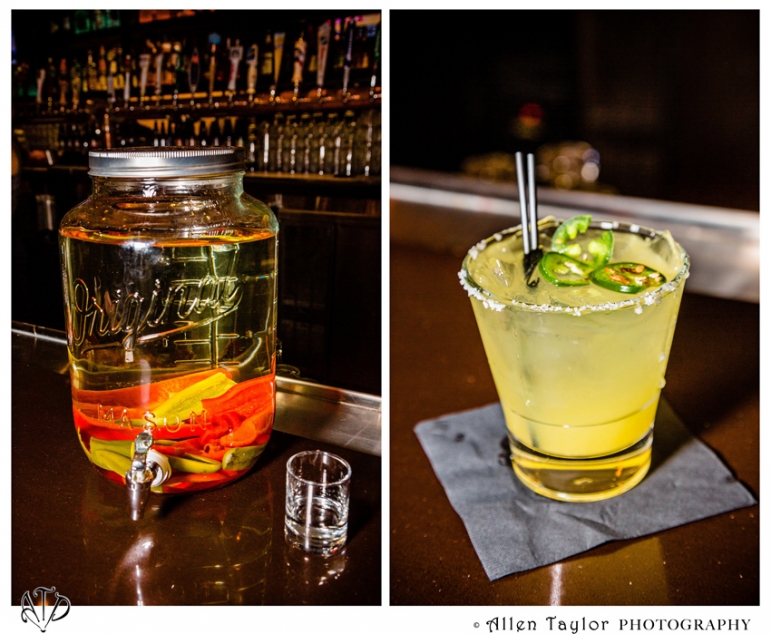 Not too surprising to those who know me, I was quickly drawn to the tequila infused Taze Me! Bro (pictured above right). With  Maestro Dobel Diamond Tequila as its base, it is infused with peppers and pineapple juice placed together in large glass jars for days. Served in a glass with ice and salted lip, it is topped with jalapeños for your thirsty enjoyment.
As he did throughout the evening , Founder Tom Ryan, first introduced himself, the restaurant and each plate as it was presented; "We like to think of ourselves as the first, next and last place to go when you are down in LA Live. ". Tom's Urban has segmented their small plate menu into three distinctive categories: Traditional, Adventurous and Interesting. I'll let you decide which item is in which category for yourself, just know that they all were very tasty.


First up was the Buffalo Wings with Tom's Buffalo sauce which actually features the locally made Sriracha sauce. It comes with a bleu cheese Greek yogurt dressing for dipping and was a great way to start the evening. 


Next was a great White Bean Hummus with Lemon, extra virgin olive oil, and rosemary flatbread which everyone seemed to enjoy.
I was extremely honored to have Chef Andrew Selvaggio personally served the third dish to me. 
The All American Cheeseburger Sliders where definitely a favorite. Chef Selvaggio explained they were made with certified Angus Beef, American cheese, mustard, ketchup, pickle, and all between a butter-toasted brioche – a must-try in my book.
The great dishes just kept coming. We where then served a San Marzano Meatball (pictured above top – made from all natural beef and pork, marinara topped with some Sonoma Goat Cheese), a warm meat, cheese and tomato smothered goodness. Now it would be easy at first glance to think the next item was simply a Grilled Cheese Sandwich (pictured above bottom), but that would be selling it way short. The Grilled Croatian Fig Jam features three different cheeses (Fontina, brie, and  havarti) on a  butter-toasted brioche and was another fave on my list. Not only did the three cheeses blend wonderfully together in my mouth but the fig jam added an interesting twist without being overbearing to what would normally be called a traditional plate.
The third dish shown above was the Ginger Chicken Pot Stickers with a Seoul dipping sauce. Another solid and fresh item.
Next we received an adventurous plate of Edamame Falafel made from Tzatziki, arugula, parsley, and tomato.



Followed by this yummy Sticky Pork Belly Taco with Chipotle aioli, cole slaw, cilantro, and a fresh orange wedge worked very well to squeeze over the rest.



The final plate was the Baby Kale and White Bean Urban Pizza with Asadero and Sonoma goat cheese.
Since this was a media tasting many of the dished where plated differently than how you would normally receive them in the restaurant. Below are a few more images of the actual dishes as you would see them plus a couple of extras. Parking is very easy and located directly below LA Live.
Tom's Urban opens at 6:30 AM with many breakfast items and stays open until the last person leaves. It is a great place  for a bite and a drink. It would be my first choice to meet up with friends or stop in while going to an event at the very close Staples or LA Convention Centers.  So give it a try and let me know how you like it.

Tom's Urban | LA LIVE
1011 S. Figueroa St.
Los Angeles, CA 90015
(213) 746-8667