If you have attended a wedding or planned a wedding, chances are you've heard of 24 Carrots Catering.  A full service catering and events company serving all of Southern California, it has won awards year after year, including The Knott for Best of Wedding, Bride's Choice Awards by Wedding Wire, and the highly regarded 2012 ACE Award for achievement in catering excellence.
Jon, the Owner (pictured below), and the entire team of talents are passionate about helping people make unforgettable memories that they can cherish for a lifetime.  Their love and dedication to make each event special were evident in the details at the Chef's Table Tasting I recently attended.
If you are a fan of Top Chef like me, you might remember Chef Ashley Villaluz (now Ashley Domingo) on Season 9 of Top Chef Texas.  Her experience and talent also won her the nomination for James Beards' rising Star Chef  Pacific Northwest in 2008.  I felt extremely humble and honored to have had the opportunity sitting at the Chef's Table among the many distinguished food writers.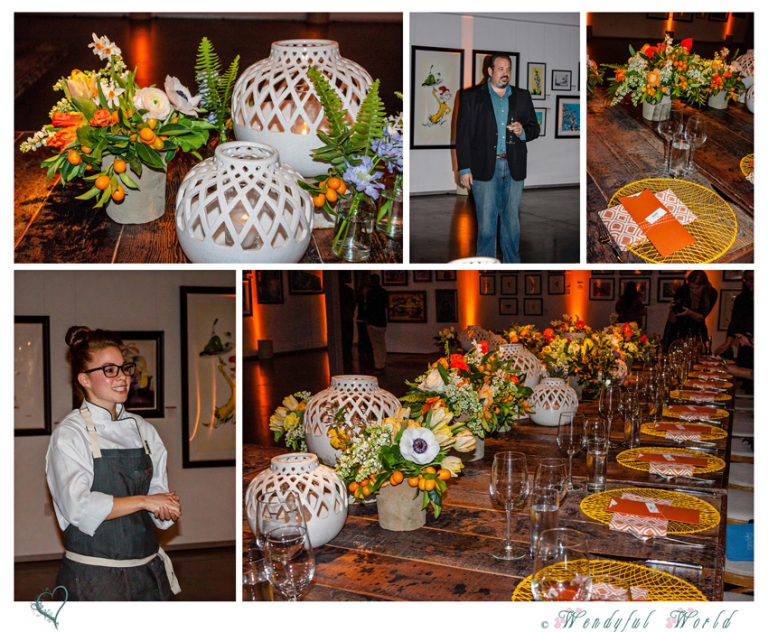 Upon entering the Chuck Jones Center at South Coast Collection, I was blown away by the gorgeous table setting by Inviting Occasion and Found Rentals!  I knew it was going to be an evening of festivity to follow.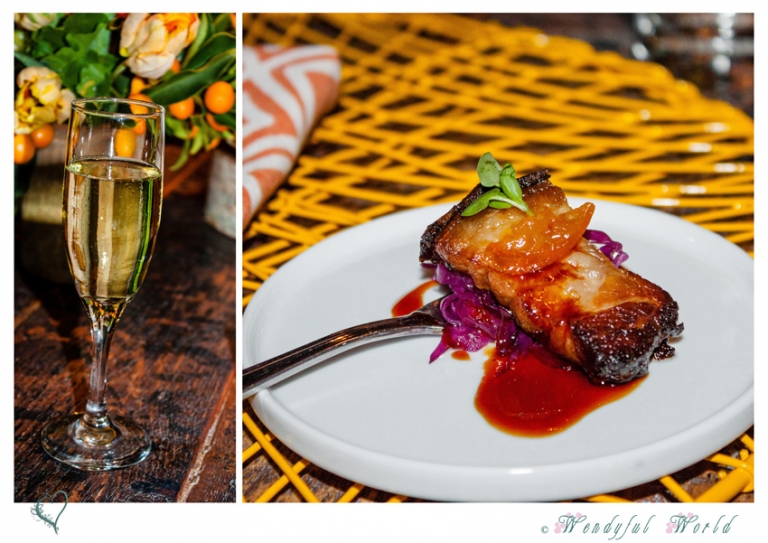 While waiting for the guests to arrive, we were served Tray Passed Amuse Bouche – Kurabuta Pork Belly with Pickled Red Cabbage and Soy Caramel Sauce , paired with Aimery Cremant de Limoux Brut N/V Champagne.  What a tease it was because I wanted MORE of the Pork Belly in my tummy!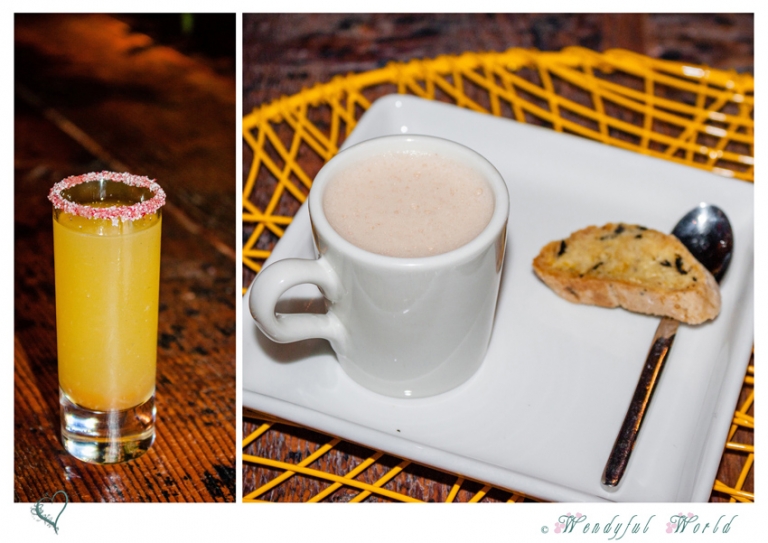 Once all the guests were seated, Jon and Chef Ashley gave a short welcome speech and we toasted with the Kumquat Shooter.  This was my favorite drink of the night, slightly sweet with a rim of sugary spice.
If you haven't noticed by now, the theme of the evening was 'Citrus'.  The bright golden color was Chef Ashley's inspiration for the tasting menu.  Even the floral arrangements by Inviting Occasion cleverly incorporated the citrus fruits.
Our First Course  – Oxtail and Truffle Cappuccino (Oxtail Consomme, Braised Beef, Whipped Truffle Butter with Mini Truffle Biscotti).  I must admit, I don't recall ever had 'savory Cappuccino' but I liked it a lot.  The truffle flavor was quite delicate and the braised beef was so tender.  And yes, we dipped the biscotti just like how we'd drink Cappuccino.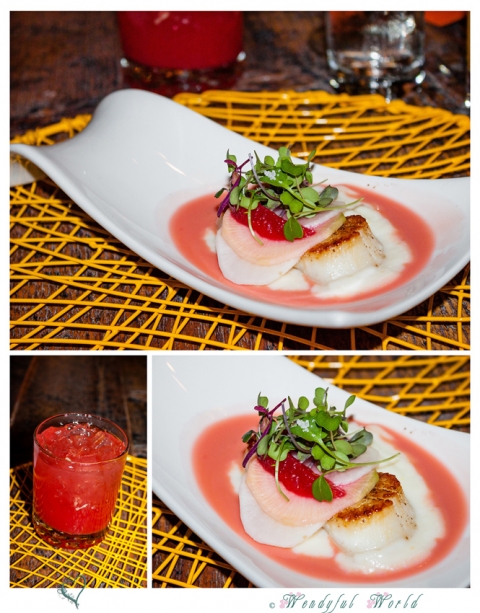 Second Course – Pan Seared Sea Scallop and Radish Carpaccio (Shaved Radishes Lightly Pickled, Cauliflower Puree, Blood Orange, and Citrus Emulsion), paired with: Bourbon Blood Orange Cocktail with Fresh Ginger.
I loved how the drink and the dish colors were coordinated.  I absolutely adored the scallop which was cooked perfectly.  This dish was quite complex with acidity from the citrus emulsion and pickled radishes but the cauliflower  puree balanced it well.  I also loved the drink because it tasted really light and refreshing.  But I knew better not to take too many sips as you know me, I am such a light weight!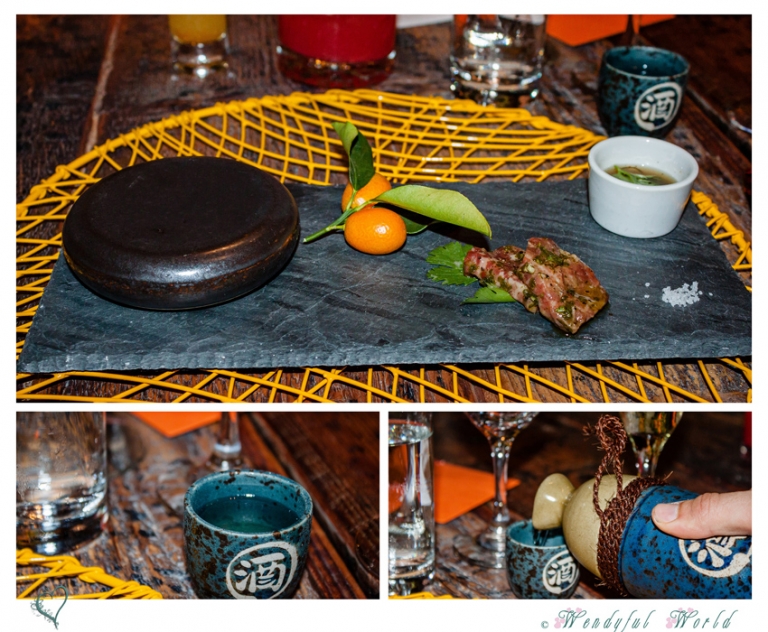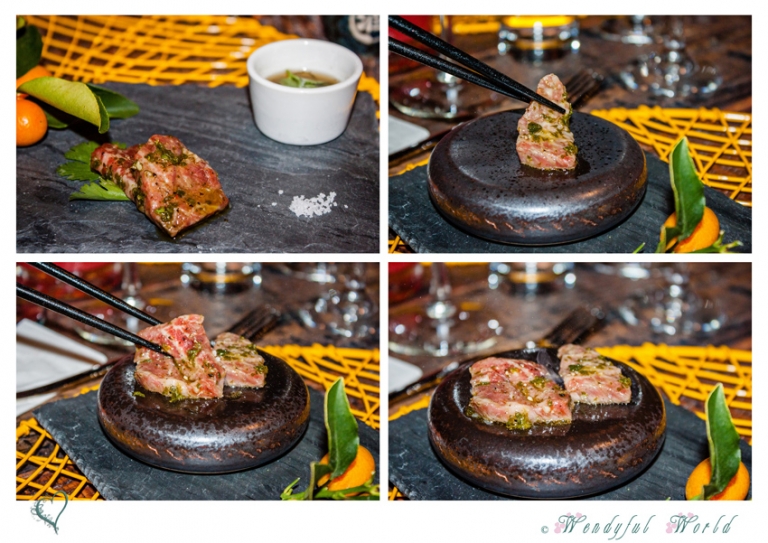 Third Course – "Hot Rocks" Yuzu-Chimichurri Kobe Beef (Hot Ishiyaki Stones on a Bed of Sea Salt and Cooked Table-Side), paired with: Tozai Junmai Sake.
What a presentation it was!  I had the most fun with this dish because I got to cook it on the hot stone and watched it smoke.  🙂  I absolutely loved the Yuzu-Chimichurri sauce!  It was perfect with the Kobe Beef.  I didn't drink the Sake because by now, after a few sips of the other 2 cocktails, my face was already getting flushed.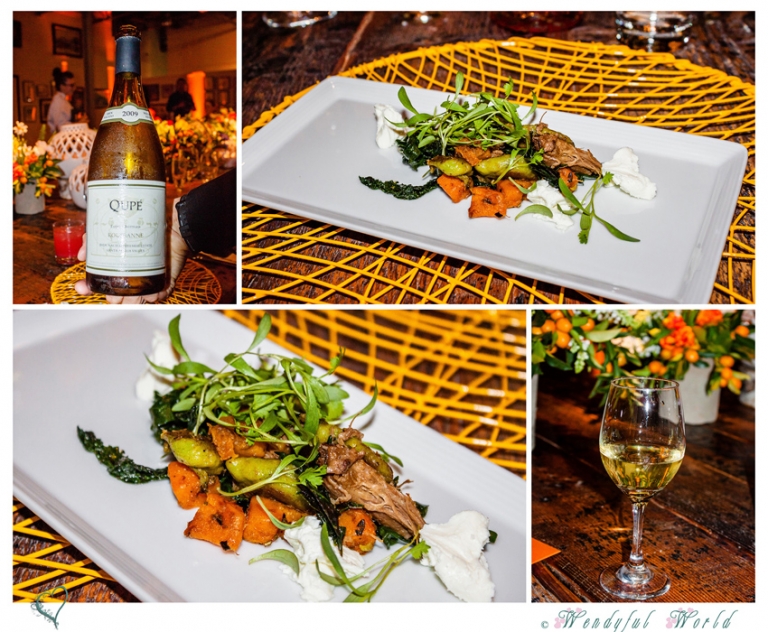 Fourth Course – Braised Lamb Gnocchi (Roasted Butternut Squash & Sauteed Tuscan Kale with Red Wine Braised Lamb, Spinach Gnocchi, and Goat Richard Cheese), paired with 2009 Qupe Roussanne – Bien Nacido Vineyard.
This was a dish that was good (to eat) and good for you.  I have grown to like gnocchi and lamb just in the last year, so I quite enjoyed this.  I like gnocchi with a little mochi like texture and these were perfect.  The 2009 Qupe Roussanne was a great compliment with its fruity flavors.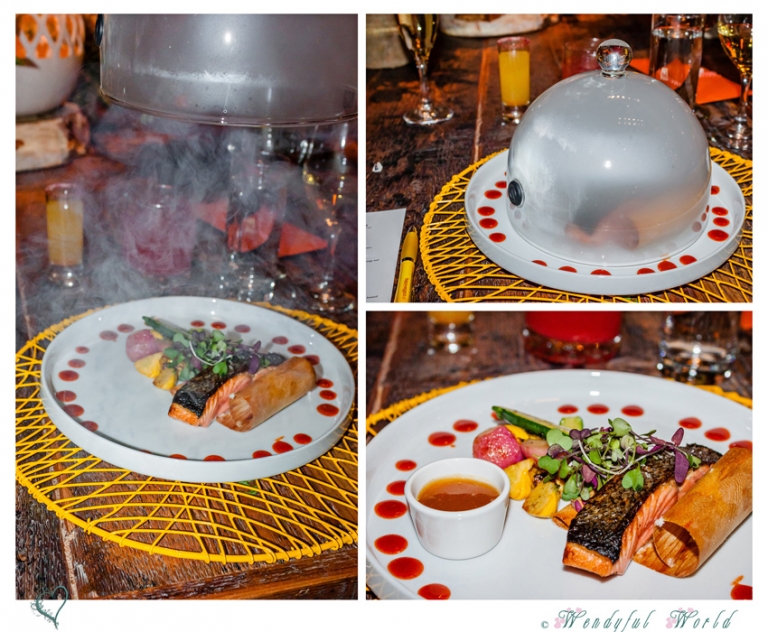 Fifth Course – Meyer Lemon-Cherry Salmon (Smoked King Salmon, Fricassee of Baby Vegetables, Aji Amarillo Citrus Sauce), paired with 2009 Qupe Roussanne – Bien Nacido Vineyards, Santa Maria Valley.
When this dish was first brought out, we were told not to touch/open it.  Because inside there was a piece of shaved cedar plank smoking the salmon!  What a gorgeous dish it was!  Although I could smelled the smokiness, it didn't penetrate the salmon too much.  The salmon was cooked to perfection and melt in your mouth!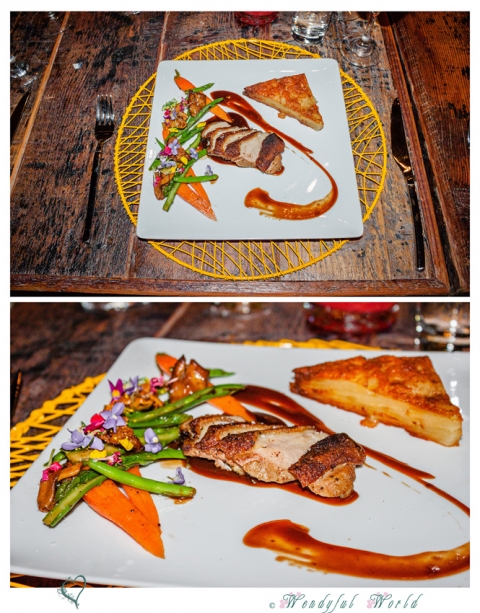 Sixth Course – Crispy Duck Breast (Citrus Infused Demi Glaze, Sauteed Wild Hedgehog Mushrooms, and Dauphinoise Potatoes ), paired with: 2010 Merryvale Pinot Noir – Napa Valley.
I know I've said 'gorgeous' too many times but every single dish on this menu was like a piece of art!  I really enjoyed the sides and Dauphinoise Potatoes.  The duck skin was not crispy as I had expected and the meat was a little cold, however it had a nice flavor.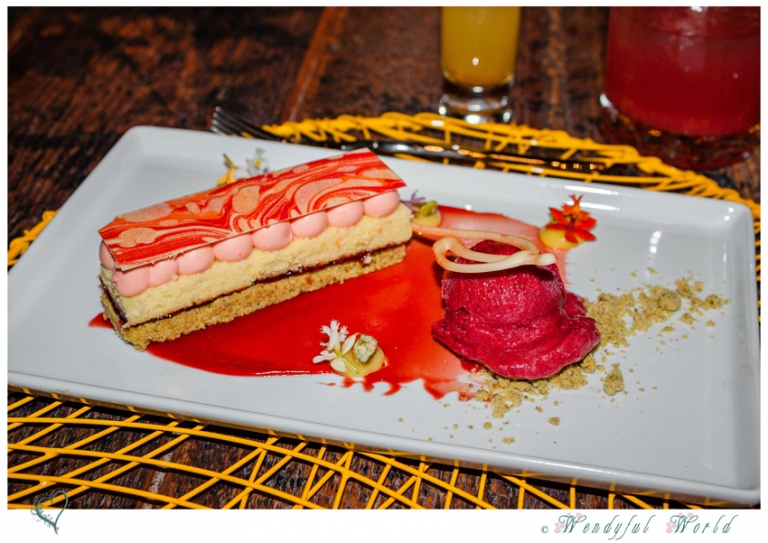 Seventh Course (prepared by our Pastry Chef Robert LeSage) – White Chocolate Citrus Cake (Lemon Cream, Blood Orange Mousse, Pistachio Crumble, Raspberry Sorbet, and Candied Pistachios), paired with: 2009 Chateau Suduiraut.
What better way to end the meal with a beautiful dessert and dessert wine?  Really, it was perfect!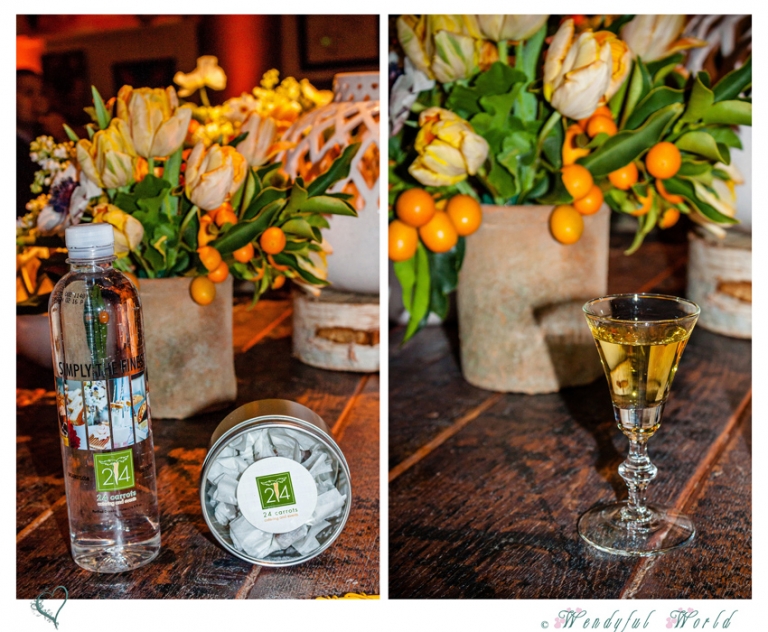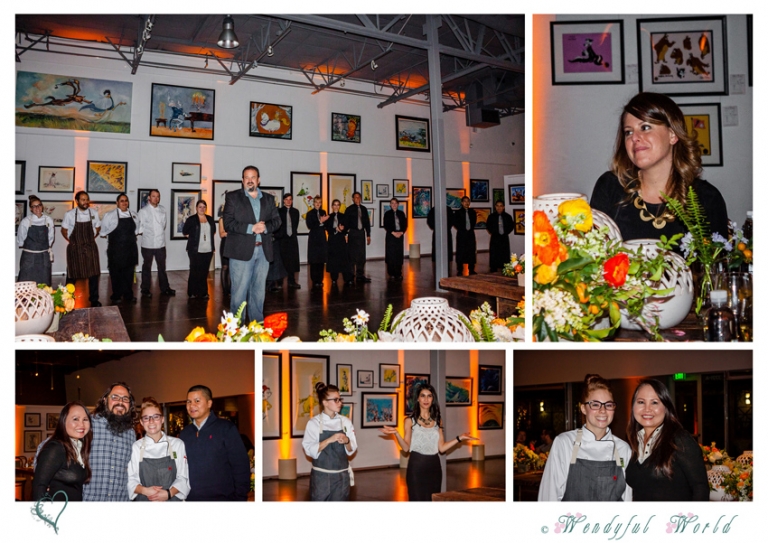 It was an amazing evening put together by an amazing team from 24 Carrots Catering!  This is one Chef's Table Tasting I won't soon forget!
Thank you to Kitchen Table PR for the invite!  Thank you to Jon, Arpi, and Janet for your hospitality!  My hat is off to Executive Chef Ashley Domingo, the Pastry Chef Robert LeSage, the sous chefs and entire team for the impeccable evening!
Do you have a special occasion coming up?  Let their personal Event & Design Specialist help you plan the perfect event for you and your guests.  And don't forget, take lots of pictures and share!
24 Carrots Catering and Events
17851 Sky Park Circle, Suite F
Irvine, CA 92614
(800)717-1545