I often wonder how someone names their restaurant.  Does it reflect a concept, a tradition, or a memory?  For restaurateurs Michael Pauwels & Marijke Adam, The Globe Dine Bar was created to bring globally inspired seasonal cuisine to the historic downtown Garden Grove in Orange County.  Partnering with award-winning chef George Anthony, The Globe kitchen utilizes fresh ingredients to create internationally inspired cuisines aim to please its patrons.
'Welcome to Germany' our host/owner, Michael, greeted as he led us to our reserved table.  I later found out, each table in the dinning room depicts a different country and region of the world.  We were at the 'Germany' table.  🙂  The atmosphere here is casual, relaxing, and hospitable.  Born and raised in Belgium, Michael and his wife missed the social aspect of the restaurant industry commonly seen in Europe.  'We want our customers to enjoy and socialize as if they were in their home away from home.' said Michael.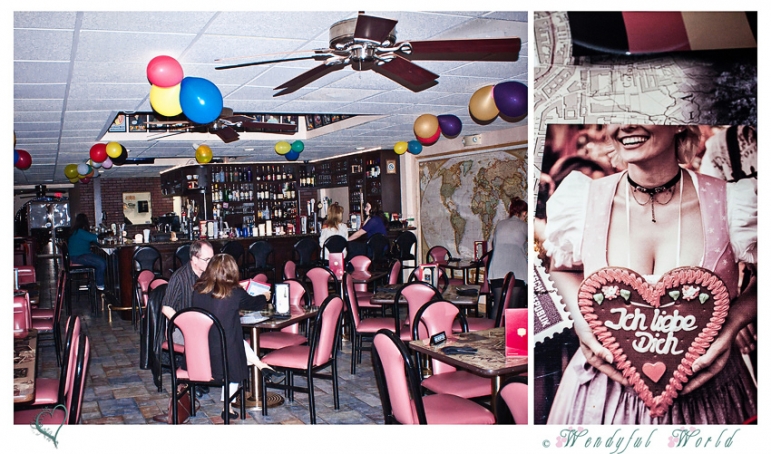 The Globe Dine Bar is home to 30+ Belgian craft ales, authentic Trappist craft beers, and 18 rotating and seasonal Belgian craft beer taps.  Allen tried the Chimay and said it was quite good.
We started our meal with  Chorizo Empanadas (Puffy pastry baked with Pamplona chorizo, queso fresco, cilantro vinaigrette).  I liked the light and flakiness of the pastry.  It almost tasted like a Ham & Cheese Croissant, very different from the Empanadas I am used to.
For the entree, I decided to try the Scampi Shrimp Pasta (Sauteed large scampi shrimp tossed in bourbon tomato cream sauce).  I took a bite and the bourbon threw me off for a few seconds.  Whew, that was strong for a non-alcoholic drinker like me.  I was happy that the shrimps were snappy.  Again this is very different from the scampi I am used to.  The sauce is more 'cream' with very little 'tomato' in it.
The star of the night belonged to the Globe Short Rib (Slow cooked boneless short ribs with natural jus, sauteed farm fresh vegetables).  It was tender and flavorful in every bite.  The sauteed vegetable were seasoned well and cooked perfectly.  And the Potato Gratin oozing with cheese was to die for!  I highly recommend this dish, especially for meat lovers!
Daily Happy Hours (except on Sunday when it's closed) are from 4:00PM to 7:00PM.  The restaurant/bar is open from 4:00PM to 1:30AM, Monday through Saturday.  It's a great place to hang out and socialize with your friends after work.  The menu offers Tapas, Appetizers, Soup and Salads, Sandwiches, Entrees, Pizza, and even desserts.  One thing is for sure, you will not go home hungry.
Thank you so much, Michael, for inviting me to try your restaurant!  Allen and I really enjoyed your hospitality and the delicious food!  See you again real soon!
The Globe Dine Bar
12926 Main Street
Garden Grove, California 92840
(714) 537-7471