I don't eat burgers that often because I just don't care for it. And the thought of a burger packing on more than 1,450 calories is just scary! I often think if I'm going to kill myself, I should be eating something a lot more tasty than a burger. With that said, I still find myself having a burger once in awhile.
I didn't want any from the usual fast food chain restaurants. You know, Micky D, The Burger K, and the C Jr.  We hadn't been back to Island for some times.  Allen said he thought it was good, so I decided to play a good wife and went along.  I've only been to Islands twice. I liked it the first time. The 2nd time I liked it less. This time, the 3rd, I can't even say I liked it anymore. It was just meh.
After looking though the menu for 15 minutes, I finally decided on Kilauea (Jalapeño & black pepper-crusted burger w/pepper jack cheese, Island Reds™, chipotle aioli, lettuce & tomato.)  It would have been fine and actually tasted OK if it were burnt black!  What the heck?  I asked for medium well not burnt!  I ate 1/2 of it and just couldn't eat anymore!  I kept remembering I read somewhere that burnt food cause cancer!  Maybe the side salad would provide some anti-oxidant to counter act.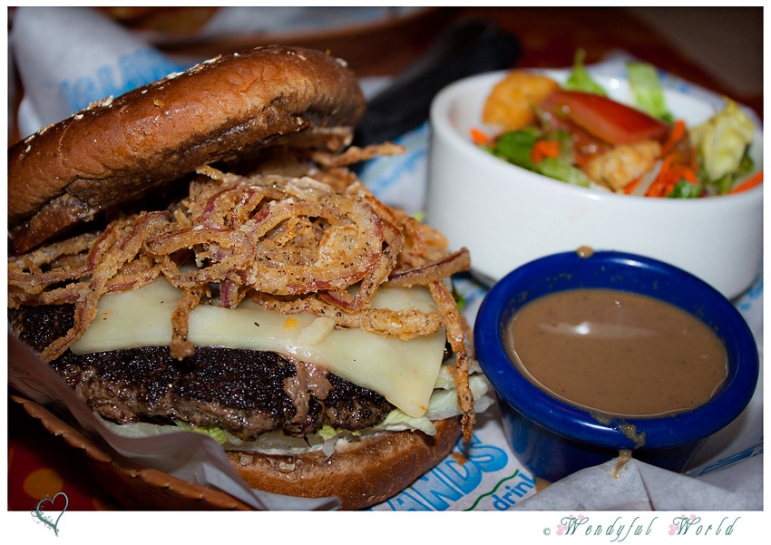 Allen ordered the Pipeline (Chili, american cheese, lettuce, tomato, onion, pickles & mustard.).  I think it looked sloppy as hell.  And if you know me, if the food doesn't look good, it doesn't taste good for me.  I didn't want to even try it.  Unfortunately, even for a burger lover like Allen, he thought it fell short.  He took a bite of mine and said it was better.  The Chili especially was disappointing. It had no substance nor flavor, just some watered down sauce.
It came with measly 4 pieces of onion rings that were so over-breaded.  They tasted like they were a day old, dry and hard!
(Left – Kilauea. Right – Pipeline)
The saying goes 'Third time is a charm'.  But for Islands, third time, you're out!
Islands
105 S. Festive Dr.
Anaheim Hills, CA 92808
(714) 974-5709