It has been 3 years since I first visited the opening of Jimmy's Famous American Tavern in Dana Point (JFAT), so I was excited when it opened at Brea. I had been here a few times but didn't realize until a couple of weeks ago that it serves brunch on Sundays 10:00 AM – 3:00 PM! We had to check it out.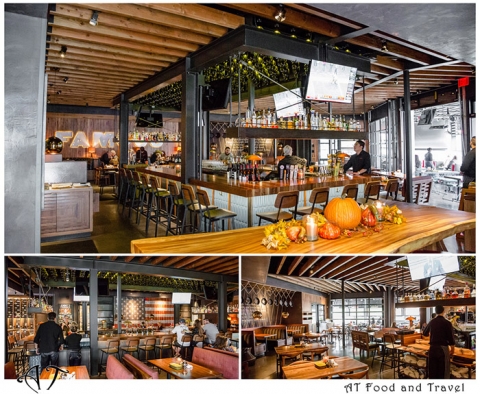 JFAT is a new kind of gastropub where friends and family can gather to eat, drink and socialize in a beautiful designed space. The casual and stylish decor takes on a modern interpretation of traditional pub serving familiar American comfort food made daily from scratch using only the freshest ingredients that are locally raised, organic, and sustainable whenever possible and available. There is the inside area circling the bar with booths and tables and an outdoor seating area through a large sliding double door with patio heaters for cooler days and nights.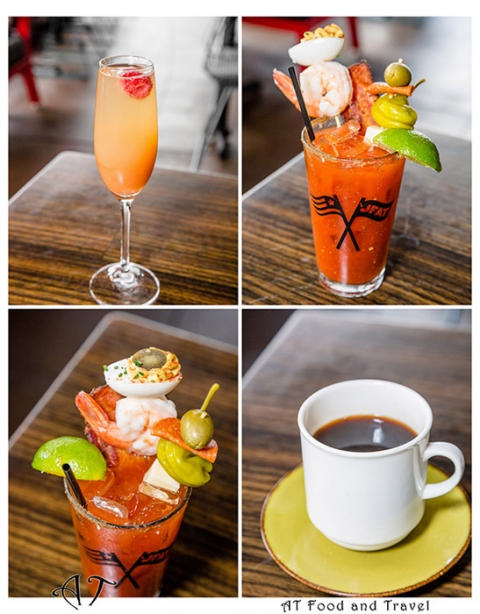 We started with the classic brunch drinks while going over the many offerings on the brunch menu. Needed some coffee on the rainy morning we visited and then went on to their Bloody Mary version called the Meal Mary (Absolut Peppar, Bacon, Blue Cheese Olive, Chilled Shrimp, Pepperoni, Jack Cheese, Pepperoncini & a Jalapeño Bedeviled Egg) and a Bellini (peach puree & peach schnapps).
You could guess that Meal Mary got it's name because literally, it is a meal itself!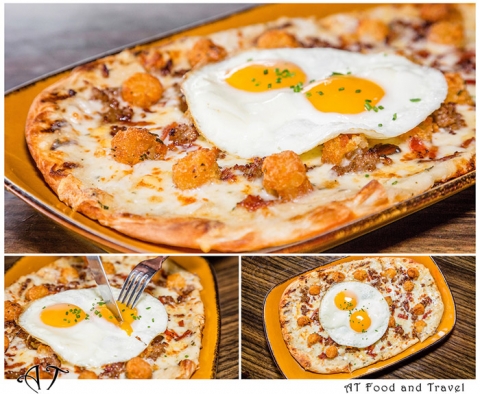 Don't ask me why (oh yeah I love pizza), but we started with the pizza like Breakfast Flatbread (Applewood Smoked Bacon, Sausage, Eggs, Fontina Cheese, Potatoes (TATER TOTS!), and Chives). It was even better than it looks with the smoked bacon and sausage creating a savory mixture with the Fontina, tater tots and the egg acting as a cherry on top.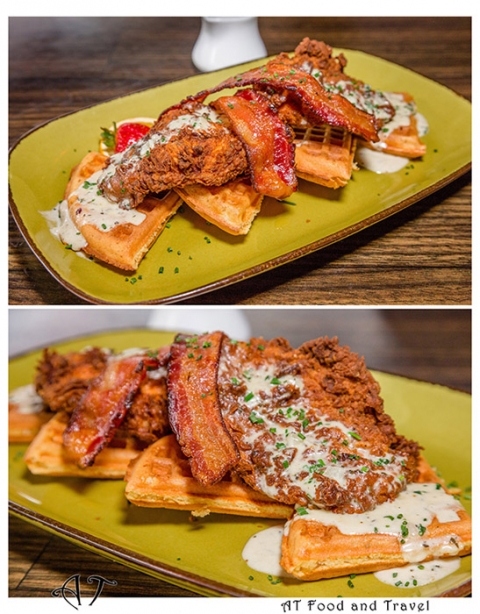 Chicken and Waffles have become more popular recently and JFAT's creation does it right. The Buttermilk Fried Chicken & Malted Ale Waffles – Thyme Gravy, Applewood Smoked Bacon, Maple Syrup are a perfect offering of crispy waffles with tender chicken and gravy. The added bacon on top takes it up another notch.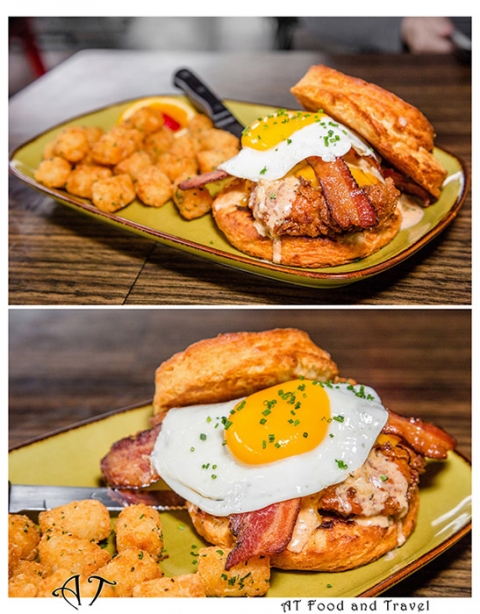 We heard that it is a customer favorite so we had to try the The Bubba which is a Biscuit filled with Fried Chicken, Cheddar, Bacon, Sausage Gravy, Sunnyside Egg. It also comes with a side of Tater Tots which for me should really be in bold and in CAPS (TATER TOTS) and on the menu. I absolutely loved the biscuit which was not overly dense, but made and baked perfectly and complimented the fried chicken, sausage gravy, cheddar cheese (yeah I had to bold it as well-its the little things that can make or break a entrée). I would order this without fear and with glee every time. YUM!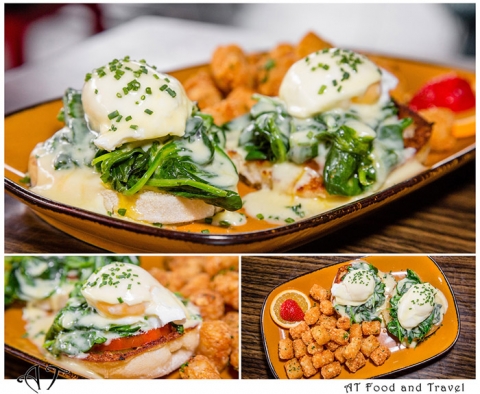 A wonderful vegetarian choice which really stands well on its own whether you are a meat lover or not is the Veggie Bennie (English Muffins, Spinach, Grilled Tomatoes, Poached Eggs. Chive Hollandaise). The perfectly poached egg on a bed of spinach and sliced tomato make for a delicious meal. Not mentioned on the menu, but it also came with Tater Tots -The TTLF, Tater Tot Liberation Front will not be happy 😉
We were stuffed and didn't think we had any room for more but then came the desserts. Isn't it funny how we all manage to magically have an appetite for desserts?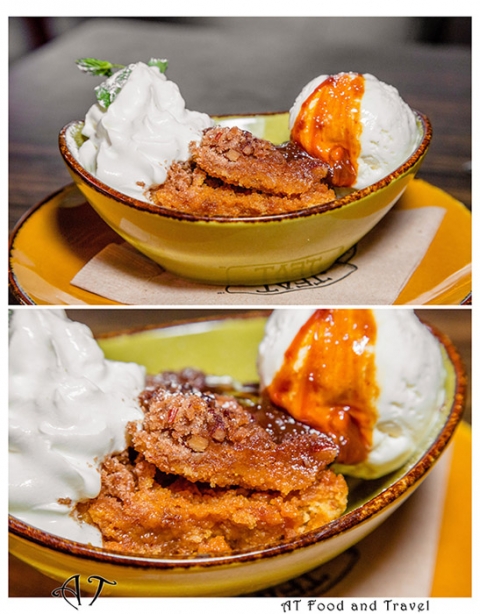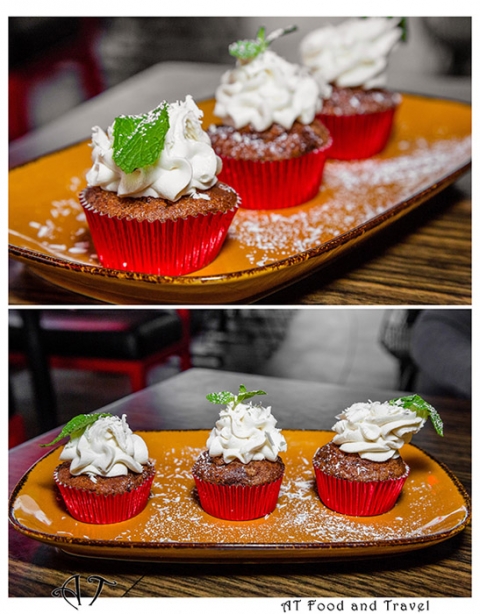 First there was the Bananageddeon', a bowl of Fresh Bananas, Vanilla Pastry Cream, Pecan Blondie Crumbles, Butter Pecan Ice Cream, Salty Caramel Sauce, Candied Pecans and Whipped Cream. Next we where treated to the Trio of Carrot-Walnut Cupcakes – White Chocolate-Cream Cheese Frosting. Both a wonderful ending to a great brunch feast.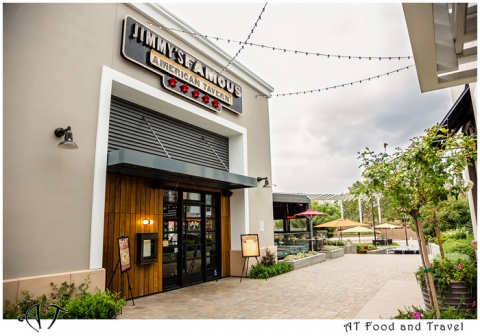 Next Sunday, get you and your appetite to JFAT in Brea and feast on the delicious brunch! Let me know what your favorites are.
JIMMY'S FAMOUS AMERICAN TAVERN
3325 E. Imperial Hwy., Brea CA 92823
(714) 733-1310
Visit and like my FB page for more current event updates. Follow me on Twitter and Instagram.
Disclosure: No monetary compensation was received for this post. I was an invited guest to the restaurant to help facilitate this review. All opinions are my own.