To say that the birth of Sessions West Coast Deli Sandwiches is a labor of love would be an understatement.  Owner, Matt, personally spent 8 long months working every inch and every aspect of the restaurant, often late into the nights.  The idea of a gourmet sandwich eatery had been brewing in Matt's head for more than 3 years.  Often when we think of 'Deli', we think of East Coast. Matt wanted to create a 'West Coast Deli' where friends and family can come to relax and hang out but still enjoy great eats.
After trying many of the sandwiches, I can vouch that these are not your ordinary sandwiches.  These are fine gourmet sandwiches, each with unique flavor and taste.  In the short 2 months since its grand opening, Sessions West Coast Deli has received rave reviews from its patrons.  Check it out on Yelp, a solid 5-star from every reviewer.  On the day of my visit, I met many people who visit the deli on a daily basis.  If I lived closer here, I would be here often, too.
(Photos by Allen Taylor Photography)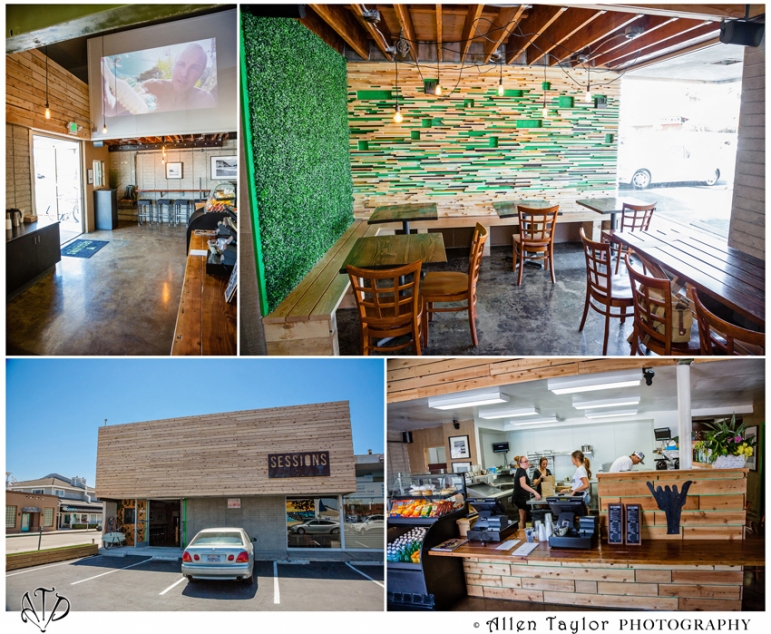 Matt is a native of OC.  Growing up by the beach, his love of surfing and skating plays out in the decor of the restaurant.  Simple and clean design with an open kitchen is inviting to the guests.  'Raw and honest in sandwiches' is how Matt wants to present Sessions to the public.  I was especially drawn to the 'green wall'.  Each piece of the wood was cut and hand glued by Matt.  Talk about dedication!  Oh, and the leopard print concrete is just awesome!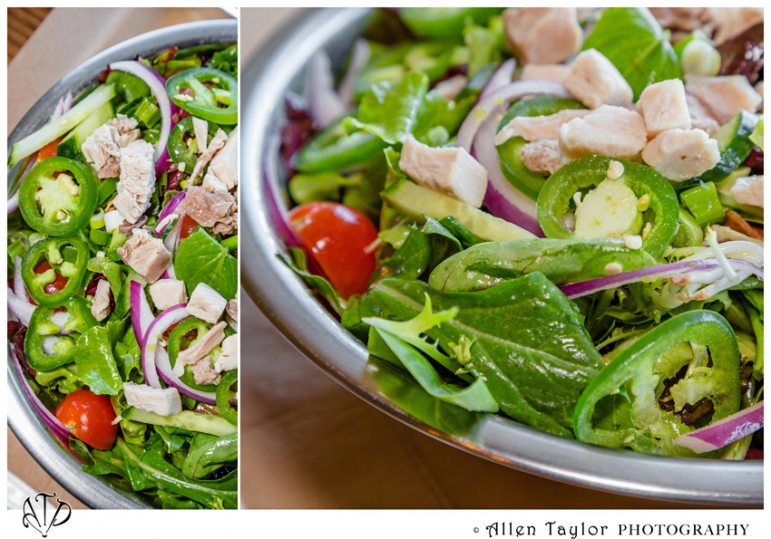 We started our tasting with Thai  Cobb Salad (roast chicken, bacon, mixed greens, cabbage, red onion, tomato, basil, jalapeno, cucumber, green onion, peanut dressing.  I love Thai food and salad, so this is a winning combo for me.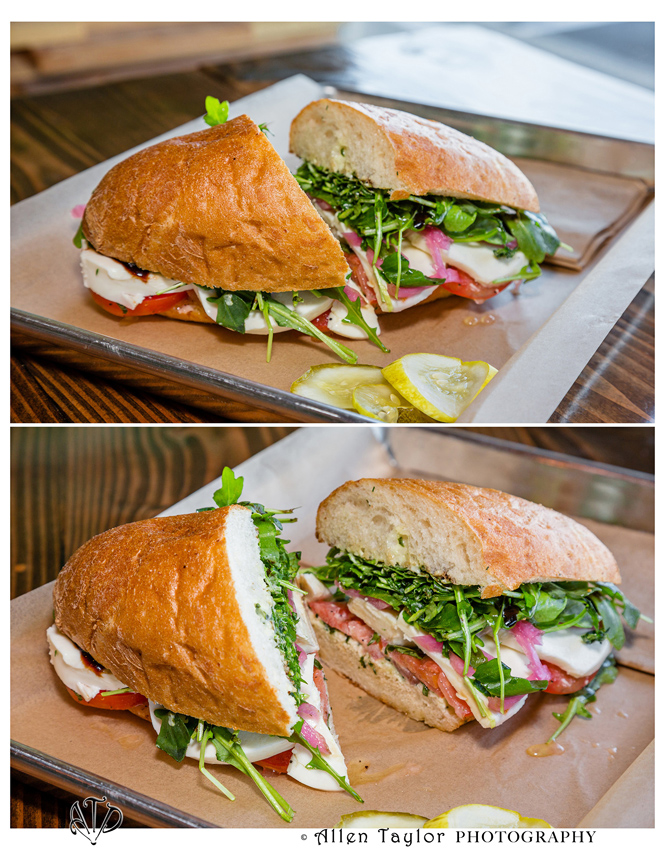 Next we chose Summer Zephyr (fresh mozzarella, marinated tomato, basil aioli, baby arugula, pickled onion, balsamic reduction, toasted french roll).  This was much like a Caprese Sandwich.  I am very particular about Caprese and this is the best Caprese (salad or sandwich) I've ever had.  Even Allen, who normally refuses to eat 'vegetarian' food was so impressed by it.  The quality of the ingredients and the house-made dressing are what set Sessions Sandwiches apart from the test.  


Next was The 'Strami (pastrami, swiss, pickled mustard seed, chow-chow, slaw, toasted ciabatta).  I don't often order Pastrami sandwich.  To tell you the truth, I haven't had many that were that good, so I was curious about SS' version.  One bite of it, I knew this was going to be my favorite.  The slightly crunchy slaw with the slightly sweet/tart pickled mustard seed paired so well with the pastrami.  Kudos, also, to OC Baking Company's ciabatta bread.  Unlike some ciabatta breads that tend be hard and chewy, these had great texture and yet soft to bite into.  


There are  few sides you can add to your meal like the Latina Pasta Salad (jalapeno, cilantro, onion, tomato, peanut dressing) and German Potato Salad (red onion, mustard, bacon, jalapeno,cilantro).  The German Potato Salad is made with mustard seeds instead of mayo, so it's quite different but good.  Give it a try when you visit.    


The Sloppy Barney (pulled pork, sweet & sour bbq sauce, ickle, red onion, jalapeno jack, so cal slaw, ciabatta) is one of the most popular among guests and I can see why.  The pull pork is so tender and flavorful.  The purple cabbage is quick-marinated in butter milk.  I don't like bbq sauce that is heavy (too sweet and too smokey) so I adore the sweet & sour bbq sauce here because it's so easy on your palate.
Baked Potato Chips (rosemary, sage, parmasean) is house-made and not to be missed.


I am a huge fan of squaw bread so I had to try Meddock Melee (roast turkey, jalapeno jack, guacamole, razor onion, tomato, cherry pepper, sprouts, adobo-buttermilk dressing, toasted squaw roll).  What can I say?  Everything here has won me over and I would have a hard time choosing which one to order.



There are also hot dogs on the menu.  We got talked into trying  The Beast Hot Dog (Pastrami, pickled mustard seed, razor onion, cherry pepper).  How big is the dog?  It's a whole FOOT!  The name couldn't be more suitable for it.  BIG dog with big flavor!  


Charlie Salad (jalapeno-dill, albacore salad, mixed greens, pickled beet, tomato, cucumber, sprouts, scallion, poppyseed vinaigrette).  We didn't try this, another customer ordered it but we took a picture of it.  She really enjoyed it. 


Owner, Matt, and I.  He is there everyday, so say 'Hi' to him when you see him.  Thank you, Matt, for your hospitality! 


Co-owner, Max, is the 'Wich-Doctor'  is the brain chef who creates all the delicious recipes.  Thank you, Max!
Sessions Sandwich is open Monday – Saturday 7:00 am – 10:00 pm, Sunday 7:00 am – 8:00 pm.  The menu offers a varieties of hot and cold sandwiches, hot dogs, salads, and sides.  Full breakfast menu also features Keens coffee and espresso.
Looking for something to satisfy your palate not just your hunger?  Sessions Sandwich is the place to be.  Check it out.  I would love to know what your new favorite sandwich is.
Sessions West Coast Deli
2823 Newport Blvd
Newport Beach, CA 92663
(949) 220-9001