I have oily skin, especially in the T-zone area.  It would be no more than 1/2 hour after I applied my makeup that I would find myself having shining nose and cheeks.  I didn't realize the importance and effectiveness of facial primer until I got into photography and worked with makeup artists who explained to me what it did, i.e., allow foundation to go on easier, smoother, and stay longer.  I've since used makeup primer on regular basis.  I've tried several different brands, some worked better than others.
I was particularly excited when I received my samples of THE MAKEUP PRIMER SPRAY by SKINDINAVIA.   Here are some of  The Flawless Facts:
83% of users agree: this is the best makeup primer they have ever used.
93% of users agree: The Makeup Primer Spray makes skin feel noticeably smoother.
Silicone-free formula creates a light, breathable barrier between skin and makeup.
Helps to prevent redness, uneven skin tone and large pores.
Proven to reduce the need for touch-ups or blotting.
Formulated to be worn with or without makeup.
All Skindinavia products are paraben-free and hypoallergenic.
Cruelty-free.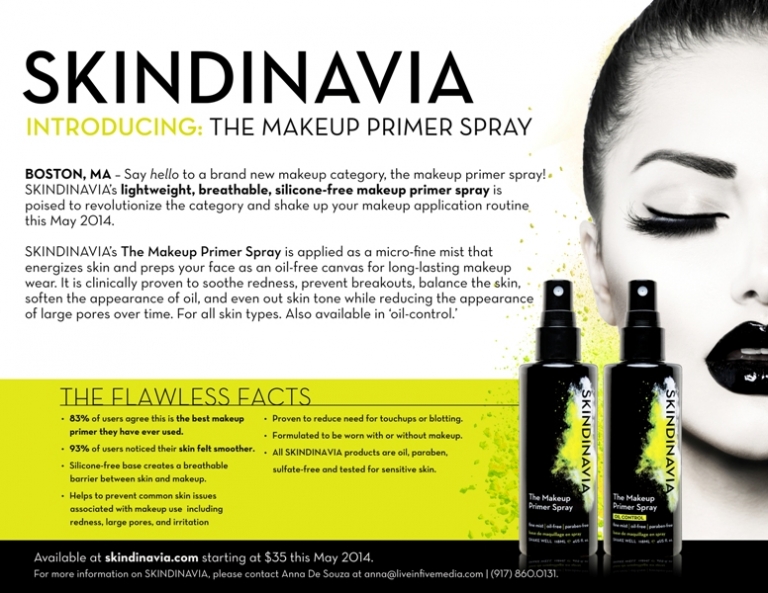 After trying it for a couple of weeks, I agree with most users' experience.  The primer made my pore less noticeable and the makeup appeared much more flawless, almost airbrush-like.  It kept my makeup fresher and less shine longer.  When I took off my makeup at the end of the day, my face felt exceptional smooth.  I didn't experience any break-outs or irritation.  Overall I was impressed with the product.
SKINDINAVIA also makes The Makeup Finishing Spray which has been in the market for awhile and received raved reviews by the public and news media.  I think the primer spray combines with the finishing spray will be a power combo to keep one's makeup looking fabulous all day long.  Summer is coming, so grab a set to try if you haven't.  And if you have, I would love to hear your experience, too.  Stay beautiful, Ladies, because you ARE!  XOXO
You may order the primers via its website at http://skindinavia.com/
Please share and like us: