Updated January 24, 2014 – I just learned that his restaurant is no longer in business.  Nevertheless, please enjoy the food images!
Brea Downtown is near and dear to my heart.  When I met my husband, Allen, 15 years ago he was living in Brea.  The first 2 1/2 years of our courtship, we spent almost every weekend catching a movie and dinning afterward here.  The very first restaurant located at 240 South Brea Boulevard we went to was Pane E Vino in 2008.  Through the years, it has changed hands a few times.  Two40 South opened Fall of 2011; it, too, has gone through change of owners, managements and chefs.  But I am happy to share that it was for the better!  The Barrel Room at Two40 South is not only looking better than ever but tasting even more amazing.  It was nominated for Best Californian Cuisine by Golden Foodie Awards 2013.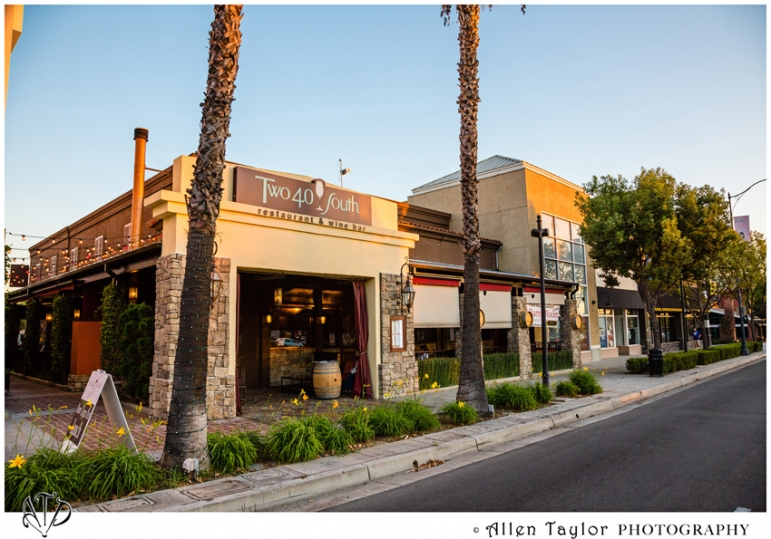 Parking can be a little challenging, but thankfully there is valet parking.  Or you can choose to park at the free parking structure by the theater and take a short walk just across the street.  This, my friend, is what I call the Path to  Happy Eating.  The Barrel room has 2 patio seating areas that are great for a more casual dining.  It feels like sitting at your own backyard with friends and family.  Don't you just love the fireplace?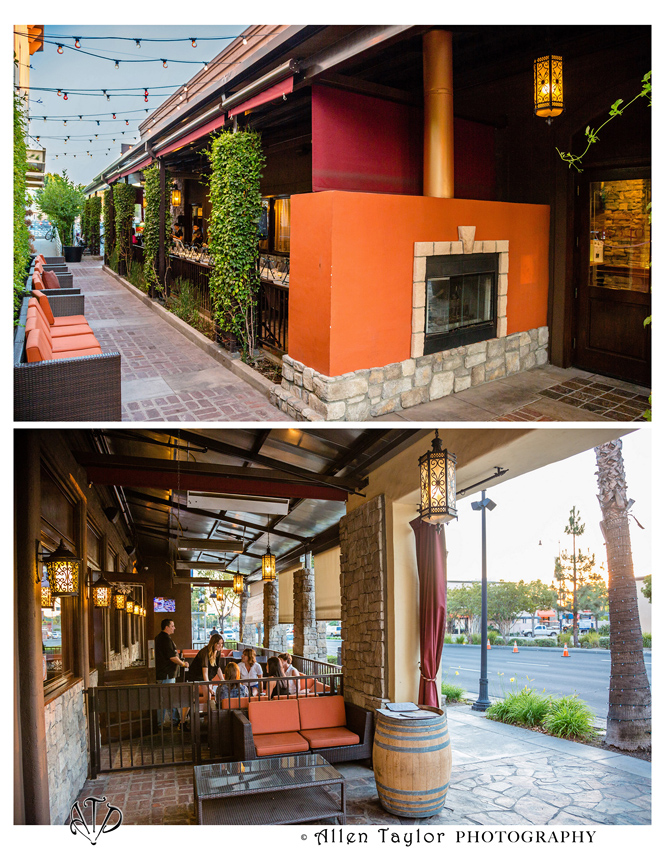 The first thing you notice was you walk through the double entry door is the bar.  You can see the barrels behind the glass window.  This is the only restaurant I know that actually serves wine out of the barrel!  Who needs to go to a winery?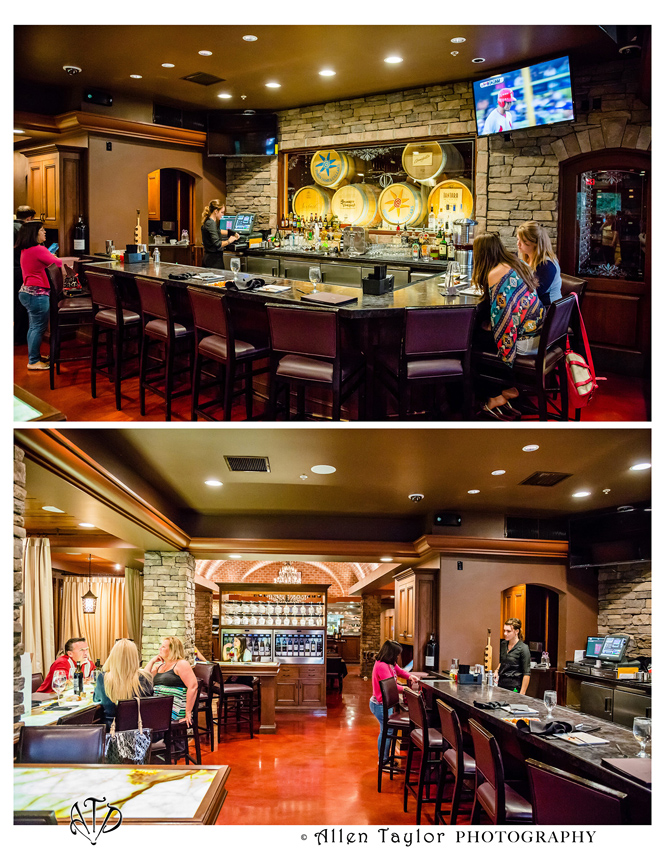 I love the richness of the main dining room!  The elegant chandelier, the dark wood furnishing, and leather seating.  The brick ceiling adds an interesting touch to the space as if you were in an underground vintage cellar.  


I love an open kitchen.  They even having bar seating where you can watch all the actions.  One of the most unique features I find with The Barrel Room is the wine dispensing system that allows you to buy the wine by the glass, 1/2 glass, or even mini glass.  For someone like me who is a light drinker, this is perfect.  Even more perfect is you can choose to pair your meal with different wines.
The Barrel Room offers Seasonal Menu as well as regular menu.  They are also extremely accommodating to anyone with special dietary needs.  Just ask the server and they will make every effort possible to create a dish just for you.
Our tasting featured dishes from both.  We started with Ahi Tartare (Avocado, Preserved Meyer Lemons, Garlic Parsley Croutons, Saba).  I loved the creaminess of the avocado.  The tuna simply melted in your mouth.  And the Garlic Parsley Croutons were addicting!


Salt & Pepper Calamari (Flash Fried, Sweet Thai Chili Pepper Sauce).  These were plump tender strips of calamari.  It doesn't get any better than this.  Don't worry about the sauce being too spicy, it was quite mild.


We had to order the Prosciutto Pizza (Tomato Sauce, Mozzarella, Sunny Side Egg).  Egg makes everything tastes better.  😉


The Arugula Salad (Prosciutto-Wrapped Peach, Granny Smith Apple Chips, Walnut Crusted Goat Cheese Puck, Apricot Vinaigrette) is one of my favorites and it didn't disappoint!  This was my must-order dish every time. 


The Angus Ribeye Cap (Fingerling Potato Hash, Glazed Cipollini Onions, Creamy Brandy Peppercorn Sauce) was simply amazing!  It was simple but flavorful, each bite so tender.  If you love meat, you won't want to miss this! 


The Summer Citrus Salmon (Lime Coconut Rice, Sauteed Asparagus, Broccoli, Baby Bok Choy with Red Curry Sauce) was an Asian Fusion dish.  If you like Thai Curry, you will enjoy this dish.  


All the desserts are made in house.  The Creme Brulee was rich but light.  I thought it was lovely that it was served with Madeleine cookies.


Our server, Andy, highly recommended the Cheese Cake.  And it'd be my turn to recommend you, too.  Unlike others, this was light and wouldn't leave you feeling heavy. 


The Barrel Room has an impressive wine vault.  If you are lucky, you might get a chance to tour it.  I was told it could house 12,000 bottles of wines.  But I wasn't going to count them.  😛  If you are one of the lucky VIP wine club members, you can rent one of the wine lockers for a fee.  And you will also get discounts on may of the the wines and events the restaurant hosts. 




The restaurant offers a Happy Hour Bar Menu daily from 3:00pm – 7:00pm with many menu items and selective wines at 50% off.  Lunch is also served 7 days a week from 11:30am – 3:00pm with Brunch on Sunday.
Once a month, there is a special Wine Pairing Dinner hosted in the private dining room.  Allen and I were fortunate to have attended.  The menu was exquisite!  Take a look at the slide video below.  But keep a napkin handy because you might be drooling.  LOL!
1st Course – Seared Scallop (Apple Curry) – 2012 Chenin Blanc Viognier, Napa Valley
2nd Course – Roasted Veggie Salad (Butternut Squash, Corn, Parsnips, Saffron Lemon EVOO with Feta And Panccetta) – 2009 Dijon Clone Chardonnay, Carneros, Napa Valley
3rd Course – Pheasant (Caramel Pumpkin Puree, Blueberry Demi-Glaze) – 2010 Crimson Creek Merlot, Napa Valley
4th Course – Beef Wellington (Sauteed Spinach & Lobster Hollandaise) – 2009 & 2010 Cabernet, "Stags Leap district"
5th Course – Chocolate and Cherry Savarin (Vanilla Cake, Chocolate Bavarian Cream, Cherry Sabayon) – 2011 Cabernet Sauvignon, Napa Valley & 2006 Cave 7 Cabernet Sauvignon, Napa Valley
I highly recommend that you make a reservation if you can.  I had a great time tasting the October event and loved every single dish and wine pairing.  Special thanks to owner, John Han, GM, Kevin Hall, Executive Chef, Dylan Miller and entire staff at The Barrel Room at Two40 South for their hospitality!
Whether you're celebrating a birthday, anniversary or the upcoming holiday, The Barrel Room is a perfect place to be.  Allen and I are looking forward to our next visit.  Hope to see you there.
The Barrel Room at Two40 South
240 S. Brea Blvd.
Brea, CA 92821
(714) 256-2401