If you know me, you'd know I love lemonade, as in a drink.  When I first learned about Lemonade, the restaurant, I was quite intrigued.  Is it a juice shop like Jamba Juice?   I had to check it out.  Well it turns out, it does have great lemonades in several flavors but even more, it is a restaurant serving "Seasonal Southern California Comfort Food in a fast-casual cafeteria setting".  There are currently 12 Lemonade locations; 11 of them in Los Angeles with the 12th opening at Fashion Island Mall in Newport Beach on August 19, 2013.
(Photos by Allen Taylor Photography)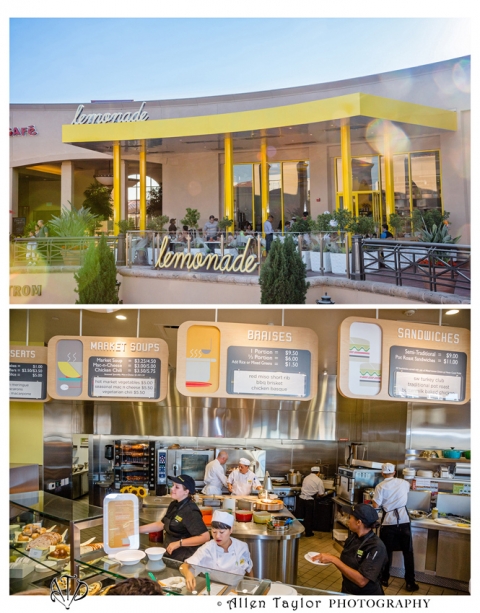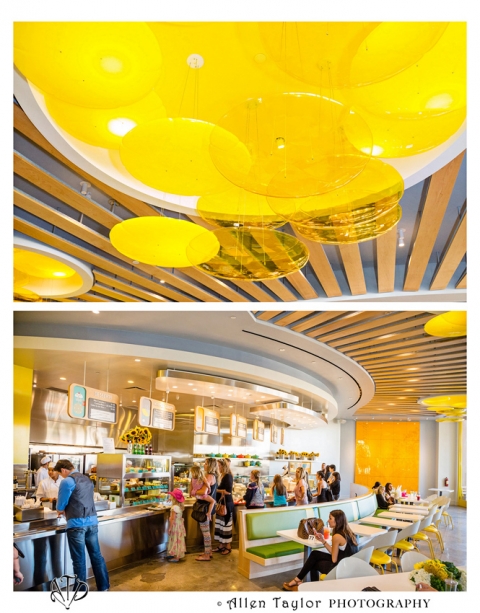 I loved the architecture design, color scheme, and the use of 'lemon slice shaped' light fixture.  It's bright, fresh, and relaxing.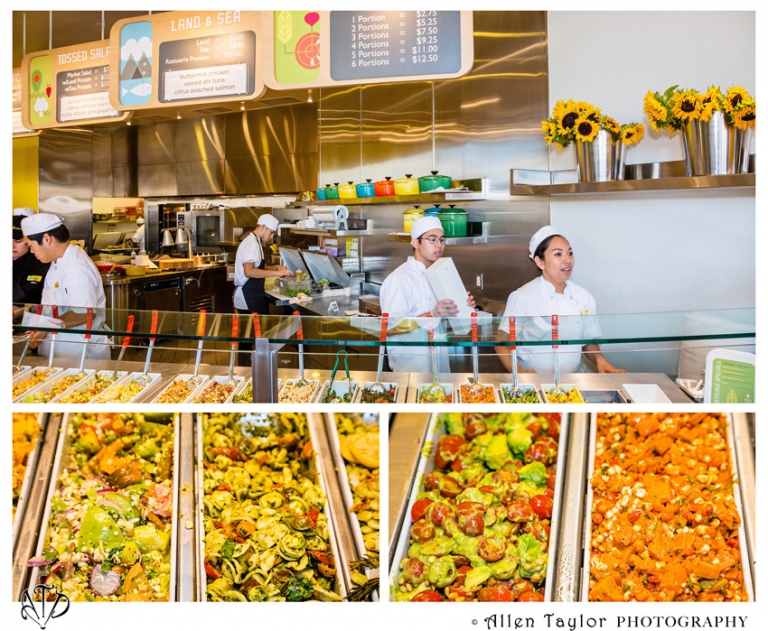 Understand that most people are short on time but looking for healthier alternatives than fast junk food for their family, Lemonade combined fresh quality ingredients with convenience.  Whether it's for lunch or dinner, Chef and Founder Alan Jackson and partner, Chief Operating Officer, Ian Olsen offer diners a "choose-your-own-adventure".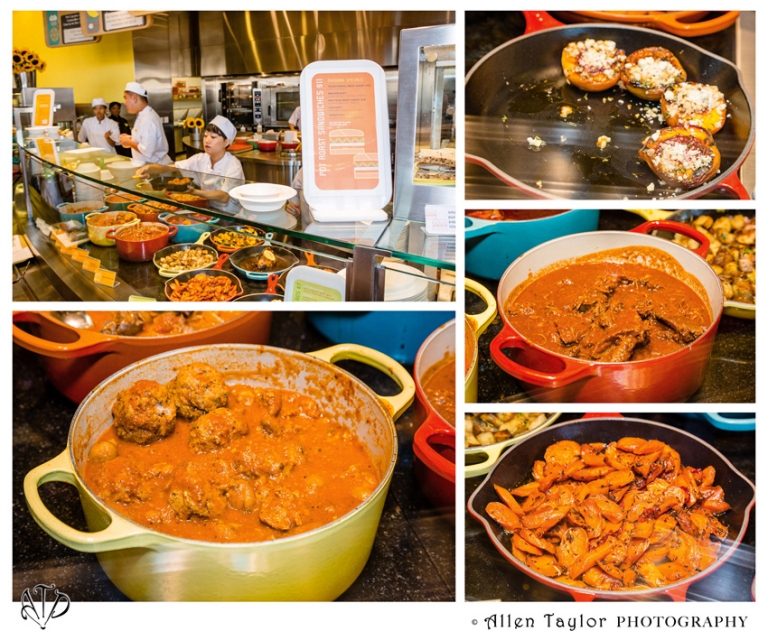 You start at the beginning of the counter, you grab a tray and selecting from a buffet of prepared hot and cold dishes displayed at the counter.  As with all Lemonade locations, the eatery offers around twenty marketplace salads, slow-cooked braises, artisan sandwiches, soups, decadent desserts and of course quenching flavors of lemonade.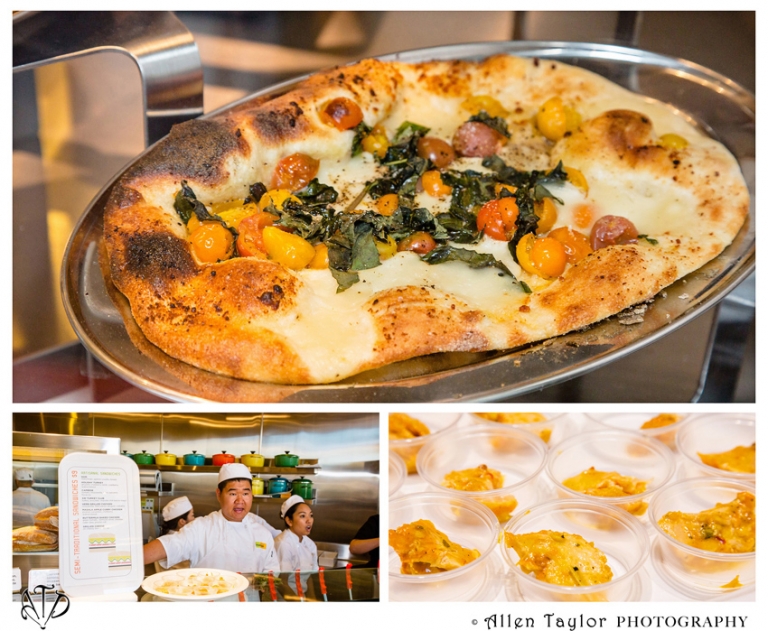 1Unique to the new Orange County location will be a wood burning oven for roasting vegetables and flat-breads and a rotisserie for preparing whole roast rib-eye, leg of lamb and chicken.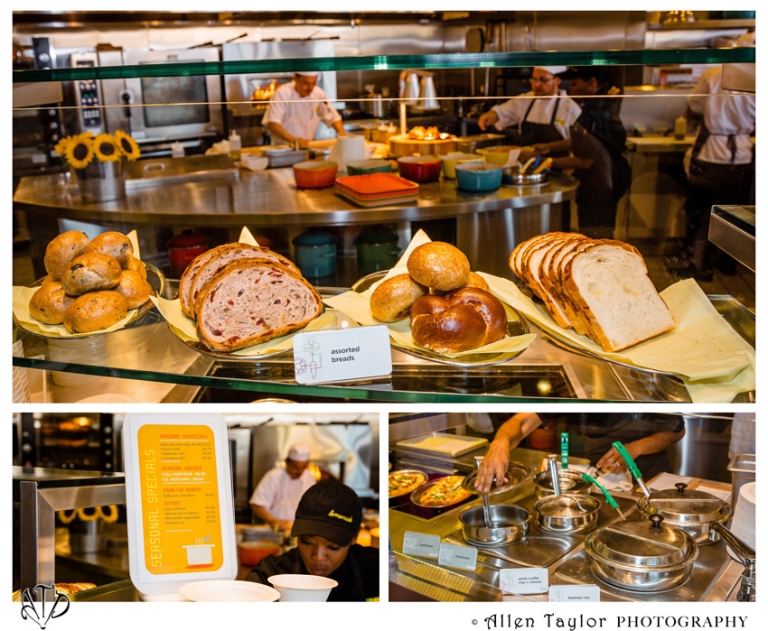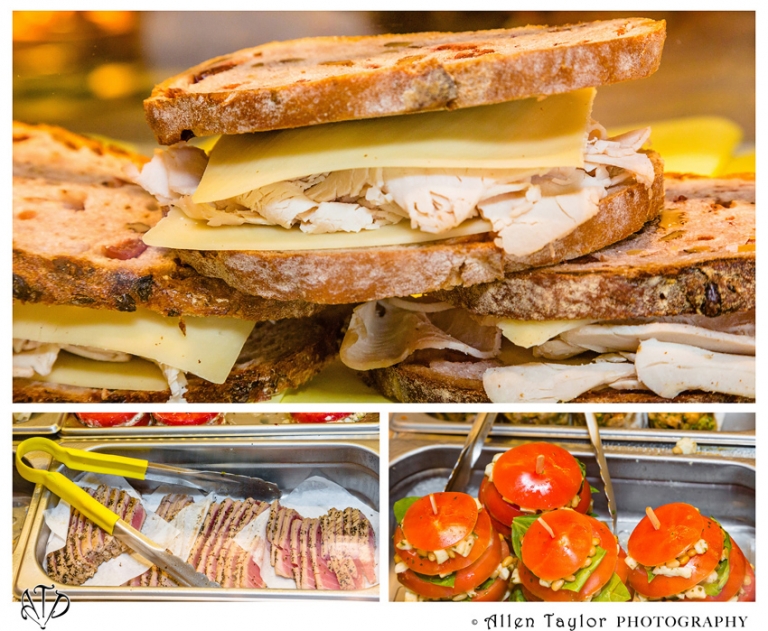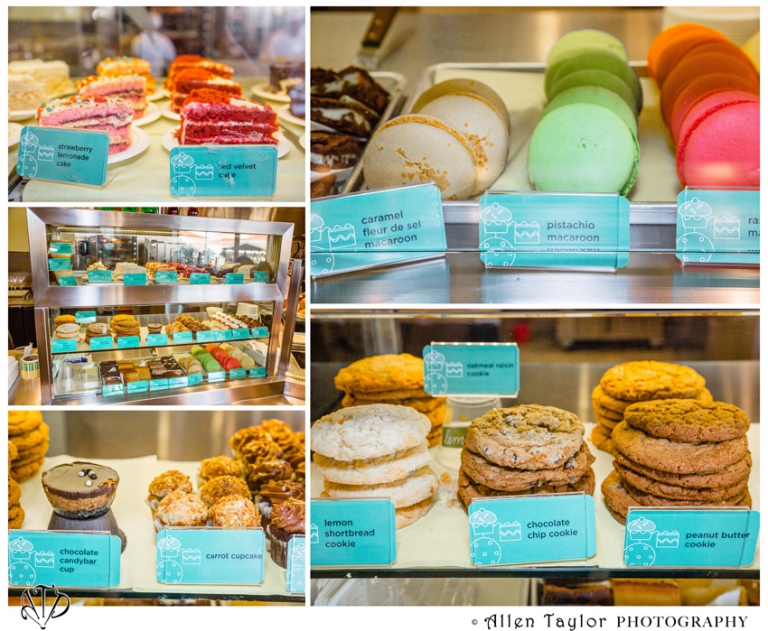 With so many choices, I have to admit, Allen and I had a hard time choosing what to sample.  We tried to get just a little bit of each.  Everything was delicious!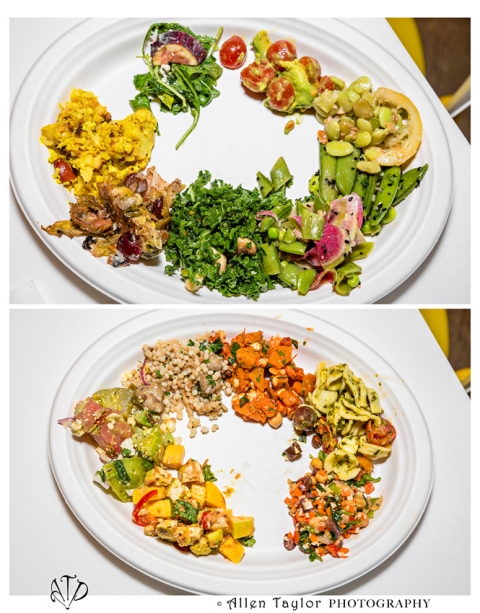 We sampled 15 of the 20 MarketPlace sides.  Among them, some of my favorites were:
Tandoori Chicken, Mango, Yogurt, Jalapeno, Tamarind
Cauliflower, golden raisins, almonds, curry
Avocado, cherry tomato, pine nuts, lime
Kale, mushrooms, kumquat vinaigrette
Red quinoa, arugula, fuji apple, sunflower, pistachio
Brussels sprouts, sherry, parmesan
Israeli couscous, wild mushrooms, parmesan, lemon truffle
Figs, arugula, blue cheese, sherry vinaigrette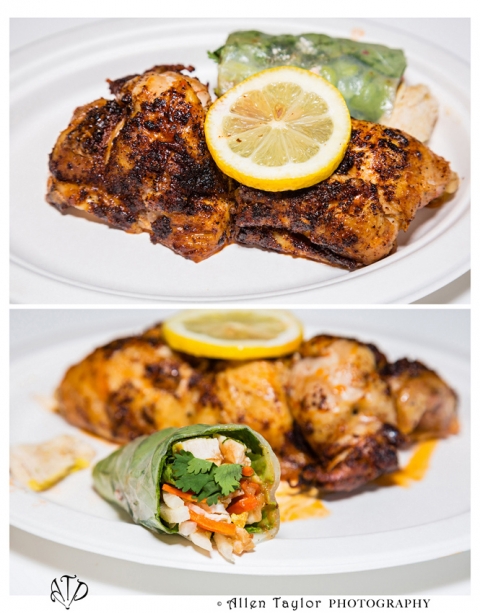 The Garlic Lemon Chicken (above top) was moist and tender.  The Chicken Spring Roll is similar to Vietnamese Spring Roll.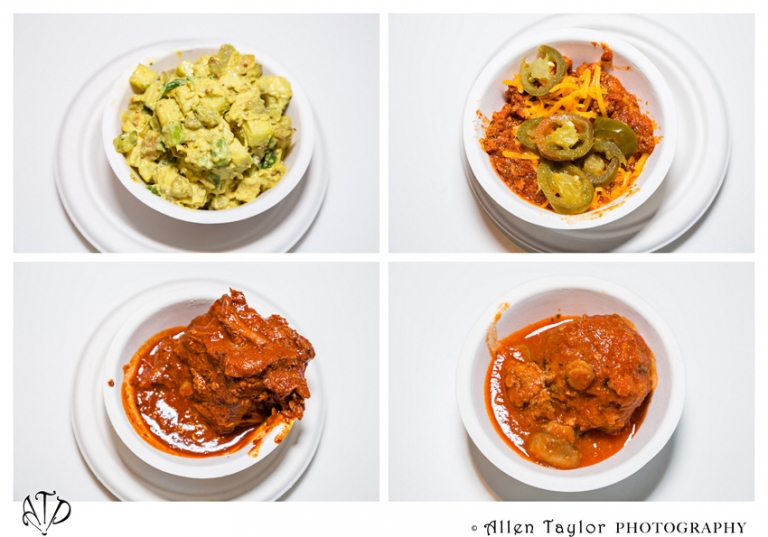 The Chicken Apple Salad (above upper left) was absolutely delightful.  Chicken Chili (above upper right) was a healthier version than Beef Chili.  The Red Miso Short Rib (above lower left) was excellent.  The Beef Stroganoff (above lower right) was a new twist from the traditional one.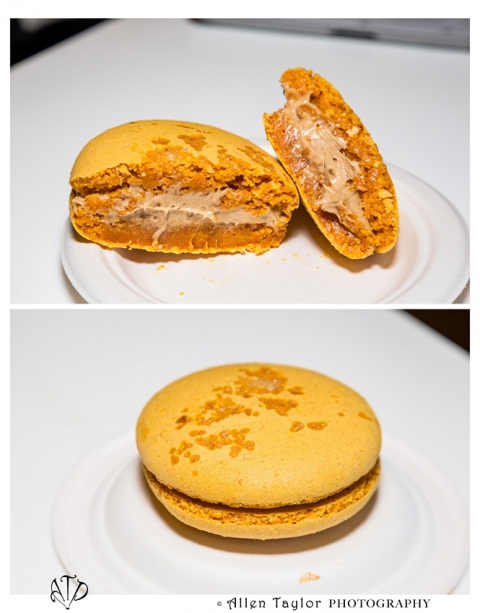 I was especially impressed with the gigantic macaron!!!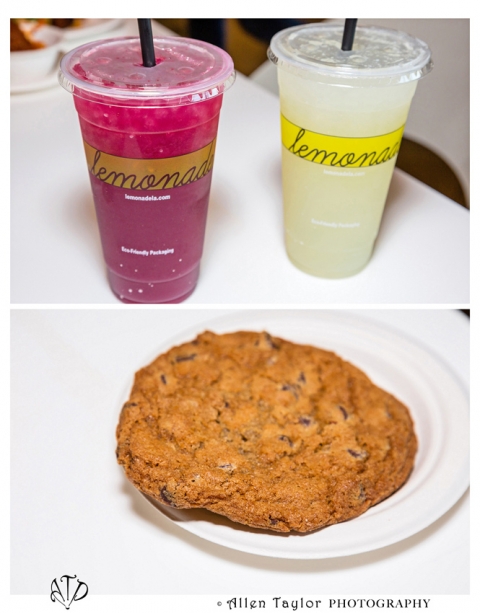 You can not come here without ordering the lemonades!  We got the Old Fashioned one and Blueberry Mint.  And Allen, the cookie monster, had to have a cookie.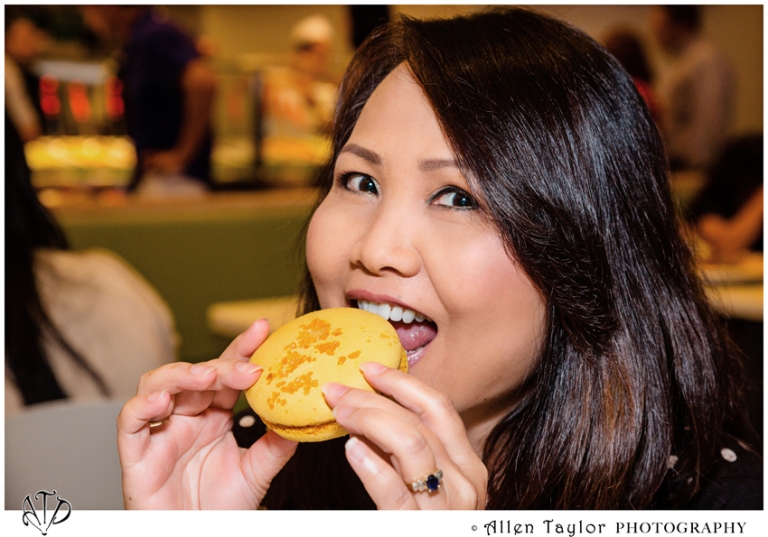 Did I say I was fascinated with the gigantic macaron?  LOL!
The restaurant offers an abundance of seating in the bright, modern 3,800 square-foot space, which includes both indoor and outdoor seating, just steps away from the Fashion Island movie theater.  Next time you are here at Fashion Island, stop by Lemonade after a day of shopping or before/after catching a move to enjoy some delicious contemporary California cuisine.
Lemonade at Fashion Island Mall
987 Newport Center Drive
Newport Beach, CA 92660
(949)717-7525