Nowadays, with my busy schedule, I am quite selective in which media events to attend.  But one look at Bayside Restaurant's website, I was intrigued about the New American cuisine the restaurant has to offer.  The beautifully designed restaurant overlooks the Newport Harbor.  Even on a very hot sunny day, the outdoor patio, where the media event took place, got a nice cool breeze.
(Special thanks to Allen Taylor Photography for providing the following beautiful images!)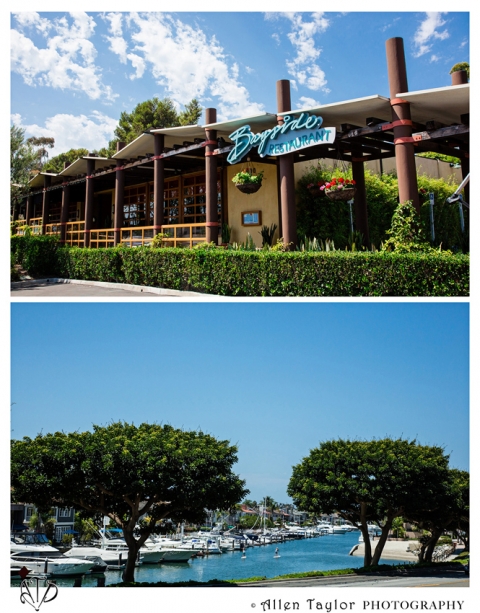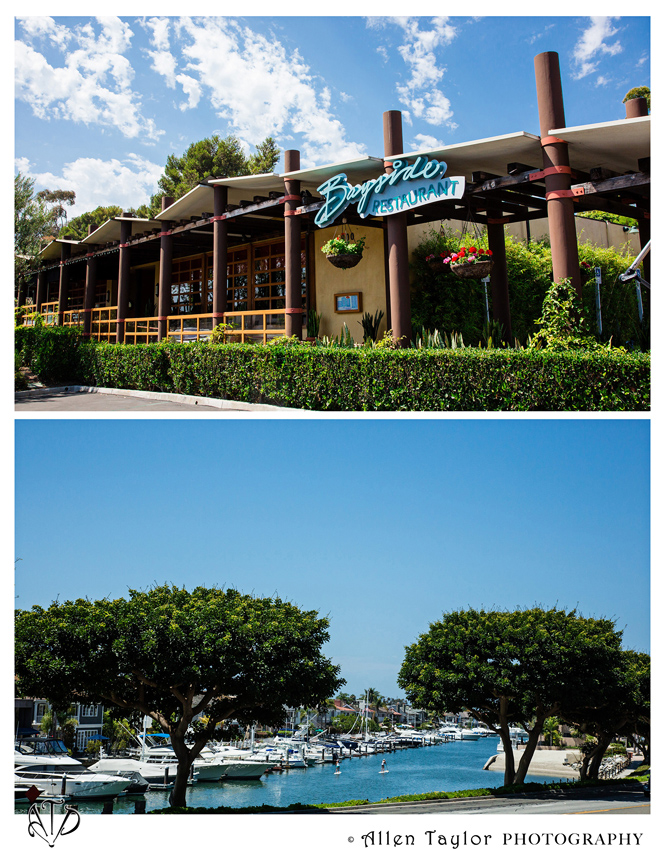 Upon entry, there is a huge wine tower and a fabric-draped bar dividing the spacious dining room into 2 wings.  The walls are home to rotating art exhibits from carefully select modern art paintings.  Patrons are entertained nightly with soulful jazz music.  You'd be happy to know that the Happy Hours (at the bar and lounge) are from 5:00pm until closing daily.  Yes, you heard it right!  And the menu is quite extensive, so check it out!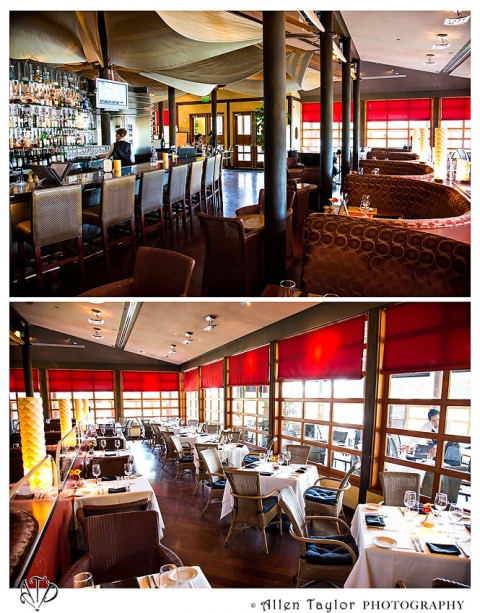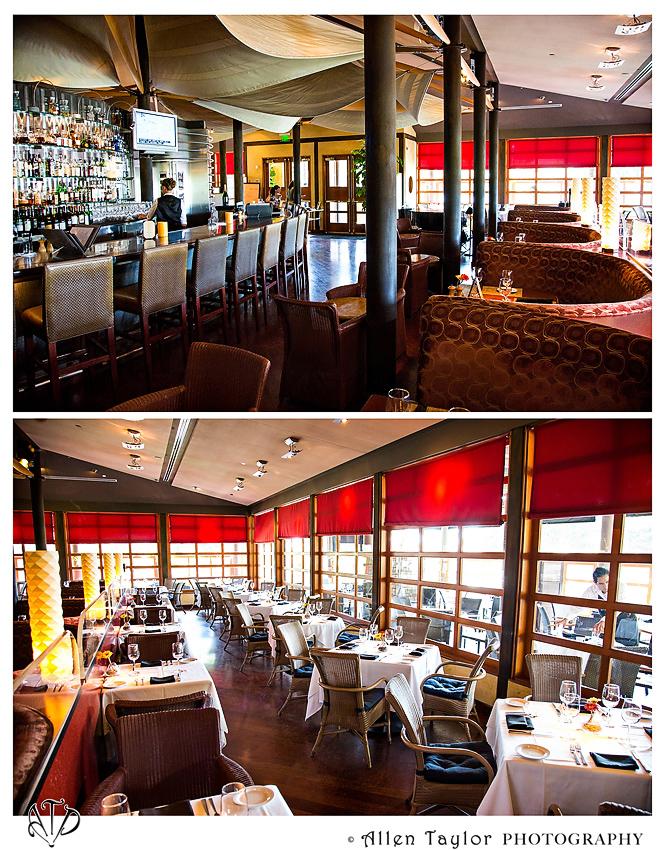 Our gracious hosts – Frank and Kristen (middle) from Groff-Hinman, Inc., Executive Chef, Paul Gstrein (left), and owner of Bayside Restaurant (right).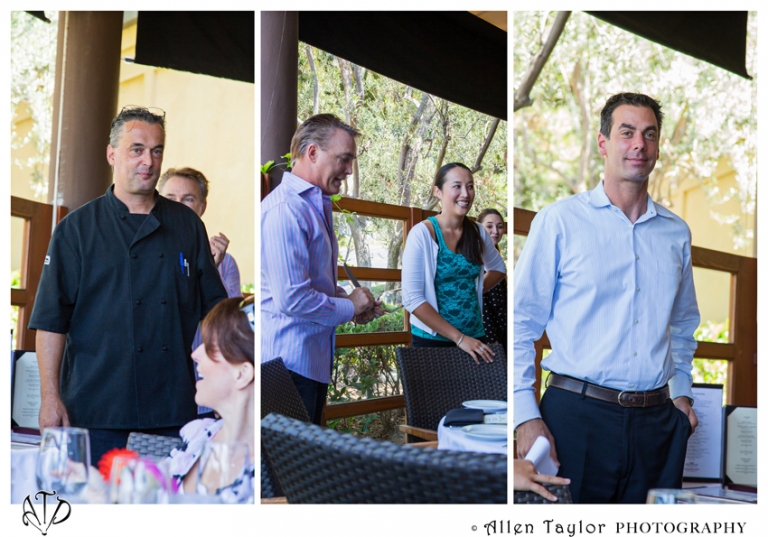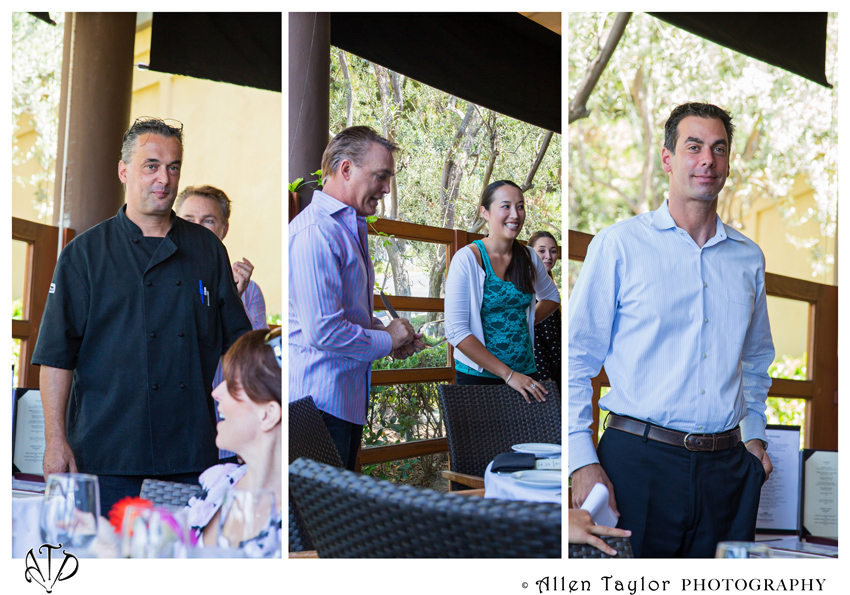 A cold iced tea was perfect for a hot So Cal day.  And I sure enjoyed the cappuccino to end with my desserts later as well.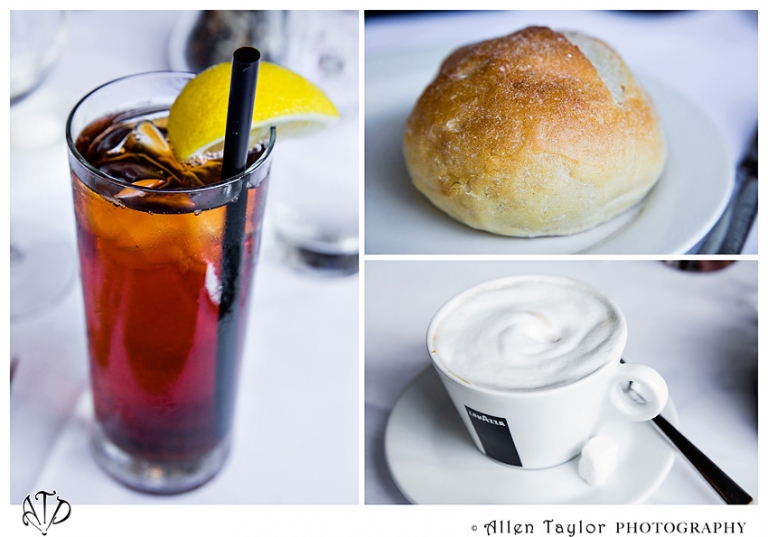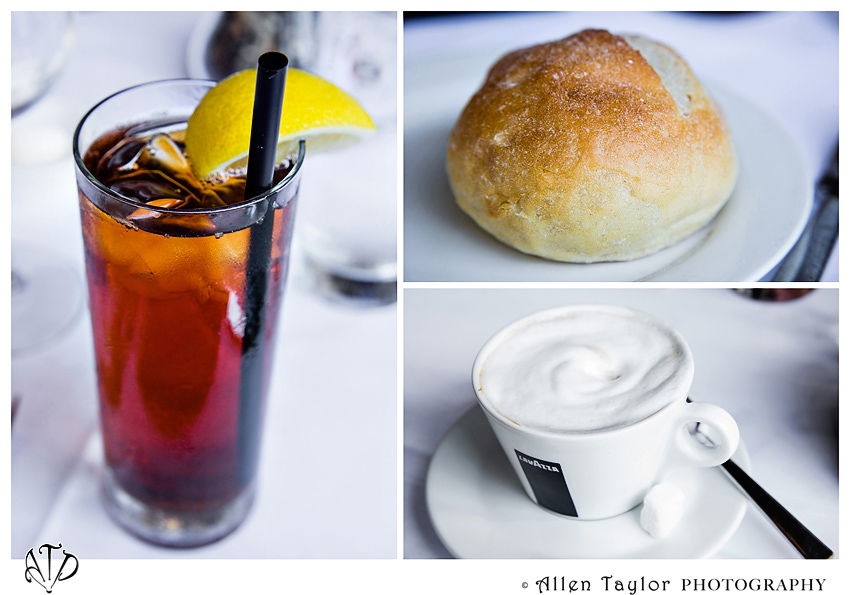 The 2-course Summer Prix Fixe menu included a soup or salad and an entree.  I chose the Summer Salad (Arugula with Nectarine, Grapes, Blue Cheese, Onion, Pistachios in Balsamic Vinaigrette.  This was light and refreshing.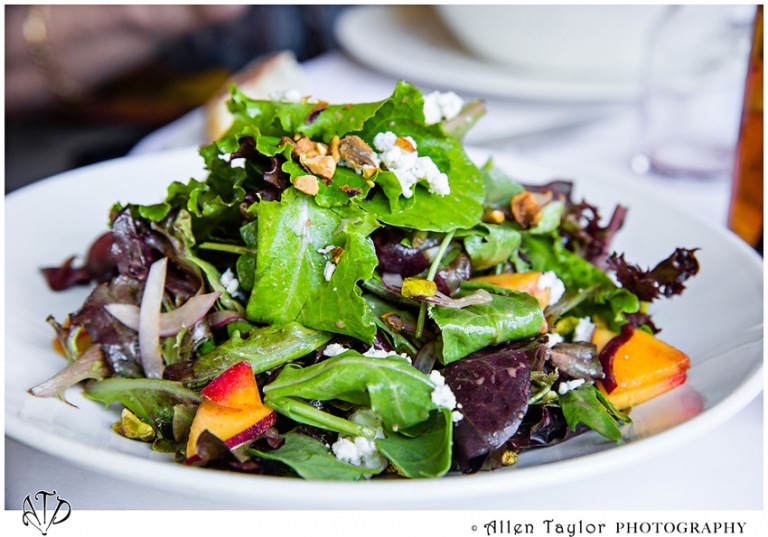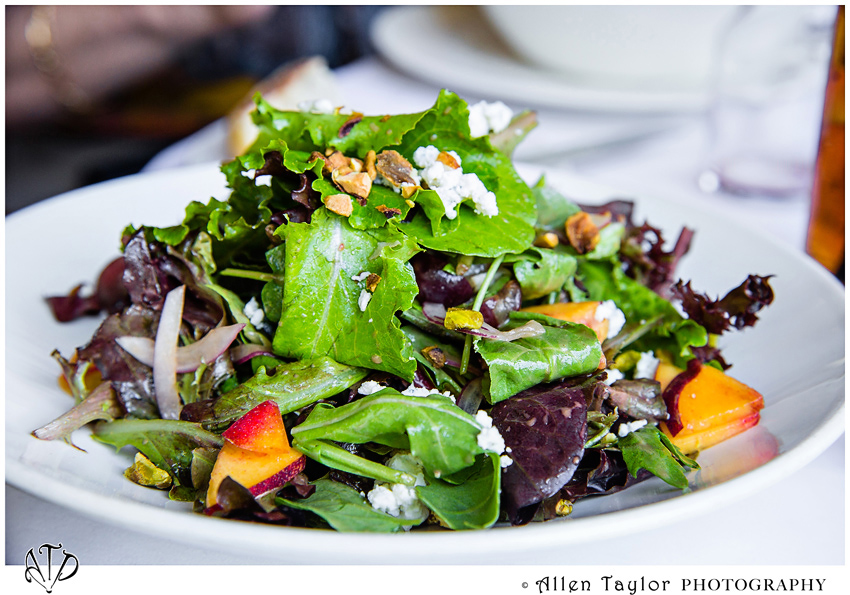 Another guest had this Puree of Green Pea with Mint soup.  He thought it was one of the best green pea soup he's had.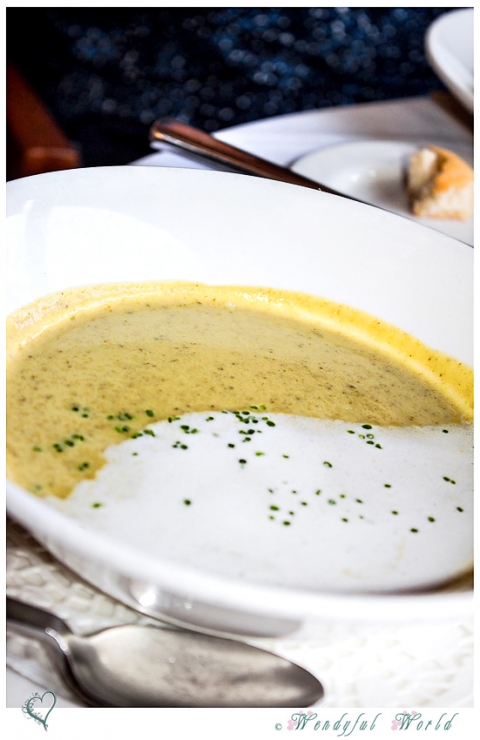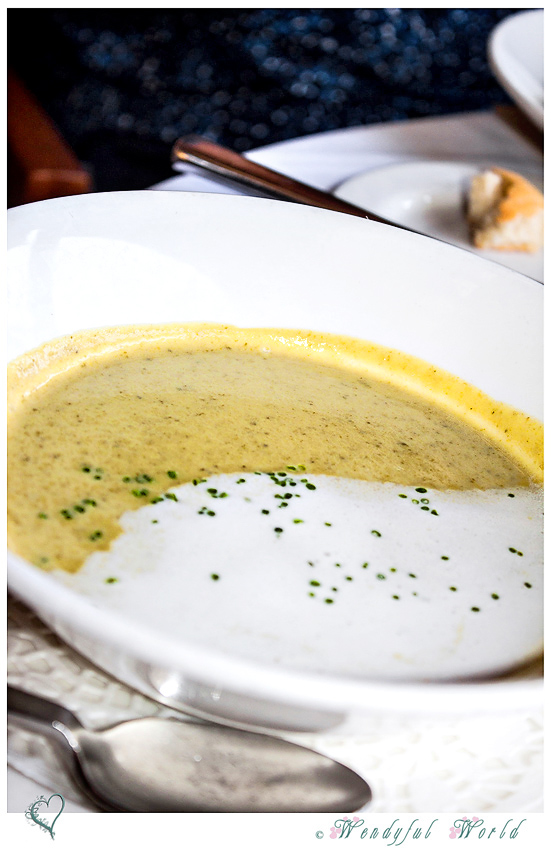 Allen usually gets something different from mine just so we could both try the food.  His starter was the Romaine Salad with Parmesan Dressing and Croutons.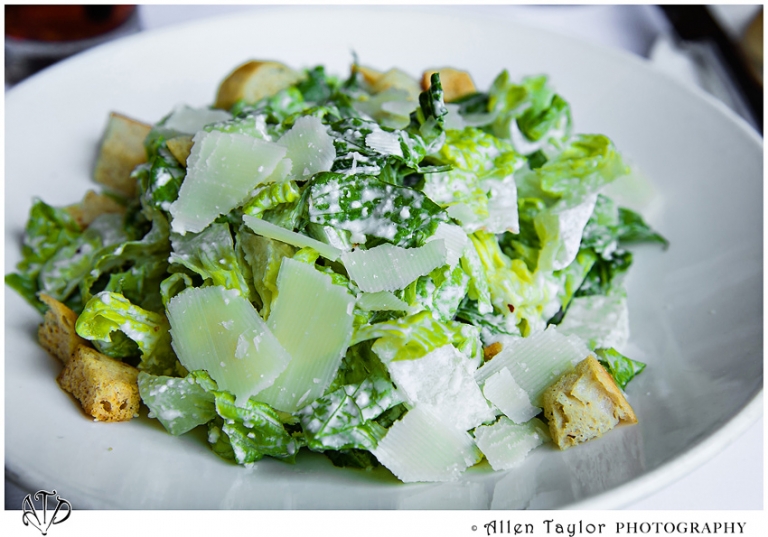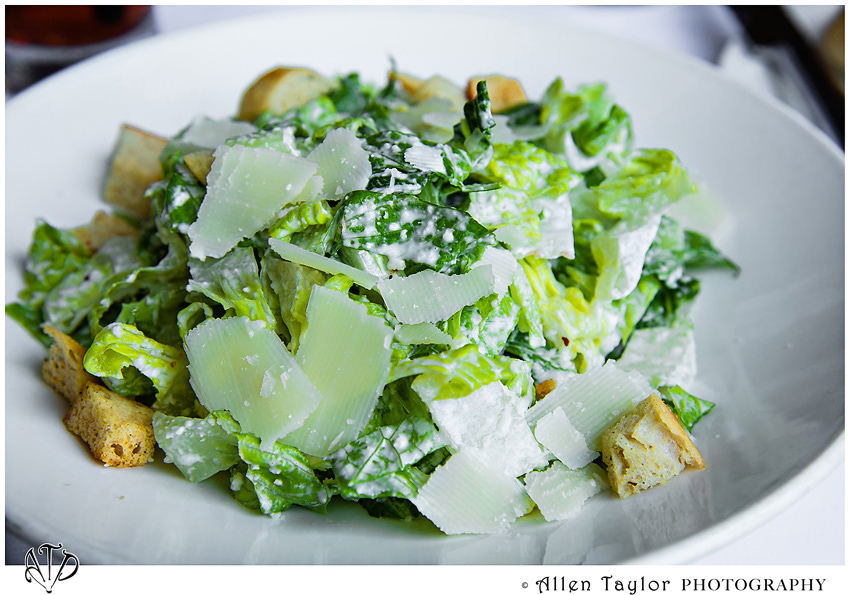 My entree of Petit Filet Mignon (Pepper Sauce, Season Vegetables, Potato Trio) was cooked to perfection.  It was tender and flavorful in every bite.  Everyone also marveled at the beautiful presentation!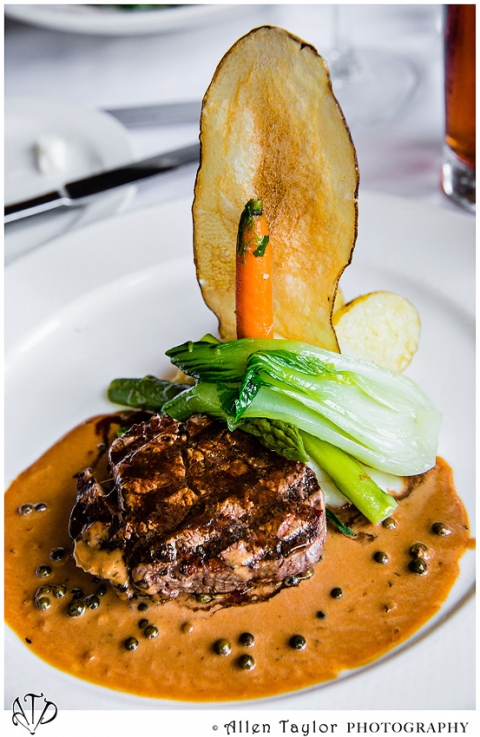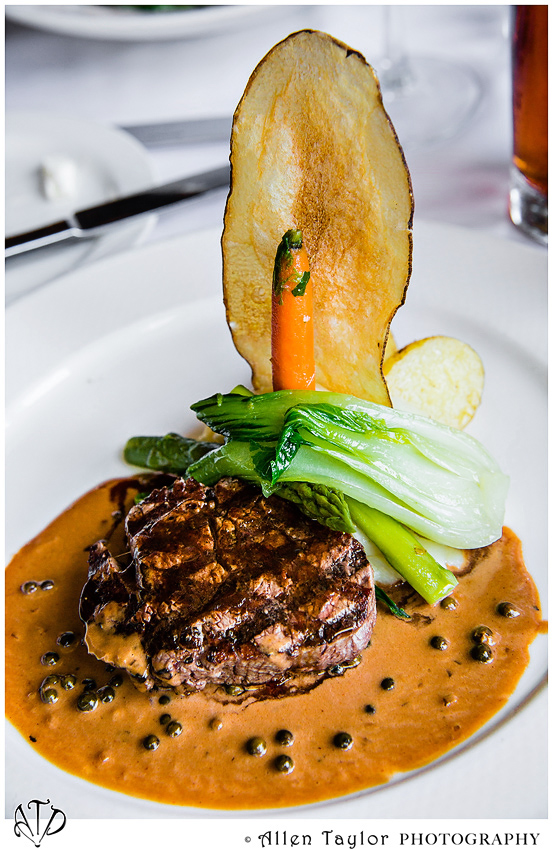 Allen's House Made Potato Gnocchi (Italian Sausage, Peppers, Parmesan, Parsley) was a star of its own.  The sausage was spicy but not over powering.  The gnocchi had great texture and chewiness.  I thought I just wanted to try a bite but I could not stop eating.  It was so good!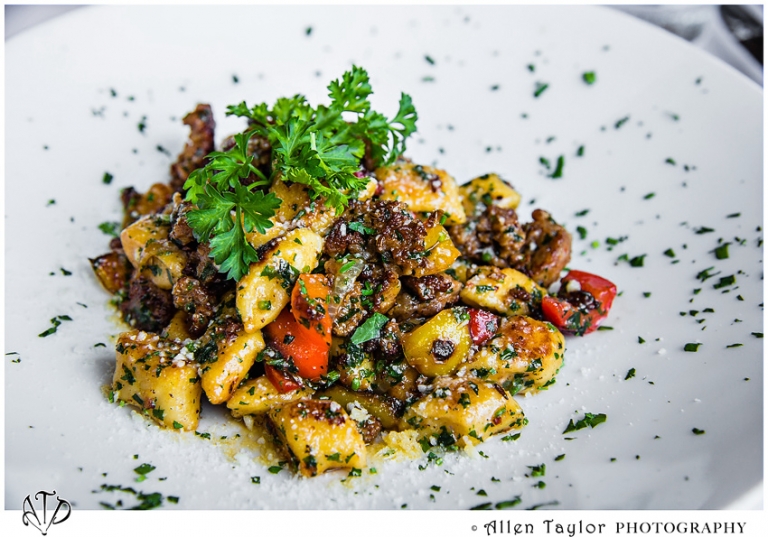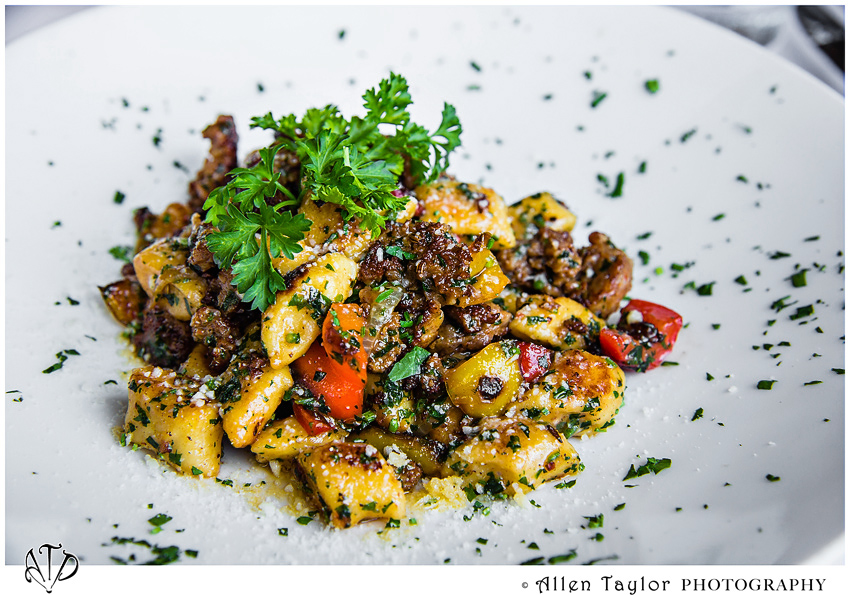 I had a chance to try a piece of Sauteed Tiger Prawns (Famous 'Green' Risotto, Sugar Snap Peas).  These were huge tiger prawns that were light and snappy.  Guests who ordered this entree cleaned up their plates so I think it must have been good.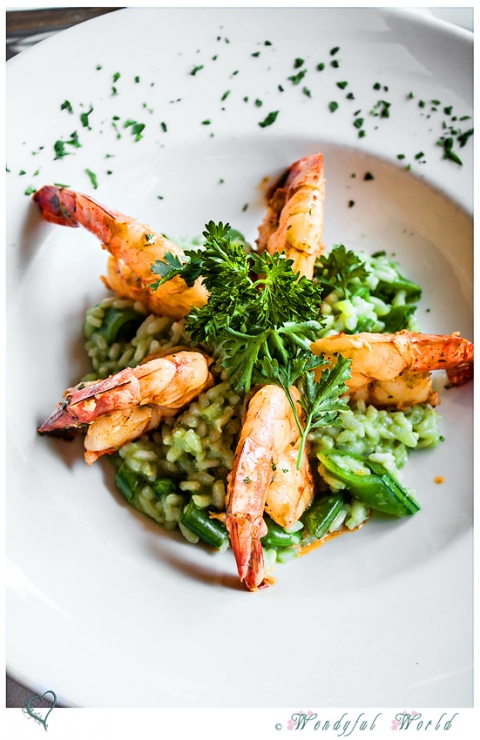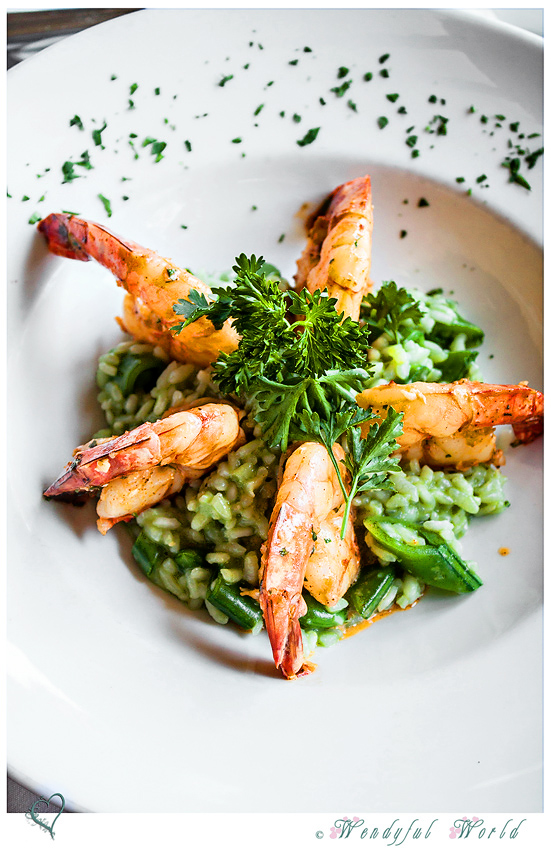 Another entree available was Grilled Swordfish (Lemon Risotto, Heirloom Tomato, Petit Green Bean Salad).  Although I didn't get a chance to try it, I thought it was also beautifully presented.  To me, a dish has to please the eyes as well as the palate.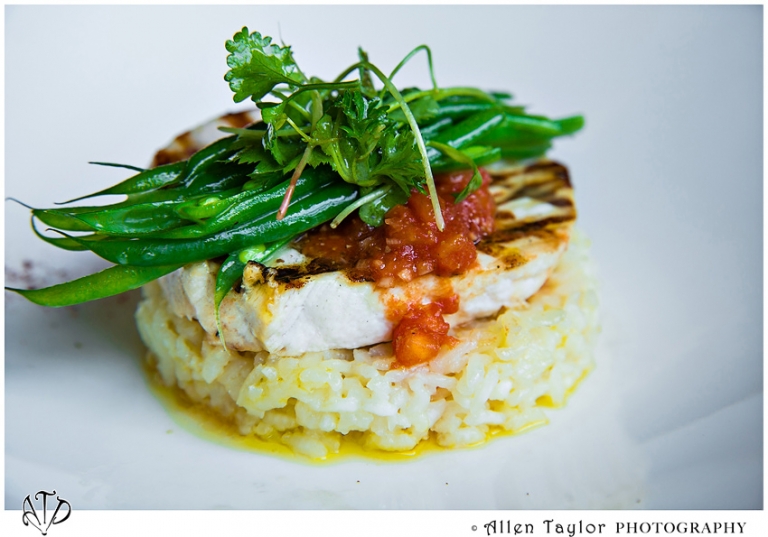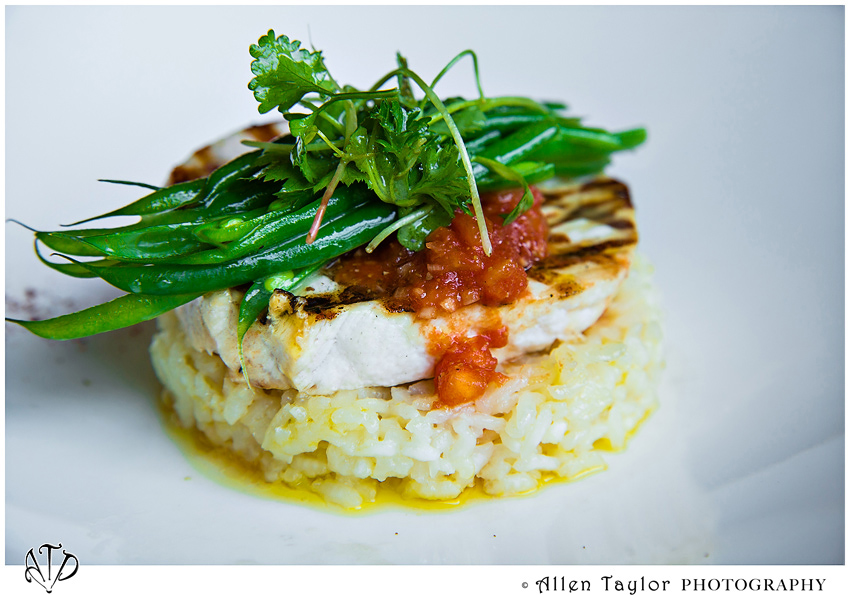 Now a meal is not complete without desserts.  The Sorbet Trio was made in-house.  Unlike other sorbet which tends to be a little on the tart side, these were well balanced in sweetness and tartness.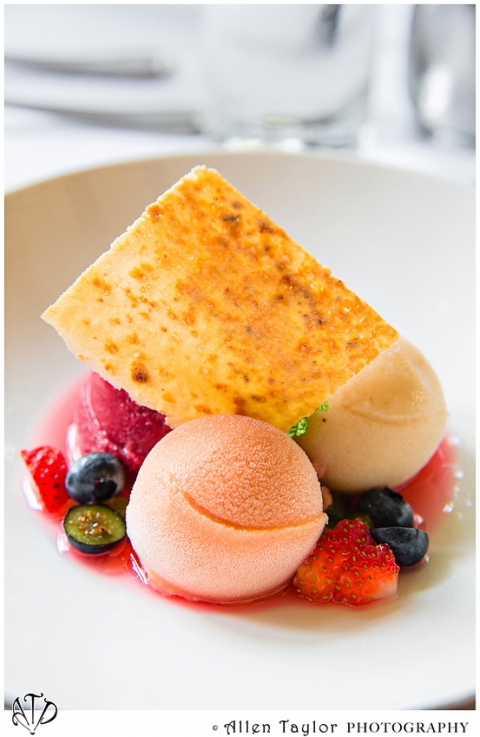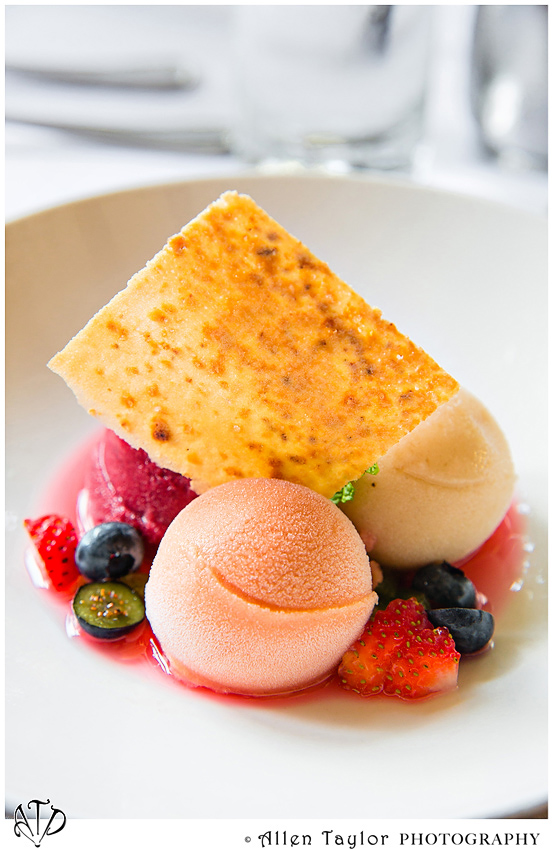 The Banana Bread Pudding was simply amazing!  I am not a big fan of bread pudding but I loved this!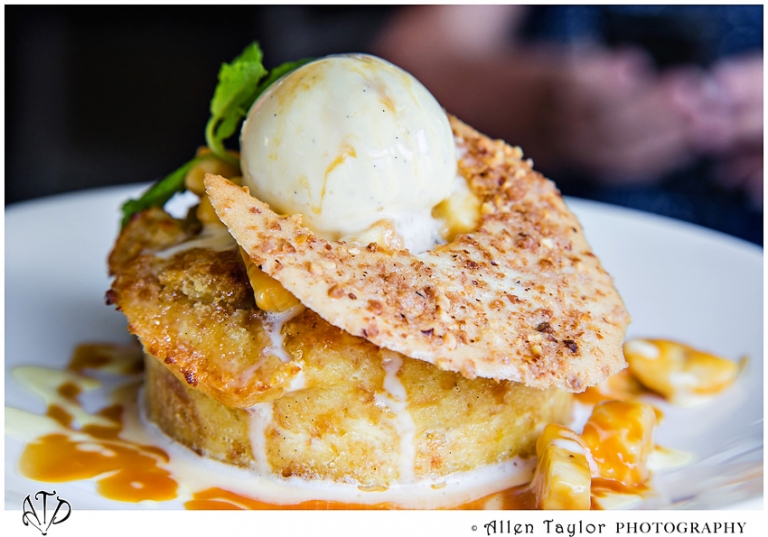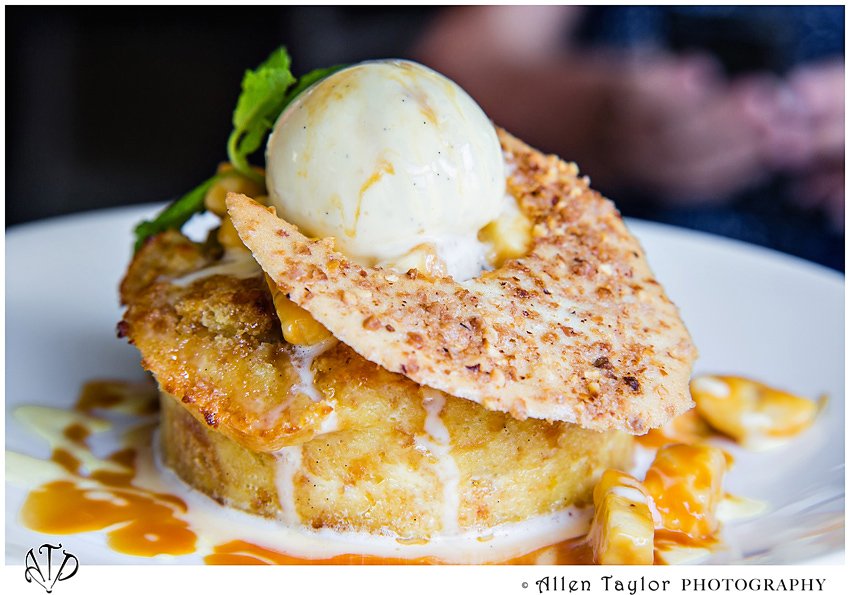 The Chocolate Souffle with Hazelnut Ice Cream fell a little short for me.  I  thought it was a little on the doughy side but I enjoyed the ice cream.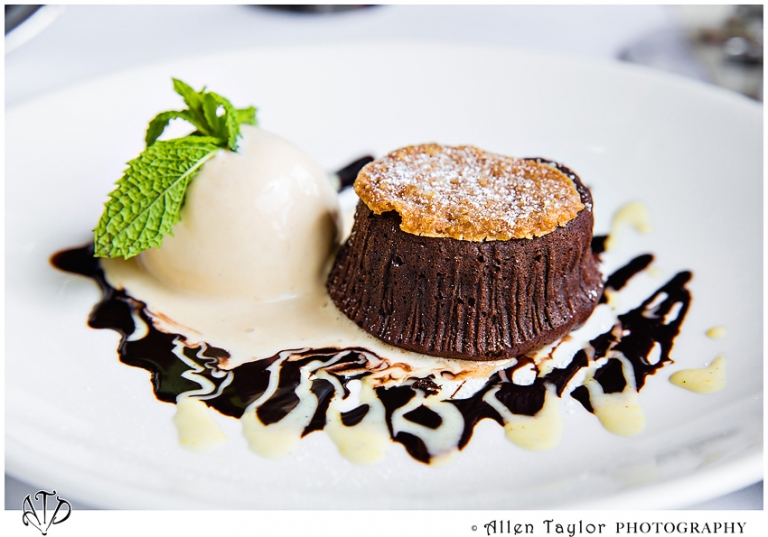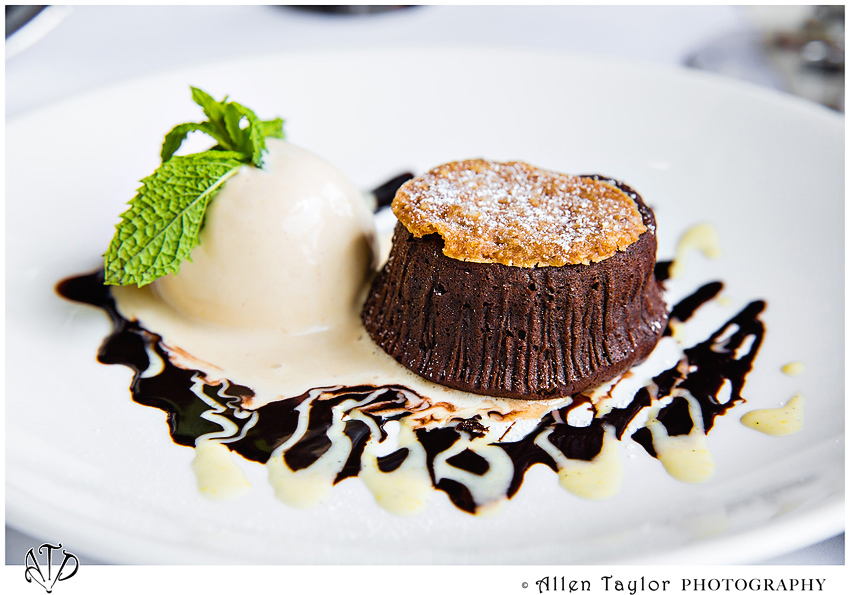 The Tiramisu was different and tasted like it was mostly creamy custard and not much cake.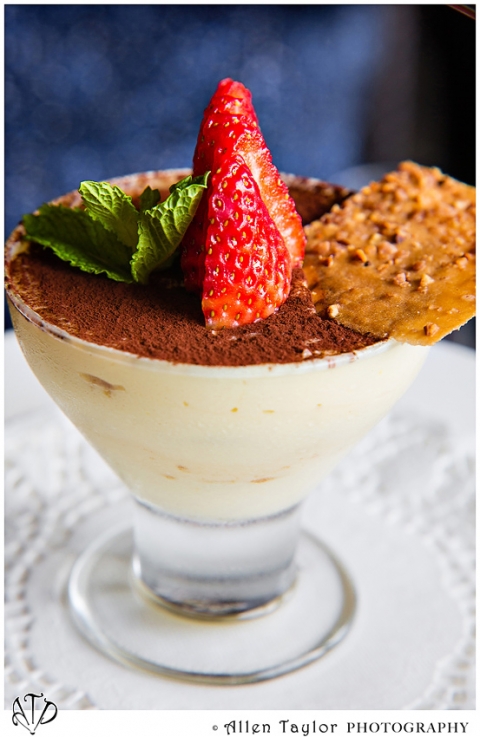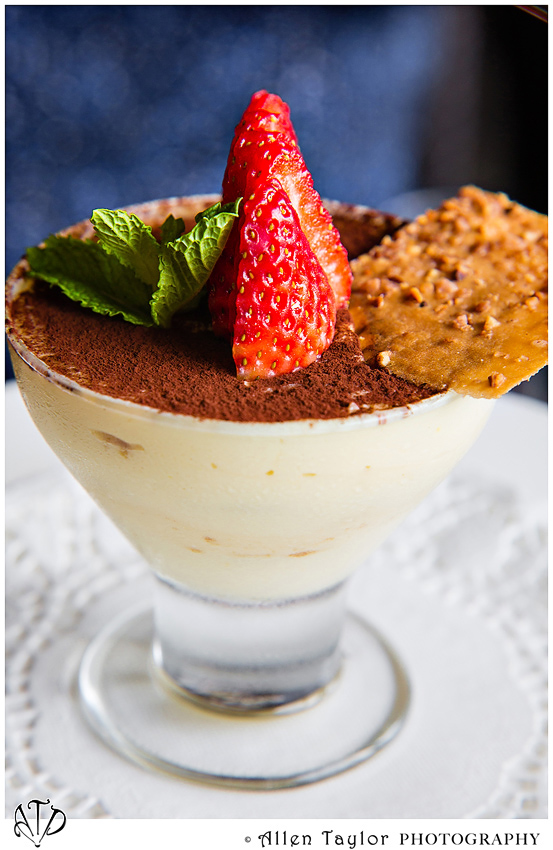 I didn't try the Creme Brulee but it sure looked pretty.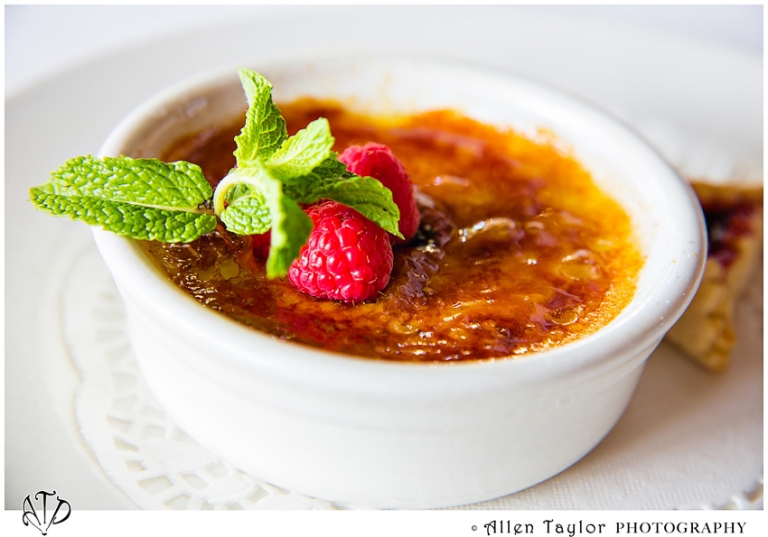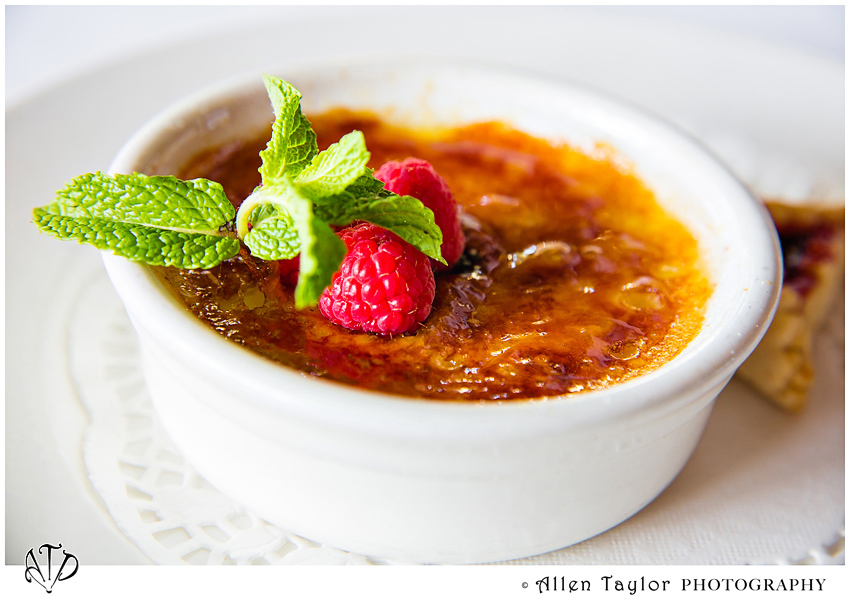 One of the things I really enjoyed was meeting amazing people in these media events.  On this particular occasion, I had the pleasure of meeting the amazing  Mrs. Fifi Chao (far right) who is a chef, lecturer, author, educator, radio personality and publisher of Chao's Dinesty, a private subscription restaurant, wine and travel newsletter.  Also in presence was Ms. Teri Williams (second from left), Publisher and Editor in Chief of Great Taste Magazine.  I couldn't have picked a better table to share the amazing food with these amazing new friends!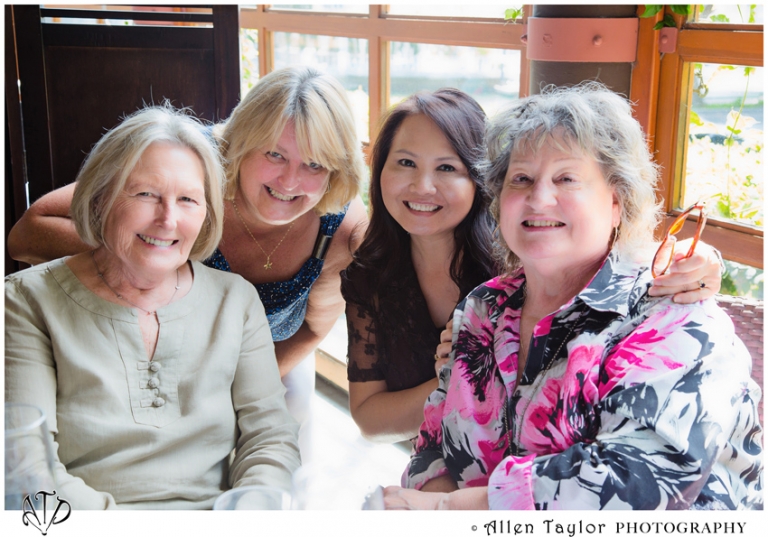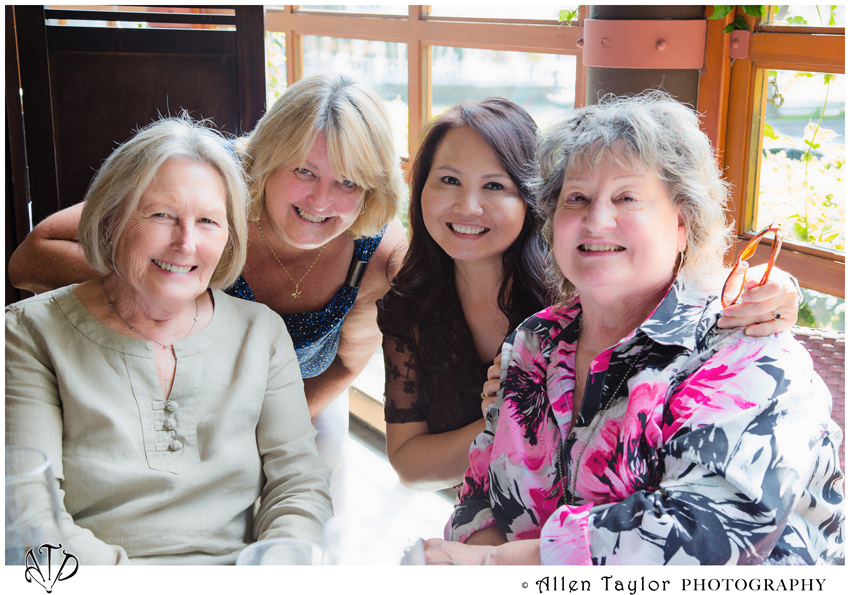 Bayside Restaurant serves lunch, dinner, and the popular Champagne Sunday Brunch.  In addition to its regular menu, special seasonal menu is also prepared.  This is a great dining place for friends and family.  Hope to see you here soon!
Bayside Restaurant
900 Bayside Drive
Newport Beach,
California, 92660
(949)721-1222
Please share and like us: