I arrived home to find a beautiful bouquet of flowers from Allen and a hand-made card from my daughter.  Ahhhhh, it was my birthday.  :)I am never big on celebration of any sort, especially for my birthday.  And now as I get older and older, I really would much rather forget I was getting another year older.  Nevertheless, a birthday dinner reservation was made in my honor.
Allen had photographed for Bistango's new beer/wine pairing menus a few weeks back and got to sample a few of them and quite liked it.  So it was no surprise that he suggested visiting it again.  After all, we really love one of its sister restaurant, Bayside in Newport Beach.  You can find my past posts here, here, and here.  Yes, 3 posts.  That's how much we liked it.
While we looked over the menu, warm bread and butter were served.  These baguette slices were really good.  The crust was crunchy but the bread soft with a tiny chewy texture.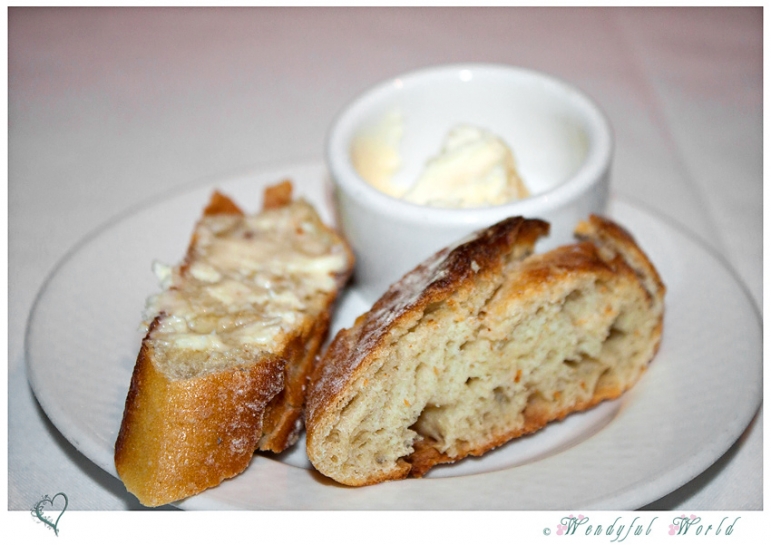 We decided to try 2 appetizers; Sashimi of Yellow Fin Tuna (Ginger Cucumber Salad, Avocado, Spicy Soy Vinaigrette) and Crab and Lobster Cake (Roasted Tomato-Peppers Relish, Pea Sprouts, Lemon Vinaigrette).
The Sashimi of Yellow Fin Tuna looked beautiful!  However, the texture of the tuna was not as tender as I expected.  The cucumber salad underneath was very nice though.  I didn't taste the spiciness in the vinaigrette instead it was from the jalapeno pepper slices.
The Crab and Lobster Cake was excellent!  I especially appreciated that it was pan-grilled and not fried.  The Roasted Tomato-Peppers Relish complimented it so well as did the Lemon Vinaigrette.


My daughter also ordered a Sweet Garlic Soup (Chives, Whipped Cream, Croutons).  I didn't taste it but she said it was good.
In an effort to eat healthier, I decided on Baked Chilean Sea Bass (Exotic Mushroom Risotto, Asparagus, Truffle Essence, Concord Grape Demi-Glace Reduction).  I've had excellent Sea Bass before and was really eager to try it here.  The presentation was beautiful. However one bite into it, I was a little disappointed.  It was over-cooked so the fish was dry and stringy, not at all tender like I expected.  It did have a few spots where it was tender but 80% of it was not.  Despite the nice sauce and Mushroom Risotto it was accompanied, it was a let down.  My other guest ordered the same dish and his was over-cooked as well.


My son wanted meat, so I suggested 16oz Bone-in Prime Rib Chop Blue Cheese.  The meat was very tender and flavorful, but personally I would have skipped the Blue Cheese because I found it too over-powering.  Our server was nice enough to bring out Red-Wine reduction sauce and Peppercorn sauce for my son.  I liked the Peppercorn one quite well.


My daughter's choice of entree was Pan Seared Blackened Mahi Mahi (Sweet White Corn, Leeks, Asparagus, Shiitake Mushrooms, Lemon Caper Butter Sauce).  She thought the sauce tasted a lot like the soup she just had, so it got a little too much for her.  She finished only about 1/2 of Mahi Mahi.  When asked how it was, she gave a shrug.


Allen's entree was highly recommended by our server – 10 oz Bone in Prime Filet Mignon.  This was probably the best dish of the night.  Allen had asked for medium but it came medium rare.  In my book, not cooking the meat according to order is a big No-No in a fine dining restaurant.  I would have sent it back, but Allen didn't.  Nevertheless, the filet was very tender and the sauce, vegetables, and mash potato all went well together.
We over indulged on the desserts and order 4 plus a special dessert for the birthday girl, yours truly.  Be warned; all the desserts were quite big.  I think 2 people could share 1.  The Chocolate Souffle was good, but I wish the crust was a little chewy like the one at Roy's.  The Creme Brulee looked really good as did the Tiramisu but I was too stuffed to try.  The Trio Ice Cream Puffs were good, but nothing special.  I did appreciate the nice gesture of the restaurant for the special birthday treat.  


I had great companies that really made my birthday special.


My daughter is amazingly creative and always makes hand-made one-of-a-kind greeting cards for everyone.  Each one and each year is different.  This year, she made ma a fruit basket.  Each piece of the card is hand made and cut out by hand.  And she makes up clever phrases for each theme!  I love it!


Although the food wasn't spectacular, we still enjoyed dining at Bistango.  The restaurant is really beautiful and the atmosphere was fun and welcoming.  They have a great Happy Hour menu served from 4:00pm – 9:00pm that I would like to try.  Hopefully 2nd time will be a charm. Reservation can be made via OpenTable.com.
Bistango Restaurant
19100 Von Karman Avenue
Irvine, California 92612
(949)752-5999