Ever since I got a sample of Belli Fresh Start Pre-Treatment Scrub
and Belli Anti-Blemish Facial Wash, I've been a huge fan of the products. I use it loyally to keep my skin clean and healthy. What makes Belli ® Skincare so popular among consumers? First and foremost, Belli is physician-formulated and delivers trusted skin care solution that pamper and protect without known harmful chemicals so you can expect beautiful skin and enjoy peace of mind. Although initially developed for use during pregnancy, it is perfect to use in any stage of your life: (Pre) Pregnancy, Motherhood and Beyond.
(Image source: http://www.belliskincare.com/)
It would be no surprise that I decided to try more products from Belli. Taking care of your body is just as important as your face, don't you think? As with all of Belli products, the body wash and lotion have a very light and pleasant scent.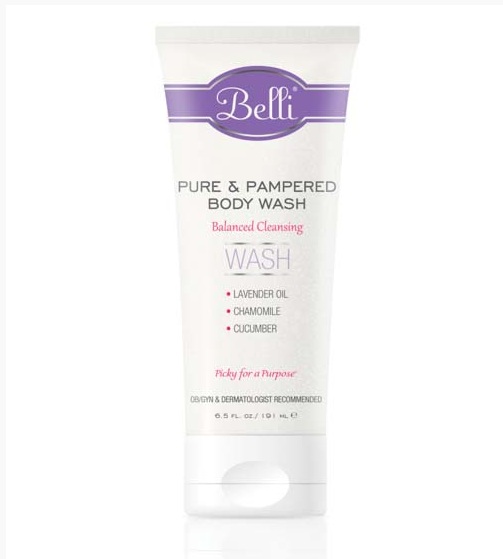 Belli Pure & Pamper Body Wash is a specially formulated body wash created for daily use.  It gently cleans without stripping the skin of its natural oils.  It contains cucumber and green tea extracts that are rich in antioxidants as well as lavender and chamomile that provide a relaxing aromatherapy experience.



Belli All Day Moisture Lotion is a luxuriously emollient cream that deeply moisturizes and comforts dry skin.  It contains antioxidant vitamin E, chamomile to soothe and refresh skin and lemon oil to provide an uplifting scent.


Of all the skincare product, facial lotion probably ranks number one in my regime. I absolutely adore Belli Healthy Glow Facial Hydrator! It is a light daily moisturizer that is rich in botanical humectants that refine and soften skin texture.  It provides the antioxidant boost of vitamin C and grapeseed oil for radiant, healthy looking skin.  The formula is rich with soothing chamomile which helps neutralize skin irritants.  I love the light and refreshing citrus scent. 


Ever stayed up too late or had a restless night and woke up looking like a raccoon?  Let Belli Eye Brightening Cream come to the rescue. It is formulated with vitamins K and B to reduce the appearance of these telltale signs of fatigue and dehydration, this luxurious cream is the perfect anti-dote to late nights and interrupted sleep.  Brighten your day and your look with this soothing and restorative refreshment for the eyes.


(Image source: http://www.capriclear.com/)
We've all heard about the amazing benefits and uses of coconut oil in health, skin, and cooking so I was excited to try a sample of CapriClear Spray On Moisturizer to try. Made with 100% fractionated coconut oil, this all-natural, paraben-free treatment combats dry, flaky, irritated skin, making it soft and silky.  Conceived by a dermatologist, fragrance-free CapriClear is an exceptionally pure, gentle and effective single-ingredient solution for even the most sensitive skin.  It also has the eczema seal of approval and is safe for the entire family.  I love how it leaves my skin so silky and soft.
Belli SkinCare is available at http://www.belliskincare.com/ as well as fine retailers nationwide. CapriClear is available at CVS/pharmacy, Wallgrees, Harmon Discount Health & Beauty and ULTA among many. Check them out and let me know how you like them in the comment section below. Please also visit and like my FB page for more daily feed. Thanks so much for stopping by!