Who what?  You ask.  Who Song and Larry it is!  The restaurant was conceived based on a fictional story of 2 best friends, Who Song and Larry, who travelled the world together.  Along the way, they met great people, sampled amazing food and drinks and had more tales to tell than anyone cared to listen.
Once they returned home to California, they looked for a place where they could relax and chill with friends and family to share their stories.  They couldn't find it, so they decided to open one themselves.  This was how Who Song & Larry's Cal-Mex Cantina was born.
(Photos by Allen Taylor Photography)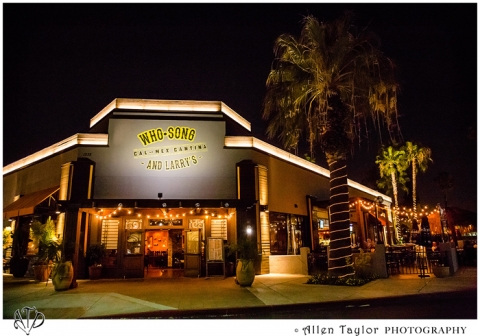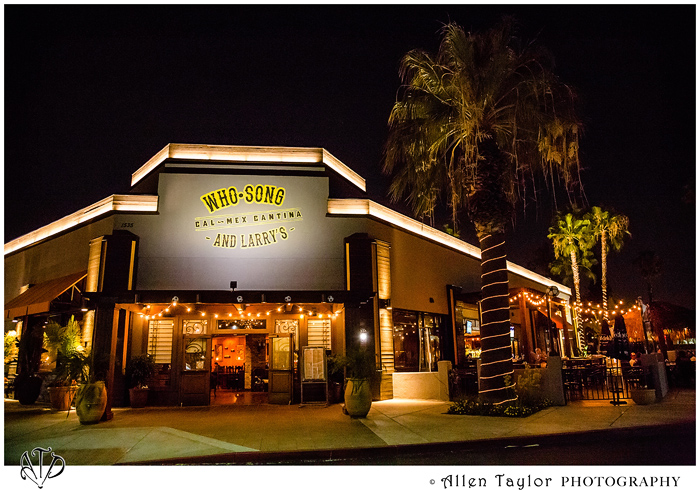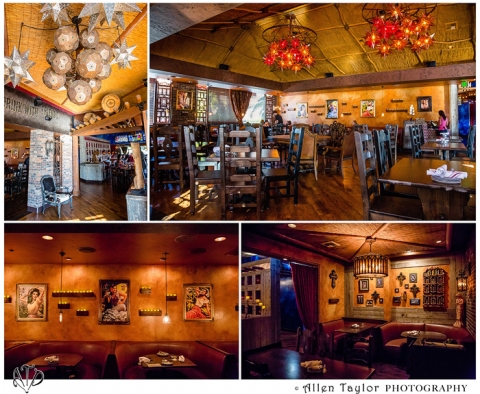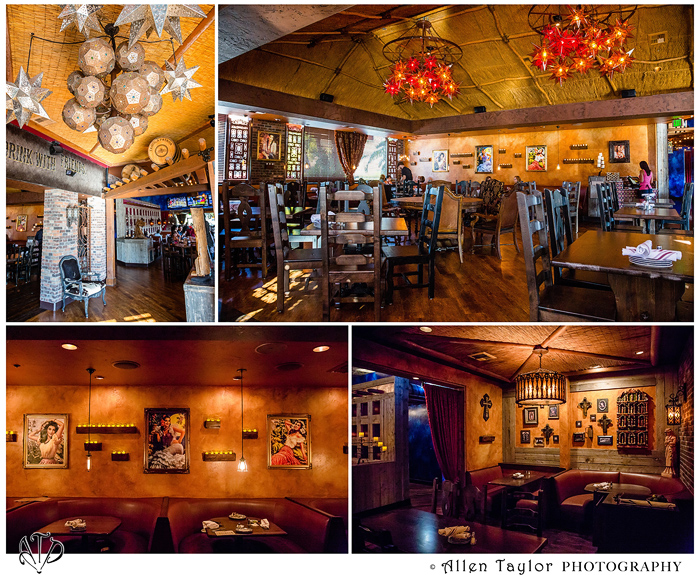 Located in the Century Promenade near Honda Center in Orange, you might recall the location used to belong to Acapulco Restaurant.  The transformation is quite drastic and impressive with beautiful chandeliers throughout.  It is now a lot more artsy and sophisticated with warm rich walls and furnishings.
Guests will have the options to be seated in the main dining room, the indoor/outdoor bar/lounge area or the outdoor patio with 2 beach palapas and a 10-foot fire pit.  No matter where you choose to dine, one thing is for sure – you will have a fun and delicious time!
The menu encompasses most popular dishes from around the world crafted by Executive Chefs Johannes Bernau and Loreto Alcala.  Chef Johannes' Japanese, Dutch and Indonesian background played a big part in his creation of the motley menu.  Prior to joining Real Mex Restaurant, Chef Johannes worked along side several of the world's renowned chefs such as Wolfgang Puck and Jose Andres.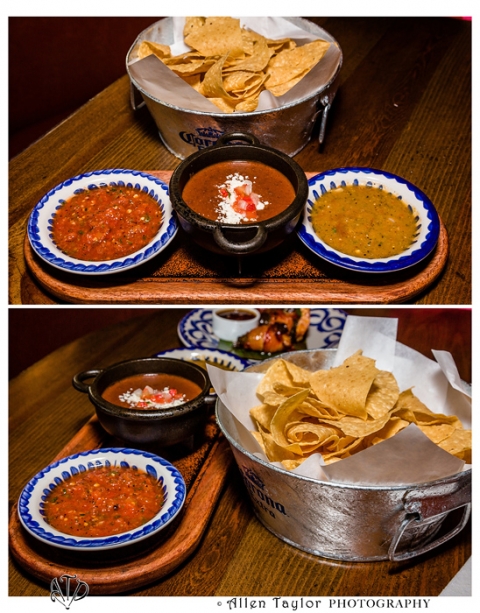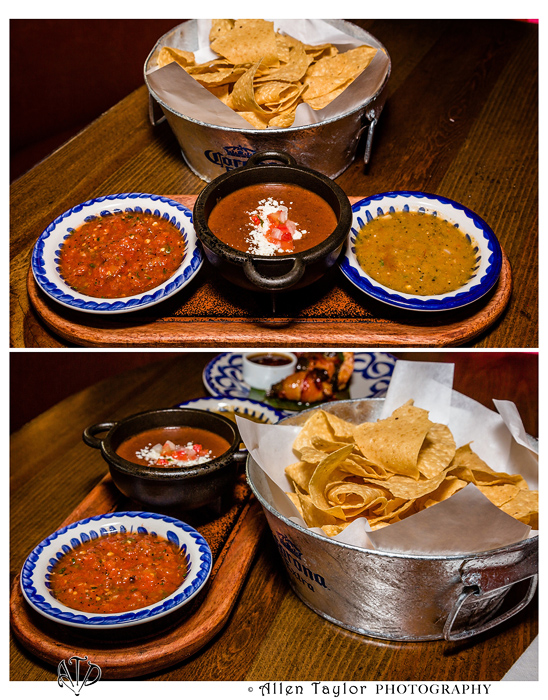 We started the evening with Dips and Chips.  It is served with 2 homemade salsas (a regular salsa and daily special salsa) and bean dip.  On the day of our visit, the daily special salsa was 'Tropical Salsa'.  I really liked  these chips.  They were thinner and lighter.   The bean dip had a nice BBQ smoke flavor and was a nice change to other restaurants'.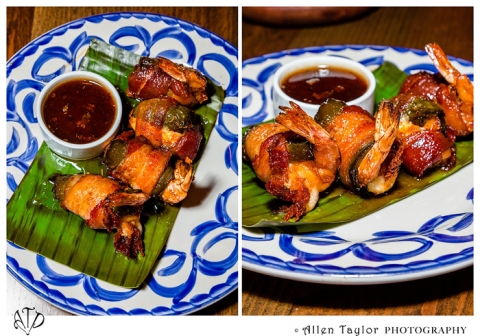 The next appetizer Jalepeño-Bacon Wrapped Shrimp (Grilled wild Mexican shrimp, bacon, roasted jalapeños, manchego cheese) was appetizer from heaven!  At first I thought it was just another bacon-wrapped shrimp.  But the roasted jalapenos and manchego cheese took it up 10 notches.  The BBQ Jam sauce was so good that I even asked to take some home!  You can not miss these when you come here.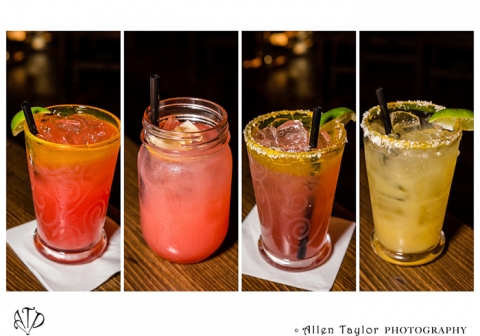 There are so many great drinks here.  Bar Manager, Fabian, took really good care of us.  We got Sorta Skinny Margarita (Herradura Blanco, X-Rated Vodka, Fresh Lime & Orange Juice, Fresca, drop of Grenadine) ,  Mango Margarita (Dobel Diamond Tequila, Mango, Fresh Lime Juice, Handmade Sour… served with a Chile Pequin rim), The Traveler (Don Julio Blanco, Grand Marnier, Prickly Pear,Handmade Sour) and Strawberry Moon Shaker (Strawberry Moonshine, White Lightnin' Moonshine,Strawberry and Lemonade).  We loved every one of the drinks.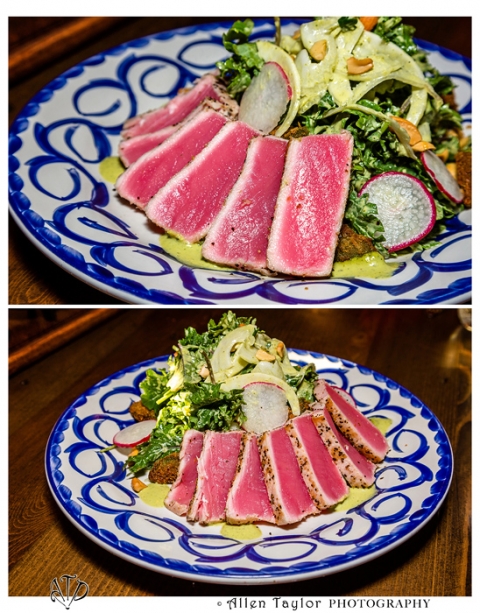 Next we tried the Seared Tuna Salad (Sushi grade tuna, kale, fennel, crispy avocado, cashews,pepita-cilantro dressing).  Allen and I are very particular about seared tuna.  It's so easy to over-sear but these were PERFECT, just a touch on the edge.  The tuna was very silky and tender.  I loved this dish so much that I would come back for it as an entree anytime.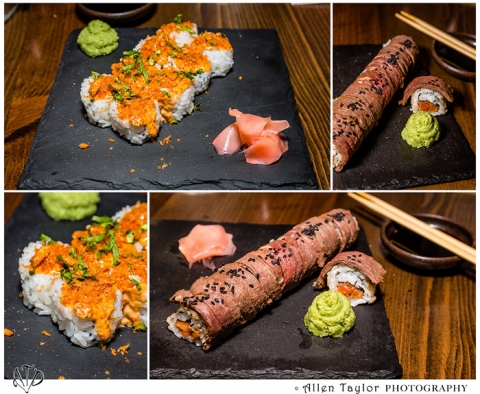 We were very curious about the Sushi so we ordered the Mexi-Crunch (Crab, chicharron, chipotle sauce, avocado, cucumber) and Surf + Turf (Spicy tuna and carne asada).  Of the two, we enjoyed the Mexi-Crunch more.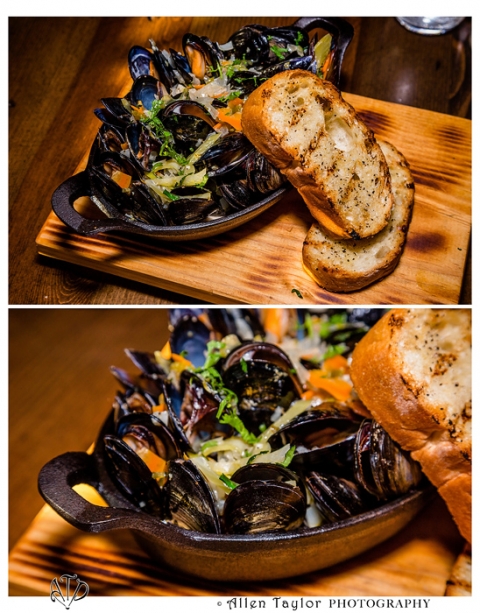 The Charred Mussels (Penn Cove mussels, onions, garlic, jalapeños,celery, carrots, wine, butter, grilled bread).  This dish is under 'Social Eats' and is a great appetizer to share.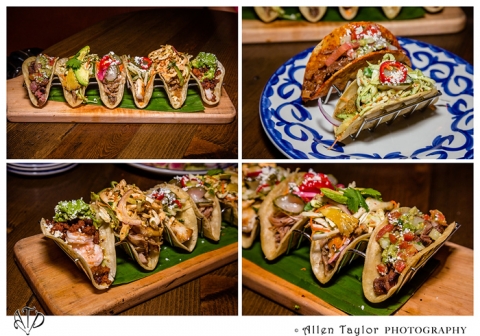 How many different tacos are on the menu?  There are 10 and we got 7 in a sampler!  There were Braised Pork Belly, Carnitas, The El Dorado, Carne Asada, Beef Short Rib, Camaron Silvestre and Dirty Bird.  Aren't they just gorgeous?  You can't go wrong with any of them.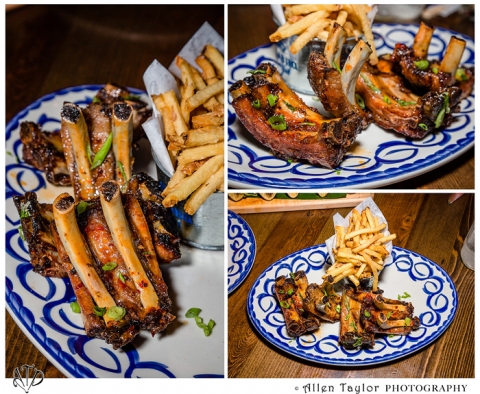 BBQ Ribs (Tender Frenched pork ribs with a chipotle BBQ glaze served with fries).  You don't have to worry about getting your fingers sticky.  They are Frenched for you so they come right off.  I adored the chipotle BBQ glaze.  Sweet but not over powering.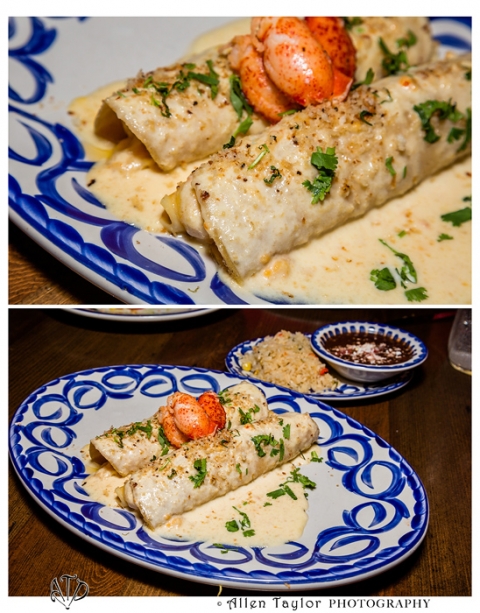 Lobster Mac & Cheese Enchiladas (Grown-up mac & cheese made with muenster, manchego, gruyere, and Oaxaca in enchiladas, topped with buttered panko and cilantro).  Everyone loves Lobster Mac & Cheese, WSL makes it into an Enchiladas.  I have mixed feelings about this, so I will let you be the judge.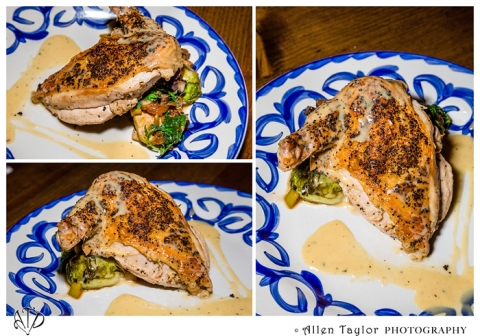 Lemon & Herb Chicken (Mary Pitman's organic free range chicken breast pan seared with lemon, herbs and seasonal vegetables).  This is a great entree, light and refreshing.  I thoroughly enjoyed it.  It got even better the next day when I took the left-over to work as lunch.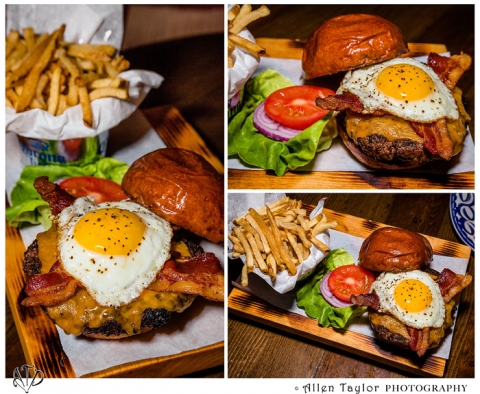 We were really stuffed by now but Chef Loreto sent out the EPIC Burger.  I can't find this on their menu online but ask about it anyway because it truly was EPIC!  One of the best burger ever!  You must try it!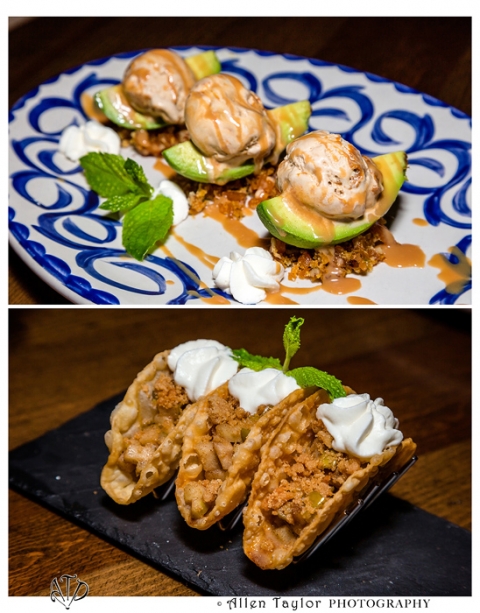 The desserts were delightful!  Avocado Split (Fresh Avocado, dulce de leche ice cream, pecan brittle, XO sauce) is a take on Banana Split.  I love avocado, so I am fan of this.  Apple Pie Tacos (Sauteed apples, cinnamon crumble, whipped cream) give American Apple Pie a run for its money.  
Are you intrigued?  Have I spiked your curiosity?  Take a culinary tour around the world with Who Song & Larry. I hope to see you there.
Who Song & Larry's Cal-Mex Cantina
1535 W. Katella Ave.
Orange, CA 92867
(714) 639-9550