I admit, I am not a sushi connoisseur.  In fact, I am a 'fake' sushi lover.  There are only a couple of raw fish I would eat because I am extremely sensitive to 'fishy' smell or taste.  Maybe I had a bad experience, which I could no longer remember but subconsciously aware of, or maybe it is purely psychological, but if it looks or smells fishy, I won't touch it.    Most times when I go to sushi restaurants, I order cooked items or ("gasp") sushi rolls.  I know, I know.  I already said I was a 'fake' sushi lover, didn't I?
I first learned of Sushi Noguchi from Julie Lim who is the owner of OC Wine Mart & Wine Tasting Bar .  She had been here a few times and raved about the authenticity and freshness of the sushi so Allen and I came a couple of months ago.  Our first encounter was, well, a little disappointing.  When Julie read my review on Yelp, she decided that I needed to go with her to try the OMAKASE (The expression is used at sushi restaurants to leave the selection to the chef) to truly appreciate the variety of sushi one can devour on.  She gathered 7 of us Yelpers and we went on a sushi safari.
The restaurant is located on the corner of Yorba Linda Blvd and Lakeview in Yorba Linda.  Not the best location because it's not visible from street view.  The decor is very minimalist with white and natural wood as primary decors.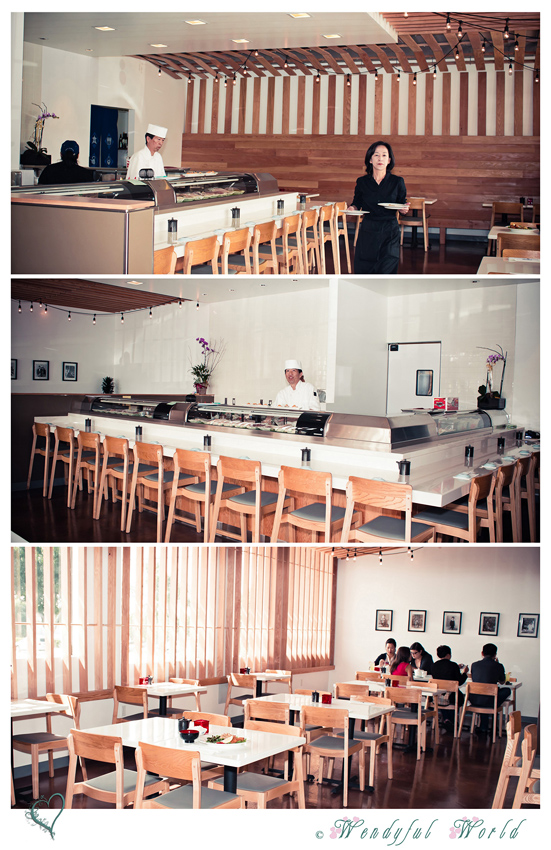 Chef, Hiro-san, and his lovely wife, Jun-chan run the restaurant personally.  As soon as we arrived, they welcomed us as if we have been old friends for a long time.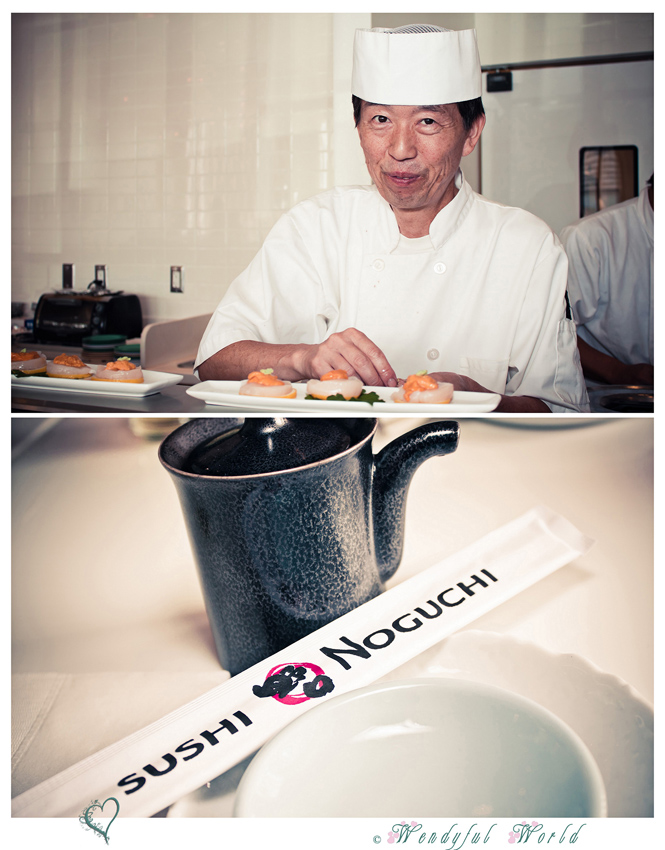 The restaurant serves a daily lunch special.  On this particular day, the lunch special consisted of a deep fried something, chicken with some sauce on top, and green beans along with miso soup and rice.  It looked yummy, but we got bigger meal waiting for us. 


Our OMAKASE started with Halibut Sashimi with Chivas Oil (upper right) and Jumbo Scallop Sashimi with Uni.  The Halibut was very tender (OK, you are going to see this word a lot), and the Chivas Oil complimented it so well.  I have never eaten raw scallop so I was really hesitant to try it.  I took a very small piece and was surprised at how sweet it was.


Guess what foodies do?  Yep, we were all taking pictures!   No one eats until all the pictures were taken!!!  LOL!  Our spouses, significant others, and children all know the drill. 


Next up was Amuse Bouche – Deep Fried Sweet Potato, Green Beans (the sauce was a bit sweet), and Clam.  All were very good. 


The Fresh Albacore Toro Sushi literally melt in your mouth!  It was amazing!


Normally I don't like Yellow Tail Sushi because it's too sweet for me, but these with Jalapeno Sauce were excellent.  The little slice of jalapeno pepper kicked this up a notch.  


I LOVE tuna and this Marinated Tuna Sushi didn't disappoint.  I don't remember if I even chewed it.  It just disappeared in my mouth in a second.


The Shimaaji (Jack Mackerel) was surprisingly good. I was afraid it would be too fishy to me, but not at all.


Now, the Aji Sushi was a bit too adventurous for me, so I skipped it.


Chef Hiro-san busily making his masterpiece.  We also spotted 2 beautiful Japanese ladies wearing traditional Kimono.  So cool!


The Live Sweet Shrimp Sushi was quite a piece of art.  Unfortunately I don't do raw shrimp, but the deep fried shrimp head was so good!


The Blue Crab Sushi wrapped in Tofu skin was very interesting.  I squeezed a little bit of lemon juice to counter the sea taste.  But really it didn't taste fishy.  The Toro with Green Onion was excellent.


We were stuffed,but we couldn't pass on the desserts!  This Millie Cake was a little, actually BIG, piece of heaven!  Soft, creamy, and light.  I basically ate the whole piece by myself.  The Crepe with Green Tea Ice Cream was very refreshing and perfect ending to our OMAKASE lunch!


See the big smiles on everyone's face?  If only you could see our tummies!!!  It was such a fun time hanging out with all my foodie friends!


This was truly an eye and mouth opening experience for me.  For the first time in my life, I discovered what real sushi/sashimi taste like.  Thank you, Julie, for showing me the way.  Thank you, Chef Hiro-san and Jun-chan, for creating the most exquisite sushi I've ever had and for your hospitality!  I know I will be back to try more!   You should, too.  But skip the menu and just ask for OMAKASE!!!
Sushi Noguchi
18507 Yorba Linda Blvd
Yorba Linda, CA 92886
(714) 777-6789