My visit to Pho 45 didn't start out as a media tasting.  Allen was out of town.  I was craving pho.  I couldn't find a lunch partner, so I decided to go solo, something I rarely do because I hate dining alone.  I was a little tired of the usual pho restaurants that I've been eating at, so I searched for a new place to go.  When I saw Pho 45, my first thought was 'What an interesting name!'.  As it turned out, there was a meaning behind the name.  You know Asians are a little superstitious and like to use numbers to symbolize meanings.  So 4 + 5 = 9.  And 9 in many Asian cultures means 'long', as in longevity.  Judging from the popularity it has received in the short year since it opened, I'll say it's a safe bet that Pho 45 is here to stay for awhile.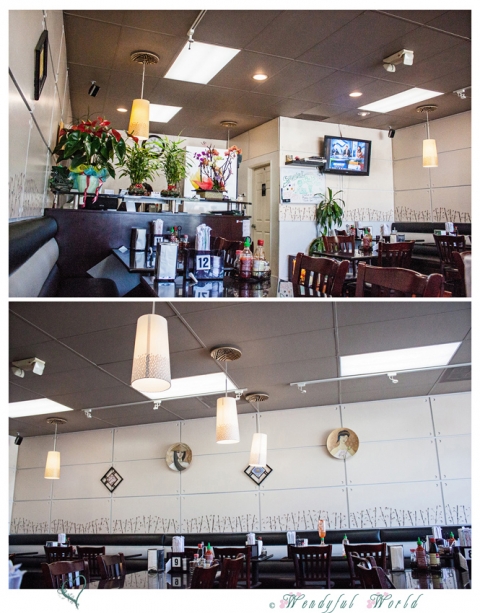 The interior has a mix of new and old.  While the fixtures and furniture are somewhat modern, the decoration is definitely traditional.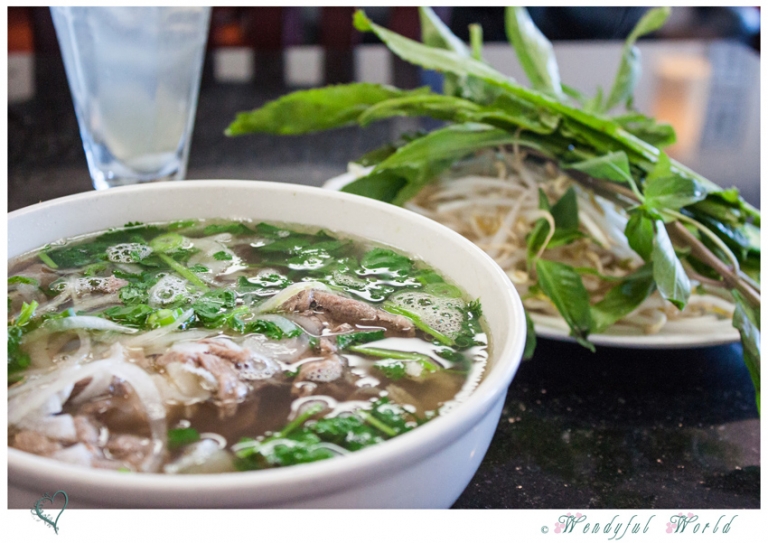 Pho 45 is well-known for its Filet Mignon Pho.  I asked for it to be well-done as I don't like to cook it in the broth, which is the 'proper' way to eat it, because I don't like the broth to get 'murky'.  However, I was very impressed that the beef still remained very tender.  The broth was a little on the lighter side.  From my conversation with the owner, Jason, they were trying to find a happy medium because some customers like stronger flavor some like it lighter.  I happen to be the former.  I plan on revisiting soon to see how the broth has evolved. 🙂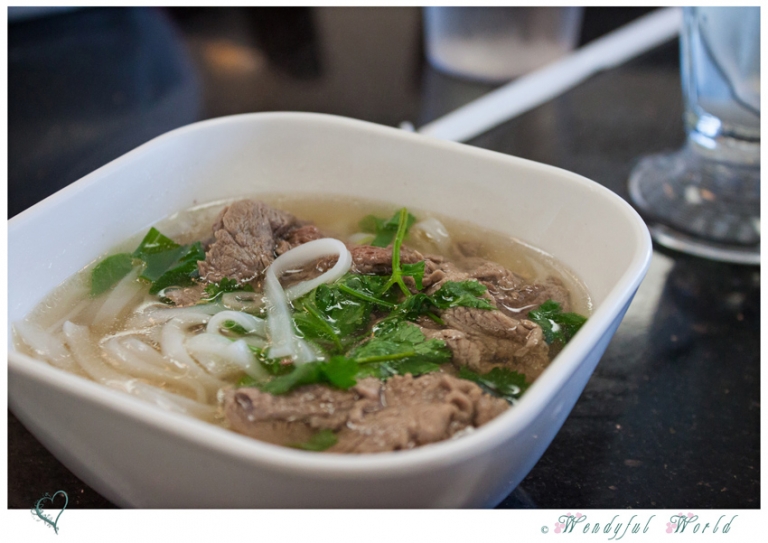 Pho 45 also has offers the choice of 'thick' noodle for the pho.  Traditionally in Vietnam,thick noodle is served.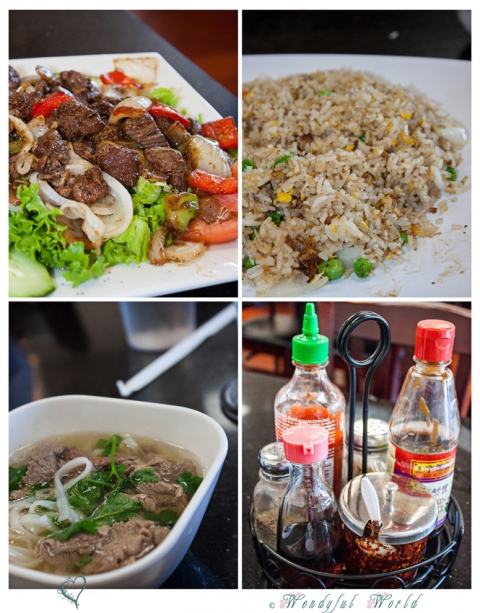 While I was waiting for the food, I looked around the surrounding and the condiment basket.  I was really happy to see how clean the bottles and containers were.  This is huge for me as I have left restaurants when it looked and felt dingy.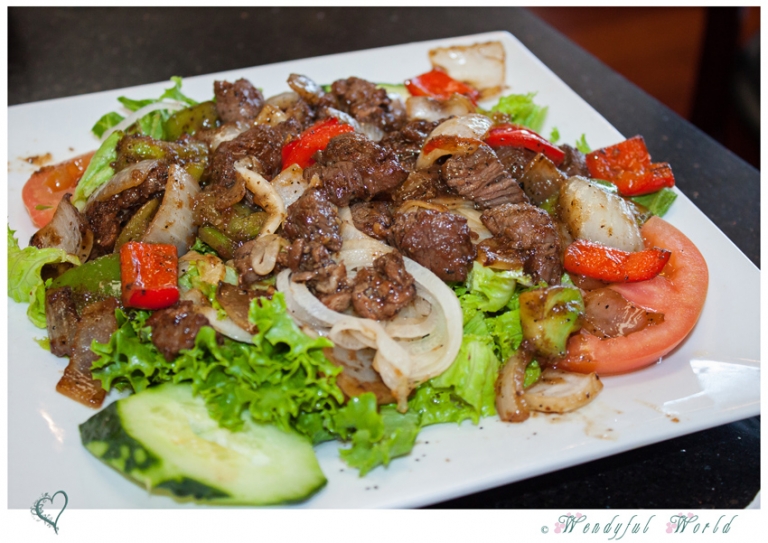 As I said earlier, I didn't set out to do a media tasting.  But when Jason saw me taking pictures, he asked if I was going to post them 'somewhere'.  I told him I had my own blog.  He then insisted that I tried their Shaken Beef (Bo Luc Lac) even though I told him I had already ordered other items to go and I was by myself and couldn't possibly eat that much.  Well, he had the kitchen sent it out with a huge plate of fried rice anyway.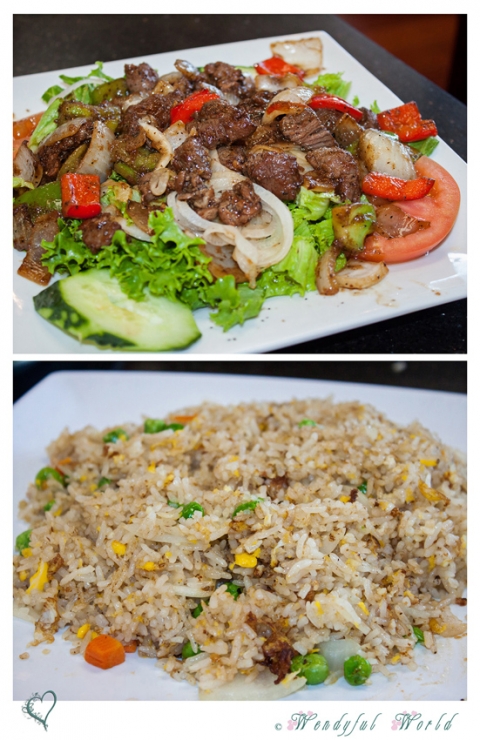 Had Allen been with me, he would have fallen in love with this dish which he frequently orders.  The beef was extremely tender and flavorful and sat atop a bed of salad.  Literally you can eat it as a salad if you don't want rice.  But it's not possible you don't want or eat the fried rice.  It smelled and tasted so delicious!  The portion was also huge!  You could probably eat it for 2 meals!

You can't go to a Vietnamese restaurant and not order Spring Rolls.  I really liked these with the peanut dipping sauce.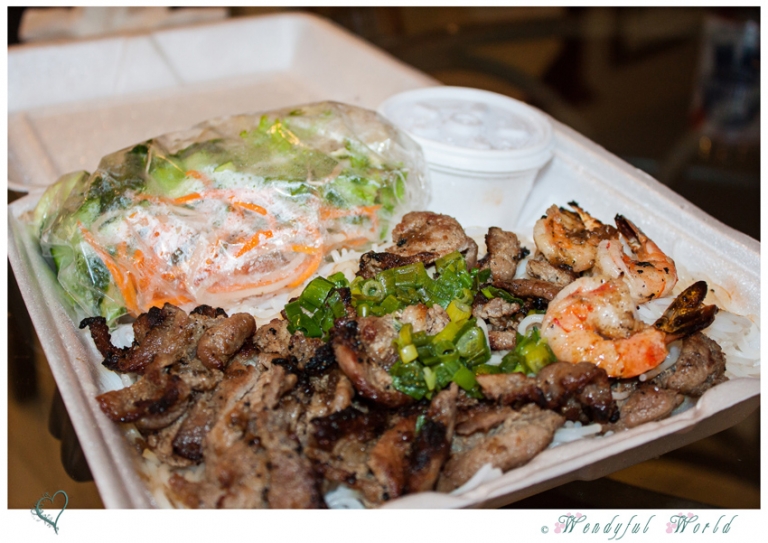 I also ordered a Combo Vermicelli with Grilled Shrimp and BBQ Pork to go.  The meat was well marinated and grilled nicely.
I had a nice chat with Jason all through out the meal.  He is so passionate about his restaurant and cares about his customers greatly.  He is at the restaurant a lot and personally greets each and everyone.  At the end when I asked for the check, I was told everything was on the house.  I wanted to pay but he wouldn't accept my payment.  Thank you so much, Jason, for your hospitality!
Pho 45 has an extensive menu ranging from appetizer, pho, vermicelli, egg noodle (mi), rice plate to dessert.  The prices are so inexpensive.  Even the huge plate of Shaken Beef is only $ 9.50.  If you love Vietnamese food, definitely give Pho 45 a try.  It just might become your favorite pho joint like it has mine.
Pho 45
9240 Garden Grove Blvd
Ste 19
Garden Grove, CA 92844
(714) 537-9000
Mon 9:00 am – 9:00 pm
Tue 9:00 am – 9:00 pm
Wed 9:00 am – 9:00 pm
Thu 9:00 am – 9:00 pm
Fri 9:00 am – 12:00 am
Sat 8:00 am – 12:00 am
Sun 8:00 am – 12:00 am