When Executive Chef Kyle contacted me, I had to check out Green Tomato Grill.  It's located in Orange, not too far from where I live but I've never heard of it.  I looked for it on my way to work and realized it had just opened a few months ago.
GTG (Green Tomato Grill) aims to create Fast, Healthy, and Tasty new American favorites by pulling inspiration from ethnic cuisines such as Hispanic, Mediterranean, Asian to French, while sourcing fresh products locally.  Everything at GTG is prepared by trained chefs and made from scratch daily.  Many products used are organic and each entree is well balanced.  Furthermore, GTG is more than happy to accommodate diners with special dietary needs.  So please don't hesitate to ask.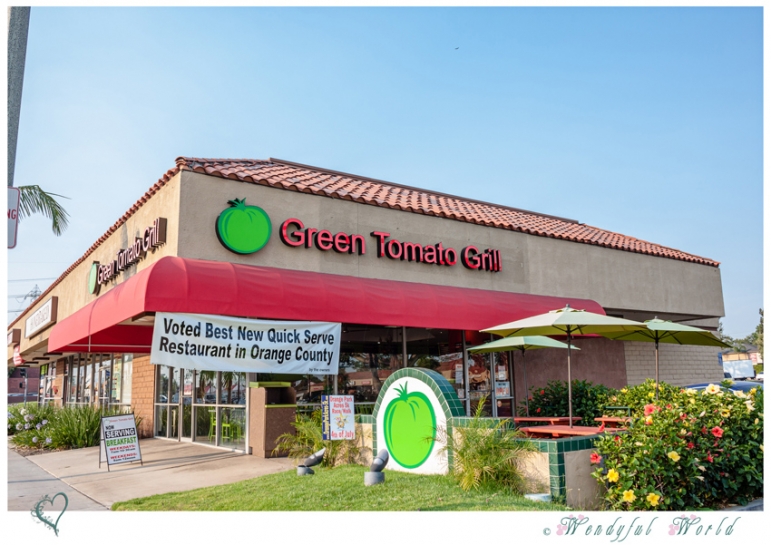 GTG serves up specialty Grill Bowls, Flatbread Melts, Wraps, and Salads.  Choose from the menu or you can also design your own entree by selecting the style, protein, sauce, and veggies at the Create-Your-Own Station.
The main dining area is light and airy.  The chairs are made of recycled coke bottles.  How awesome is that?  The outdoor patio with a little fountain is a perfect spot to hangout with friends on a cool summer night.  And GTG offers free WiFi, so ask for the password.
Signature Lemonades and Ice Teas are made fresh daily.  A fine selection of beer and wine is also available.  I was in lovely company of Suki of EatSukiEat and we started our evening with Fried Green Tomatoes (Panko Crusted and served with GTG Dipping Sauce).  Believe it or not, I've never had them before and GTG certainly made my first experience a very tasty one.  They are not to be missed.
If you check in on Yelp, you will get a free order of Popped Corn (Made with blended Sunflower Oil and Lime Adobo Seasoning).  These freshly popped Popped Corn were light but flavorful.  I don't think I could ever eat microwave or theater popcorn again!
Fresh Onion Soup.  Really?  Chef Kyle's ingenious way of serving French Onion Soup in a paper cup with Cheese Flatbread! It was delicious!  Make it a light meal with Grilled Cheese.  The sweet bread made this Grilled Cheese a stand-out.


I like Flatbread and I LOVED this Chipotle Barbeque Shrimp Melt (Grilled Lemongrass shrimp topped with Monterey Jack & Cheddar Cheese, Onion, corn and Peppers in a Clay Oven Flat Bread with Chipotle BBQ Sauce).  The shrimp was plump and juicy, together with all the saute veggies and melted cheese, it was bursting with flavors.  I highly recommend you order this.  If you don't like shrimp, substitute with another protein or even Tofu.  It's yummylicious!


Chili Verde Stead Bowl (Marinated Grilled Steak, Chili Verde Sauce and Cilantro Lime Rice topped with Avocado, Black Beans, corn, Cilantro, Onion and peppers) was next.  I appreciated that the steak was seasoned well.  Next time I would ask to have the Chili Verde Sauce over the steak instead of over the rice because the rice absorbed most of the liquid.  Ask for extra sauce if you find it a bit dry.


Thai Chicken Wrap (Grilled Natural Chicken, Carrot, Cabbage, Cilantro, Onion, Cucumber, Edamame, Peppers, Mixed Greens with Thai Peanut Sauce) is voted fans' favorite.  What ever protein you choose, it is a healthy fare.


I love salad and couldn't pass this Crispy Tofu Salad (Crispy Lemongrass Tofu, Edamame, peppers, Cucumber, Avocado, Jicama, Tomato on Mixed Greens with Balsamic Vinaigrette).  If you don't think you like tofu, try these crispy tofu.  They will change your view of tofu forever!


GTG serves desserts from Sensitive Sweets, a bakery based in Fountain Valley that specializes in gluten-free and nut-free baked goods that are allergy-friendly.  They were surprisingly good.  My favorite was the Thumb-Print cookie.
GTG serves breakfast, lunch, and dinner.  Open Monday – Friday 7:00am – 9:00pm and Saturday & Sunday 9:00am – 9:00pm.  Private and Corporate catering is also available.  Come here for a quick bite or enjoy a nice casual dinner with your family.  Don't forget to say 'Hi' to Chef Kyle and tell him Wendy sent you.  Let me know what your favorite dish is.
Green Tomato Grill
1419 N. Tustin St.
Orange, CA 92867
(714)532-1220