'Is this your first time?' The guy sitting next to me asked.  'Yes.' I replied.  'Do you know people from all over the world come here to eat?  This Oyster Bar is very famous.' He said.  'No way!' I said.  The dialog went on through out the night.  He is a regular at the Oyster Bar.  He said the line is usually very long and is a 2-hour wait.  I knew from reading up on Yelp that this place gets a 4 1/2 stars among 270+ reviews.  It is open 24/7, but it's rare that you find empty seats.  We knew about the wait, so we made a point to come here for an early dinner.  Even at 5:00pm on Sunday night, we ended up waiting a good 1/2 hour.  Because it is a Bar, there are very limited seating.
The genius behind this famous Oyster Bar is this man, Chef J.J.  In the beginning, he was a little stuffy, but as time goes, he warmed up.  I think he is just a very reserve person.  I missed the first time he added some wine to the dish, so I asked him to do it again.  He did it so fast!  The person who got this order had a double-shot!  LOL!  My 'local guy' told me Chef J.J cooked the BEST.  He is the one who came up with all the original recipes.  We were very lucky to have come on the night he was working.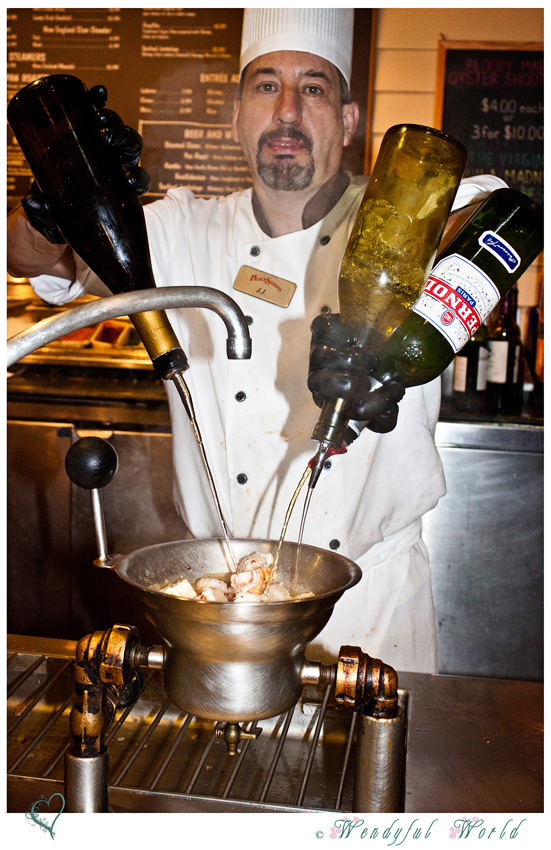 The menu is all written on the wall.  Of course my eye sight is as good as blind, so I couldn't see a darn thing.  Luckily there were printed menus on the bar, too.  Whew!  The 'kitchen is right in front of the bar counter.  There are only 6 stations cooking at any given time.  I assume it's very low heat because it took a long time to cook each order.  That is another reason contributing to the long wait!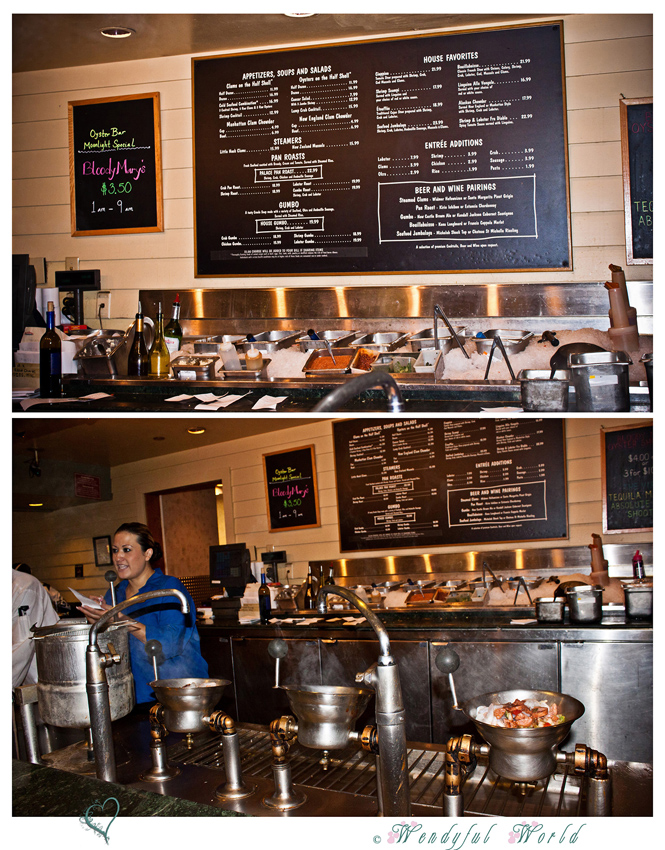 Depending on what you ordered, the ingredients were all thrown into this little cone pot.  The big huge boiling pot was where clams, mussels, etc were cooked.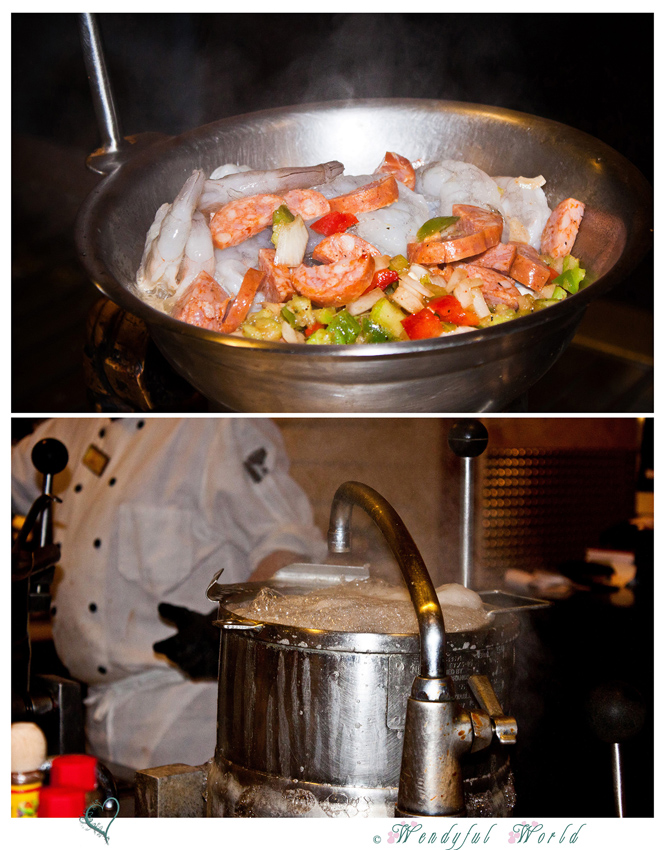 Some dishes, you have a choice for red or white sauce.


We didn't order Raw Oyster, but my 'local boy' did.  I asked if I could take a picture, he was very nice and prepared the oyster for me to photograph.  Allen ordered a Longboard Beer.  Keep the glass and you can come back for refills at 1/2 off.


I love Manhattan Clam Chowder which is really hard to find.  Of course they have it here and it was the BEST I've ever had!  Tons of clams where as other places usually fill it with potato.  It was so fresh and full of flavor.  I could usually taste a few grains of sand else where and I really hated it.  NOT here!  Not one single grain!  It was that pure!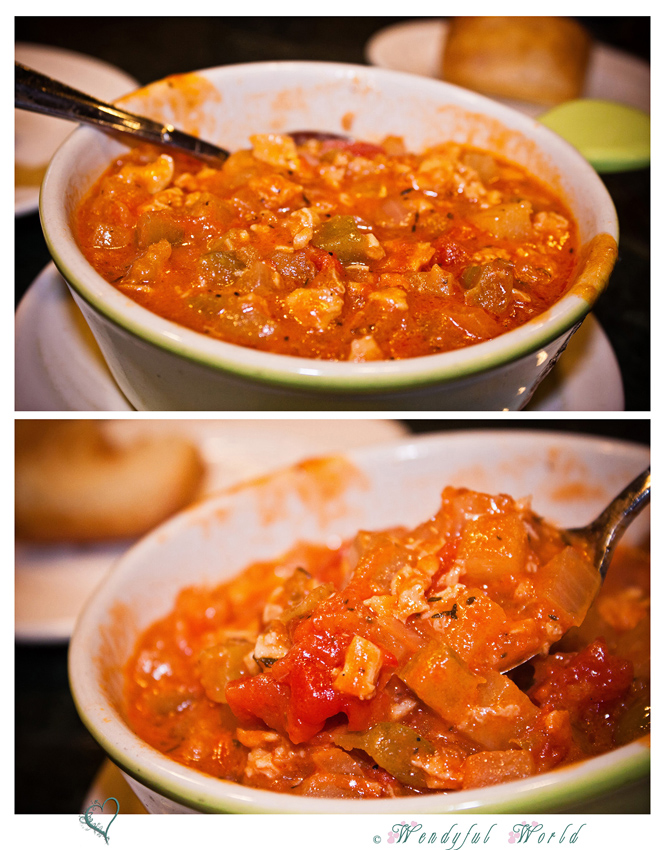 Allend ordered the House Gumbo (A tasty Creole Soup made with a variety of Seafood, Okra and Andouille Sausage
Served with Steamed Rice) with Shrimp, crab, and Lobster.  He chose spiciness of 2.  We were told by the 'local boy' that 5 was already pretty spicy.  Thank you 'local boy'!  Allen said the gumbo was the best he's ever had, too.  Lots of shrimp, crab and lobster.  It was a huge bowl.  He was stuffed even though he didn't finish the rice.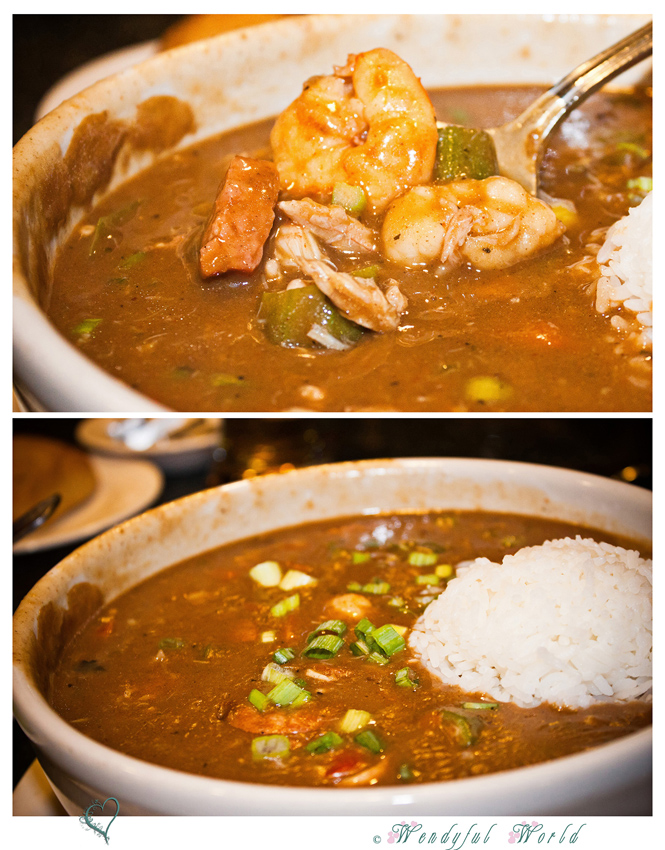 The 'local boy' ordered the Pan Roasts (Shrimp, Crab, Chicken and Andouille Sausage).  I am not sure what extra (shrimp, crab, lobster, or combo) he added.  He said he loved it so much that he always ordered it even though he wanted to try other dishes.


I told him that I like something like Cioppino and he recommended Bouillabaisse  – A Classic French Stew with Onions, Celery,  Shrimp,Crab, Lobster, Cod, Mussels and Clams.  I chose spiciness of 4.  I also chose rice but could have had pasta if I wanted.  I took a sip of the broth and all I could said was 'WOW!'  I wish I could describe to you what it tasted like but I can't.  You just have to come try it yourself.  But OMG, look at all the seafood in there!


Allen and I visit Las Vegas quite often and we can honestly say this was one of the best meals we've had.  Don't let the location deter you.  The people here are some of the nicest you'll meet in Vegas.  The hotel is not fancy.  Stay at the Luxury Tower if you'd like.  The rooms have been renovated and are fairly nice.  I would not recommend the Courtyard room.  It is at best a motel 6 type of room.  But even if you don't care to stay here, come to the Oyster Bar for one of your meals.  You will thank me later.  Bon Appetit!
Palace Station Hotel & Casino
2418 W Sahara Blvd
Las Vegas, NV 89102
(702) 367-2418