I seldom venture outside of Orange County for media tasting.  But when Eating Around SoCal and Baleen Kitchen partnered up to host a media tasting for BK's Valentine's Day Menu, I couldn't pass it up.  How could I resist a beautiful location right next to the marina?
Baleen Kitchen is part of The Portofino Hotel & Marina in Redondo Beach.  It was voted Top 10 Best Restaurants for Waterside Dining in LA by The ZAGAT.  Read on and you will understand why.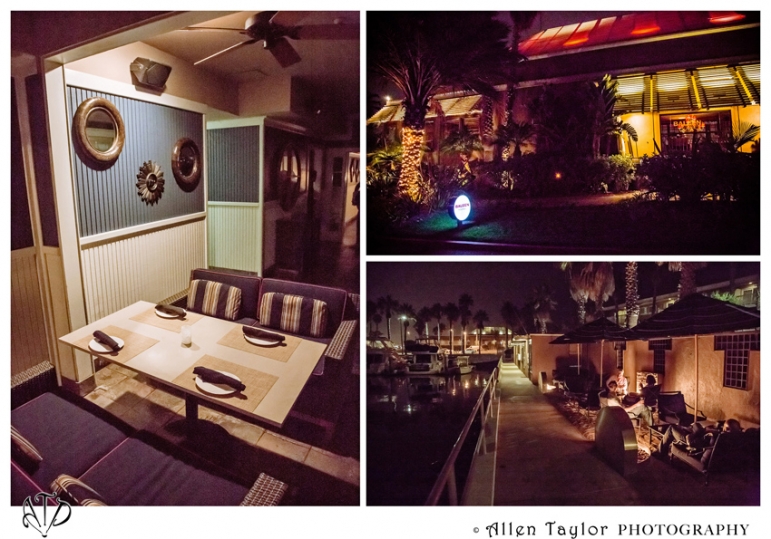 The restaurant recently gone through a renovation.  The nautical theme dining area next to the Chef's kitchen and the outdoor seating are perfect for a more relaxing and casual gathering with friends.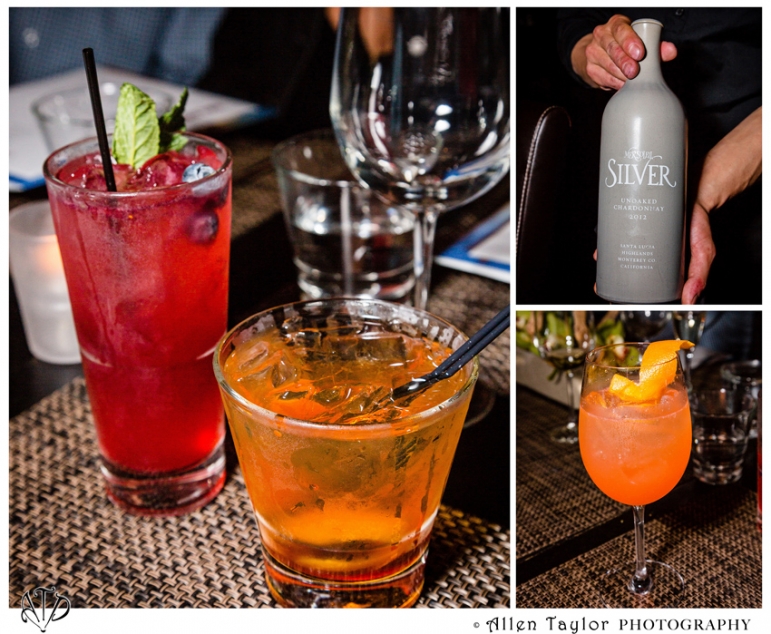 Once we checked in with our hostess, Annelise, we sat next to the Baleen Lounge while waiting for other media guests to arrive.  The lounge offers "small-plates fare with bold flavors and a little Latin spice, accompanied by a serious mixology program of 'Classic Reinvented Cocktails'."  We got to sample (pictured above from left to right) Anti-Oxident Mojito (appleton rum, pommegranate, muddled raspberry & blackberry, mint), Proper Old Fashioned (bulleit bourbon, angoustoura bitters), and The Noble Sunset (ketel one oranje, campari, agave syrup, laurent perrier champagne).  Mer Soleil Silver Unoaked Chardonnay 2012 was paired with our meal.  The intense tropical fruit flavors balanced with vibrant acidity complimented all of the dishes quite well.
The lounge serves great Happy Hour drinks and menu daily from 3:00pm – 7:00pm with a different theme everyda; Monday Night Football, Taco Tuesdays, Rockefeller Wednesdays, etc. 


I absolutely adore how beautiful and elegant the main dining room is with the crystal chandeliers.
Once all the guests were seated, we were presented with Charcuterie.  It was the perfect starter to share.  


Followed by a basket of breads, Lobster Sliders ( spicy sriracha chile aioli, fried jalapeno) and Lobster Mac & Cheese. I loved the Lobster Sliders.  The toasted brioche was light and did not over power the lobster. The Lobster Mac & Cheese was comfort food at its best. Everyone devoured these in no time.  


The Duck Carnitas was one of its kind, served with appleslaw, chipotle blackberry in cornmeal crepes.   The flavor was complex and yet refreshing.  This was my favorite of the night.    


After the shareable appetizers, the first course arrived – Shaved Tuna (chili tapioca and lime sorbet – pictured above top).  It was an interesting combination.  I ate the sorbet first to clean the palate before I consumed the melt-in-your-mouth tuna.
I could not get enough of the second course – Grilled Maitake Salad (avocado, harico vert, heirloom tomato, maitake – pictured above bottom).  I love salad and I could eat a full plates of this and call it a meal.



The third course – Roasted Black Sea Bass (grilled shitake mushroom, tender pea shoots, aromatic broth).  This Sea Bass had the texture of Halibut, a little denser than Chilean Sea Bass that I am used to.  Nevertheless, it was cooked beautifully.  I was happy to see it served with pea shoots which I am very familiar with in Chinese cuisine.  


The beautiful desserts completed the the meal.  The Lemon Meringue Pie (white chocolate anglaise – pictured above top) was incredibly delicious.  Allen has been on a diet and had not eaten sweets for quite some times.  One bite of this, he lost his will power.  🙂  I had about 2 bites of it, the rest went into his tummy.  LOL!
The Warm Chocolate Cake (chantilly cream, chocolate shavings & vanilla gelato) was also superb.  


General Manager, Mr. Felipe Murcia, chatted with us all throughout dinner.  He has a wealth of restaurant experience both in the States as well as abroad.  I expect to see more great things happening under his direction.
We also got to meet Chef Crespin who was born in Spain but grew up in the US.  Trained at the French Culinary Institute in New York, Chef Crespin has worked in many top kitchen around the globe.  His vast experience with Spanish, Japanese, and American Cuisine inspires him to create unique and delicious dishes.  For the upcoming Valentine's Day, you will get to enjoy Chef Crespin's Six Course Tasting Menu that will knock your socks off.
So hurry up and make your reservation here now!
Special thanks to Eating Around SoCal, Baleen Kitchen and the entire staff for their hospitality!  It was an amazing evening.  I look forward to my next visit again soon.
BALEEN Kitchen
The Portofino Hotel & Marina
260 Portofino Way
Redondo Beach, CA 90277
(310)798-5874