The bull has come charging from El Torito bringing you the flavors and fun of Mexico's renowned Baja Peninsula region.  For a limited time until end of November, the Flavors of Baja menu highlights fresh local fish and seafood.  Bright and beautiful to the eyes, the flavors are equally bold.  And of course, the margaritas to accompany your meal and desserts to complete your dining experience.
My Best Blogger Friend, Suki of Eat Suki Eat, and I recently visited the El Torito in Irvine.  We were so impressed with not only the freshness and refreshing flavors but the presentation as well.  We absolutely enjoyed everything we tried.  The Mexicali Enchilada was one of the many dishes on the menu.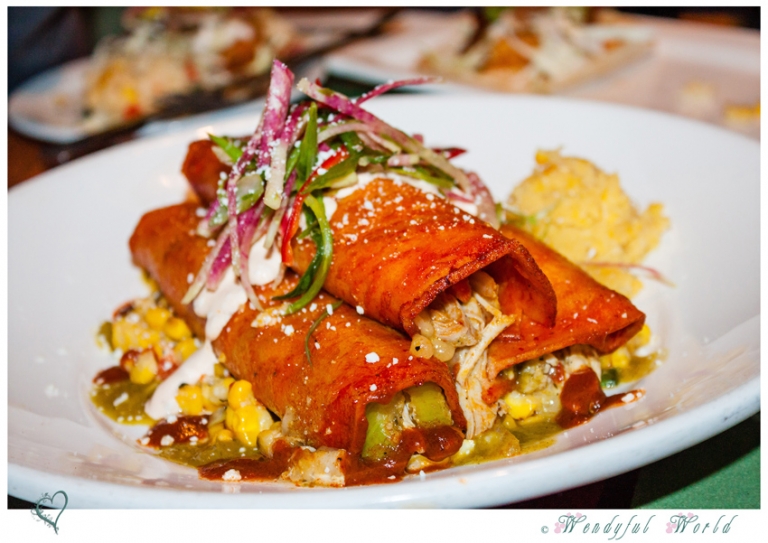 The menu features the following:
Baja Trio Appetizer – a trio of mini-seafood ceviche tacos infused with the unexpected flavors of fresh fruits, spicy chiles and unique spices. Features crab with red jalapeño, fennel and ginger aioli; spicy shrimp with jicama, green apple, serrano chiles and guacamole; and halibut with tomatoes, onions, cilantro and avocado.
Baja Halibut Tacos – a nod to the region's claim to fame: it's where the fish taco was invented! This modern-day twist on the classic features Alaskan halibut beer-battered tacos topped with ginger aioli, cabbage, caramelized onions and avocado.
Mexicali Enchiladas – El Torito's take on authentic Mexicali cuisine starts with tortillas basted in guajillo sauce, filled with pulled chicken and manchego cheese, all served atop roasted corn and pasilla peppers.
Carnitas en Tablitas – a tender pork dish slowly simmered in garlic, oranges and spices, and then served with a fiery grilled toreado (lightly grilled chile), grilled Mexican cebollita, avocado, frijoles de la olla and warm tortillas.
Los Cabos Margarita – a refreshing classic Cabo cocktail made with Cabo Wabo Silver Tequila, Damiana Liqueur and fresh orange juice.
Baja Mule – a Baja-inspired take on a classic Mule, this one features Russian Standard vodka, strawberries and ginger beer.
Skinny Mango Cadillac Margarita – short on calories, but not on taste, this margarita combines 1800 Silver Tequila with sugar-free mango and fresh lime juice. Served with a side shot of Cointreau Noir.
I know you love their regular menu and the fantastic Sunday brunch, but check out the new Flavors of Baja menu in the slide show below.  I think you just might find a few more favorites to enjoy.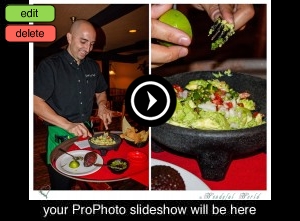 Special thanks to Executive Chef/Director of R&D, Chef Loreto, Chef Antonio and entire staff at El Torito in Irvine for hosting the delicious tasting for me and Suki.  To Check out Suki's video, click here – Eat Suki Eat.
El Torito
18512 Macarthur Blvd
Irvine, CA 92612
(949) 833-8230