When I think of Mimi's, breakfast pops in my mind.  There was a time I was at Mimi's almost every Saturday for breakfast and occasionally for lunch or dinner, too.  I've always enjoyed the neighborhood casual dining and friendly service at Mimi's.  It has been awhile and I was extremely excited to be invited back to Mimi's at Tustin to try their all new French inspired menu which debuts on Monday, October 7, 2013.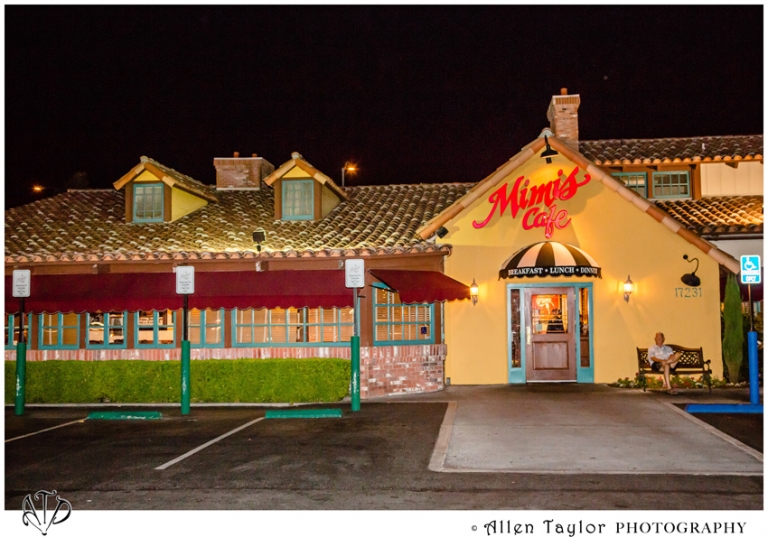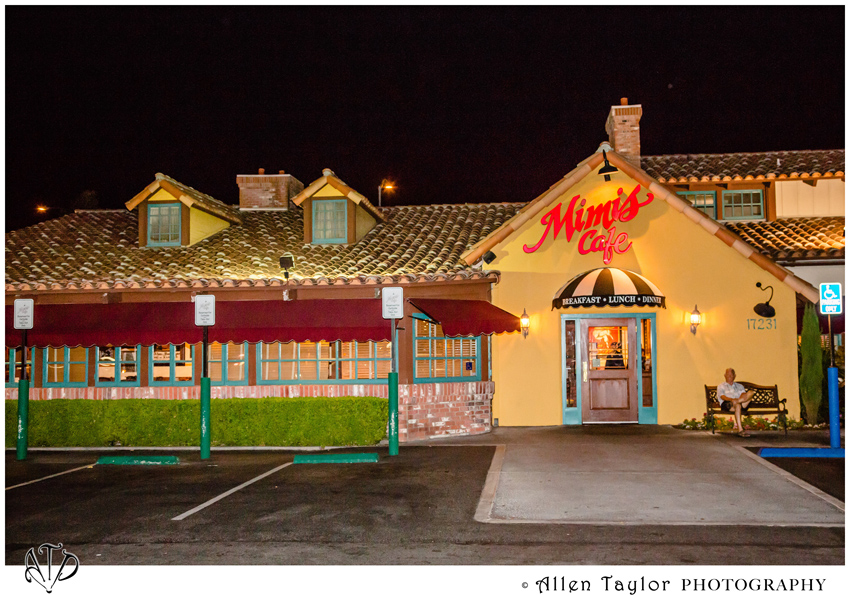 Guests were greeted with classic French cocktails and wines.  Mimi's Cafe new President, Phil Costner, gave a welcome speech and background information on the concept and creation of French inspired menu items.  You might be interested to know that Mr. Costner is a trained chef himself.  He believes in spending time in the kitchen more than the board room.  With a leader like that, you know Mimi's Cafe is going to make some new and delicious changes.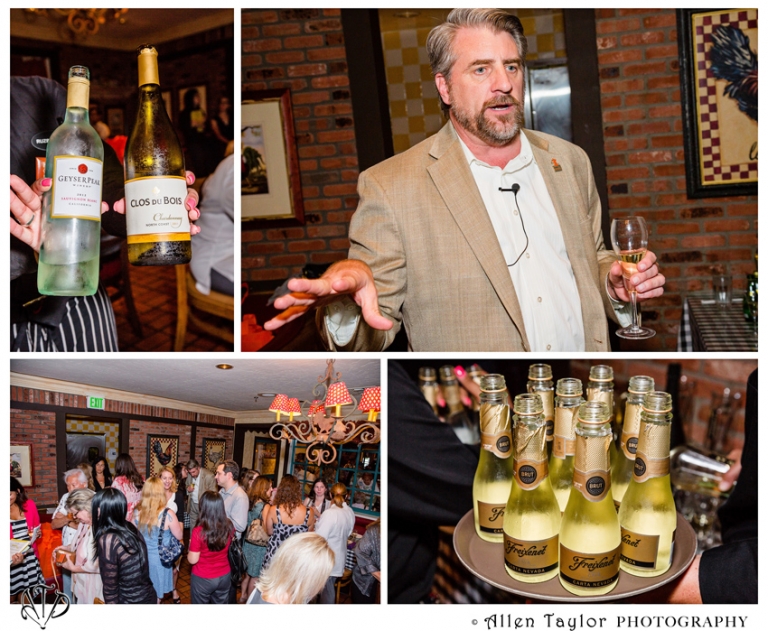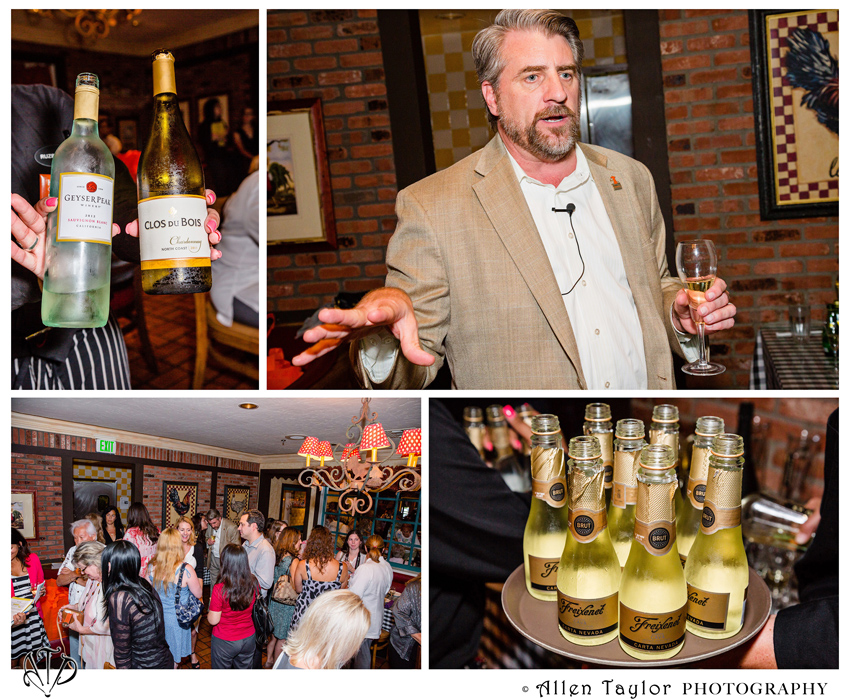 "We are returning Mimi's Cafe to its rightful place doing what others can do but won't do."  "We want to be the neighborhood's restaurant where friends and family can enjoy great French causal dining without breaking the bank." says Mr. Costner.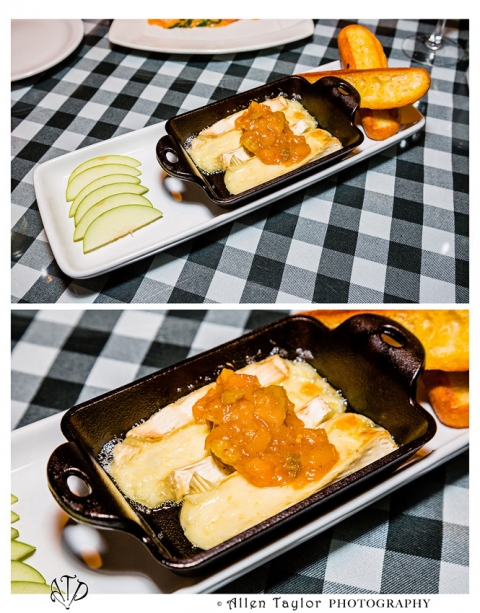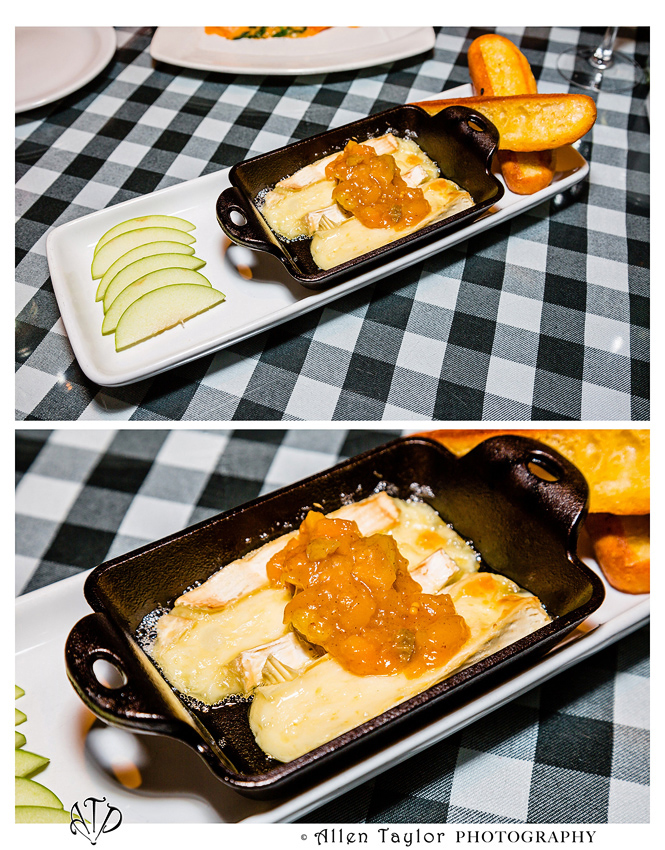 We were presented with our first appetizer – Artisan Baked Brie (Warm, bubbly brie with French baguette croutons, tart apple slices and apricot chutney).   I don't know but this tasted so good that I think it should be in the desserts category.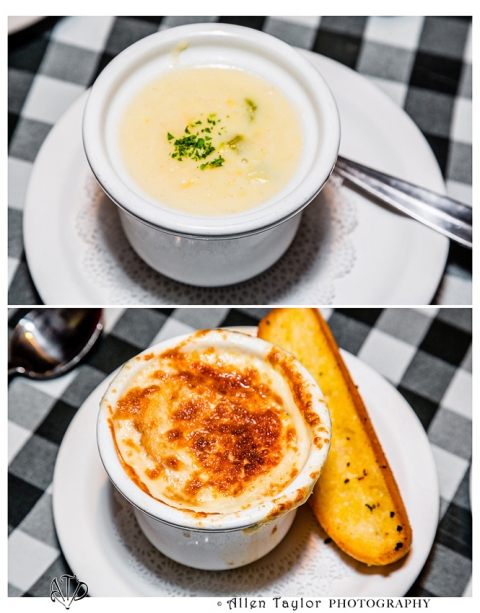 The Corn Chowder was really creamy and lightly sweet while the French Onion soup was savory with gooey melted cheese.  I was really worried that it'd be too salty but it was just perfect.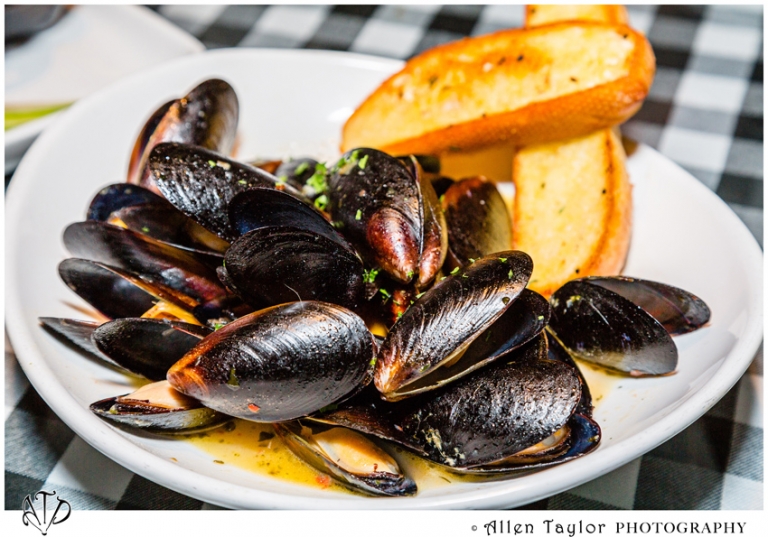 Mussels à la Mimi's (Steamed in white wine, garlic and fresh herbes, served with garlic French baguette croutons) was light and buttery.  The French baguette croutons were so good we asked for an additional plate full of it!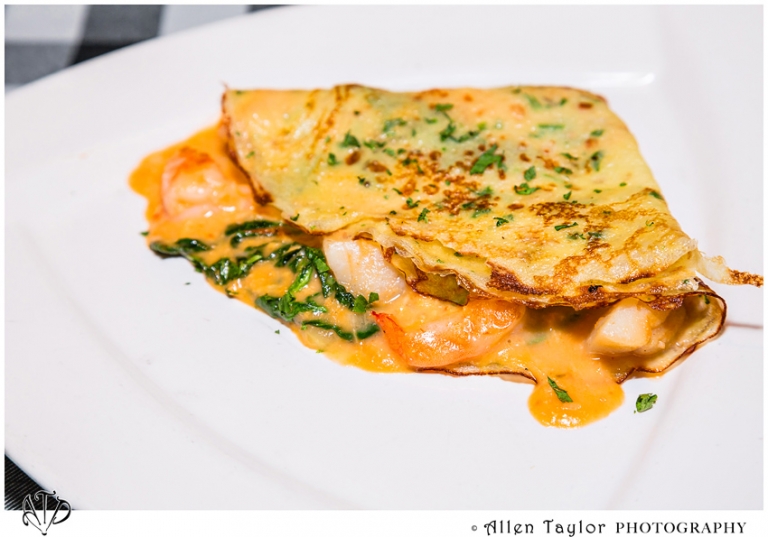 Petite Seafood Crêpe (Homemade herbe crêpe with sautéed shrimp, scallops and spinach in a savory, creamy lobster sauce) was amazing. The seafood was cooked perfectly and the sauce was creamy but light.  I am not usually a fan of crepe because often it's made too thick, but this had the right texture and consistency.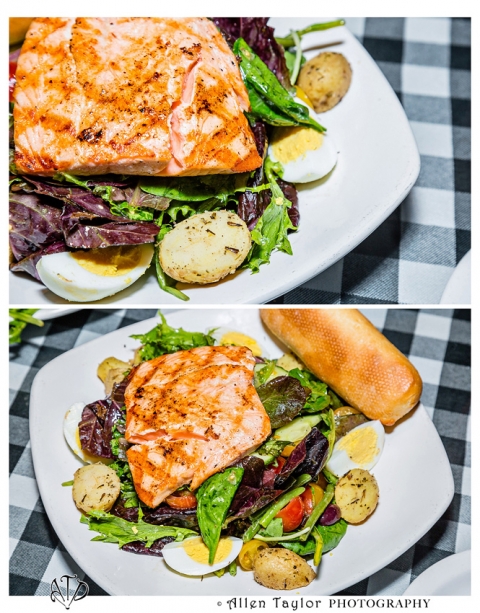 Grilled Salmon Salade Niçoise (Grilled Atlantic salmon served on top of mixed greens with Kalamata olives, cherry tomatoes, red onions, haricots verts, provençal potatoes and hard-boiled egg, tossed in Mimi's red wine shallot vinaigrette).  I love salmon especially as a salad.  I adored this dish and loved the red wine shallot vinaigrette!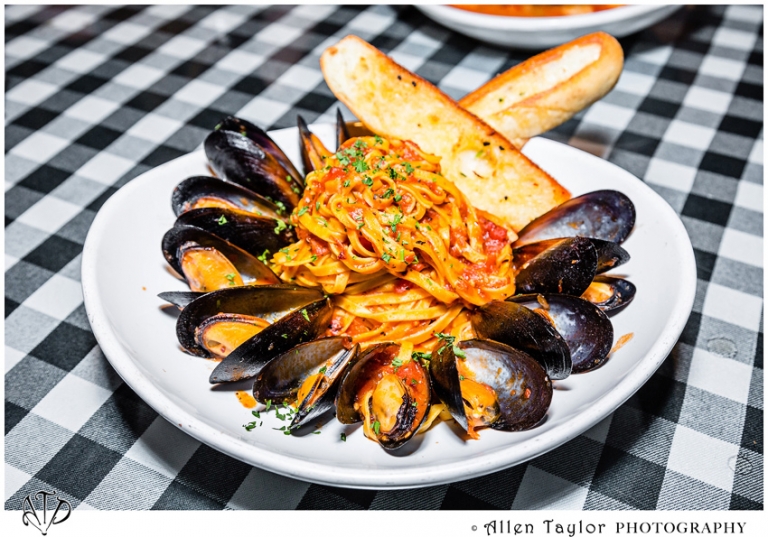 If you love spicy food and pasta, you are in lucky. The new Saint-Malo Pasta (Mussels and fresh linguine topped with a spicy pomodoro sauce. Served with garlic French baguette croutons) had nice heat you just couldn't stop eating after the first bite.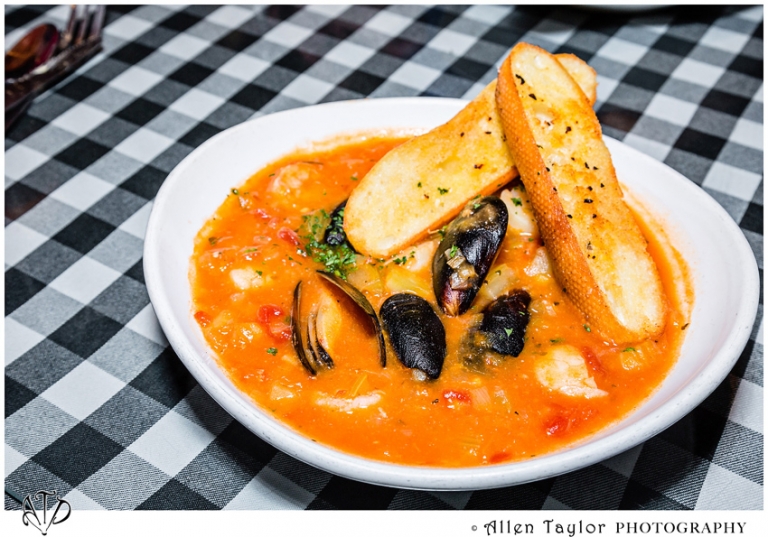 Mimi's Signature Bouillabaisse (A traditional Provençal-seasoned soupe with mussels, shrimp and scallops simmered in white wine with potatoes and tomatoes. Served with garlic French baguette croutons) had tons of seafood.  However I found the broth a little bland and too starchy.  My fellow bloggers and I made a little suggestion to the chef and I am anxious to find out if the recipe might have be revised.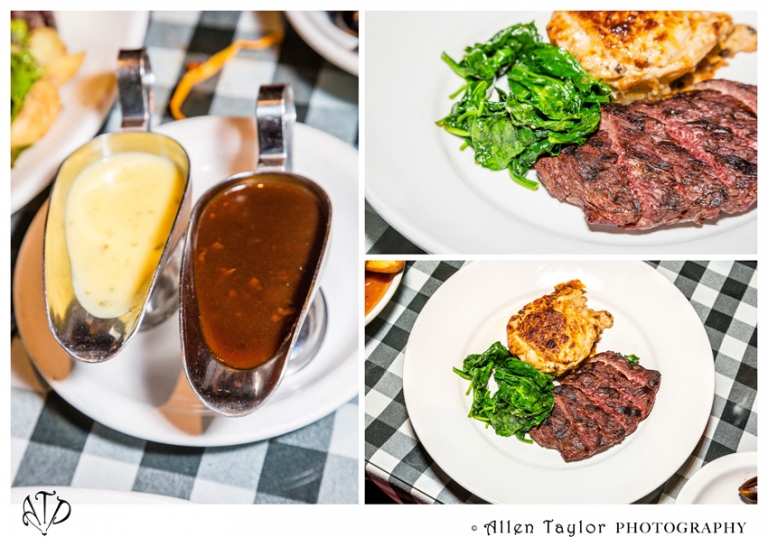 Bistro Bavette Steak (French-style grilled steak served with mushroom-infused au gratin potatoes and your choice of a bordelaise or béarnaise sauce and seasonal vegetables).  We got to try both sauces and I liked bordelaise sauce a little better.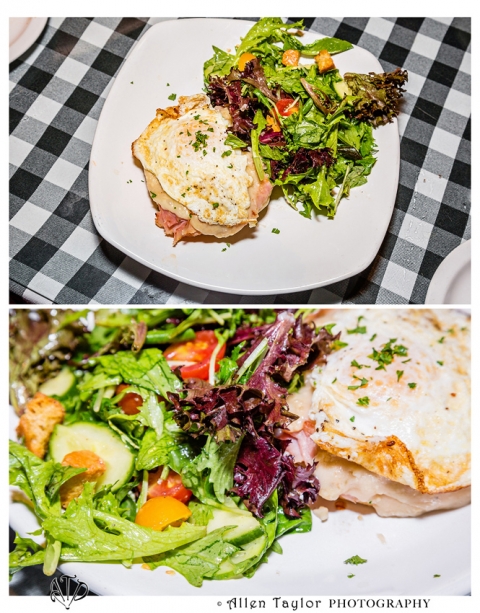 Brioche Croque Madame (Open-faced ham and Swiss sandwich with our classic French Mornay sauce served on brioche and topped with a fried egg—c'est magnifique! Served with a Petite Salade de Mimi's).  This actually is a French twist of the traditional Eggs Benedict which I recently have grown quite fond of.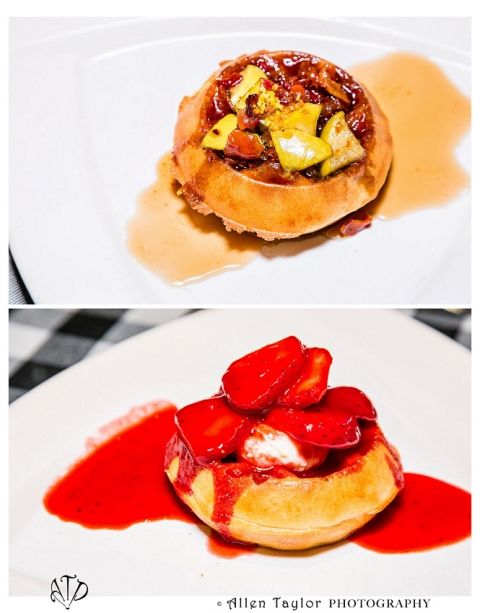 As if we weren't stuffed enough, we also tried Bacon Apple Waffle (Three golden brown petite waffles topped with apples, hickory-smoked bacon, syrup and a hint of orange zest) and Strawberry Waffle Perdu (Mimi's original pain perdu filling of cream cheese and orange marmalade on three golden brown petite waffles topped with fresh strawberry sauce), both are available for breakfast.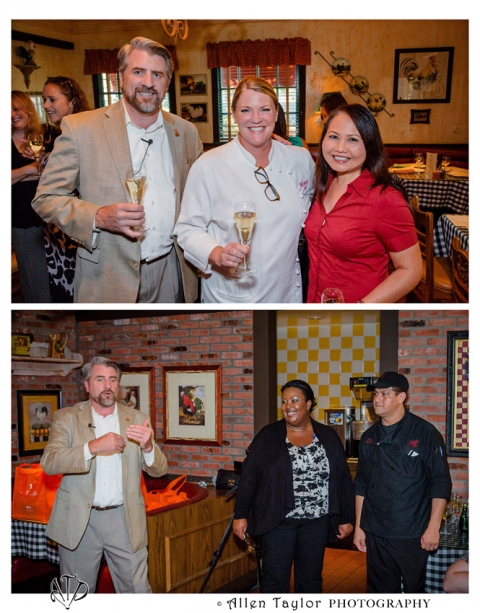 Executive Chef, Katie Sutton, was also on site to meet and greet us.  Chef Sutton is a graduate of the French Culinary Institute and is the driving force for the culinary innovation behind the new menus.  The 'New' Mimi's Cafe believes in 'Chef-Led, Small-Batch Sauces, The Perfect Bite and French-Inspired' concept.  In other words, every bite is fresh and perfect until the last bite.  We also got to meet the chef and staff at the Tustin Test Kitchen who worked so hard in presenting all the food at the media tasting.  Kudos to the hard working team!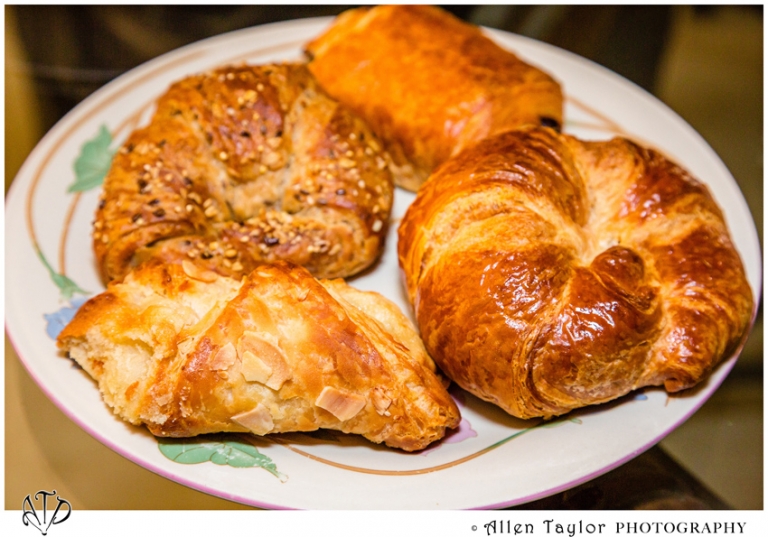 All the guest got a box of Mimi's freshly baked pastries.  Allen and I had them for breakfast the next day.  Boy, I am drooling now after looking at all the food I sampled that day!  I guess I will have to make a trip to Mimi's Cafe really soon.  When was the last time you visited Mimi's Cafe?  Are you inspired to try the new French Inspired menu?  Let me know what you think.