You may think the concept of Farm-to-Table is new, but for Lark Creek Restaurant Group, farm-fresh dining began 24 years ago with the opening of its first restaurant, Lark Creek Inn.  Thirteen restaurants later, LCRG opened its fourteenth restaurant, but 1st in Orange County, at Fashion Island in Newport Beach.  Dedicated to seasonality, sustainability, and local resources, the menu features almond wood-grilled steaks and chops, seafood, pasta, sandwiches, soups and salads.
Lark Creek is SPE Certified's first West Coast Partner.  SPE stands for Sanitas Per Escam, Latin for "Health Through Food."  SPE Certified evaluates menu items through a rigorous, scientific analysis ensuring they meet a stringent standards of nutritional goals.  Items that are SPE Certified are clearly marked as such on the menu.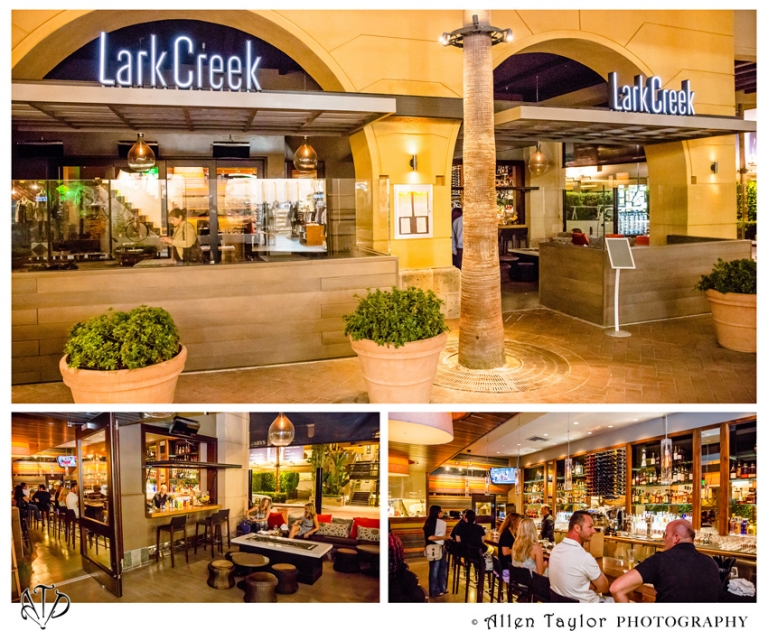 The restaurant offers indoor as well as outdoor seating.  I love the sleek modern look and ultra comfortable ambiance.  The bar features cocktails made with freshly squeezed juices and house-made syrups.  Non-Alcoholic and Zero Proof Cocktails are also available.  Beer and wine list is quite impressive to compliment your meal.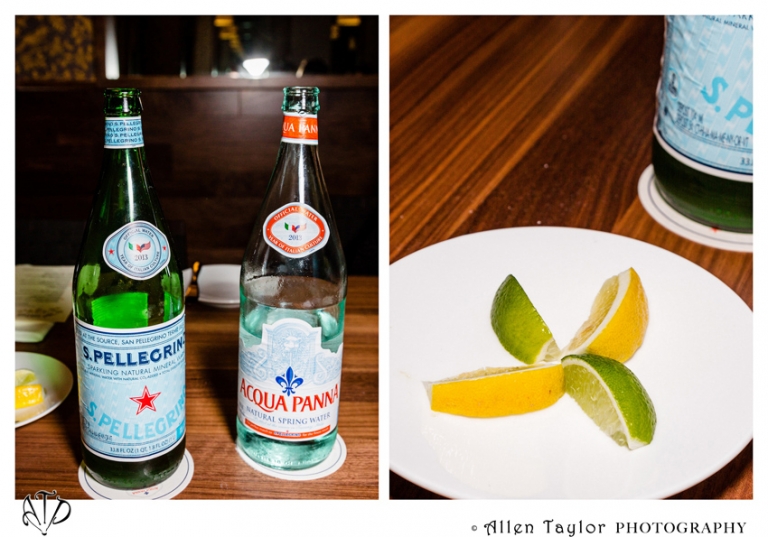 We were offered sparklingly water when we were first seated with a plate of lemon/lime wedges.  You know this is first class dining when they pay such attention to the finer details.   As the evening proceeded, we were blown away dish after dish, glass after glass.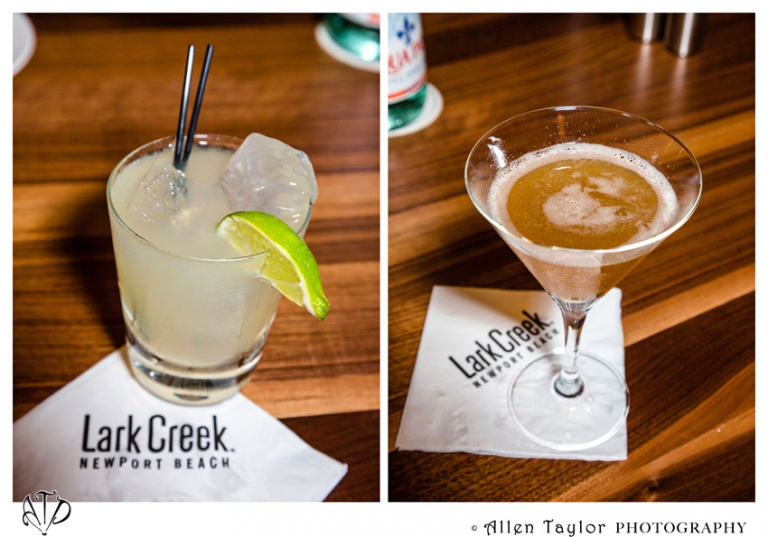 After looking through the cocktail menu, Allen got the Hemingway Margarita (Cuervo Traditional Silver, Maraschino liqueur, lime, grapefruit) and I got Snake & Swizzle (Zaya rum, Green Chartreuse, St Elizabeths all-spice Dram, lime, maple syrup).   Margaritas are my favorite drinks.  It was particularly refreshing that night as the weather was slightly warm.  The Snake & Swizzle was a bit sweet with a nice spice to it.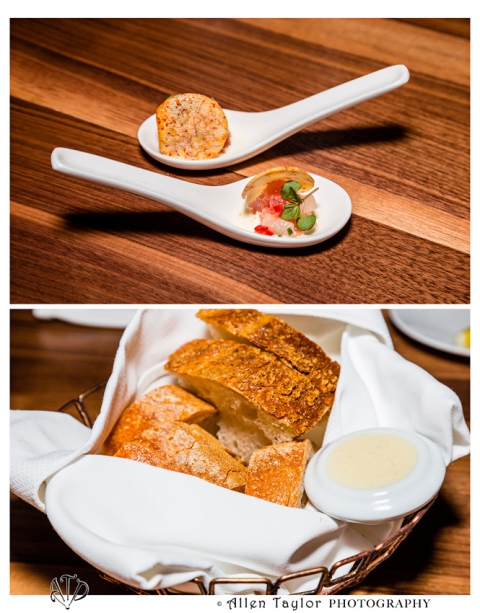 The amuse bouche was an ahi tuna tartare with Asian pear, shiso peppers, Australian finger limes, and a taro chip served on a spoon.  This was very different from all the other tuna tartare I've had.  A small bite full of complex flavors that played well together.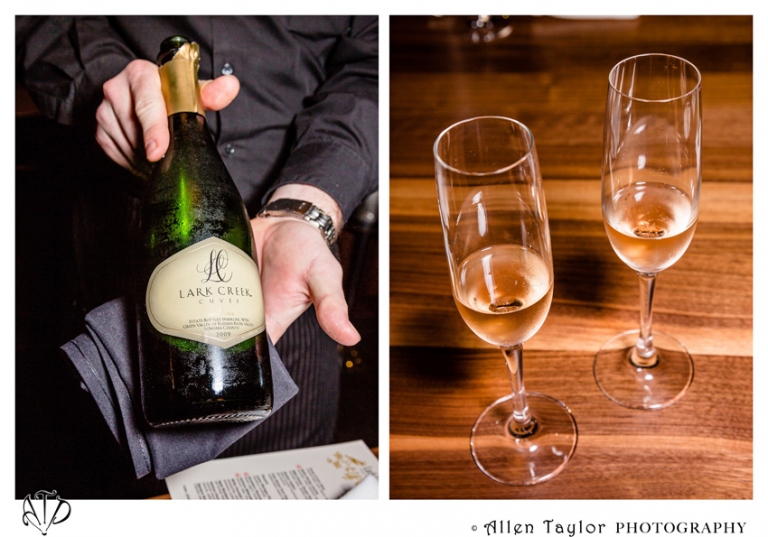 The starter wine was the Iron Horse "Lark Creek Cuvee" Rose, Green Valley Sonoma County 2009.  This unique sparling wine was produced expressly for Lark Creek.  I really liked the light fruity but rich flavor.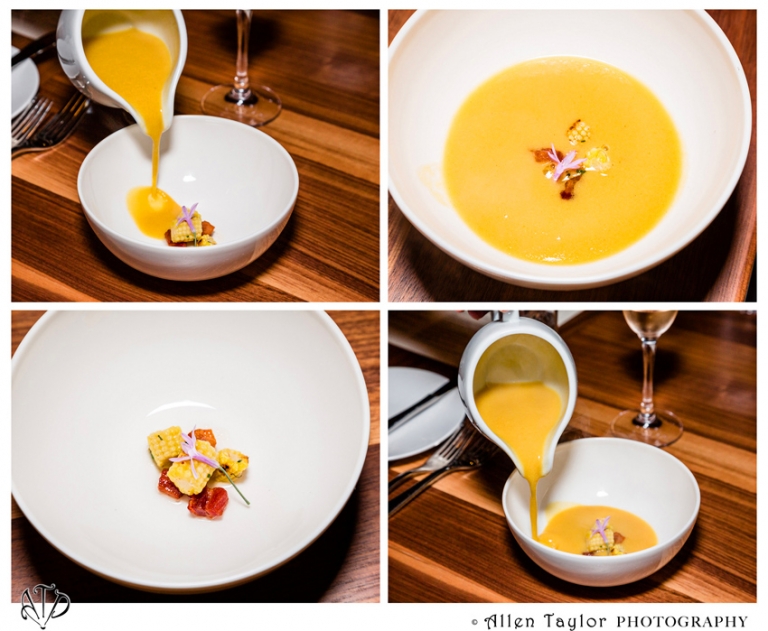 Our next dish was Puree of Corn Soup (charred baby corn, bacon lardons, and chives).  The soup was slowly poured into the bowl beautifully.  The delicate sweetness was pure delight in every spoonful.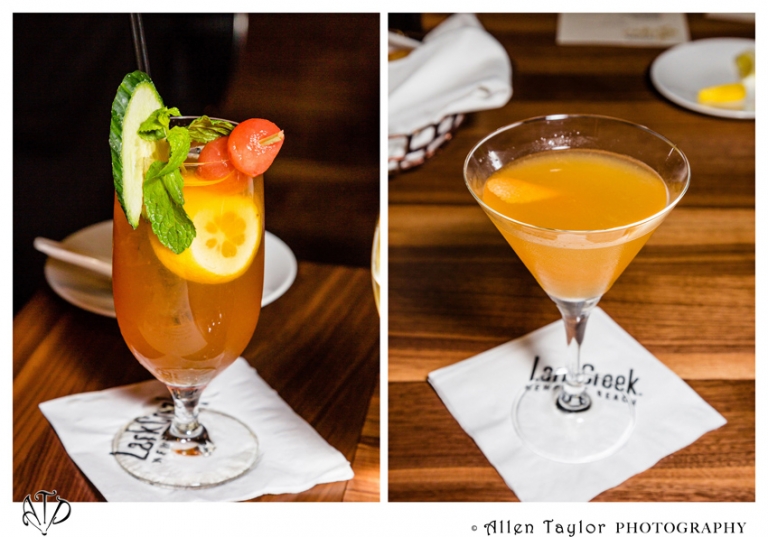 Two other guests ordered the Pimms Cup (Hendricks Gin, Pimms Cup,Lemon, soda, cucumber).  It looked a little like a Bloody Mary, so pretty!  Bye Bye (Hayman Old Tom gin, Cocchi Americano, Dolin Blanc, Aperol, grapefruit bitters) is an interesting name.  I was told both were really good.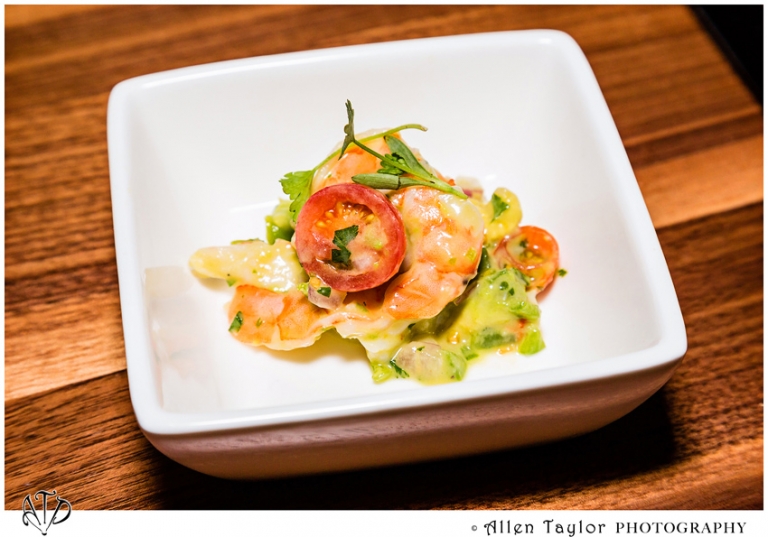 The White Shrimp Ceviche (avocado, baby heirloom tomatoes, cilantro, habanero, and lime) was simply divine!  Everyone was blown away and wanted the recipe!  It was light and creamy.  I can't wait to try out the recipe!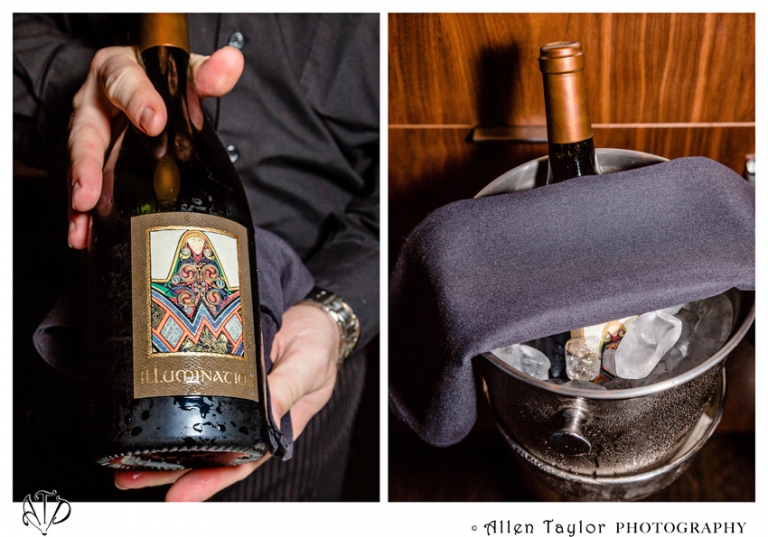 Our next pour was 2012 Illumination Sauvignon Blanc from California.  The wine had soft tropical flavor with rich and creamy note.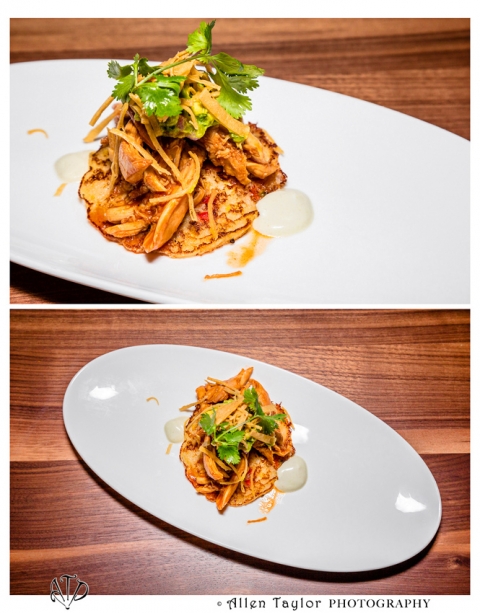 BBQ Chicken Tamale Pancake (avocado salsa, and tortilla chips) was a fiesta!  The BBQ Chicken was very tender with just enough BBQ sauce. And who'd have known Tamale Pancake would taste this good.  I want them for breakfast!  🙂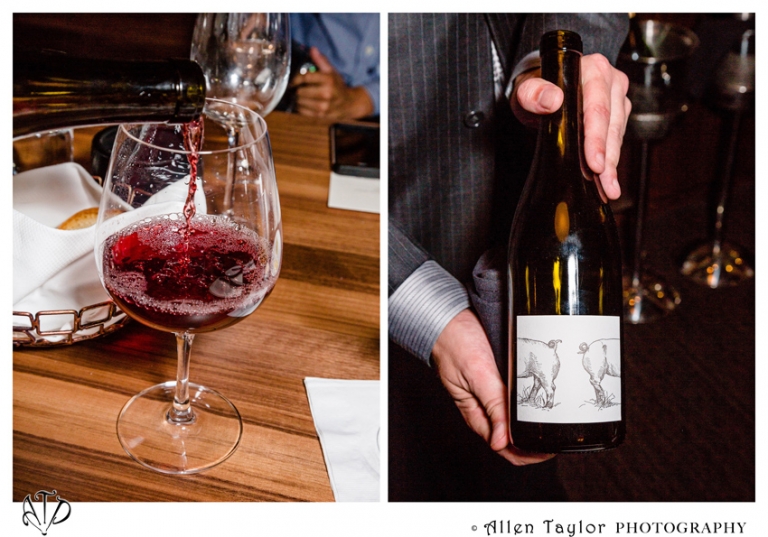 The accompanying wine was 2011 Big Table Farm Pinot Noir Willamette Valley.  This was a really pretty floral fruity wine with medium acidity.  Compare to most red that are quite intense, this one was quite subtle.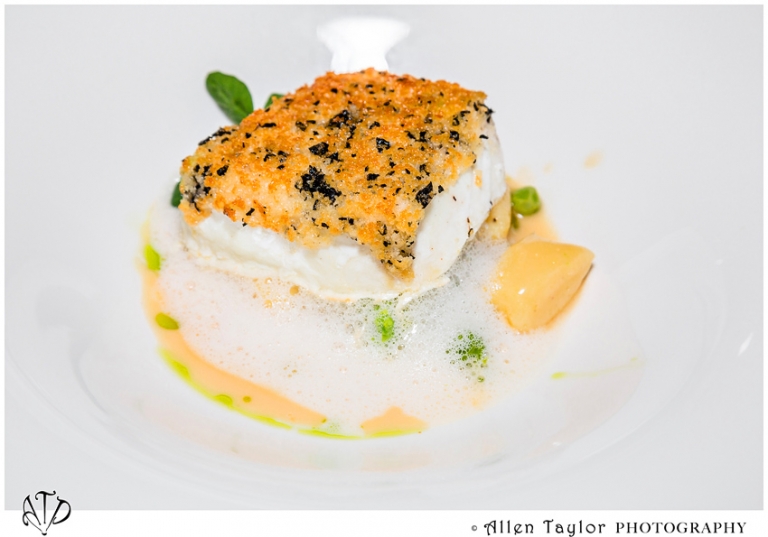 Alaskan Hailbut (black trumpet mushrooms, potato gnocchi, English peas, and pea tendrils) was light and flaky.  I am particularly picky about fish and I thoroughly enjoyed this.  I loved the potato gnocchi. Wish there was more.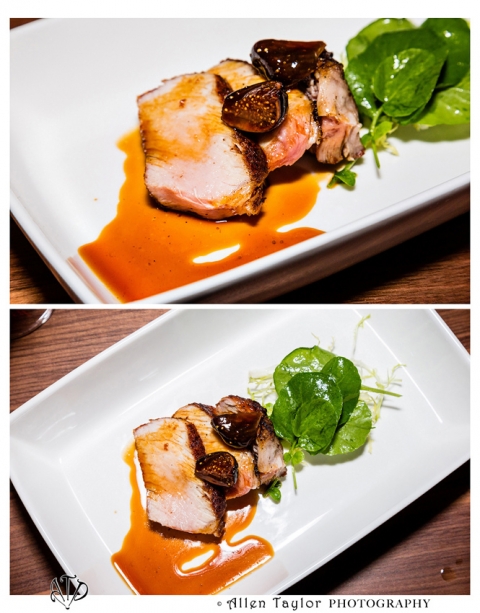 Cider-Brined Pork Chop (black mission fig and bourgon sherry glaze) clearly was the champion of the night.  The sweetness of the fig combined with the savory pork chop was a perfect combo.  It was one of the best pork chop I've had.  I will definitely order it again when I revisit.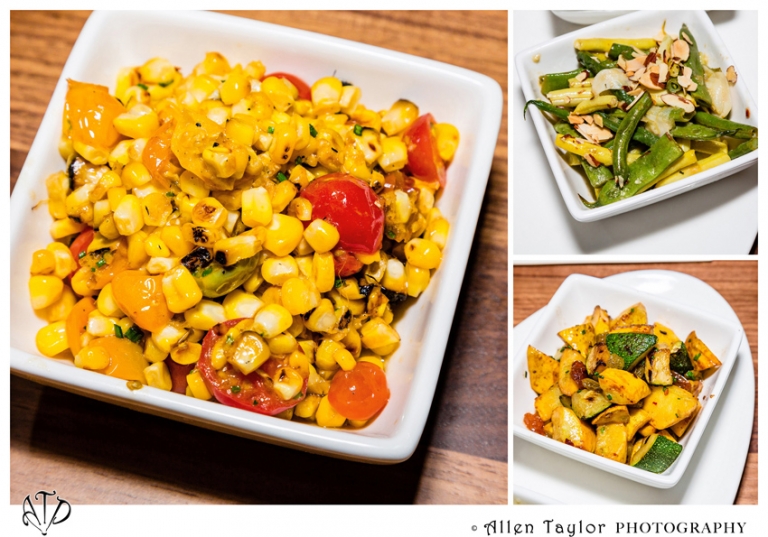 Seasonal sides served were Grilled Corn (baby heirloom tomatoes, basil), Pole Beans (toasted almonds, preserved lemon), and Roasted Zucchini (golden raisens, chili flakes) were so fresh and cooked perfectly.  You wouldn't find soggy over-cooked veggies here.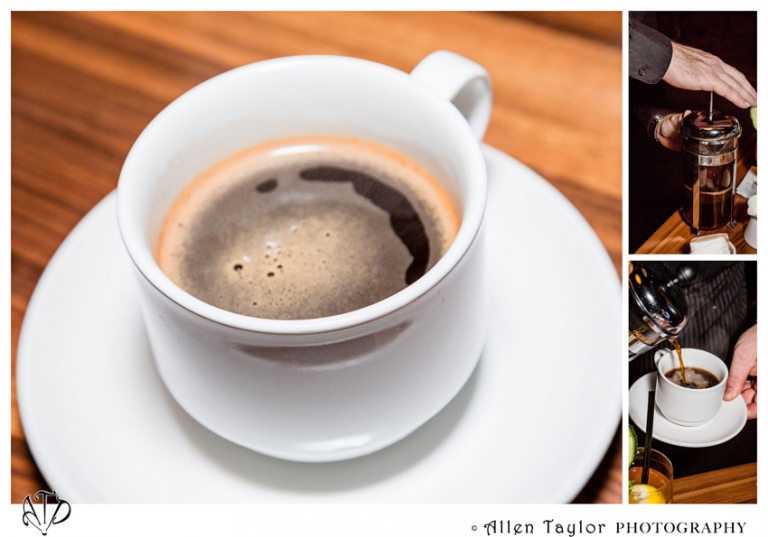 Some of us ordered coffee and cappuccino with our desserts.  And only the French pressed coffee would do. 🙂   We got to sample many of the beautiful and delicious desserts!  I bet you you will have a tough time choosing your favorite.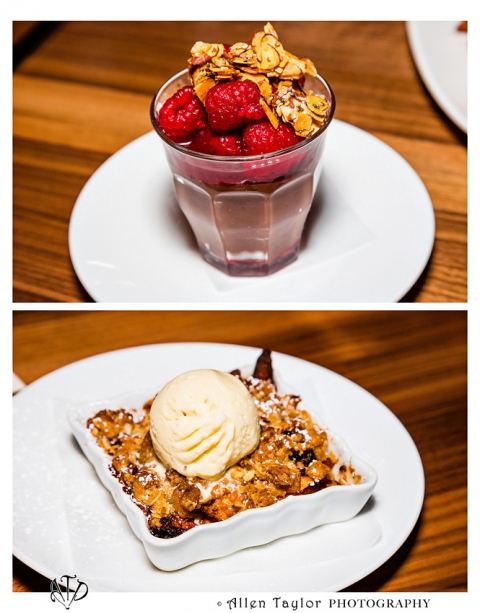 Valrhona Bittersweet Chocolate Raspberry Parfait (almond, date, and chia seed crumble).  Apple Blackberry Crisp (oat struesel topping with vanilla bean ice cream).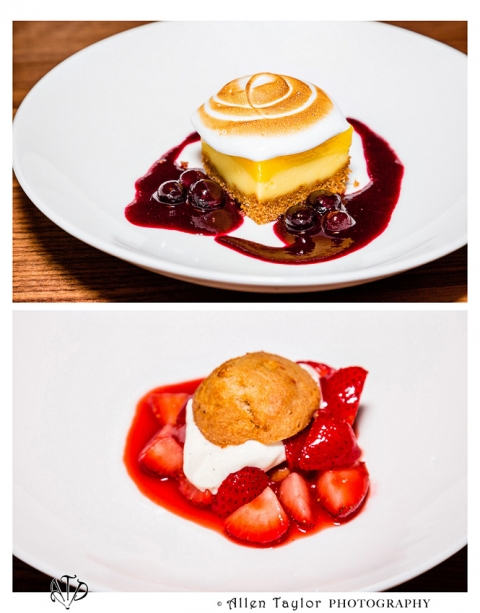 Lemon Meringue Pie (with blueberry compote)Strawberry Shortcake (Greek yogurt and honey cream).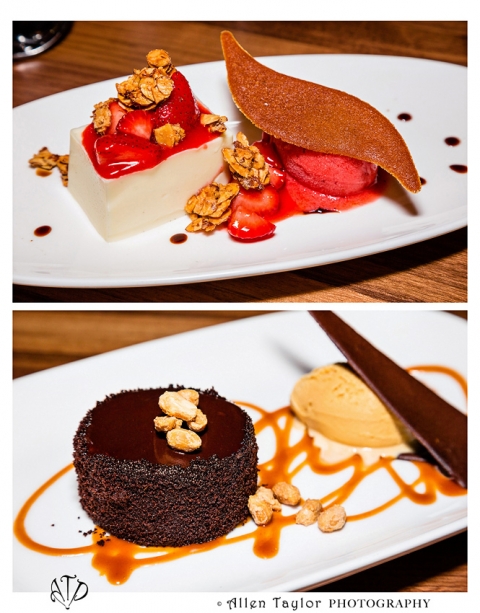 White Chocolate Panna Cotta (strawberries, candied almonds, aged balsamic vinegar, and strawberry sorbet).  Valrhona Chocolate Bailey's Cake (caramel chocolate mousse, whiskey glaze, candied peanuts, and salted caramel ice cream).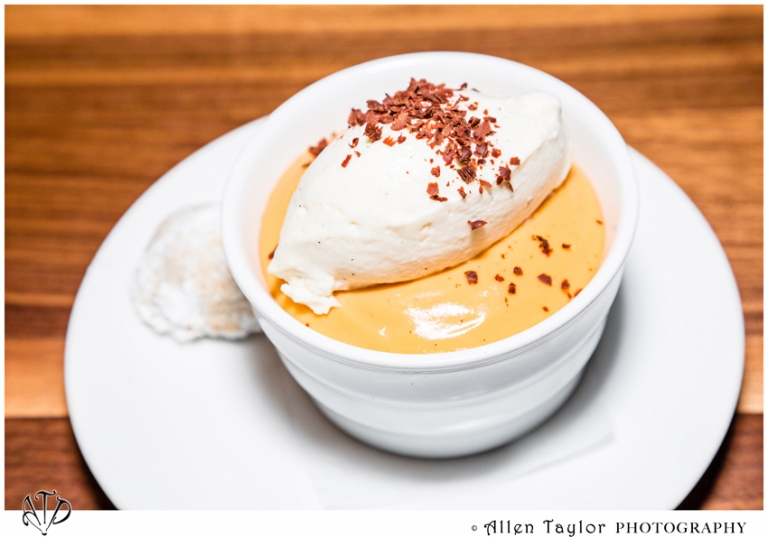 Signature Butterscotch Pudding (Chantilly cream and wedding cookie).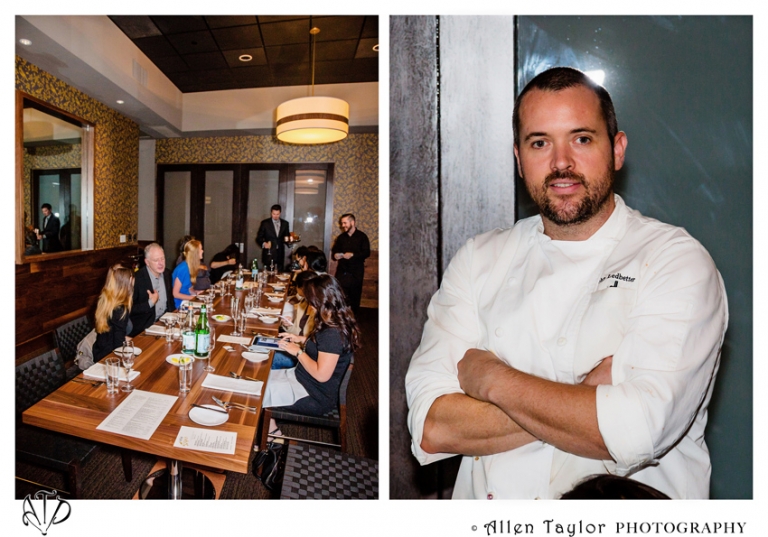 Chef/Partner, John Ledbetter, is the culinary master behind the scene. Chef John is a native of OC and brings his experience with classic and contemporary American cuisine back to his roots at Lark Creek Newport Beach.  We also had the pleasure of meeting with Senior Vice President Growth and Development, Randy Kies, who gave us great detail on the evolution and philosophy of Lark Creek Restaurant Group.  General Manager, Chad Sisco, was more than hospitable in making sure everyone had a great time.
This was truly an amazing culinary experience.  I can honestly say it is on my Favorite Restaurants list.  I can wait to return to try more.  If you haven't tried it yet, check out the brunch, lunch, dinner, or happy hour menu online at Lark Creek NewPort, and share with me what your favorite dish is.  Oh don't forget to say 'Hi' to GM Chad and Chef John.
Lark Creek Newport Beach
Fashion Island
957 Newport Center Dr.
Newport Beach, CA 92660
(949)640-6700