I've been to TAPS Fish House & Brewery a few times; even celebrated my birthday here a couple of years ago.  But I've never been to the Sunday Brunch Buffet.  Many of my fellow bloggers raved about it and I drooled reading their blogs.  Allen and I were thrilled to finally have the opportunity to try it a couple of weeks ago.  Little did we know we were in for a HUGE treat!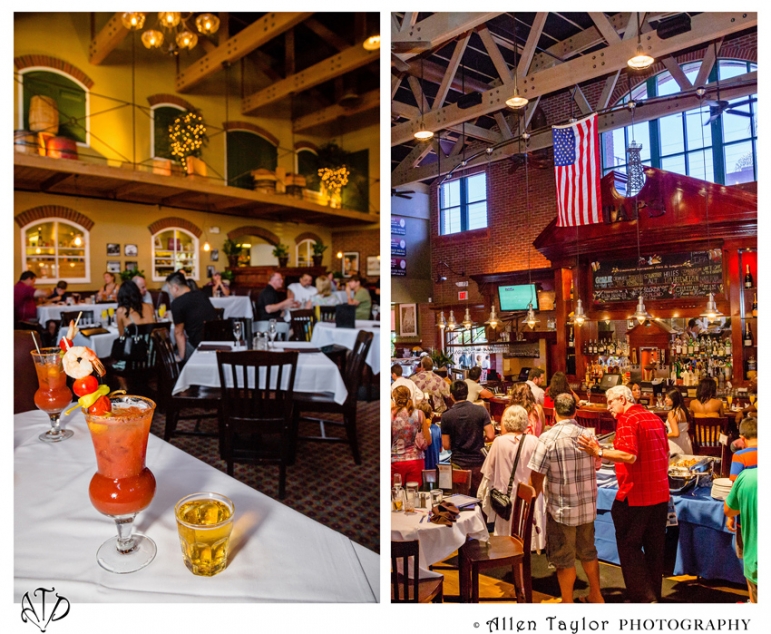 The restaurant is located in Brea Promenade at the corner of Imperial Highway and Brea Boulevard.  I love the beautiful red brick building. The interior is elegantly appointed with high ceiling and rich dark furnishings.  In addition to the indoor dining, TAPS offers a cigar friendly patio dining as well.
I was completely in awe with the Brunch Extravaganza that offers over 100 items spread through out the restaurant floor.  Served 9:30 AM-2:30 PM for only $35.99/adult and $12.95/children age 3-12; also included are your choice of two beers or unlimited champagne and mimosas.  Our server, Brian, also brought over 2 orders of Bloody Mary (extra) for us to try.  It was the most beautiful Bloody Mary I've ever had.  While most tasted like V-8 with Tabasco sauce, this one was fresh, clean, and with the right kick.
The Oyster Bar became home of the many cold items ready for diners to devour.  With over 100 items, I couldn't begin to tell you what they all are.  You just have to come try it yourself.  😉
Freshly Shucked Oysters on Half Shell, Poached White Gulf Shrimp with Cocktail Sauce, TAPS Aloha Rolls.  I've just recently learned to eat Oyster on the half Shell.  They were fresh and sweet.
Summer Ratatouille, Potato Salad, Roasted Brussels Sprouts, Confetti Shrimp Pasta Salad.  I have not liked Brussels Sprouts much but I really liked them here.  They were cooked perfectly, a bit sweet and the savory bacon complimented it well.
Fritto Misto (Fried Calamari and Mixed Vegetables), Ceviche Cocktail, Creamy Cajun Deviled Eggs, Chili & Lime Fruit Salad.  I love a good Calamari; it was lightly fried and very tender.
Tater Tot Ceddar Hash Browns, Cioppino, Carrot Cake Pancakes, Jerome and Jose's Jambalaya , Mongolian Pork.  Loved the Seafood Chioppino (pictured above upper right).


Charcuterie – Cured meats served with house pickled vegetables.
Freshly baked Croissant, Artisan Cheese, mini Rueben Panini, Roasted Garlic, and Gourmet Crackers.
Oatmeal Station, Biscuits & Gravy. I like hot oatmeal.  It sort of reminds me of sweet congee when you add in the fruits and brown sugar.  I am also a fan of Biscuits & Gravy.  I so appreciated the gravy was not salty like others. It was creamy. light but flavorful.  Deviled Eggs were pretty popular.  If you like lox, there is a station full of smoke salmon, bagels and whatever you need.
Like pasta?  The chef was ready to cook to order at the Pasta Station.
Casino Roast & Italian Sausage served at the carving station.  Mashed Potatoes & Herb Gravy, Classic Eggs Benedict, Applewood Smoked Bacon & Breakfast Sausage plus many breakfast favorites were at the hot station.
Oh and then there was the dessert station for your sweet tooth that included a chocolate fountain.
With so many choices, Allen and I tried to sample a little bit of some of the items.  I wish my stomach was bigger so I could eat more of the delicious food.
Omelet is cooked to order in the kitchen.  Allen and I got this 'Everything Omelet'.   The Croque Madame (extra on the menu) is the classic French ham and cheese sandwich covered in cheesy béchamel with a fried egg on top.  If you like Eggs Benedict, you will love this even more.  I sure did.  I suggest ordering cook-to-order items to share so you have room to try other items.
Beignets are $1 extra and you get seven of them.  They were a little crispier than I expected but really good.  The Banana Foster made with waffle and topped with Vanilla ice cream (extra) was highly recommended by our server and did not disappoint.
It was such an honor to meet Chef Manny Gonzales who came over to our table and checked on us several time to make sure everything was OK.  His passion and enthusiasm are the reasons why the restaurant has been so successful.  A true culinary artist, he constantly creates new menu items.  So if you come visit often, you might notice the menu changes from time to time.
Many thanks to my gracious hosts, Mr. Eric Padilla, Private Dining Manager and Ms. Sunny Reed, Personnel Manager and the entire staff for their hospitality.
Whether you're looking for a place for lunch, dinner, or brunch, TAPS has got everyone's favorites on the menu.  Don't leave out the award-winning beer to accompany your meal.  Have you tried their Sunday Brunch?  Did you count how many items you ate? 🙂
(Click to play the slide show for additional images of the glorious brunch)
TAPS Fish House & Brewery
101 E Imperial Hwy
Brea, CA 92821
(714) 257-0101