Of all the restaurants participating in Costa Mesa Restaurant Week, I was most excited about Mastro's Steakhouse.  Many of my Yelp friends have yelp'ed about it.  With a rating of 4 1/2 stars among over 700 reviews, I was sure it was going to be a feast of its kind.  When we drove up to the restaurant, we realized it was valet only.  Not that I am cheap, but I really don't like valet parking.  Have heard too many horror stories and just hate the way they drive your car like a race car. It's a parking lot, guys, not a race track!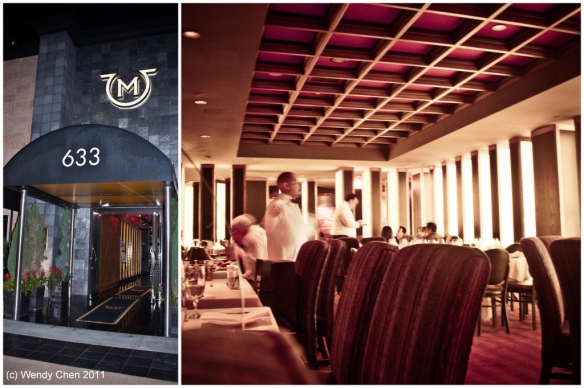 We were about 15 minutes early for our reservation.  But I guess early is better than late.  We walked past a hall way with 2 huge wine cases on both sides.  (I don't know if this is what they are called.)  We were seated with no problems.  Our server was extremely cordial from the very beginning.  Right away you feel the 'fine dinning' treatment.  And what's fine dining without fine wine, right?  The wine menu was a hefty book which we couldn't make use of.  However, our server did convince Allen to have the Cosmo Martini.  The server poured it over dry ice and it bubbled.  Quite an interesting sight.  I took a sip (fine 2 sips), and it was strong.  But it was probably the best I've ever sipped.  Keep in mind, I don't drink and normally don't like alcoholic drinks.  It tasted really 'clean and crisp' to me.  I don't know if this is the 'right' description of a Martini, but that was how I thought it tasted like.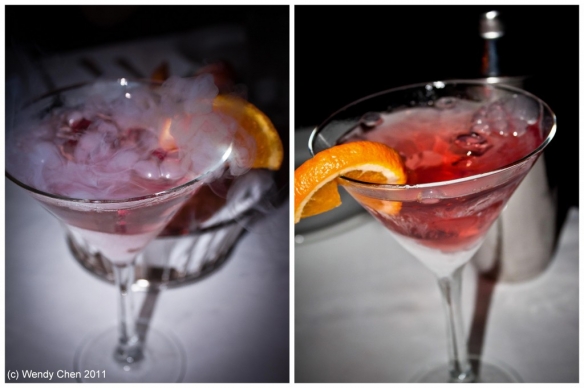 We didn't bother with the regular menu because we were here specifically for the Restaurant Week menu.  For starters, I chose French Onion Soup and Allen chose the Caesar Salad.  I normally don't care for French Onion Soup but this one was really good.  The salad was pretty typical.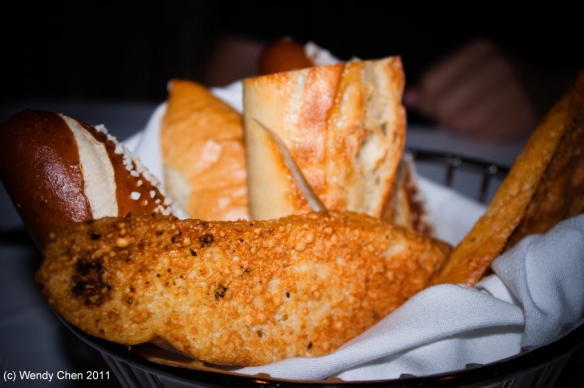 For the entree, I chose Atlantic Salmon with Sautéed Broccoli and Scalloped Potatoes.  First I was surprised when my plate was bought over, it only had the salmon by itself.  I soon realized all the sides were served 'family style', meaning to be shared.  While the concept is good, it's better suited for a 'family restaurant'.  Here, it greatly sacrificed the presentation of the entree, which I thought was a big part of a fine dining experience.
My salmon was blackened but it didn't have any spiciness to it.  I was used to 'Cajun' style blacken!  I also thought it was overcooked and dry.  It was not a big piece and I left 1 /3 of it uneaten.  The scalloped potatoes were very average as was the broccoli.


Allen's Entree was 10 oz. New York Strip with Garlic Mashed Potatoes and Creamed Corn.  The New York Strip was excellent!  However, the Garlic Mashed Potatoes didn't taste garlicky and the Creamed Corn was obviously made with canned corn.


When I told our server I thought my salmon was over cooked, he said he'd talk to his manager.  I told him not to bother.  I really think if I don't like my food, it's just my taste.  Others might like it fine.  He then offered to give us an additional dessert free, their famous Butter Cake.  We were already getting the Cheese Cake and Flourless Chocolate Espresso Cake.  Allen thoroughly enjoyed the butter cake and cheese cake.  The flourless chocolate espresso cake paled compared to the one we had at Capital Grille.


I had very high hope for Mastro's.  Maybe that was why I was so disappointed.  Of the 5 restaurants we've tried so far, this was the most expensive, but I'm sad to say it was also the least delectable!
Mastro's Steakhouse
633 Anton Blvd
Costa Mesa, CA 92626
(714) 546-7405