I don't venture out to Huntington Beach as often as you might think.  But I think I have found my reason to go more often now that I have discovered Sea Legs Wine Bar.  Located in downtown Huntington Beach, this wine bar/restaurant offers a casual and relaxed atmosphere but classic and sophisticated ambiance.
Guests can enjoy family-style seating at the community tables or enjoy a more intimate and quieter dining at the smaller tables.  Sea Legs offers hand-picked cheese and great selections of wine pairing.  The wine cellar houses over 2,000 unique bottles and an extensive craft beer collections spotlighting 10 ice cold beers on draft and many more by the bottles!  The menu is seasonal and every-changing and offers small plates and regular entrees made with fresh, local and sustainable ingredients.
(Photos by Allen Taylor Photography)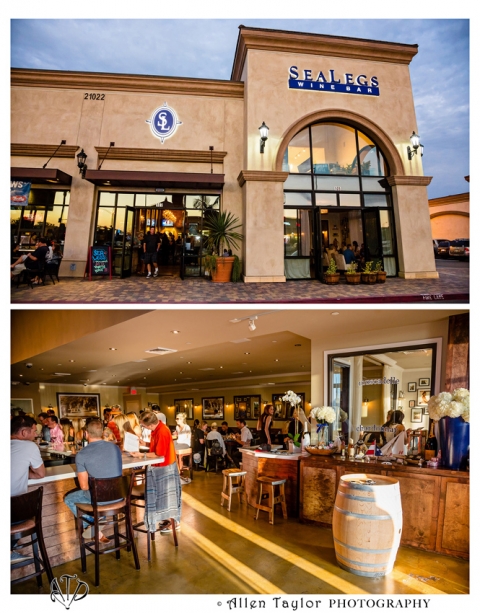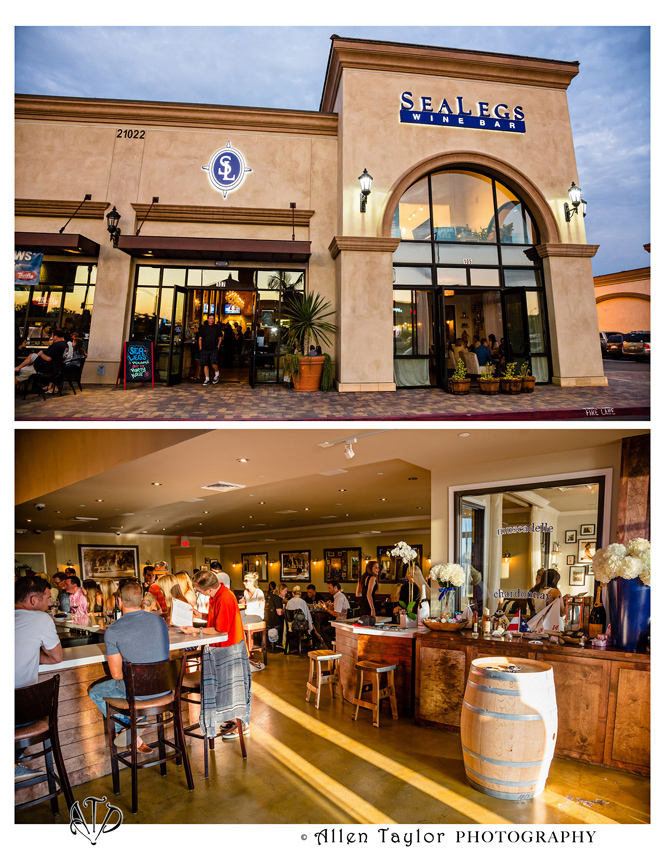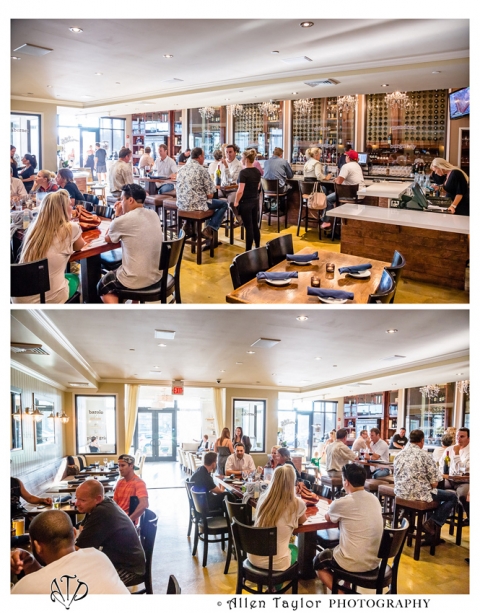 Allen and I were very honored to have been invited to try the Media Tasting Menu designed by Executive Chef Alexander Dale.  We've heard wonderful feedback from fellow bloggers and were excited to try it ourselves.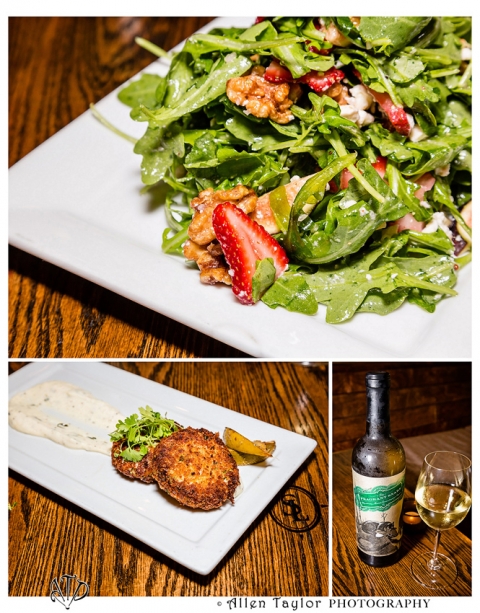 Round one: SeaLegs Summer Salad, Lump Crab Cakes.  Wine Pairing: Fragrant Snare Chardonnay Blend, Paso Robles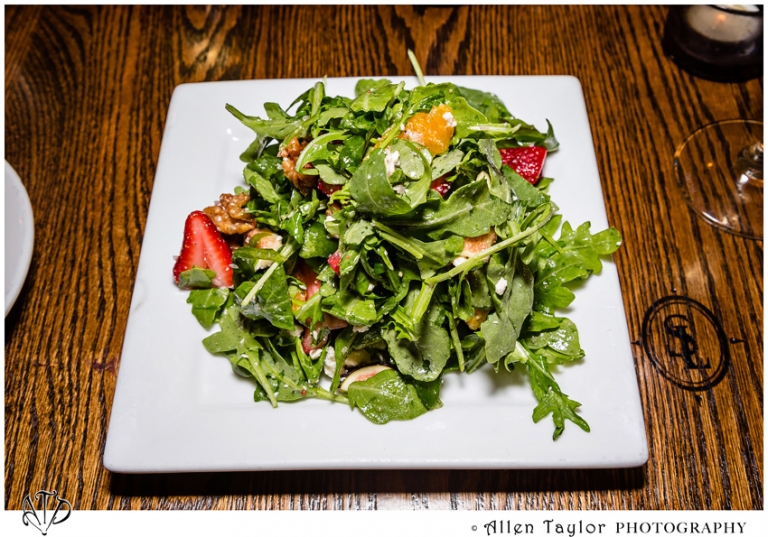 I am a big fan of salad and really enjoyed the Summer Salad (Arugula, Strawberries, Oranges, Figs, Feta, Candied Walnuts, with a Rose White Balsamic Vinaigrette).  It was light and refreshing.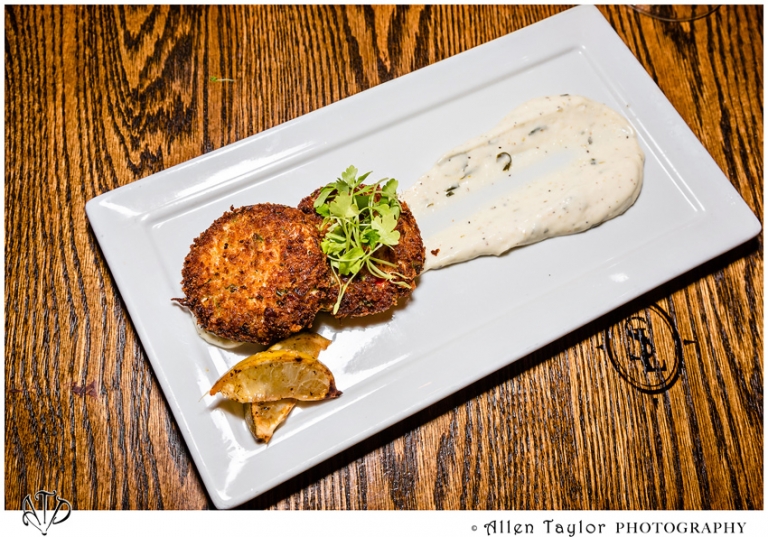 The Crab Cakes (Served with Lemon Tarragon Aoli and Micro Celery) were delicious!  It was lightly crispy packed with lumps of crabs.  Quite frankly, I could combine this and the salad and call it a happy dinner.  I also really liked the Chardonnay with bursts of citrus tingle, leaving a refreshing finish.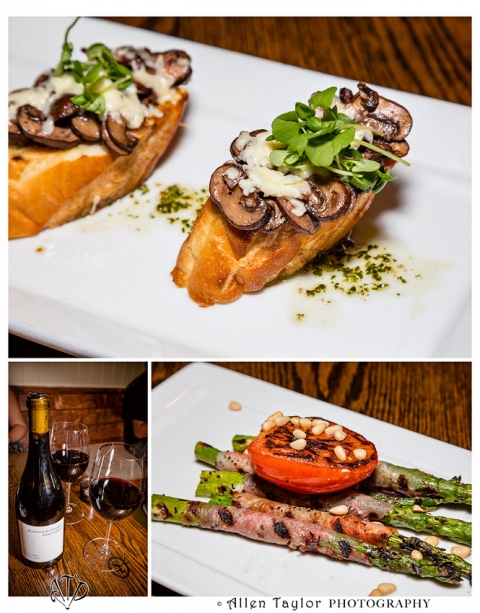 Round Two: Drunken Forest Mushroom Crostini, Prosciutto Wrapped Asparagus.  Wine Pairing: Zotovich Syrah, Santa Barbra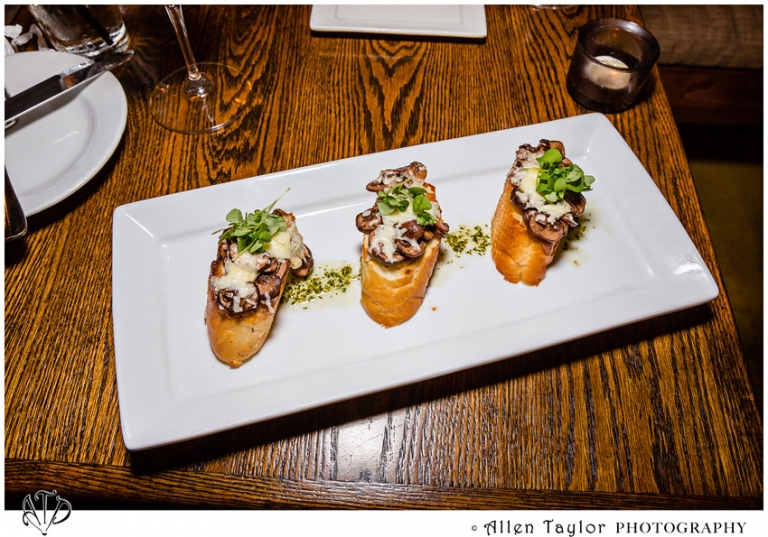 The Drunken Forest Mushroom Crostini (Forest Mushrooms sauteed in Cinanti mixed with Asiago cheese, micro basil and herb oil served on toast points) was savory and creamy, with the warm soft toast point, it was perfect!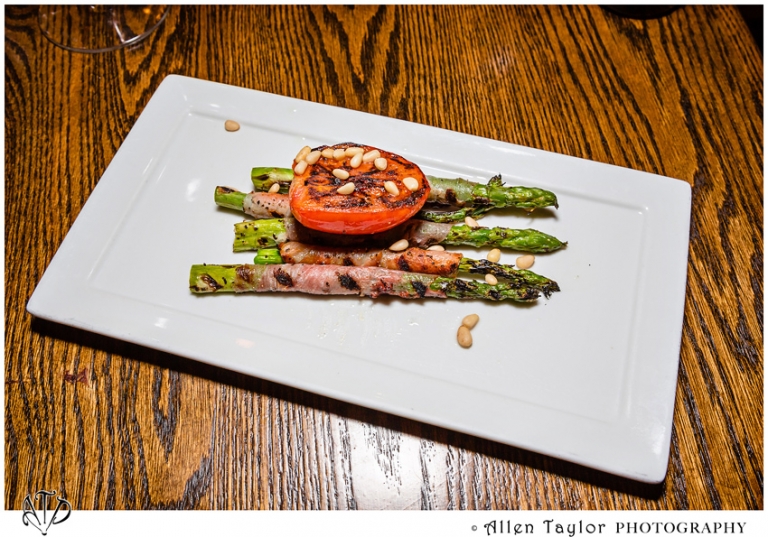 The Prosciutto Wrapped Asparagus (Grilled asparagus wrapped in prosciutto with roasted tomato, pine nuts, lemon juice) was simple but tasty.  I was pleasantly surprised that the prosciutto was not overly salty.  The Zotovich Syrah had a spicy, fruity and peppery finish.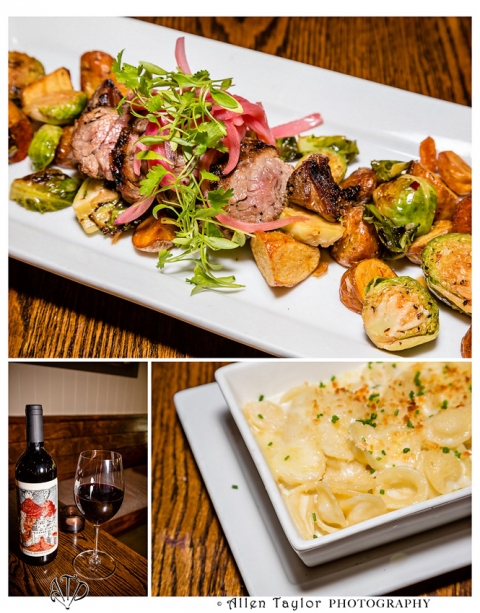 Round three: Marinated Flank Steak, Truffle Mac & Cheese.  Wine Pairing: Force of Nature Cabernet Sauvignon, Paso Robles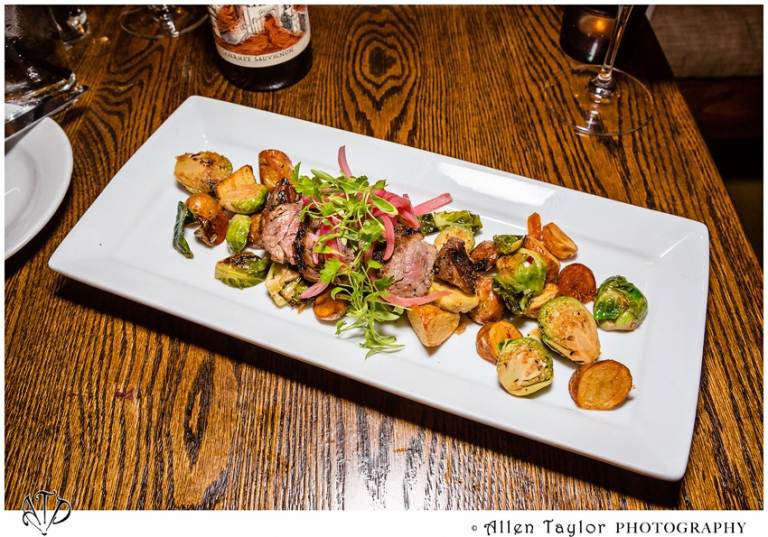 The Marinated Flank Steak (Bulgogi marinated grilled flank steak served with fried fingerling potatoes, Mirin glazed roasted Brussels sprouts and pickled onion) was perfectly grilled and very tender.  Although it was Bulgogi marinated, it wasn't sweet like you might think.  I really liked the fingerling potatoes, crispy edge but soft inside.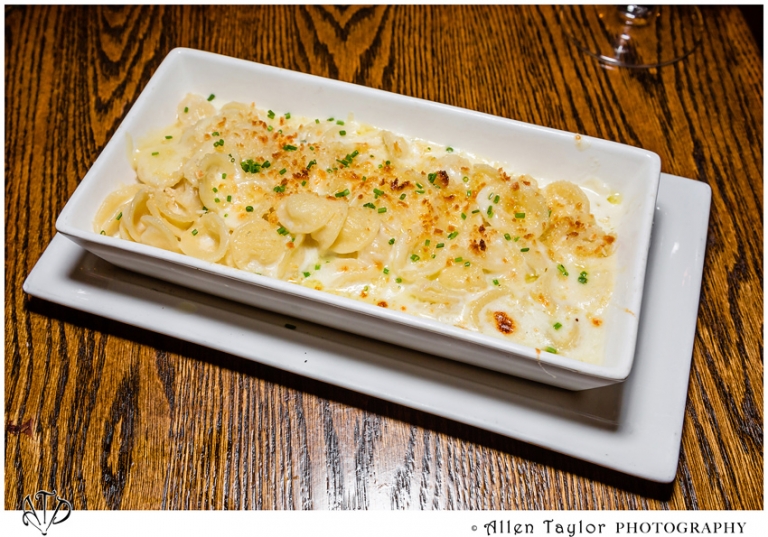 The Truffle Mac & Cheese (three cheeses, truffle oil and encrusted with white cheddar) was very cheesy and creamy with just a hint of truffle oil.  I am not a big M&C eater so Allen ate most of it.  The Force of Nature Cabernet Sauvignon was a very intense wine with a bursting flavor profile composed of cocoa powder, plump, juicy raspberry, pomegranate, stone, and hidden forest trails to compliment the steak.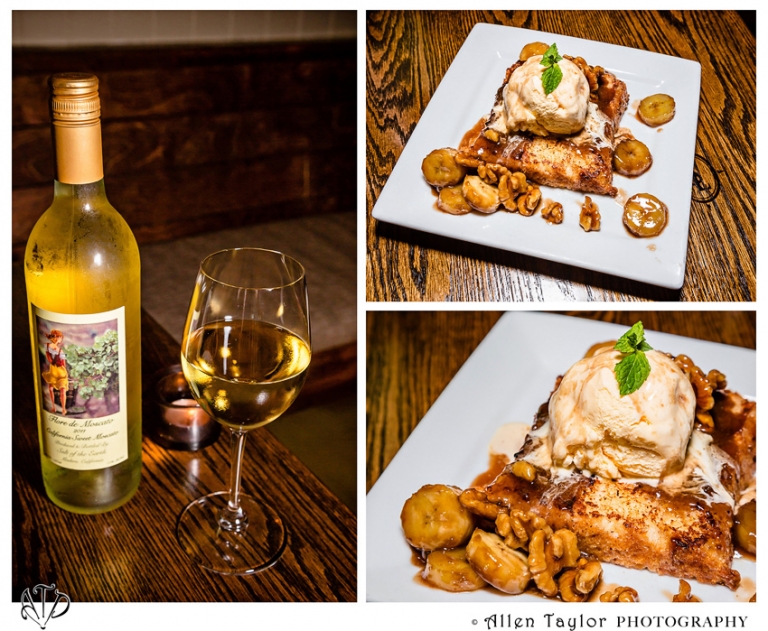 To finish our meal, dessert was Bananas Foster French Toast (Housemade brioche, bananas, walnuts, cinnamon rum & caramel sauce topped with French vanilla ice cream) accompanied by Salt of the Earth Muscato.
I loved both!  You don't want to miss this dessert/wine combo when you visit here.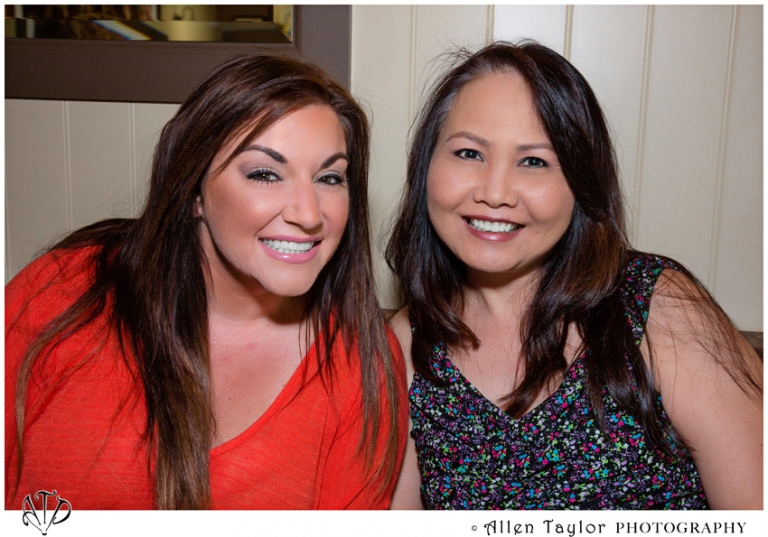 Special thanks to  Owners, Alicia Whitney (pictured above) and Lisa Nonemaker, Executive Chef, Alexander Dale, General Manager, Brittany rebholz and our server, Denise, for your hospitality and an amazing tasting.  Thank you also to Janet Pacheco for arranging it for us!
Sea Legs Wine Bar offers Sunday Brunch, Happy Hour, and Dinner everyday.  Check out Blind Tasting Tuesdays and Wine Wednesdays, too.  Whether you just want to enjoy a glass of wine with small plates or throw a big party with friends and family, SeaLegs Wine Bar,  there is something to please everyone.  Come join me next time, will you?
SeaLegs Wine Bar
21022 Beach Blvd. #105
Huntington Beach, CA 92648
Please share and like us: