If you do a search on Sushi Gen, you won't find a website nor a FB Fan Page.  But what you will find is almost 1,800 reviews on Yelp.  The 4.5 rating also spreads across other sites such as Trip Advisor and Urbanspoon.  I've long heard of the glorious raves but just never made it here as I rarely visit DTLA unless it was work-related, in which, I probably wouldn't have time to stop here anyway.
Last weekend, we had an opportunity to finally visit.  I was surprised how small this restaurant is.  We came just before 6:00pm and it was already pretty full.  We opted to sit at the Sushi bar and were lucky to grab the last 2 seats.  The host advised us (as well as a sign by the front desk) that we had to order at least 4 orders of sushi to sit at the sushi bar.  'No problem' we said.
We sat in front of Chef Jeremy who was very polite and friendly.  He took care of us all night.  As soon as we're done with one  order, he asked what we would like next.  I told him to decide for us.  It was all good until he place an order of Sweet Shrimp and I  had to send them back because neither Allen or I eat raw shrimp.  He was a little taken back and told us to tell him what we wanted after that.  🙂
Our first order was my must have Tuna.  This is probably the most popular sushi for sushi eaters.  But for sushi connoisseurs, they would say it's the least adventurous.  I don't really care because it is my favorite sushi to eat.  These were so tender they practically melt in your mouth!  I can honestly say they were probably the best Maguro I've ever had.
Take a closer look, you could barely see the rice.  That's right!  For authentic sushi, very little rice is actually used so you can fully taste the fish.  And fresh sushi NEVER smells or tastes fishy.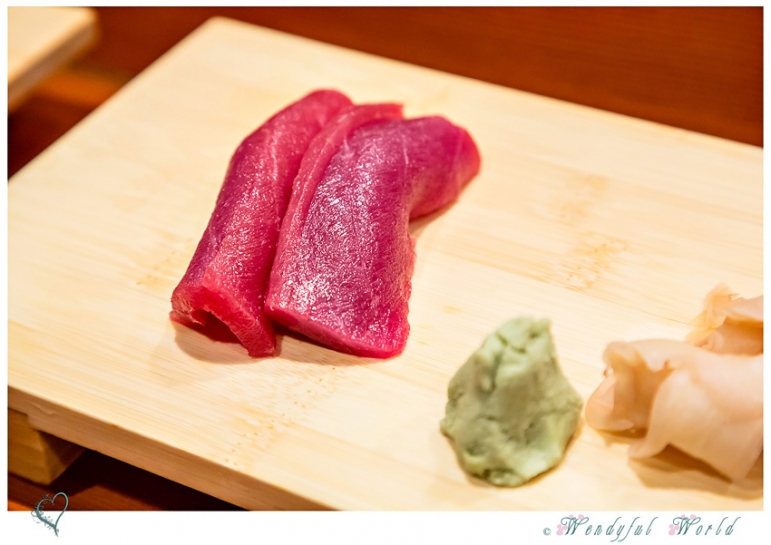 Our second order was Yellowtail Belly.  At first I was a little surprised at the texture because it tasted fattier than the Yellowtail I've had until I realized it was the 'belly' then it all made sense.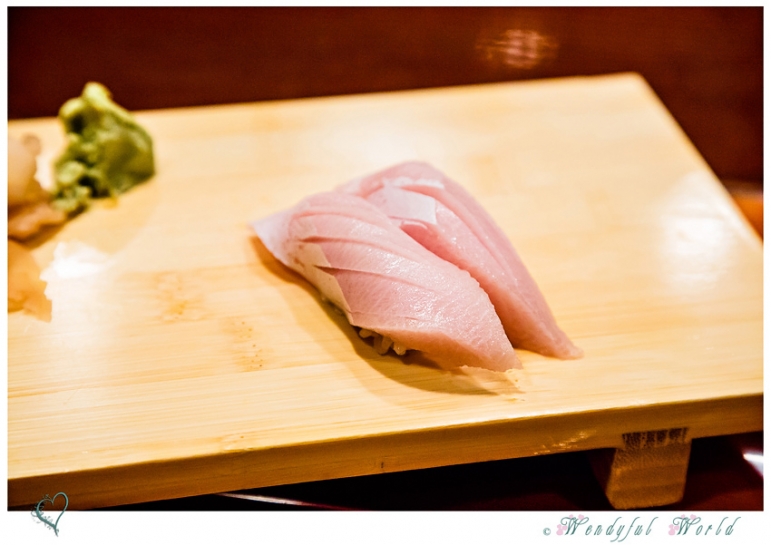 I LOVE Grilled Yellowtail Collar (Kamachi Kama)!  This was grilled so perfectly and the fish was so tender.  The ponzu sauce with a side of grated daikon and green onion complimented it so well.  The fish was extraordinarily fresh that even the cheek area of the fish was not fishy at all.  I can eat 2 orders of this and call it a dinner.


I am not usually a fan of Japanese Snapper because it has a bit of chewy texture but these were quite good.
Albacore is another one of my favorite fish.  It was soft and delicate.  I am not sure why they seared it very lightly because most everywhere I've had it was served raw.
The Salmon was rich and flavorful with a bit of texture.


Lastly we decided to try Spicy Tuna Hand Roll.  It wasn't spicy at all but the tuna was very good.  Allen ordered a Kirin Beer to go with his sushi.
The sushi here is super fresh.  The menu is very traditional Japanese, so don't expect to find 'fancy' rolls here.  From what I know, lunch is very reasonable and good value.  I have no idea how much an Omakase would cost.  I also have no idea how much each of the dishes was since they didn't itemize the bill except for the beer ($7).  Our total bill with tax was $110.09.  But quality sushi is worth the price.
This place gets busy so expect a wait or go early to beat the crowd.  Have you been here before?  Do share your experience with me.  🙂
Sushi Gen
422 E 2nd St
Los Angeles, CA 90012
(213) 617-0552