Allen and I don't venture out to Los Angles too often unless it is for business, i.e., photo shoot.  Last weekend we attended an amazing conference (more details to come in a separate post).  At the end of conference, we decided to check out Bottega Louie.  Our good friends and fellow bloggers, Daniele of Dani's Decadent Deals and Tom of Tom's Foodie Blog, visited the night before and told us how amazing it was.
After finding parking in a nearby parking garage, we walked toward the restaurant/bakery.  I could see the crowd through the glass window and thought there was no way we were going to get a table!  It got even worse when we finally squeezed inside among the sea of people.  It was a huge restaurant but was also PACKED!  We managed to give our names to the host and was told the wait would be 45 minutes.  Well, we already paid for the parking so we decided to just wait.  Luckily, it was only 15 minutes before our names were called.  Whew!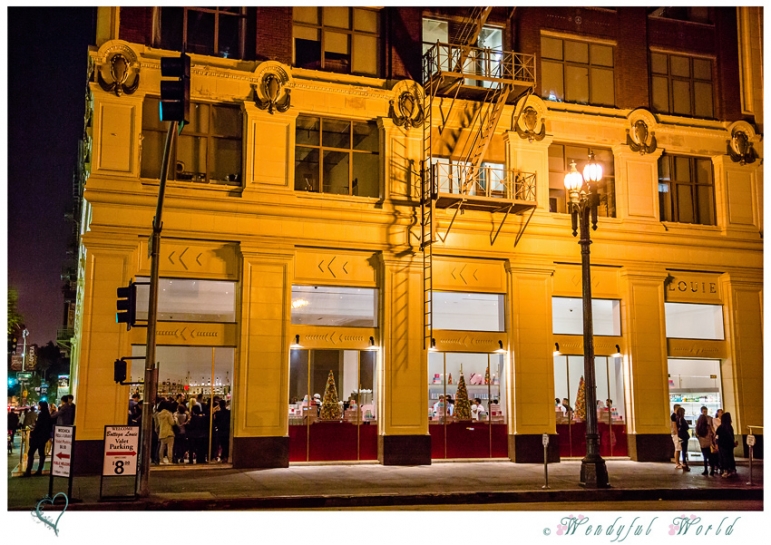 The restaurant has an open kitchen.  There were so many chefs.  I should have counted to see how many.  I really appreciated that they wore gloves in preparing the food.
We're trying very hard to eat better these days but we had to order the famous Portebello Fries our server highly recommended.  It is, after all, their signature appetizer.  It came in a small basket.  Well, it looked small but it actually contained a good amount of fries!  They were thick cut but tender and fried with just the right amount of batter.  It was crispy but not greasy.  I wish they had sprinkled a little bit more cheese.  Nevertheless, it was delicious!
Allen ordered ORECCHIETTE (House made orecchiette, Maestro fennel sausage, radicchio, soppressata, caramelized sweet onions & extra virgin olive oil).  The pasta is perfection.  The dish is milder than expected.  For a pasta dish with sausage, it was surprisingly light.
At the end of the restaurant is a separate pizza kitchen.  The 2 chefs were making and baking pizza at speedy pace.  The table next to us, a family of four, had ordered one.  They seemed to really enjoyed it.


I decided to try CEPPO GAMBER (Jumbo shrimp, ceppo pasta, broccolini, oven roasted cherry tomatoes, roasted garlic, fleur
de sel, cracked pepper & olive oil broth).  I have to say, I was so impressed by how al dante the pasta was.  The roasted garlic smelled wonderfully.  The dish was very light but still flavorful.  At first I thought the amount of food was on a smaller scale, but guess what?  I got full before I finished it and left about 1/4 pasta uneaten.
The bakery was very busy with people buying desserts.  We had to get some macarons to go, too.  They were excellent!  Definitely worth the $2.50 price tag.



We enjoyed our dinner and I thought the price was reasonable.  Service was very cordial and professional.  I would definitely come back to try more.  Have you been to Bottega Louie?  What are your favorite dish to eat?
Bottega Louie
700 S Grand Ave
Los Angeles, CA 90014
(213) 802-1470