French restaurant in Yorba Linda?  You betcha!  Although it's situated in an unassuming strip mall, the interior is very charming and warm.  The black and red walls are decorated with lots of photos and paintings.  You definitely get that artsy boutique kind of feel.  In the far end of the room by the small bar, you'll find a baby grand piano.  On Fridays and Saturdays between 6:30pm – 9:30pm, you will be entertained by a live Jazz piano!  There is also an outdoor patio.  I imagine when the weather warms up, it'd be lovely to enjoy a meal outside by the fountain.
It took a while for us to decide what to order.  But our server was very patient.  Once he explained the daily specials, he left us and then returned with water and a basket of french baguette slices.  They were so lightly crunchy and fluffy.  I've been trying so hard to cut down on my carb but I could not stop eating these!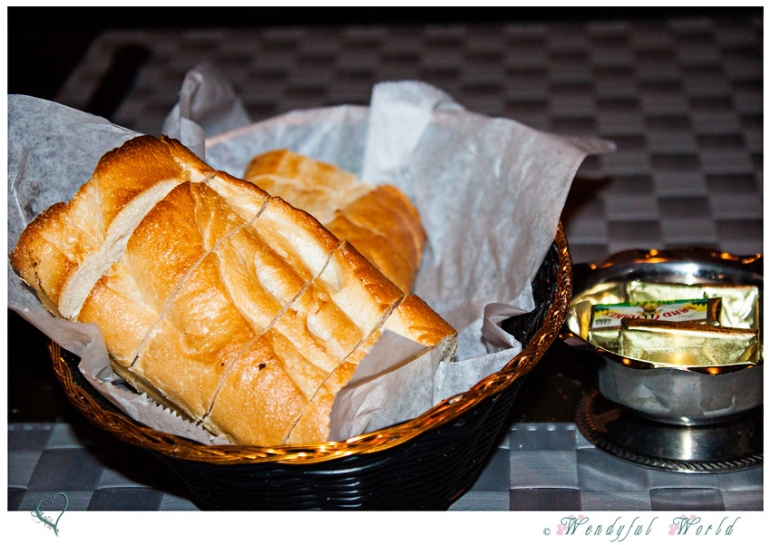 Although one of the daily specials was also fish, I decided to go with Le Filet de Saumon Citronnee (Salmon Filet, Mash Potato, Carrot Puree, Ratatouille, Lemon Butter Sauce).  I loved how light the lemon butter sauce was, but it gave so much flavor to the salmon.  I don't know how Chef Vincent did it, but that was the hottest piece of Salmon I've ever had and yet it was super moist and tender.  You know cooking fish can be quite tricky, too much heat, the fish becomes dry and hard.  I really would love to know how he did it!  I also enjoyed the ratatouille and Carrot Puree.  I wish they could have substituted the mash potato with a little green to add color to the presentation and because I like seeing something green on my plate.  But that's just a personal preference.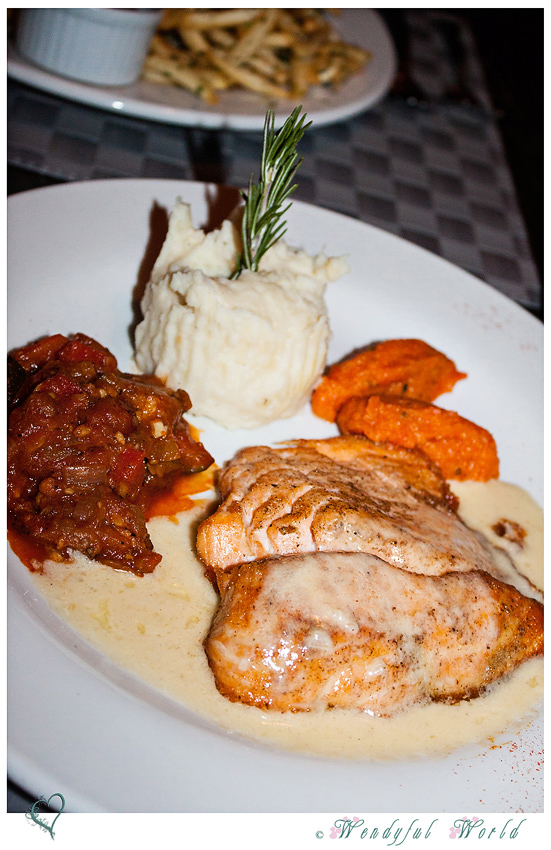 Allen had Le Faux-Filet (New York Steak (8 oz), Garlic, Parsley Butter, Garlic French Fries).  Let me just tell you the it was brought over, it smelled wonderful!  The garlic parsley butter was delicious on the meat.  The meat was cooked perfectly but it was  a little tough to chew.  For $20, I didn't expect it to be prime but I would have rather paid more to get better, if not prime, grade.  It was a bit of a shame because the flavor was excellent.  We did enjoy the french fries quite well.


We decided to skip dessert as we would be doing a bakery tasting a couple of days later.  It was a Thursday night and the restaurant was not that busy.  Allen and I enjoyed a really nice and quite dinner .  Our server was great and handed us copies of their menus to take home.  He also highly recommended the weekend brunch which we'd love to come back to try.  I love to support little neighborhood restaurant and Bistrot Massilia has earned my badge of approval.  Come visit them if you haven't and let me know how you like it.
Bistrot Massilia
4965 Valley View, Suite C
Yorba Linda, CA 92886
(714) 993-1681