When it comes to Japanese cuisine, I have to admit, I am not very adventurous.  I am extremely sensitive to fishy smell so there are a lot of fish I wouldn't eat even when cooked, let alone raw.  It wasn't until my friend, Julie Lim, owner of OC Wine Mart, who introduced me to Omakase (Chef's Tasting Menu) that I truly learned to appreciate the art of Sushi.  It was an eye and palate opening experience that I finally realized 'good sushi' never tastes fishy.  Julie is a huge fan of Sen of Japan.  Whenever she travels to Las Vegas, this is one restaurant she always makes a point to stop by.  I had wanted to try it for a long time and finally made it here about a month ago.  All I can say is that this was probably the BEST sushi experience I've had my entire life!   If you've never dined at Sen of Japan, whether you think you like Sushi or not, please give it a try.  You will not be disappointed.  In fact, you might fall in love with it as much I did!
Like many Japanese restaurants, the interior is painted a happy red.  Did you know the color red stimulates appetite?  But diners here will tell you, it's the food that entices them to come back again and again.  This little restaurant off the strip is run by former head chef of Nobu (at the Hard Rock), Hiromi Nakano.  I kid you not, you're feasting on Nobu quality sushi at about 1/2 of the price.
Allen ordered a bottle of Kirin Ichiban beer.  I loved how cute the small glass was.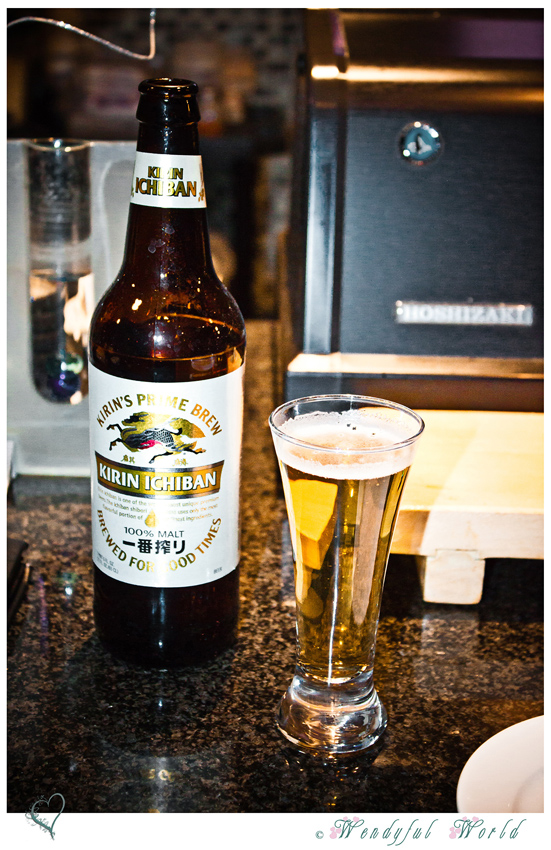 Sen of Japan offers two Omakase menu; $55 and $85.  Since it was our first visit, we decided to try the $85 one.  Make sure you let the chef know (if he doesn't already ask) which visit (1st, 2nd, 3rd, etc) it is because he will adjust the menu accordingly to give you the ultimate sushi experience.
Our dining excursion began with Kumato Oyster and Garlic Hamachi (Jalapeno, Fried Garlic, ponzu sauce).  I had to ponder twice before eating the oyster as I've NEVER had raw oyster before.  To my surprise, it was not as 'scary' as I thought it might be.  I tasted the oyster but with the onion and sauce, it didn't taste 'raw' to me and was actually very good!  The Garlic Hamachi was sweet with a bit of heat from the jalapeno and was just lovely.
Second course was Sashimi Salad (Tuna, Salmon, Albacore, Garlic Olive Oil, Capers, Arugula, Daikon Relish).  The fish were so fresh and the dressing gave it just enough flavor but not over powering the fish.  It was clean, simple, and delightful.


Third course was Lobster Salad (Chile Garlic, Grape Seed Oil Vinegar, Lemon Dressing).  Oh my goodness!  The lobster chunks were so delicious.  The light tartness in the dressing (very minimum) really enhanced the sweetness of the lobster.


Fourth course was Butter Fish (Gois Gra Wasabi Aioli, Shishito Pepper, Sweet Soy).  As the name 'butter' suggests, it literally melted in the mouth!


Fifth course was Filet Mignon (Steamed Asparagus, Mustard Sauce).  The meat was cooked perfectly medium and so juicy and melt-in-the mouth tender.  I think American Steakhouse should take a lesson from Sen of Japan because so many of them do not know how to cook steak medium properly.  I also loved how mild the sauce was not to mask the meat so I could taste the flavor completely.
By the time the 6th course was served, I was already stuffed!  But just look at how beautiful these sushi were!  Thankfully, the rice was minimum, as authentic sushi should be, I savored each piece one after another.  They were perfection in every bite!
Blue Fin Tuna with Waki Wasabi Dressing (upper left), Scallop in Spicy Lime (middle left), Susuki Seabass (lower left), Iskaki Sweet Snapper with Wasabi Stem Olive oil (upper right), Japanese Snapper with Red Wine Reduction (middle right).
Seventh course was Miso Clam Soup.  Unlike other miso soup which usually is dirty and salty, this was light but you could taste the soup was simmered for a long time to get that 'seafood' flavor.  It really was a perfect bowl of soup.


Of course the meal would not be complete without dessert.  Our last and 9th course was Chocolate Souffle with Green Tea Ice Cream.  Not only did Sen of Japan do Sushi right, it did dessert right, too.  It was a perfect ending to a perfect meal!


We sat right in front of Shinji-San who guided us every step of the way explaining each and every dish and how to eat them.  For example when not to dip in the wasabi/soy sauce so it wouldn't clash with the sauce already on the fish.  He also chatted/joked with us the entire time except when he was preparing the sushi.  He was very serious with great concentration, so we knew not to talk to him as he sliced each piece of fish with precision.
Our server was prompt with refills of tea and water and very friendly and attentive throughout.  I will also let you in on a little secret.  Sen of Japan serves Happy Hour nightly from 10:30pm – 1:30am except Sunday.  I am really sad that Sen of Japan is not near my  house so I could visit often.  Rest assured, the next time I am in town, you'll find me there.  Maybe I will see you there?
Sen of Japan
8480 W Desert Inn Rd.
Las vegas Nevada 89117
(702) 871-7781