Ever since my sister introduced Seasons 52 to me with a gift card for Christmas 2 years ago, I have fallen in love with it after my first dining experience here in August 2011 (featured here & here).  My family and I dine here regularly for different occasions; birthday, family get-together, or a nice date night for me and my husband.  It never fails to impress us.  I was so excited to have an opportunity to come and try the Seasonal Menu last weekend.
I call Seasons 52 my PERFECT restaurant.  I love the beautifully presented delicious food cooked with the freshest ingredients in natural cooking techniques to keep each dish under 475 calories!  I always enjoy my meal – full, happy, satisfied, but never heavy.  The service is always outstanding and the ambiance is always fun but relaxing.
(Photo by Allen Taylor Photography)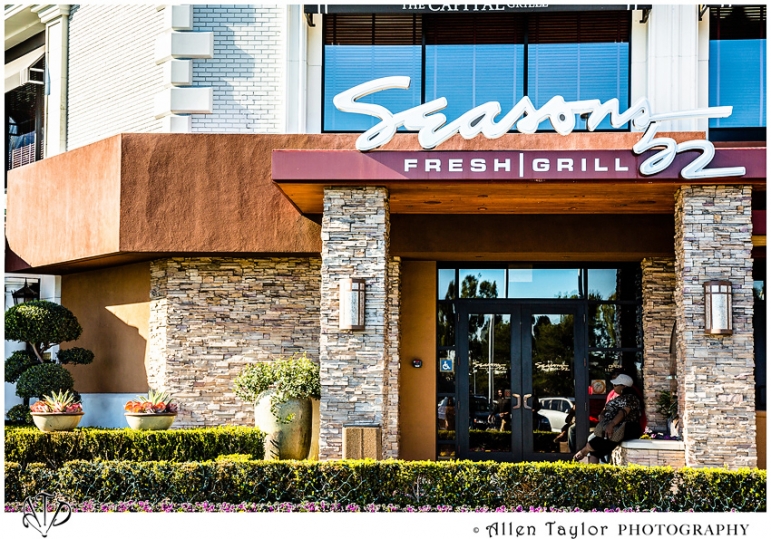 It was a beautiful sunny Saturday morning, so we chose to sit at the outdoor patio.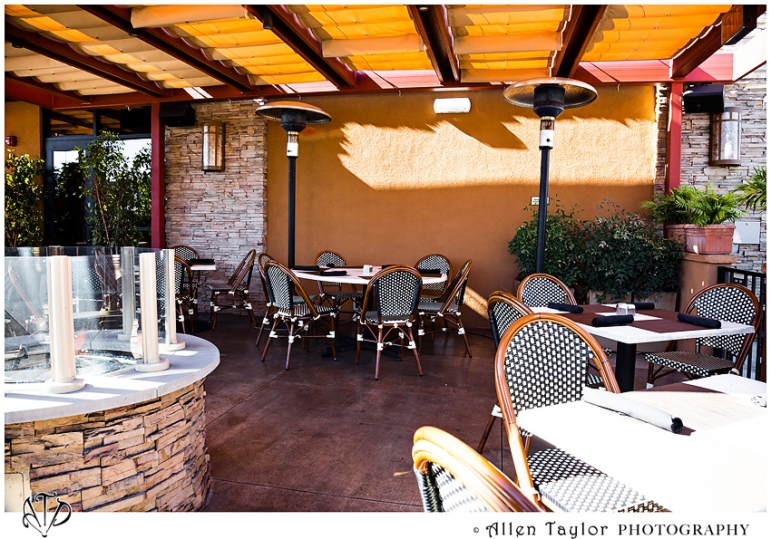 It's been so cold that I haven't had cold drinks in a while.  The Sparkling Raspberry Green Tea was bubbly refreshing. 🙂
It was such an honor to meet Executive Chef Partner, Chef Adam Starchman, who came to introduce himself and brought us the this Amuse Bouche made with lobster, avocado, and splash of lime.  What a way to start our 2 1/2 hour culinary treats.
Seasons 52 offers seasonally-inspired menu which changes weekly (thus the number 52).  Everyone raves about the flatbread.  On the special menu was Spicy Pork Taco Flatbread.  Don't worry, it's actually quite mild in heat but strong in flavor. 


Next comes the Soup, Ceviche, and Taco.
I was curious about this Spicy Thai Shrimp Soup.  A sip and I was pleasantly surprised.  Although it was a thicker soup, it tasted very light with a hint of curry and a bit acided from the lime.  It's loaded with tender pieces of shrimps.  Delicious!
The Grilled Shrimp & Scallop Ceviche (Grilled Pineapple, Coconut, Cilantro, Lime, Jalapeno) was a really nice variation from the traditional ceviche. It was creamy, a little sweet, a little tart with a bit of heat.  The scallop was so tender I had ask the server if it was cooked.  I've never tasted any cooked scallop so tender before.  Wow!
The Winter Salad (Organic Arugula, Truffle Dressing, Portobello Mushrooms, Parmesan Cheese).  I adore the tenderness of the grilled portebello mushrooms and arugula.
Manager, Ms. Rebecca Tesler, highly recommended this Soft Taco made with Vegetarian Black Bean and Roasted Pepper.  Normally it comes in 3 but I asked for 1 to sample.  I loved the taco shell which tasted between tortilla and flatbread.  Lightly toasty and soft.  My dad is a vegetarian and I know he would love this as much as I did.
New on the menu was this Grilled Chicken Caprese (Fresh Mozzarella, Tomato, Arugula, Basil Pesto).  I like a good Caprese but never had it with a sandwich.  It was a delicious hearty sandwich and I was so shocked that they were able to keep this within 475 calories!
Everything was amazing up to this point but when the Oak-Grilled Filet Mignon (Cremini Mushrooms, Asparagus, Red Bliss Potatoes) came out, it earned the star of the meal.  It was perfectly cooked (medium), melt-in-your-mouth tender in very bite.  The red wine sauce didn't overpower the meat.  I have to say it was one of the best prepared/cooked filet Mignon I've had for a long time.  (Mastro's, take note!)
To tell you the truth, I didn't have much room for dessert but I could not skip the famous Mini Indulgences!  They are little shots of heavens!
Most notable was the Sugar Free Oreo Cookie.  My all time favorite was Chocolate Peanut Butter Mousse.  But if you've tried any of them, you know they are all good.
Upper left to right: Pecan Pie with Vanilla Mousse, Mocha Macchiato, Market Fresh Fruit, Tropical Fruit Cheese Cake, Ghirardelli Chocolate Rocky Road.
Lower left to right: Chocolate Peanut Butter Mousse, Meyer Lemon Pond Cake, Sugar Free Oreo Cookie, Raspberry Chocolate Chip Cannoli, Pecan Pie with Vanilla Mousse.
The restaurant's interior is modern and warm.  It's a place you can dress up for a date night out or go casual for a weekend brunch.  If you enjoy wine with your meal, the restaurant stocks 100 selections — 60 offered by the glass.
Special thanks to Executive Chef Partner, Chef Adam Starchman, for an amazing culinary experience.  It takes an immense amount of talent to create dishes (for under 475 calories) that are not only  good to your palate but healthy for your bodies!
My sincere thanks also goes to Manager, Ms. Rebecca Tesler, and her staff for their hospitality!
Lastly, a very warm thank-you to Kristi Turek of Marguarite Clark Public Relations for arranging this private tasting event for me and my guest.  I hope I get to meet you soon.  


It's only been a week since my visit but I am already craving some more healthy tasty food at Seasons 52.  I hope you will join me here soon.
Seasons 52
At South Coast Plaza
3333 Bristol St Suite # 2802
Costa Mesa, CA 92626
(714) 437-5252