Korean BBQ is one of my favorite foods.  So when I got an invitation for the 1st Annual Friends & Family BBQ from Michael Wong of Kollaboration Creative & Marketing, I couldn't turn it down.  Besides, I was curious about this new restaurant called Moo Dae Po and how it would measure up to the ones in Garden Grove where I go all the time.
The restaurant is located in a a strip mall where 99 cents store also stands.  It is sort of hidden from street view.  The exterior looked very modest, but when I stepped inside, I was taken by the bright and modern fixture and the enormous space it occupied, all 13,000 sq. ft. of it.  Yes, you heard it right!  I love the wood floor and the dark wood tables/chairs.  Each table has its own ventilation fan that you can adjust the height to.  Pretty clever if you ask me.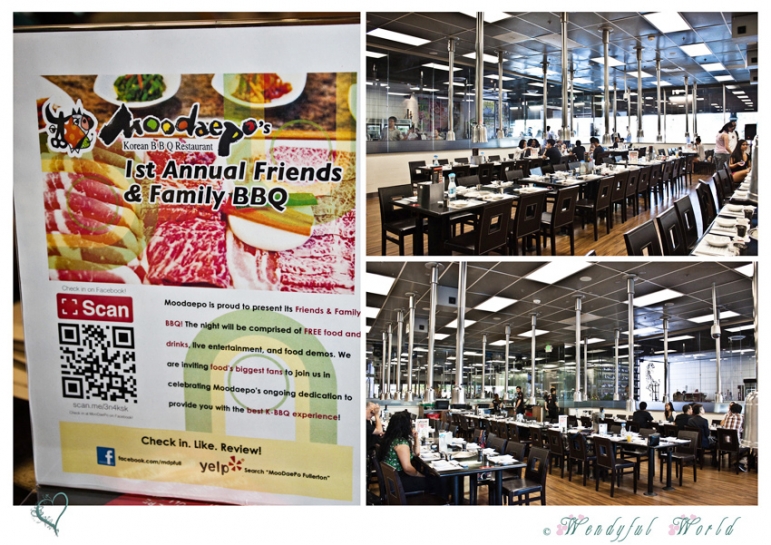 The front dinning room was where the event took place.  Once most of the invited guests were seated, the founder of Moo Dae Po, Mr. Brian Chong, welcomed everyone and gave some background about his concept and vision for the restaurant.  His goal is to provide the best value for your dollar.  This All-You-Can-Eat (AYCE) KBBQ prides itself on providing top quality meat and fresh side dishes.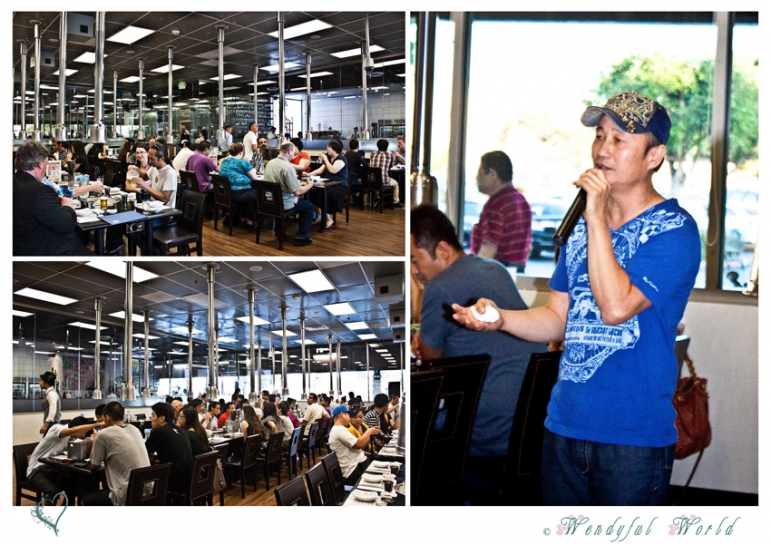 One of the chef demonstrated how the meat was cut and prepared daily.  While most KBBQ restaurants use machines to cut their meats, at Moo Dae Po, it's all done manually!  Wow, he has really precise and fast hands!  And these were beautifully marbled meat!
All the banchans were very fresh and well seasoned.  I did miss the soy bean sprouts and spicy turnip kimchi. But I couldn't really complain because there were plenty of other ones.
There are several options for the AYCE ranging from $16.99 to $34.99.  The higher the prices, the more selections there are.  There are also lunch (entree) specials or a lunch AYCE for $14.99.  I am not sure which one we got.  But the tray came out and consisted of Beef Brisket, Pork Belly, Veggie Skewer, Big Short Rib, Small Short Rib, Korean Meatloaf, and Ribeye.  All the meat were yummy, especially the short ribs and ribeye!
A hot plate of Bulgogi (with rice cake,scallions, and silver noodle) was also served.  The meat was very tender and flavorful!  I've never had this at any other AYCE KBBQ place!


Everyone's favorite was Beef Brisket.  Personally I thought these were a little fatty for my taste.  But I had other choices, so I was fine.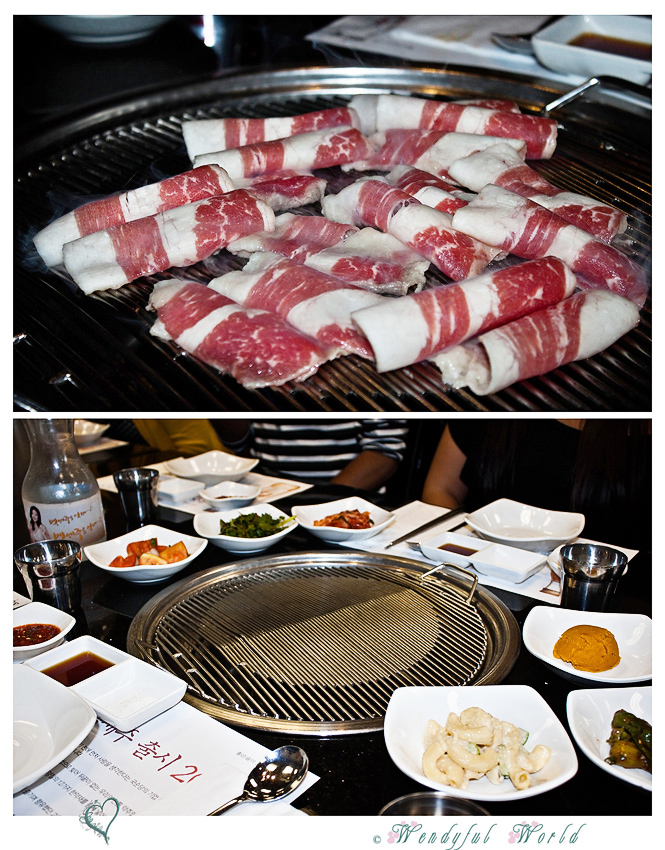 We also got a plate of marinated chicken and short ribs.  The meat was very tender and I appreciated that the marinate was not overly sweet or salty.


Not only did we feast on great food, we were also entertained by great performers.  One unique feature of the restaurant is that the walls become a big screen all around that play music video, sports, and what not with non stop music.  Be forewarned, it can get pretty loud.  This is definitely a place for a party or a get together for a good time.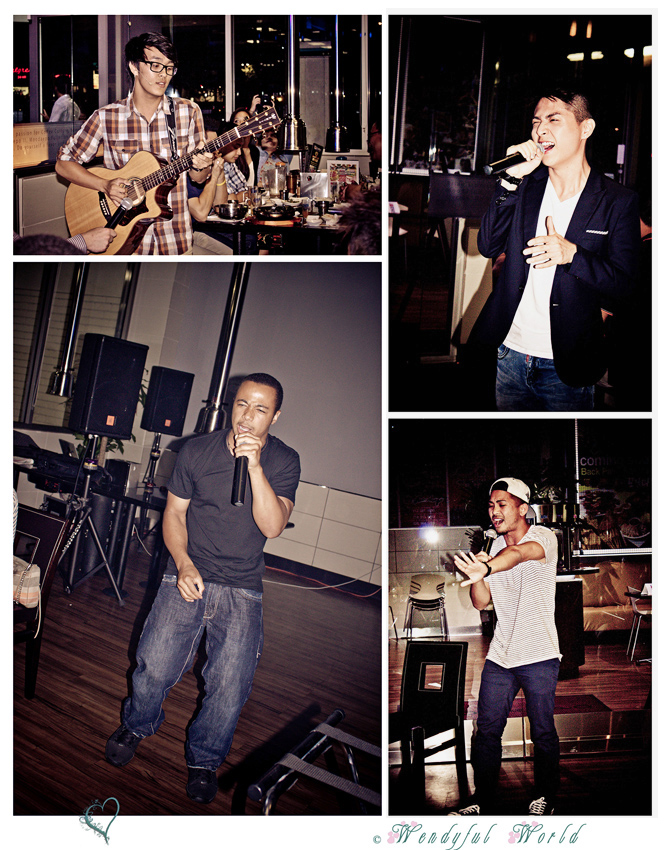 The City of Fullerton presented Mr. Brian Chong and Mrs. Cindy Chong with a Certificate of Award.  This was not the first time it's honored and won't be the last, either.  In 2009, Moo Dae Po in K-Town won the BEST TASTING MEAT for KBBQ voted by Yelp.


Behind a successful event, there was a great team (below)!  Well done, guys and gals!


I'd like to thank Mr. Brian Chong and Mrs. Cindy Chong for being the gracious hosts and Moo Dae Po's entire staff for a great evening with great food, great entertainment, and great service!  I can not wait to visit your new restaurant opening in Rowland Heights soon!
Moo Dae Po Fullerton
1841 W. Orangethorpe Ave
Fullerton, California 92833
(714) 213-8883