When I first started this blog, it was just an outlet for me to share my life experience, be it food, travel, my own cooking, or just because, although I have to admit, a big part of this blog is food related.  What can I say?  I love food!  I never thought to call myself a food blogger simply because there are so many 'food bloggers' I admire, and I just don't feel I measure up to their caliber.  So when Jenna from Frank Groff Inc. contacted me and invited me to join their VIP Media Guest List, I was extremely honored!  My first media event took place at Stonefire Grill in Irvine.  You may have read about my previous post here.
If you have never been to Stonefire Grill, it is a fast-casual dinning.  Fast means you order your food at the counter, much like fast food , casual means your food is brought over to your table and you still enjoy a nice relaxing restaurant atmosphere.  All of the food is served family style so everyone can share.  This also means portion is very generous.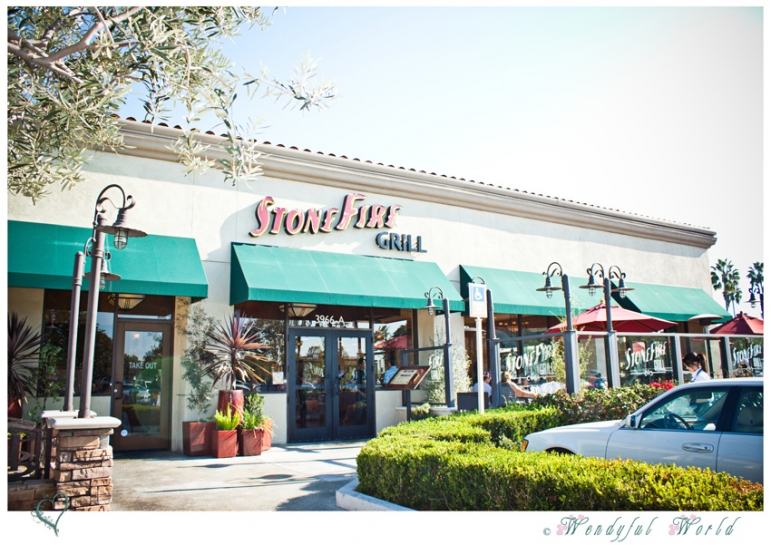 Stonefire Grill's menu offers quite an extensive varieties from BBQ's Meat (Baby Back Ribs, Tri Tip, Chicken), Pasta, Salad, Sandwiches, to Pizza.  Even if you have picky eaters, you will have no problem finding something to please everyone.  Recently, the restaurant even started offering Protein Alternatives made with Quinoa.  I was fortunate to be invited to try it out myself.
The Healthy Hybrid (Quinoa, garbanzo beans, Kalamata olives, green bell peppers, red onion, cucumber, tomato and artichoke hearts – tossed with Dijon Mustard Vinaigrette and topped with Feta cheese) is packed with flavors.  It is beautiful to your eyes as it is to your palate.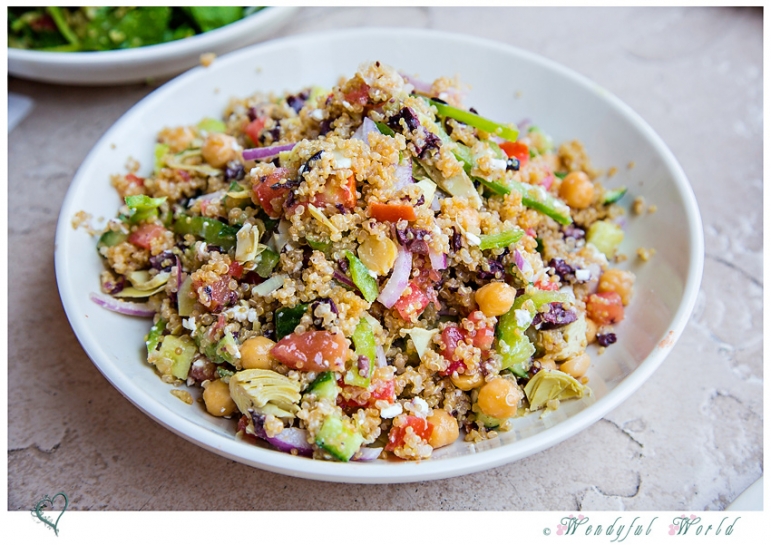 The Keen Green (Quinoa tossed with fresh spinach, sundried tomatoes, artichoke hearts, avocado and pesto – topped with Parmesan cheese) is equally pleasing.  I can definitely eat this as a meal and feel good, healthy and satisfying at the same time.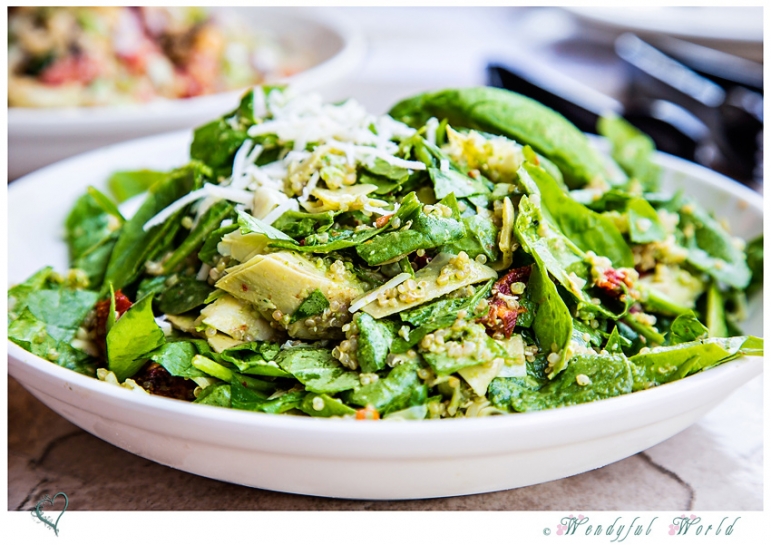 Frank from Frank Groff Inc. recommended that I must try the Lemon Garlic Salmon which is his favorite dish.  It is now my favorite, too!  The Salmon was cooked in low heat to ensure it's tender and juicy.  The lightly grilled garlic added extra flavor but not over-powering.  Chopped parsely,basil, and cilantro together in the refreshing lemon juice are just a perfect symphony to your month!
I heard the Lemon Garlic Chicken was equally good but I didn't get a chance to try it.  Hopefully next time.


Every meal comes with Garlic Breadsticks.  These are not like any garlic breadsticks.  I am not sure how they make them, but they are so warm and soft that they almost just melt in your mouth.


A meal is not complete without dessert.  I love carrot cake and this one was big in size as well as taste.  Two people can easily share 1 piece.


We couldn't walk away from the Fudge Brownie, either. I really wanted to be good, but I lost all my will power once I took a bite.  😀


A BIG THANK-YOU to my gracious hosts – Justin (left), Spokesperson of Stonefire Grill, Frank (middle) and Kristen (right) from Frank Groff Inc, for introducing me to the new Quinoa dishes.  I had such a great time meeting all of you and feasted on delicious entrees and desserts!  I can't wait to come back with my family so they can enjoy them, too!
Stonefire Grill has 7 locations throughout Southern California in Valencia, West Hills, Fountain Valley, Irvine, Chatsworth, Pasadena, and Thousand Oaks.  Find the one near you and take your family for a great meal.  Enjoy your weekend, everyone!
Stonefire Grill
3966 Barranca Pkwy
Irvine, CA 92606
(949) 777-1177