Ever since I saw my good friend Doreen Fang's video blog on Pan Asian, I've been drooling all over it!  Allen and I made a point to visit during our last trip to Vegas in March to celebrate my birthday.  We stayed at the Encore and the restaurant is about 7 miles away.  Even if you don't have a car, take a taxi here.  It's totally worth the trip.
The restaurant is located in a strip mall on Durango near Sahara.  The dinning room is not very big, but it has a huge open kitchen!  It is run by David and Lisa Wong, two of the nicest people you will ever meet.  Dining here is like dinning at your brother and sister's house.  Yeah, it's like home!  I loved watching Lisa cook in the open kitchen.  She is truly an artist.  The dishes are familiar and yet different with her unique style and taste.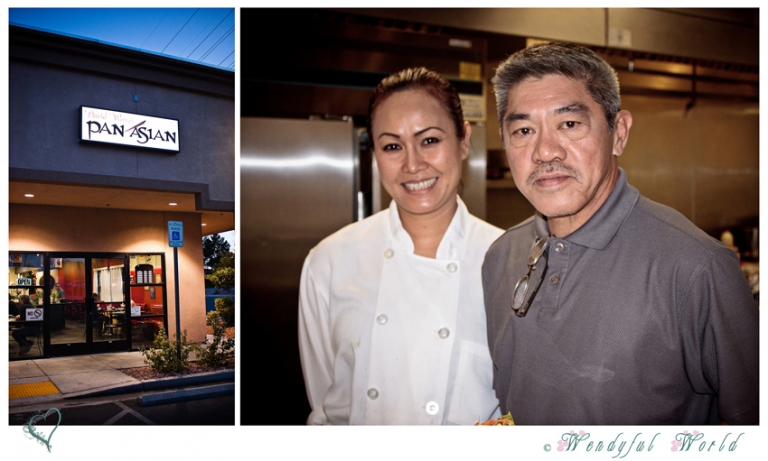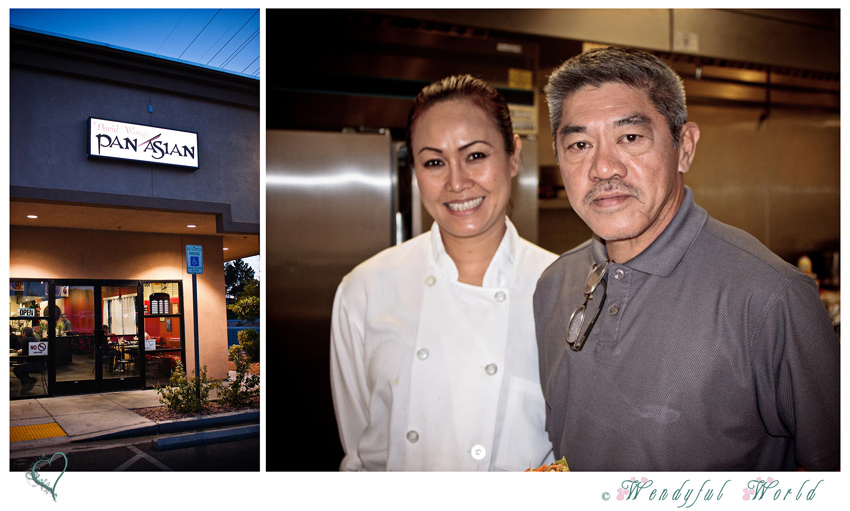 I love the red walls.  Do you know red color stimulates your appetite?  Hanging on one wall were all the news articles featuring the restaurant.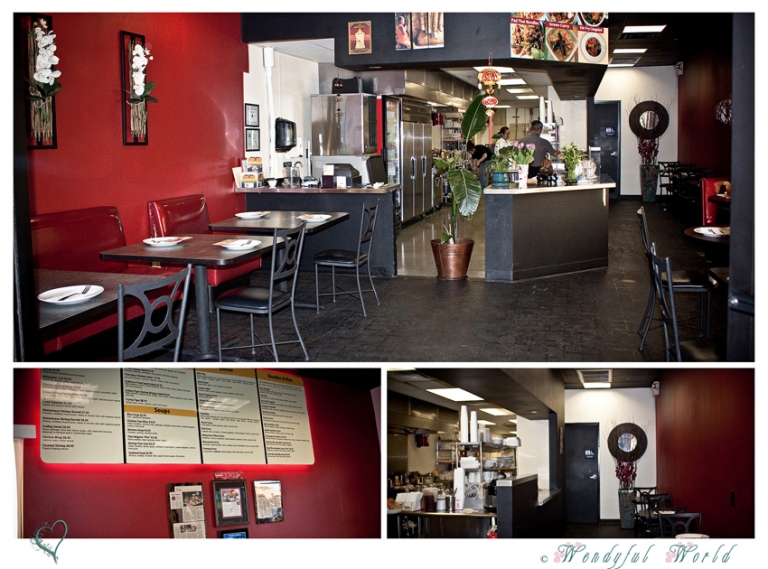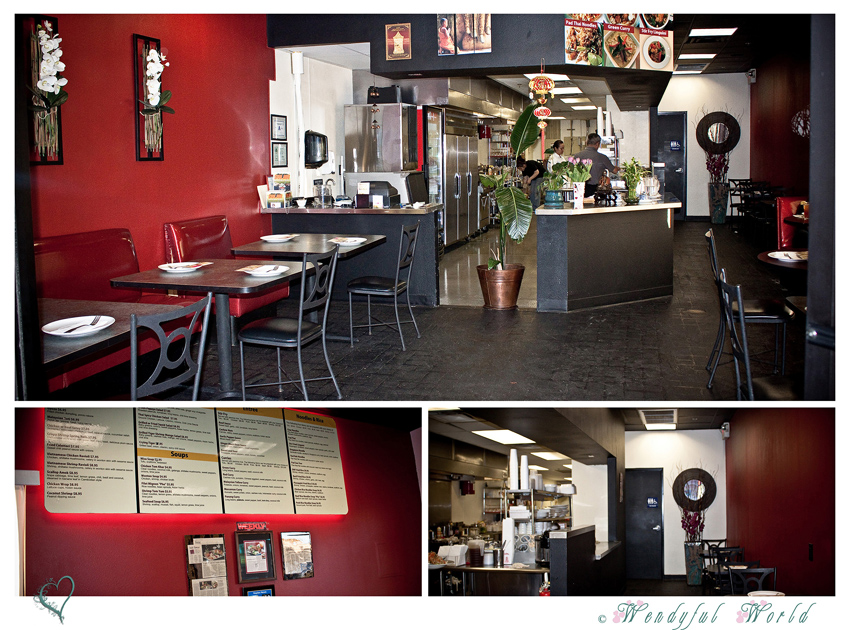 Believe it or not, I had Papaya Salad for the first time in Thailand just less than 2 months ago!  I don't eat papaya, so I never thought I would like green papaya salad!  One bite of it in Thailand and I was hooked!  Of course I had to order it here!  It was ever better than Thailand.  The dressing was light with the perfect amount of lemon juice so it's not overly tart.  Even though Lisa said it was only a level 2 on the spicy scale, it was already spicy enough for me.  So keep that in mind when you order anything in regards to spiciness.  I normally can take between 5 – 7 at other restaurants.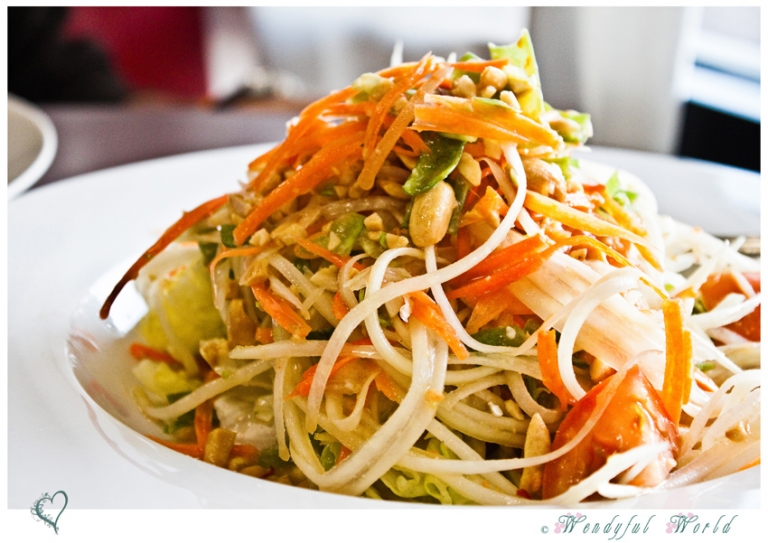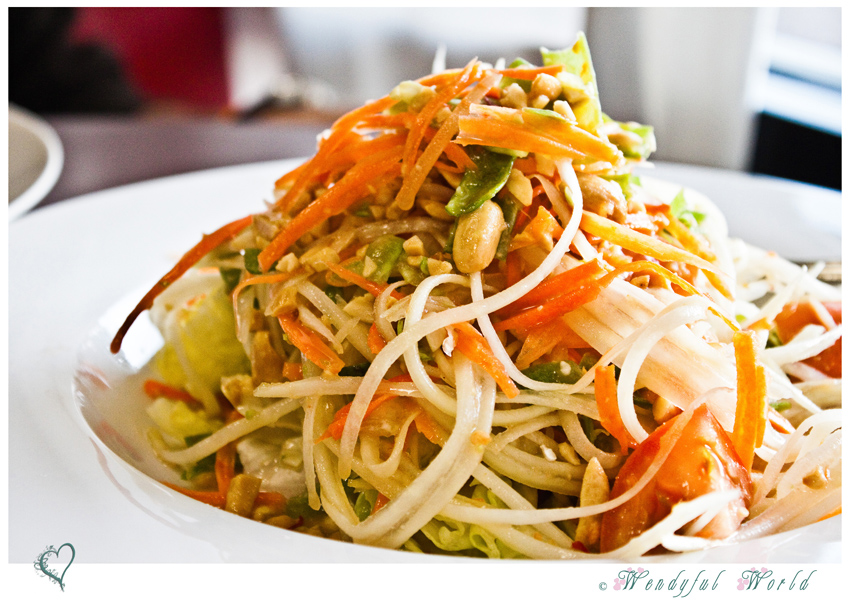 David highly recommended the Duck Curry which was the special of the day.  I had it before but not like this.  Lisa deep-fried the duck instead of cooking it in the curry.  The skin was so crunchy and yet the meat was moist and tender.  When David told us it was 1/2 duck, I didn't think we could finish it, but it was so delicious that Allen and I stuffed ourselves and  cleaned out the plate.  The red curry sauce (with grapes, cherry tomatoes, green and red pepper, pineapple, cashew nuts and basil) was the creamiest and smoothest I've ever had!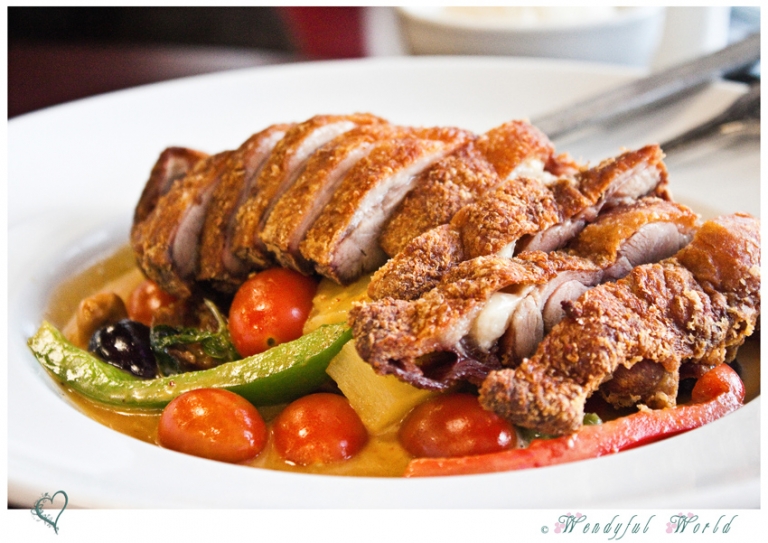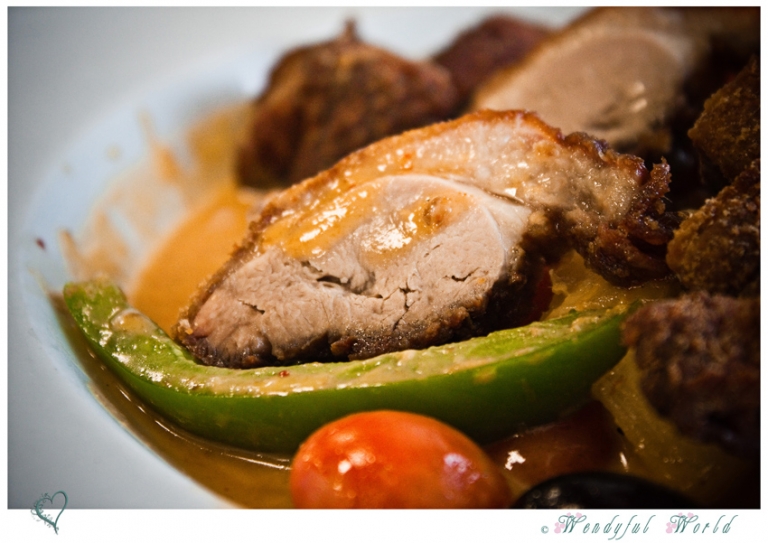 I wish I could have ordered more dishes to try but we had a big lunch and just couldn't eat more.  Next time, I am going there just before coming back to CA so I can pack up all the left overs to take home!
If you ever visit Vegas, make a note to come try this place.  I know it is going to be my regular must-dine spot in Vegas from now on.
Pan Asian
2980 S Durango Dr. Suite 101
Las Vegas, NV 89117
(702)629-7464
Please share and like us: