Did you know 'Alegria' means 'happiness' in Spanish?  This is exactly how the new owners, Restaurateurs Adrian Amosa and Miguel Baeza, want you to feel when you step inside the restaurant with its new festive atmosphere and updated decor in vibrant colors.  A massive chandelier is now the center piece of the bar.  All the furnishings are new, including chairs and tables.  The back patio has also been renovated with wall of succulent plants, it gives a natural intimacy.  Even the sound system has been upgrade to highlight the live performance of flamenco guitar music and Karaoke.
(Photos by Allen Taylor Photography)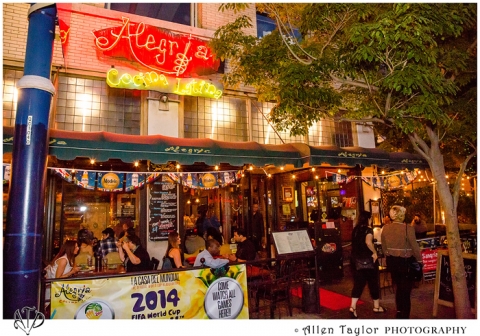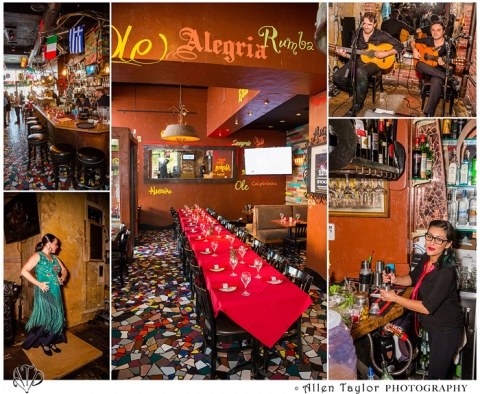 Not only the restaurant got a new face-lift, the menu also received a make-over.  The new menu "incorporates dishes and ingredients from Spain, Mexico and Latin America into a musical fusion of flavors".  We were extremely excited to try it recently.
The award-winning Sangria is not to be missed.  I tried both the Red Wine and White Peach and I must say I loved the White Peach!  The Mojito was also excellent.  Allen also got a Draft Beer.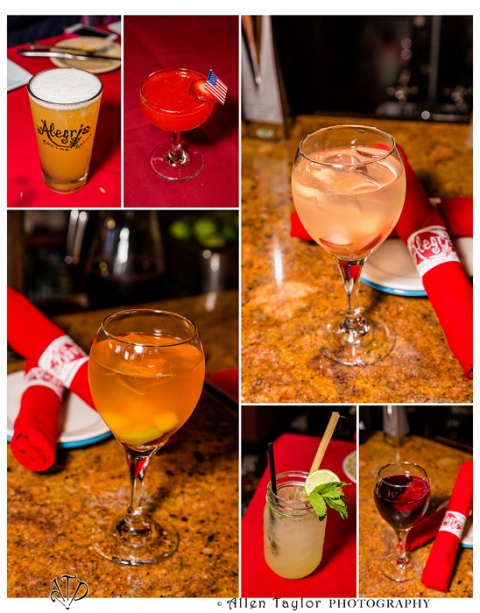 While we waited for other guests to arrive, we were served several appetizers, all of which were delicious!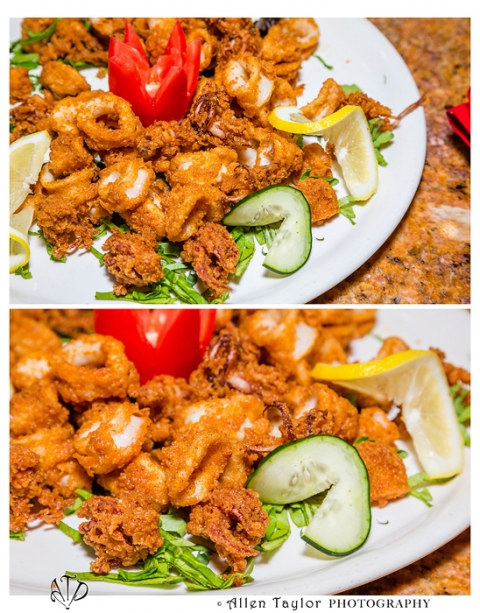 Calamares Al Fuego – Tender deep fried calamari served with a classic Spanish romesco sauce.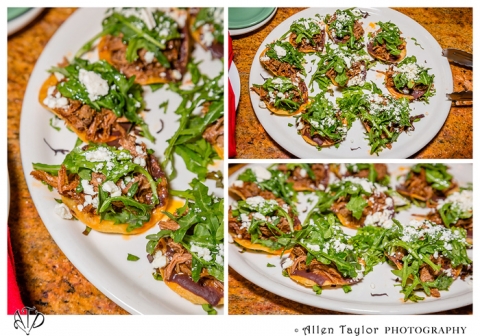 Ropita Vieja – Crispy mini tortillas topped with braised shredded beef, Served over puree pinto beans and feta cheese.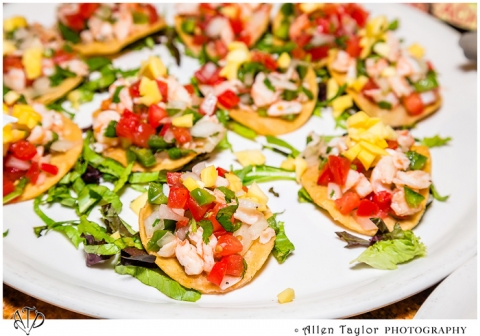 Ceviche De Camaron – Fresh shrimp finely chopped and marinated in a refreshing citrus lime juice, and "pico de gallo" salsa, surrounded by thinly sliced cucumbers, topped with fresh chopped mango and fresh jalapenos served with crisp tortilla chips and plantain.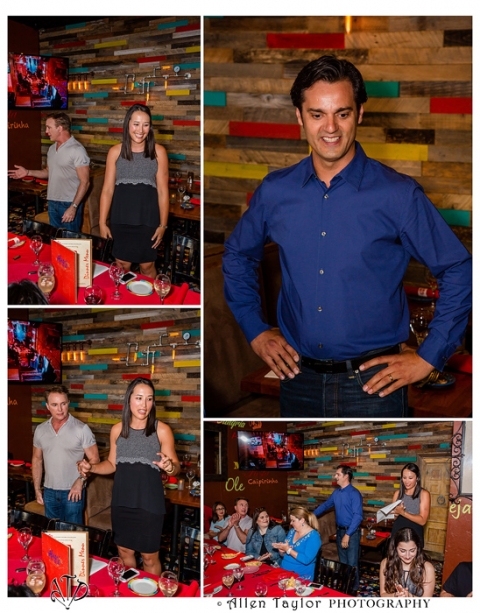 Once all the guests have arrived, we were seated in the main dinning room and welcomed by our hosts; Co-Owner, Adrian Amosa and PR Company, Groff-Hinman.  I could not express how much Allen and I appreciated the hospitality our hosts and the entire team of staffs extended to us!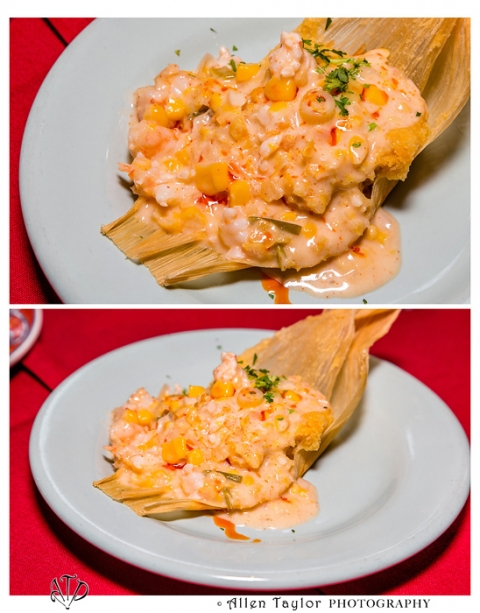 Our feast began with Humitas Chilenas (Fresh Made Sweet Corn Tamale Sautéed Shrimp, Pepper Cream Sauce, Chives). Everyone loved this dish. It was creamy, sweet but light and flavorful.  Simply delicious!  A must order when you visit.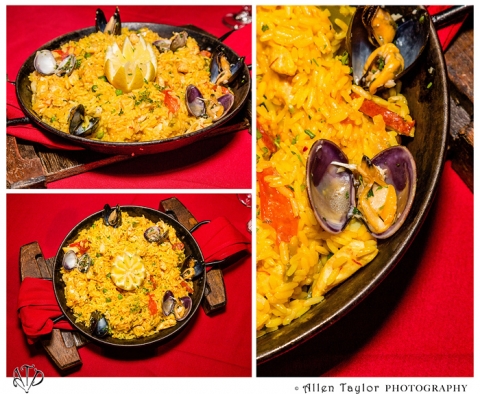 Seafood Paella (Jumbo Gulf Shrimp, Manila Clams, Mussels, Calamari, Daily Fish).  The Saffron Rice Chorizo was packed with flavor and tons of seafood!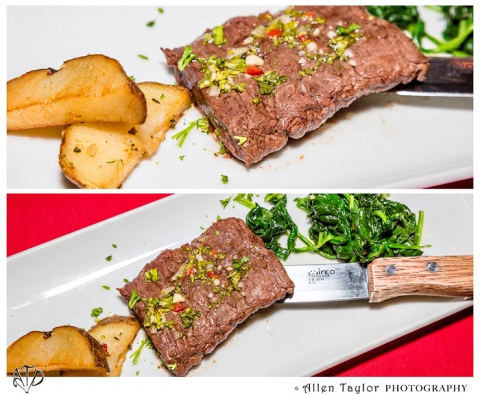 El Gaucho (Grilled Skirt Steak, Citrus Scented Chimichurri Sauce, Fried Steak Potatoes, Herbed Sautéed Vegetables Of The Day).  Although I don't usually order Skirt Steak, it was tenderer than I expected. I particularly liked the chimichurri sauce.  The potatoes and sauteed spinach were great compliments to the meat.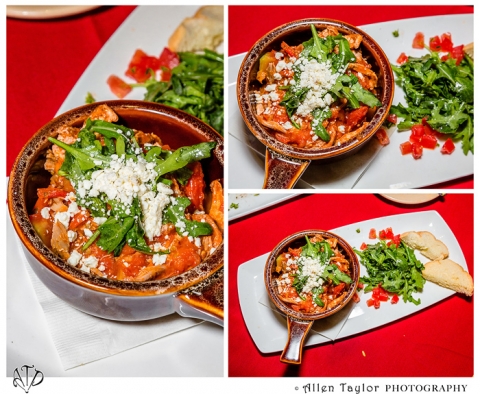 Muscovy Duck Barbacoa (Shredded braised duck legs, pan-roasted with chipotle tomato sauce, sweet fried plantains, baby arugula salad, feta crumbled cheese).  I don't know how long it was braised because it was really tender.  I love all things made with tomato sauce and I love duck, so naturally I loved this dish.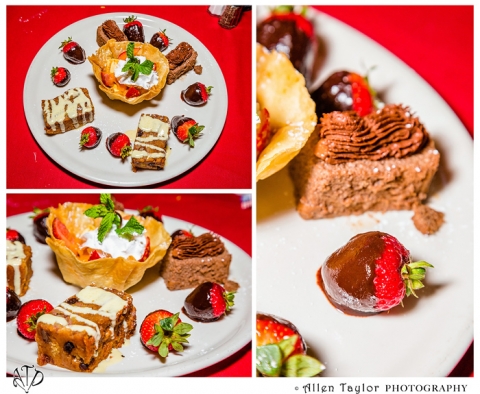 We were treated with a tray of desserts: Flan (Vanilla flavored flan topped with caramel sauce drizzled with honey and powdered sugar.  Topped fresh fruit), Capirotada (Rich and creamy bread pudding baked with apple and Banana slices, pecans and raisins, drenched with Vanilla cream and whipped cream, garnished with strawberry slices), Tres Leches (A very moist chocolate cake, topped with a velvety chocolate mousse and drizzled with a wild raspberry sauce) and Chocolate-cover Strawberries.  What a sweet ending to a fabulous meal!
Allen and I enjoyed our tasting so much, we are looking forward to going back.  The best part is there is currently a promotion going on on Groupon where you can get 50% off.  Check it out http://www.groupon.com/deals/alegria-cocina-latina-4.
Alegria Cocina Latina
115 Pine Ave
Long Beach, CA 90802
(562) 436-3388